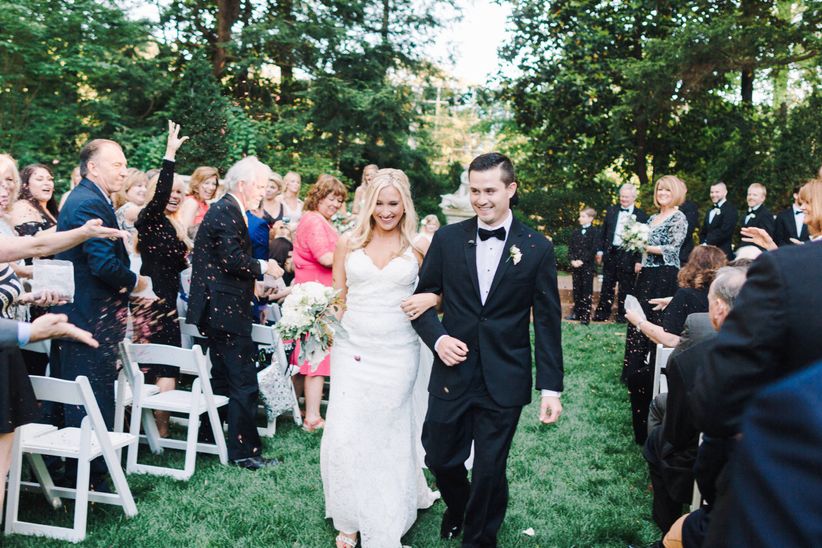 Photo: b. flint photography
Committing your life and love to another person is a once-in-a-lifetime moment and you want the perfect music selection for the occasion. While classic like "Canon in D" will always be in style, it's also worth taking a listen to some 2018 wedding ceremony songs that could beautifully set the tone for your walk down the aisle.

Featuring song picks from both big names and up-and-coming artists alike, music experts Aria Souder of Hostly in Saint Paul, Minnesota and Mitch Zacharias of Instant Request DJ Entertainment in Bloomington, Minnesota share their predictions for the most 2018 wedding ceremony songs.
Check out the newest 2018 wedding ceremony songs for all the moments of your big day.
Prelude
"This Town" by Niall Horan
You might recognize Niall Horan as a member of One Direction, but this Irish singer/songwriter released several of his own singles, including "This Town", which featuring perfectly romantic lyrics like "If the whole world was watching I'd still dance with you/Drive highways and byways to be there with you/Over and over the only truth/Everything comes back to you."
"Perfect Symphony" by Ed Sheeran (with Andrea Bocelli)
We've already dubbed Ed Sheeran "the king of 2018 first dance songs" but there's no denying this song works equally well for your pre-ceremony festivities. This particular version featuring Andrea Bocelli is absolute magic.
"I Was Made for Loving You" by Tori Kelly ft. Ed Sheeran
What happens when two of our favorite artists, Tori Kelly and Ed Sheeran, combine their talents? One of the best 2018 wedding ceremony songs - that's what. As the song title suggests, this number is just the ticket to set the tone for a love-filled moment.
Wedding Party Processional
"I'll Be Waiting (When You Come Home)" by Dan Rodriguez
If you don't know Dan Rodriguez, that's going to change because his music is about to steal your heart in a serious way. This sweet song is a lovely, upbeat pick for your wedding party (including those adorable flower girls and ring bearers!) to make their big entrance.
"If You Carry Me" by Chris Koza
If you're looking at a more indie or folk-style soundtrack for the processional, take note of Chris Koza's "If You Carry Me." Beautiful lines like, "Darling if you carry me - I'll carry you" make this 2018 wedding ceremony song a no-brainer.
Bridal Processional
"I Get To Love You" by RUELLE
"Wildly romantic" is the only way to describe this indie pop song that has all the key elements for a magical walk down the aisle. Add this your music lineup and you can rest assured that your big moment will be everything you've dreamed.
"A Thousand Years" by The Piano Guys
This one has been popular for several years and according to the experts, it's not going anywhere in 2018. This piano/cello instrumental version is a lovely selection for a song that feels both new and classic all at once. Whether you've got a long or short processional, this song can easily be faded out at nearly any point for a smooth transition.
Before/After Vows
"This Is Why I Need You" by Jesse Ruben
This mellow indie tune could be used anywhere during the ceremony but would be an especially great choice during a unity candle lighting, washing of feet ceremony, or any important ritual you may be including.
"God Only Knows" by John Legend & Cythia Erivo
Leave it to John Legend and Cynthia Erivo to take a Beach Boys classic and make us love it even more. You'll also find this cover song on our list of top first dance songs but we're sure to see it used as one of the top 2018 wedding ceremony songs, as well.
Recessional
"Say You Won't Let Go" by James Arthur
You've officially sealed the deal and now it's time to party! Kick the festivities off right with this popular radio-hit by James Arthur that works as a perfect musical transition from ceremony to celebration.
"The First Day of Summer" by Jesse Ruben
If Top 40 hits aren't quite your thing, say hello to this indie pop selection that's sure to put a smile on all your guests' faces. Imagine smooching your love with this song blaring in the background and you'll agree this one is a total winner.
Postlude
"First Try" by Johnnyswim
Keep the romantic tunes going with this beautiful song by the American-folk duo, Johnnyswim. It's sweet, soulful, and is guaranteed to wrap up your ceremony in perfect fashion.
"Please Keep Loving Me" by James TW
Not only does this brand-new pop tune feature an irresistible upbeat tune, but the lyrics alone are enough to make any romantic go weak at the knees. "So please keep loving me/Because our hearts speak fluently/Wherever I go, whatever I do/The map on my heart leads to you/So baby, please keep loving me."
Bonus Trend: Feature an original song
Still not finding just the right song for your ceremony lineup? Consider hopping on the 2018 trend of hiring a singer/songwriter to write and perform an original song at your ceremony. According to the experts at Hostly, many 2018 couples are opting to meet with a local artist to share their story, and let the songwriter work their magic. The artist then performs the song live during the ceremony and even records it to use as a soundtrack for the wedding video. Talk about the ultimate romantic gesture!