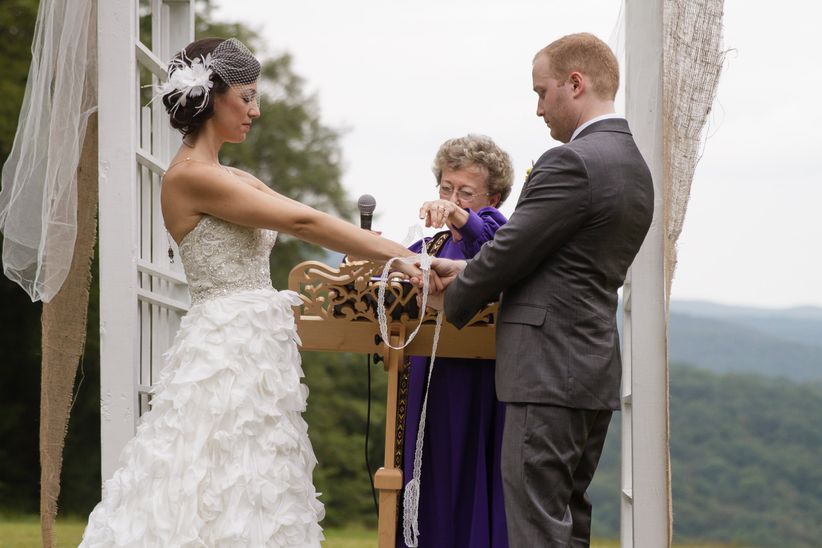 Photo: Becca Sutherland Photography
There's no better way to symbolize your marriage than with a unity ceremony. Check out some of our favorite ideas from real couples.
Foot Washing
"It was a symbol of our faith, and it showed, how in our marriage, we are committing to serve one another in a loving and caring way."—
Crystal & Trey, married in Covington, Georgia
Tree Planting
"During our ceremony, we planted a gardenia bush together in a pot. Chase poured in the soil while I poured in the water. This symbolized the beginning of our marriage and how we need to tend to it, so it can grow just like the plant itself."—
Hannah & Chase, married in Winston-Salem, North Carolina
Cord of Three Strands
"We each wrote our own vows, but didn't read them to each other until that moment. Hearing the vows for the first time and combining a cord of the three strands (one for me, one for Christopher, and one for God) into a knot during the ceremony allowed the reactions to be genuine."—
Cameron & Christopher, married in Coto de Caza, California
Handfasting
"We were married in a handfasting ceremony at the top of a mountain." An additional option: provide guests with a piece of ribbon and instruct them to secure it to the person sitting next to them, ultimately, binding everyone together."—
Natalie & Douglas, married in Ellicottville, New York
Sand Mixing
"Since I grew up in Florida and Ryan is from California, we had a sand ceremony combining grains of sand from beaches where we had spent lots of time growing up."—Caitlin & Ryan, married in North Carolina.
Wine Ceremony
"We had a custom dark wood box made for us engraved with our names and wedding date in a special symbol that was custom designed. Inside the box, we had a bottle of La Crema Pinot Noir 9 Barrel (our favorite wine) and love letters we had written to each other. We nailed the box shut, and we will open it on our fifth wedding anniversary."—
Emmie & Dave, married in Nashville, Tennesee
Candles
"I loved the merging of cultures using candles as some of his family wore traditional Korean wedding attire and we had some bilingual elements in our ceremony."—
Karen & Joonho, married in Hartford, Connecticut