From historic homes to elegant gardens, there are plenty of options when it comes to downtown Savannah wedding venues. But with so many different venues and locations to choose from, it can be tough to narrow down your favorites, so we've started a list for you! The following Savannah wedding venues, including Savannah Station, Brockington Hall and the Gingerbread House, are just a few that we love.
Here are some of the best downtown Savannah wedding venues.
Perry Lane Hotel
Learn more about Perry Lane Hotel »
The DeSoto Savannah
Learn more about The DeSoto Savannah »
Victory North
Learn more about Victory North »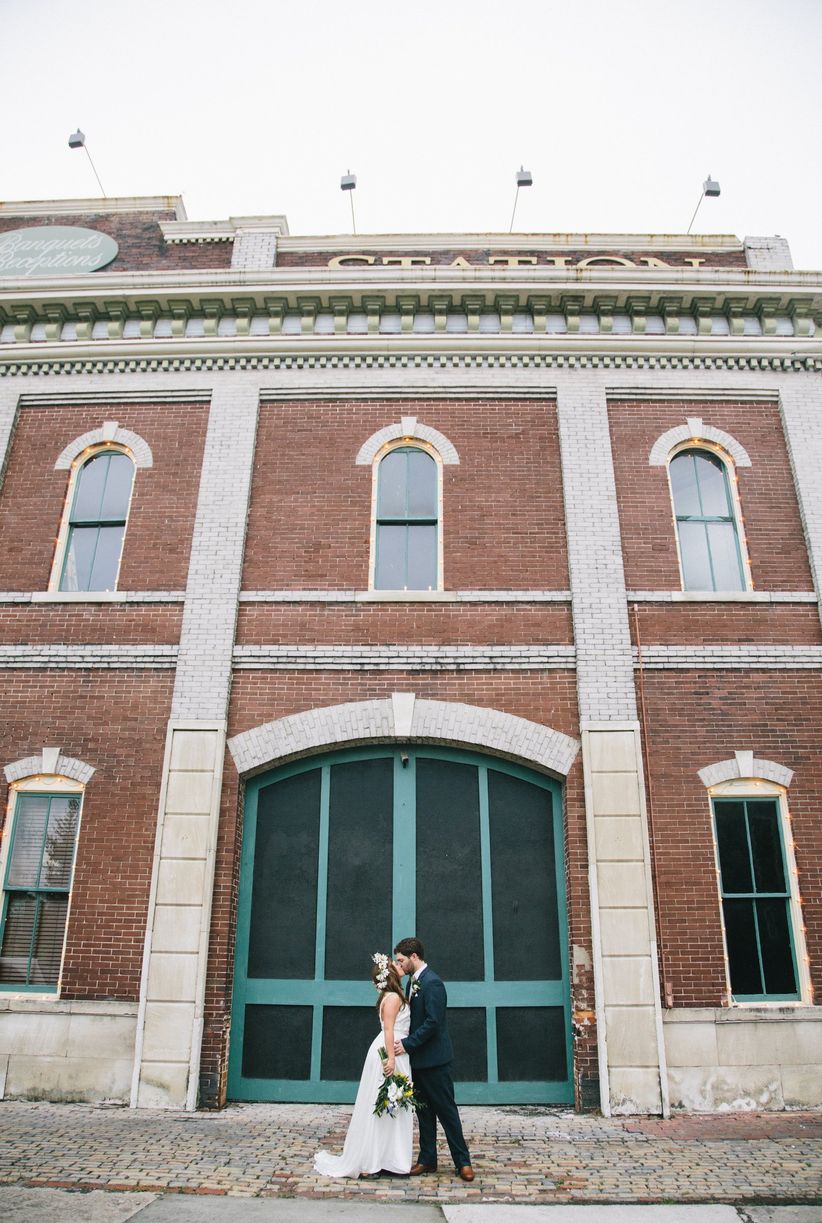 Savannah Station
In our humble opinion, this banquet hall is of the coolest downtown Savannah wedding venues you can find. When it was originally constructed in the early 20th century, the building housed stables for freight wagon horses. Eventually, it became a furniture warehouse in the late 1960s and then a tour bus garage later on. It was transformed into a wedding and event facility about 20 years ago and can now accommodate up to 560 people. The industrial interior (think exposed beams and brick walls) gives this venue an "urban chic" feel that creates the perfect blank slate backdrop for almost any wedding style. You can bring in your own vendors, or choose from the services that Savannah Station offers—event planning, chair and table rentals, floral design, bartending, set-up, and break down.
Learn more about Savannah Station »
The Gingerbread House
This charming venue gets its name from the whimsical "gingerbread" arches along the front of the house. Thanks to its unique architecture, The Gingerbread House Savannah is one of the most recognizable venues in the downtown area, not to mention one of the most ideally located. Situated in Savannah's Victorian District, The Gingerbread House is close enough to all of the city's best sights while also offering a bit of seclusion and privacy for you and your guests. This historical mansion can host up to 100 people and will also provide tables and chairs as part of your wedding package. Choose from several event facilities on the property, including a spacious ballroom with chandeliers and vaulted ceilings, or an inviting outdoor courtyard.
Learn more about The Gingerbread House »
The Olde Pink House
For an experience that will truly spoil your guests, check out The Olde Pink House, one of Savannah's most popular restaurants! This hotspot is a favorite for foodies and history buffs alike — its customers rave about the Southern-inspired menu, and the 250-year-old building may or may not be haunted. The best part (aside from the building actually being pink) is that this venue is located adjacent to the Planter's Inn, which offers elegant accommodations and room blocks for weddings. With 10 different event spaces to choose from and a maximum capacity of 500 people, The Olde Pink House has options for weddings of all sizes.
Learn more about The Olde Pink House »
10 Downing at Churchill's
This downtown Savannah wedding venue consistently receives five-star reviews from previous clients, not only for its chic vibe but also for its superbly trained staff and delicious menu. The banquet hall is located above Churchill's Gastropub, which provides locally sourced catering and bartending services for events happening on-site. The light and airy room has space for 90 guests if you're having a seated meal, or you can combine it with the adjoining rooftop terrace to host a cocktail-style reception for up to 240 people. You couldn't ask for a better location, either — numerous hotels and the Savannah riverfront are just steps away!
Learn more about 10 Downing at Churchill's »
Ships of the Sea Maritime Museum
You're bound to fall in love with this quaint venue tucked away on the edge of Savannah's Historic District. Ships of the Sea Maritime Museum is one of the most secluded downtown Savannah wedding venues, with two acres of private gardens surrounding the museum's historical Scarbrough House. The venue's large brick terrace, enclosed by neatly-kept shrubs and trees, would make the perfect setting for a sunny afternoon ceremony, or you can use the museum's facade as an elegant backdrop for your vows. Since the entire property is included with the rental fee, you and your guests can explore the museum's gardens and groves at leisure during the cocktail hour and reception.
Learn more about Ships of the Sea Maritime Museum »