14 Savannah Wedding Venues Brimming With Southern Charm
Historic sites, centuries-old oak trees and amiable charm make these Savannah wedding venues gorgeous spots for an elopement or large bash.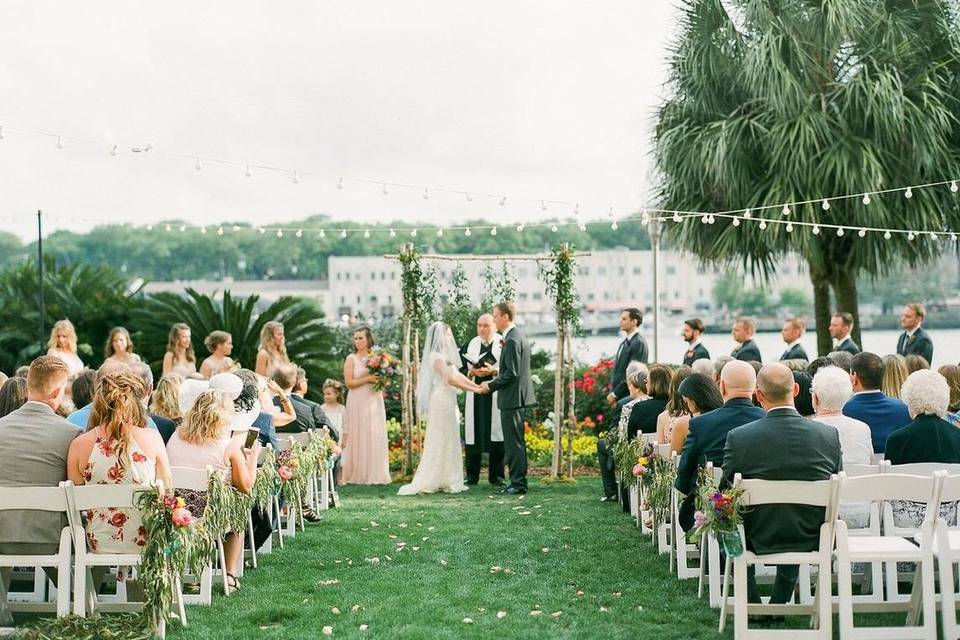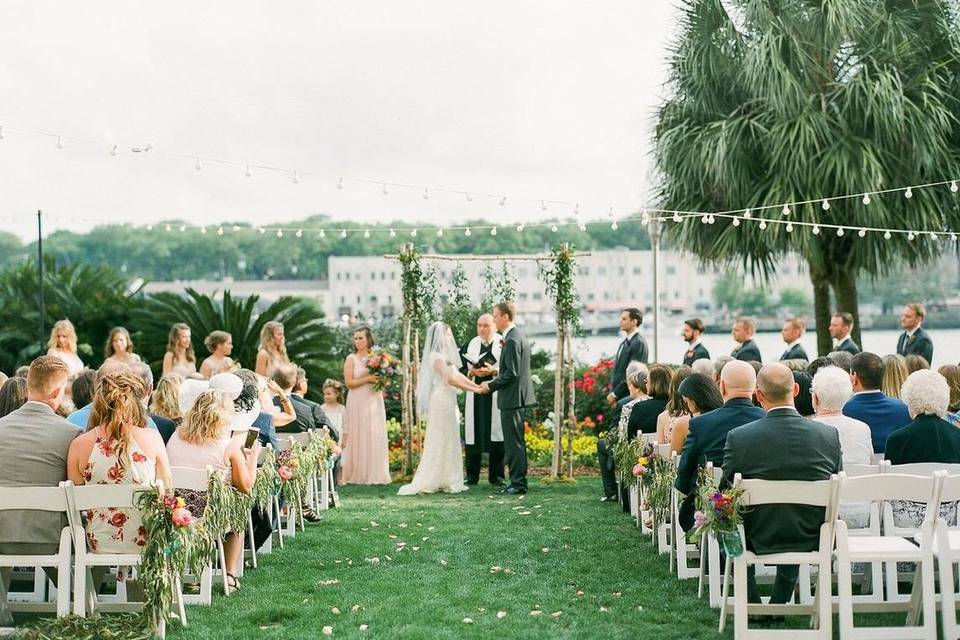 There's something special about Southern hospitality. Even in busy downtowns and historic districts, folks will not only stop to say hello but ask how you're doing. And then there's the second-to-none barbecue, which sticks to the ribs in all the right ways.
Savannah wedding venues epitomize this Southern charm. The coastal Georgia city is full of large and small event spaces, perfect for wedding celebrations of any size, from elopements to large bashes. There are plenty of outdoor spaces, like farms and gardens, allowing couples to take advantage of the year-round warm weather. Savannah's historic district offers a bustling backdrop, and opulent mansions allow for a more upscale (but unpretentious) soiree.
Magnolia trees are in full bloom each spring, and the Spanish moss and oak trees provide unique elements of natural beauty. Since winters are mild, there's no need for shawls—unless you want them. But don't expect freshly fallen snow in your December wedding photos. Though wedding guests may appreciate the warmer winters, know summers can get hot, hazy and humid. Consider taking a cue from the area and being extra hospitable by having plenty of water on hand. Savannah is also prone to hurricane season from June to November.
But if you're willing to take Mother Nature in stride, Savannah's picturesque scenery and more-than-amiable hospitality make it a perfect place for your big day. Wedding pros in Savannah can help take you through every phase of the planning process. You can find them on WeddingWire. They'll need to know when—and where—to show up on your special day, though. Consider these Savannah wedding venues. They exude Southern charm at every turn.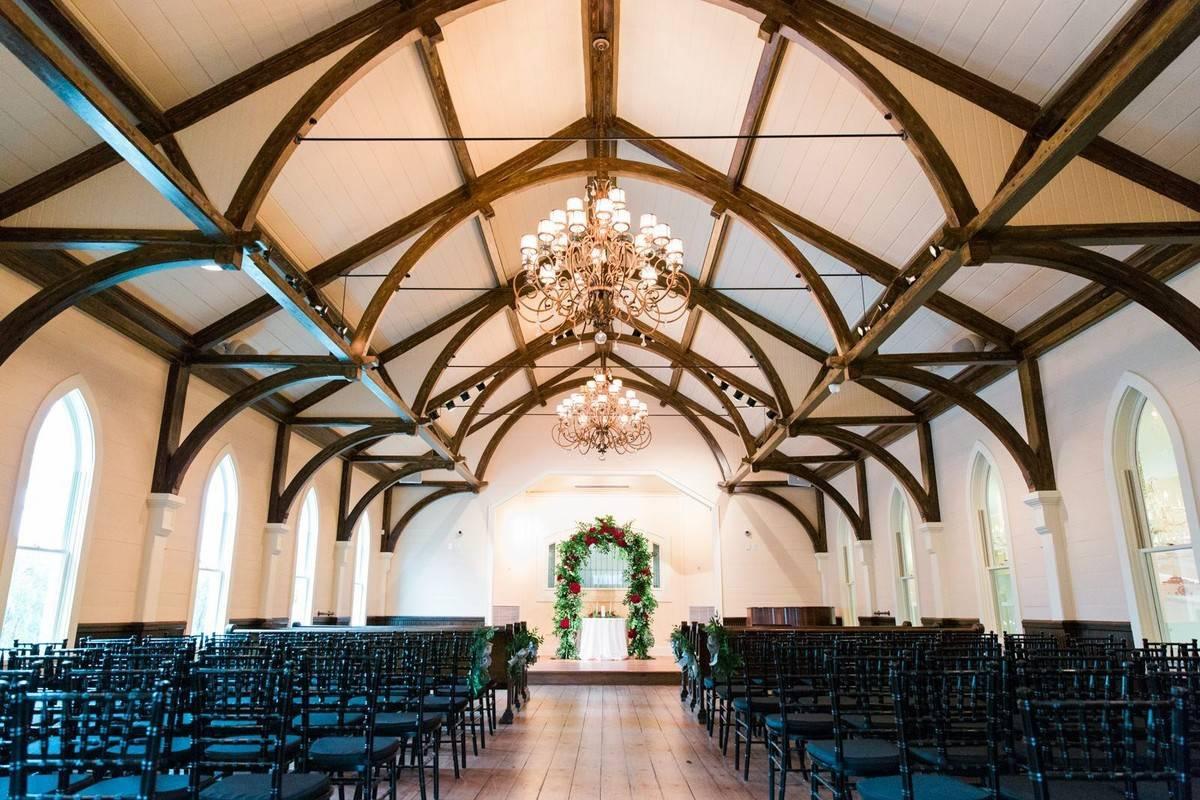 Tybee Island Wedding Chapel & Grand Ballroom
Couples can flow seamlessly from ceremony to cocktail hour at Tybee Island Wedding Chapel & Grand Ballroom, a newly renovated event venue located less than 30 minutes from downtown Savannah. The space offers couples two distinct locations for their ceremony and their wedding reception without the hassle of transportation. The chapel's curved ceilings with exposed wooden beams and jeweled chandeliers make it gorgeous in its own right, negating the need to go heavy on the ceremony decor. The grand ballroom uses French windows, chandeliers and gold trim to create an ambiance you're more likely to find in a European villa than an indoor reception hall. Outdoors, waterfront views, a double staircase and gardens provide an array of opportunities for photos.
Learn more about Tybee Island Wedding Chapel & Grand Ballroom »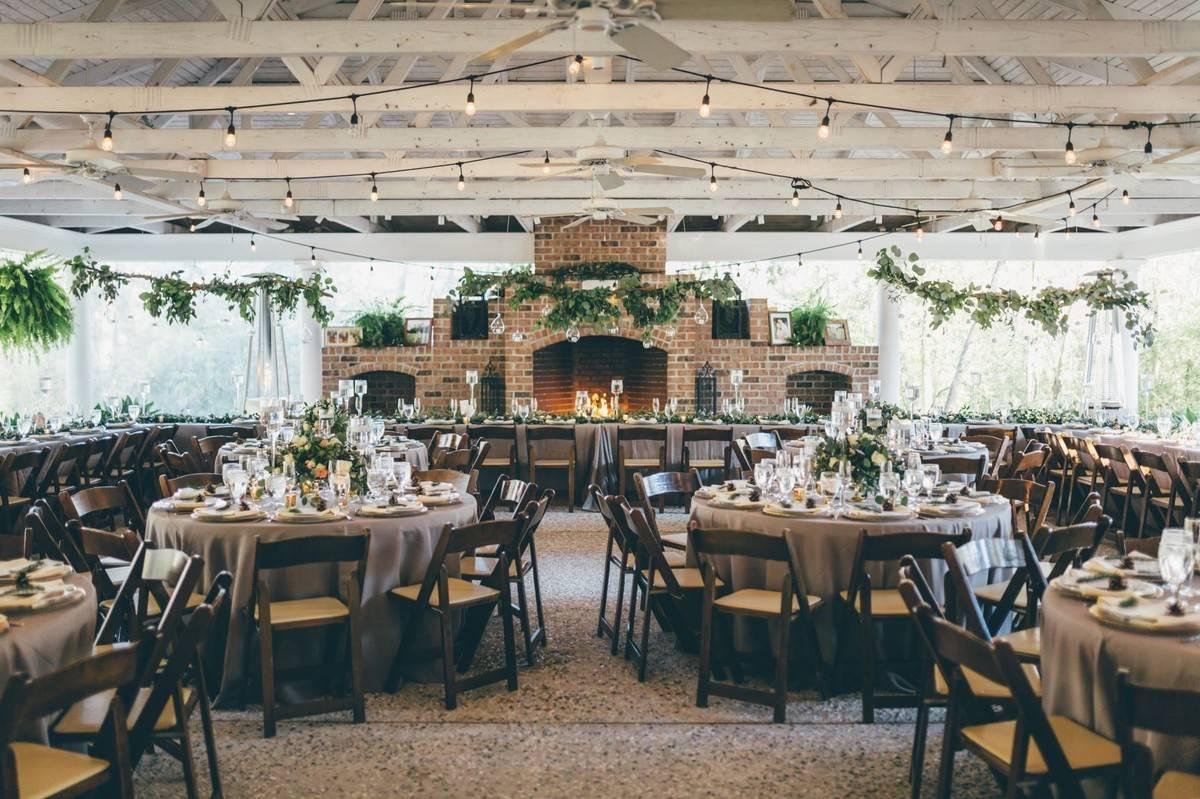 The Mackey House
Classic elegance meets down-to-earth Southern charm at this white colonial mansion with pretty blue shutters in downtown Savannah. Nestled between oak trees, The Mackey House sits on 440 acres of pristine gardens and next to a sparkling lake, both of which lend an air of tranquility to the biggest day of your life. A cobblestone walkway and large fountain leading up to the entrance add to the place's quaint charm and give couples more options for their ceremony and photos. You can tie the knot in any number of locations, including the gardens or in front of the fountain. And a covered outdoor space provides shade and protection from the elements. The antique decor, including vintage chandeliers and a grand piano, give the home's interior a timeless glamor.
Learn more about The Mackey House »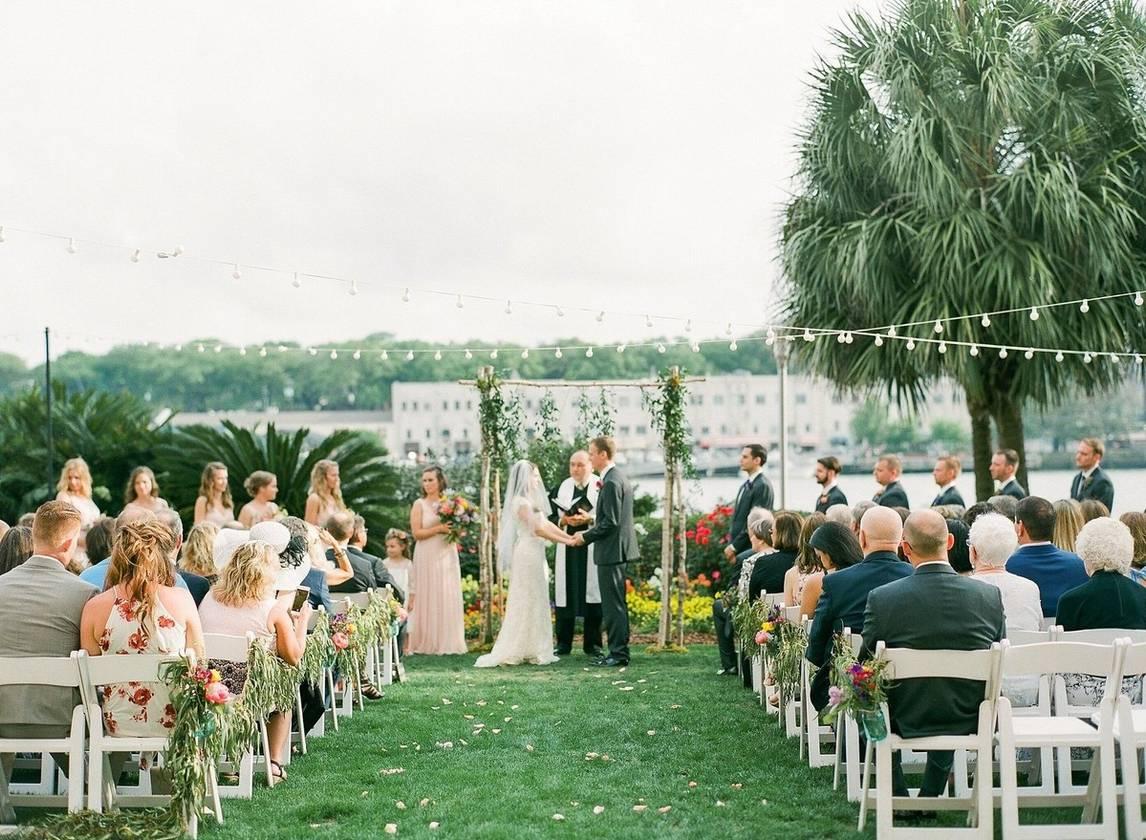 The Westin Savannah Harbor
The Westin Savannah Harbor effortlessly blends waterfront views, country club vibes and the convenience of a hotel wedding reception. Located in the quaint but bustling historic district and along the Savannah River, there's no shortage of photo backdrops here. The River Lawn allows for an outdoor ceremony and reception in front of the Savannah River, while the climate-controlled club Pavillion offers similar views through large windows. Couples craving a traditional ballroom and dance party for the ages will love the spacious Grand Ballroom, which fits up to 800 wedding guests and is illuminated by dozens of chandeliers. And there's plenty for out-of-town guests to do as they await your big day, like golf on the 18-hole PGA championship course or indulge themselves at the spa on-site.
Learn more about The Westin Savannah Harbor »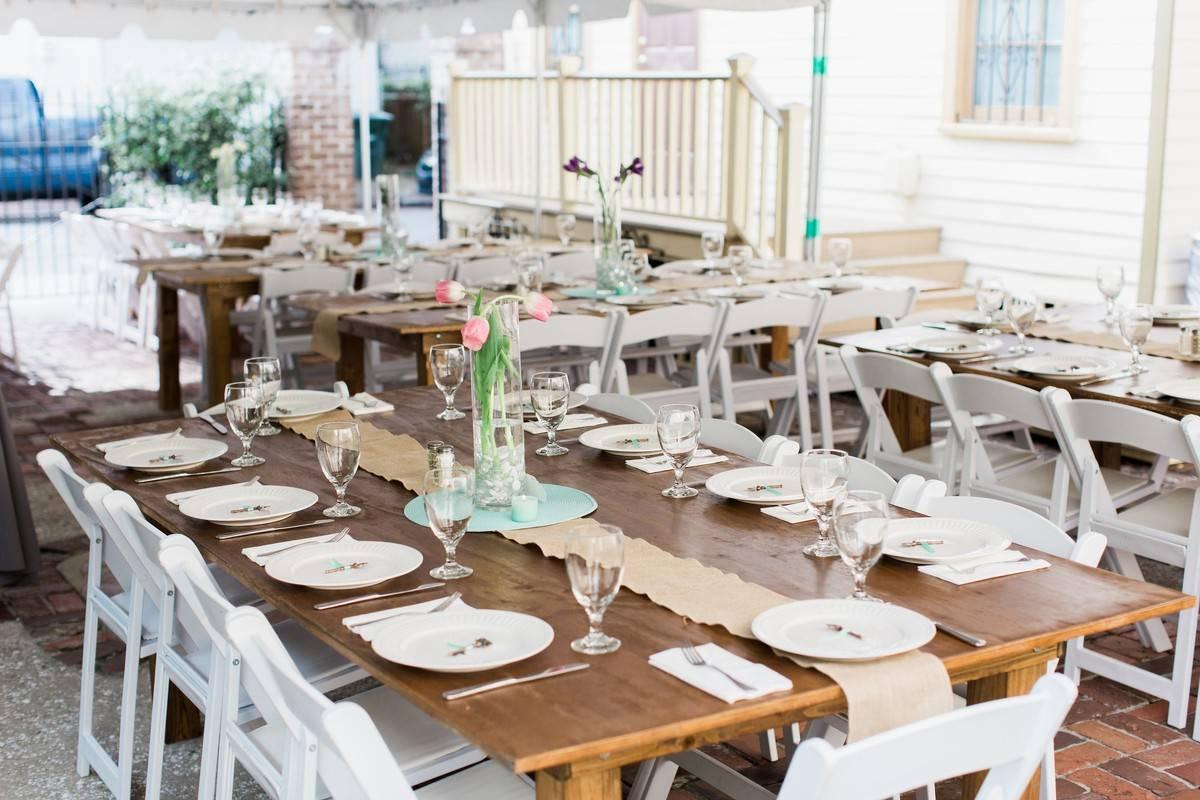 The Whitman Savannah
Couples who would like their intimate Southern wedding to double as a small getaway with their nearest and dearest will want to look into renting this historic site. To-be-weds can rent The Whitman Savannah for three or more days and host up to 60 guests, making it ideal for elopements and destination weddings. Built in 1895, the mansion emanates bygone-era luxury and down-home Southern charm all at the same time. The quaint balconies offer stunning views of Forsyth Park below. Couples can obtain a park permit for their ceremony and return to the mansion for the reception or exchange vows right on-site. The botanical gardens and perfectly manicured lawns make for scenic and private spots to say, "I do." Inside, the stately mansion is furnished with Victorian-era tables and seating spaces, and up to 14 guests can stay the night.
Learn more about The Whitman Savannah »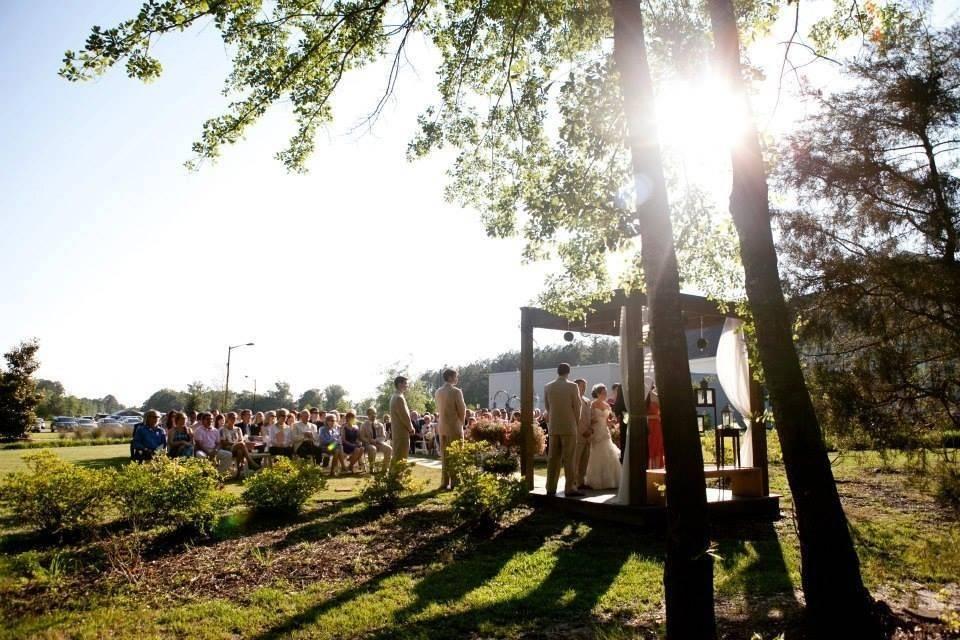 Richmond Hill City Center
Escape the city without straying too far at this historic site 12 miles from Savannah and is ideal for environmentally-conscious couples. Richmond Hill City Center sits on historic wetlands and is surrounded by natural beauty. And the reception venue gives back to the land that makes it such a gorgeous place for a couple's big day or even a bridal shower—it's the first LEED-certified building in the county. The 22,800-square-foot building has space to accommodate a variety of size wedding parties. Couples looking to have a big bash will love the 4,000-square-foot ballroom—it holds up to 300 wedding guests. The French doors and floor-to-ceiling windows allow the natural light to pour in from every angle.
Learn more about Richmond Hill City Center »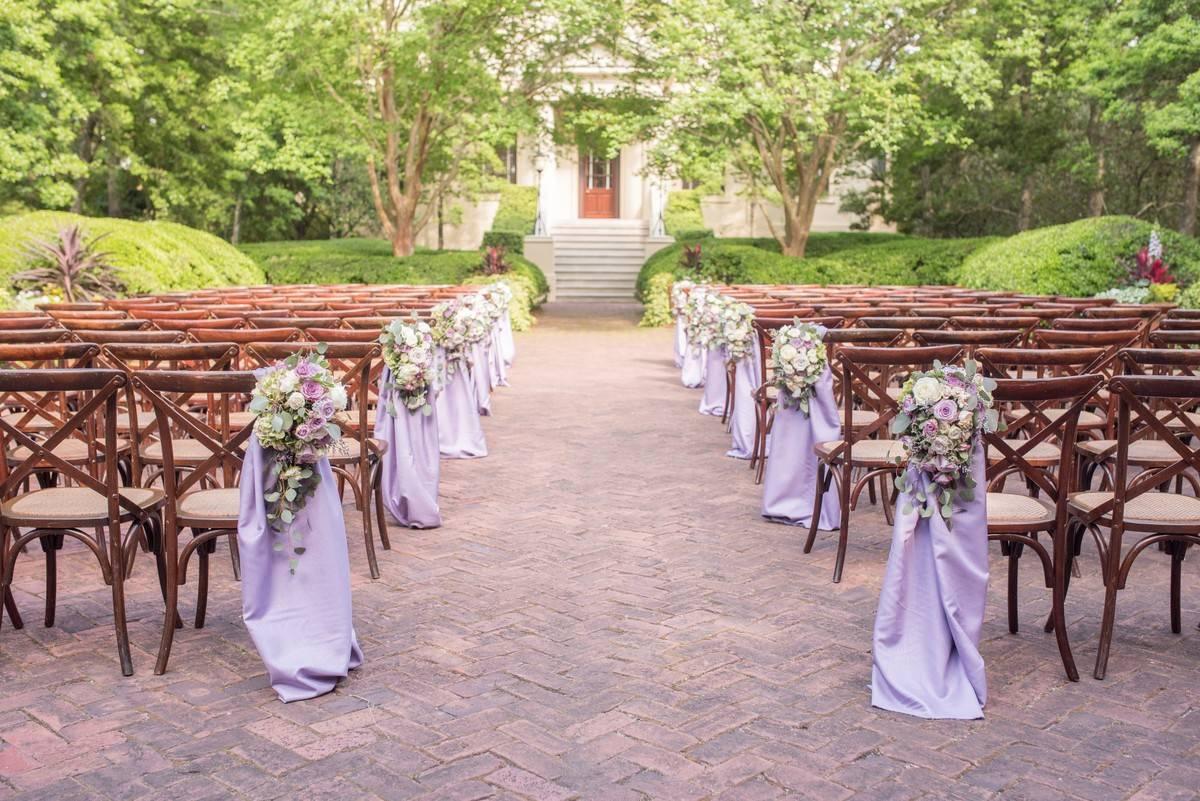 Ships of the Sea Maritime Museum
Couples dreaming of a day full of history and garden beauty will want to anchor down at this historic venue. Located in downtown Savannah, the Ships of the Sea Maritime Museum was originally the home of successful merchant William Scarborough and built in the 1800s. Today, it boasts the largest privately-owned garden in the historic district. Stepping foot on the grounds feels like walking into a whimsical paradise with lush greenery and potted plants full of seasonal blooms. Intimate wedding ceremonies can take place in the Scarbrough Garden with a brick terrace. Couples hosting a larger party can tie the knot in the North Garden, which fits more than 300 guests and has a stunning maple grove. After making things official, everyone can hit the dance floor in the covered outdoor space.
Learn more about Ships of the Sea Maritime Museum »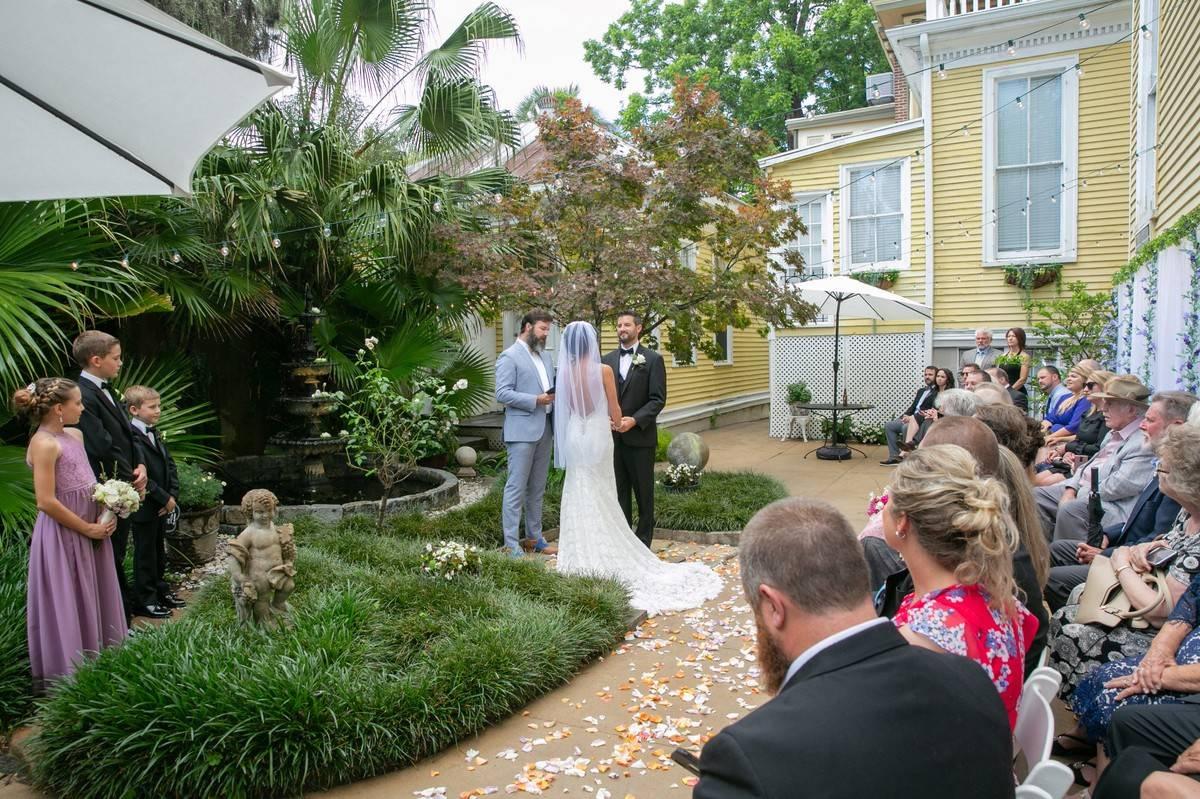 Forsyth Park Inn
This Queen Anne-styled Victorian bed & breakfast overlooks Savannah's historic district and Forsyth Park. The park draws locals and tourists alike for its gorgeous fountains and acres upon acres of green space. But the peaceful courtyard wedding ceremony is secluded and ensures couples can hear each other whisper, "I do." Forsyth Park Inn fits up to 50 guests, making it ideal for couples looking for a small elopement or destination wedding. Inside, the space has a turn-of-last-century charm. The wooden staircase is original to the home and makes for a romantic photo backdrop, and it's tastefully decorated with artwork reminiscent of the period.
Learn more about the Forsyth Park Inn »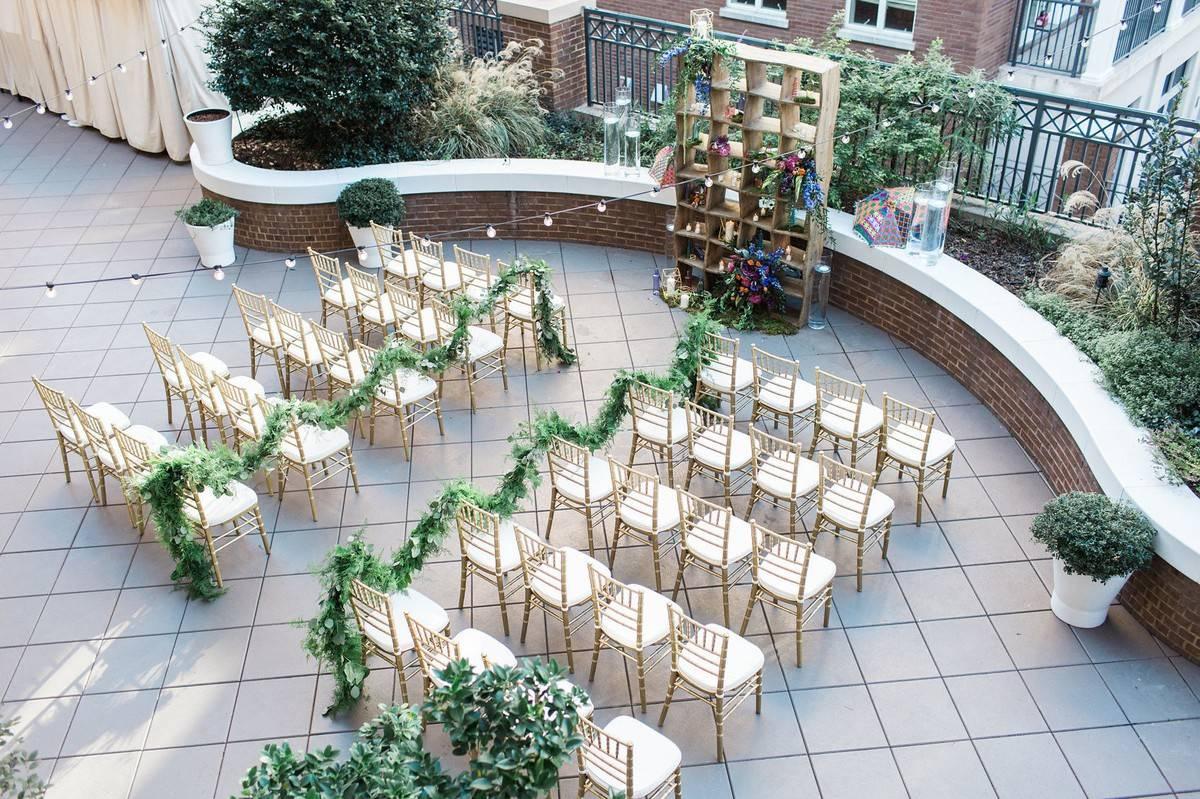 Andaz Savannah
Couples hoping for a day full of customized details and decor will want to take a look at this luxury hotel in Savannah's historic district. Andaz Savannah takes a cue from its name, which means "personal style" in Hindi. The numerous spaces with the event venue allow couples to cater their big day to their unique personalities. The Grand Studio's white walls make it a blank canvas for couples and their florists to go wild with any type of design, from contemporary to old-world charm. Smaller parties will love how the abundant natural light shines through the Decker Studio's floor-to-ceiling windows. On a gorgeous evening, the terrace's private cabanas make for an ideal spot for any special event during your wedding weekend, including outdoor ceremonies, cocktail hours or rehearsal dinners.
Learn more about Andaz Savannah »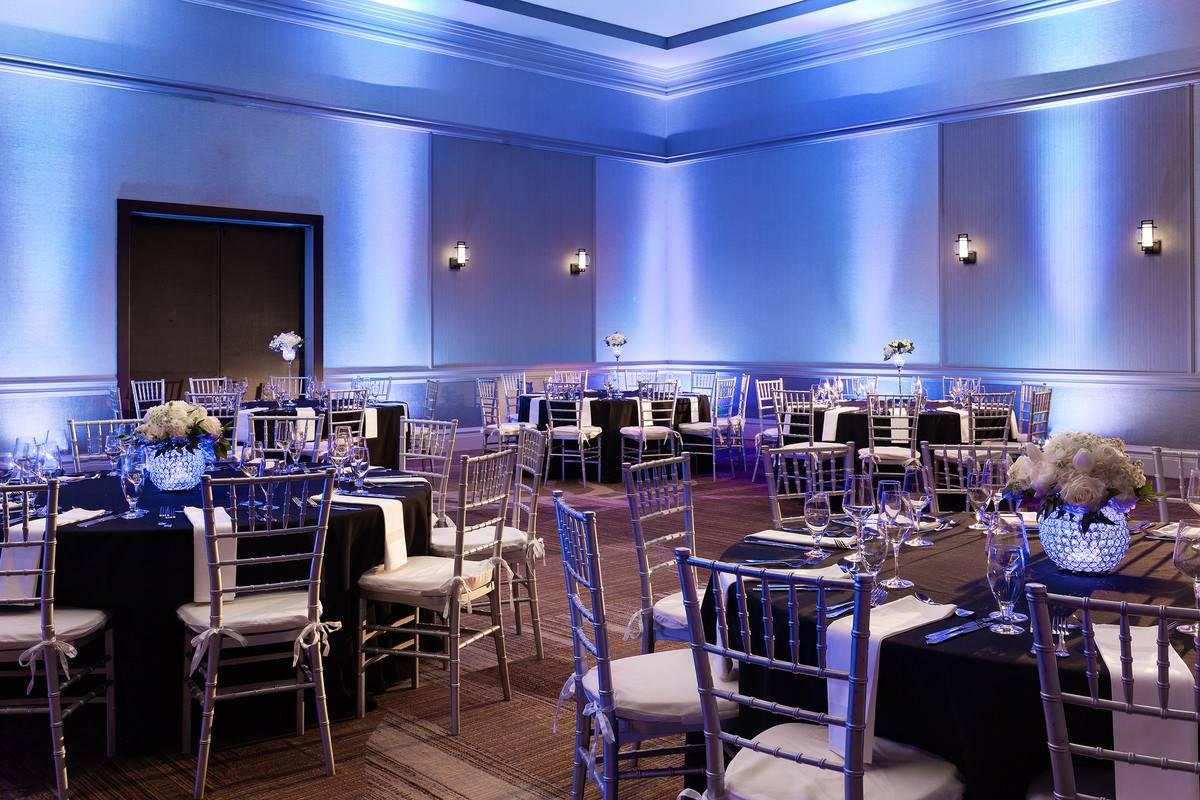 Marriott Savannah Riverfront
Located in the heart of the historic district, the Marriott Savannah Riverfront hotel gives wedding guests creature comforts and couples the luxury of a no-fuss planning process. The hotel features more than 40,000-square-feet of event space able to host anything from sophisticated cocktail soirees to 300-person dance parties. The light-filled atrium has views of the Savannah River and is a gorgeous setting for welcome drinks, while the Savannah Ballroom can seat basically everyone you've ever met (well, up to 1,200 people). There's also an on-site spa for couples and their parties to enjoy a little pre-wedding day pampering, perfect for warming even the coldest of cold feet. After the party ends, guests can retreat to rooms, some of which have additional river views.
Learn more about Marriott Savannah Riverfront »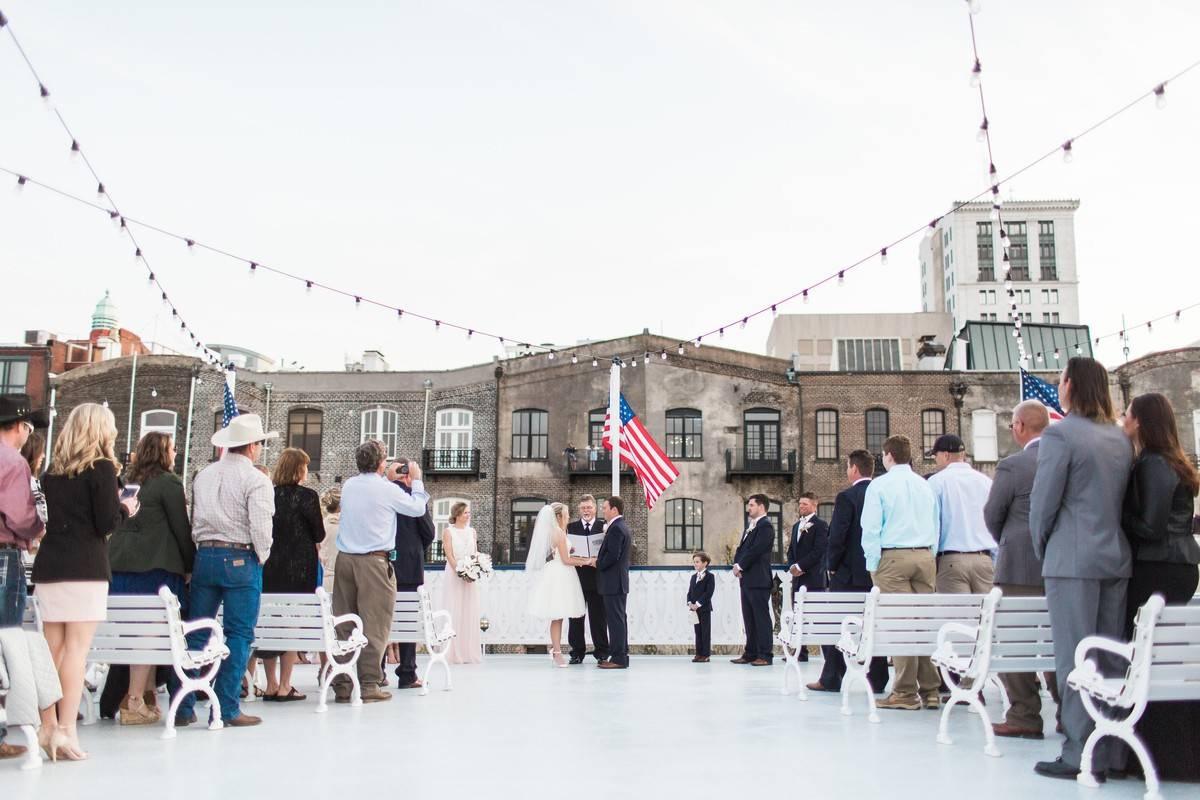 Savannah Riverboat Cruises
Seafaring couples and those hoping to treat their wedding guests to a one-of-a-kind experience can host their ceremony and reception on the water—literally— through Savannah Riverboat Cruises. You'll hop aboard a boat on River Street and set sail along the Savannah River. During the four-hour nautical affair, couples can tie the knot in an intimate ceremony on the top deck, perhaps with a spectacular sunset as a backdrop. Then, the party moves to one of the elegantly appointed dining rooms for an evening dinner, dessert and dancing at sea. All couples receive keepsake riverboat toasting glasses to use during anniversary celebrations (and just-because date nights) for years to come.
Learn more about Savannah Riverboat Cruises »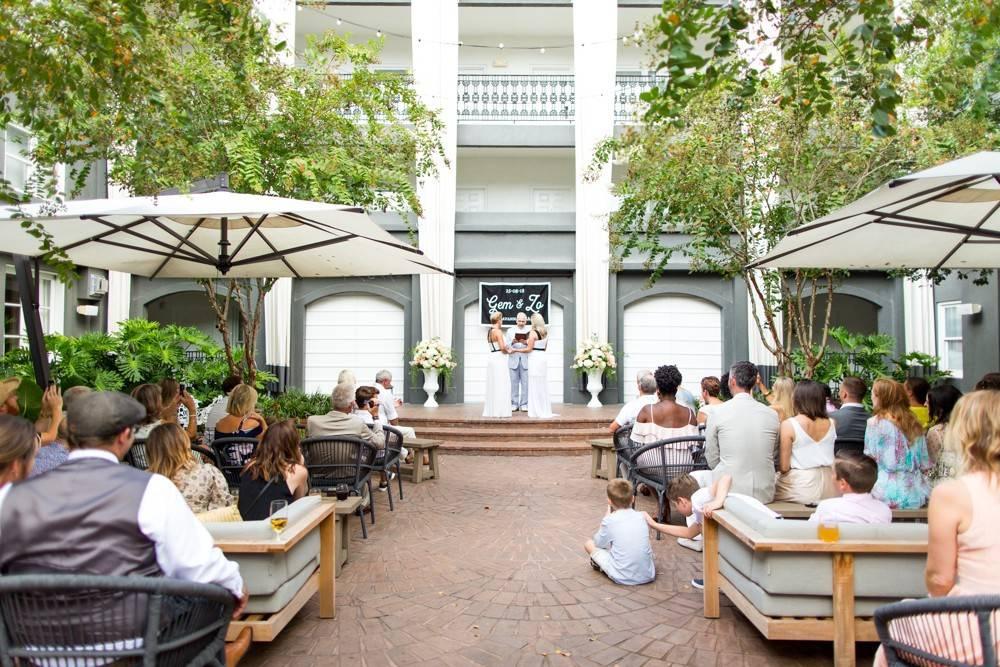 The Brice - A Kimpton Hotel
A lush oasis on East Bay Street, The Brice - A Kimpton Hotel provides couples with a one-stop-shop capable of taking them from rehearsal dinner to morning-after brunch. Couples can say "I do" surrounded by trees in an intimate ceremony in the Secret Garden or with a glistening pool in the background in the Pool Garden. The courtyard provides a romantic setting for more than a few dozen photos. Though an outdoor reception is on the table on a nice day, the indoor dining room also boasts a sophisticated feel. Dim lights and dark wooden accents give it a modern elegance. And as for the food, couple after couple has raved guests are still talking about their dinner years later. After dancing the night away, guests can retreat to cheerfully decorated rooms with all the modern comforts and amenities they need to make themselves feel at home.
Learn more about The Brice - A Kimpton Hotel »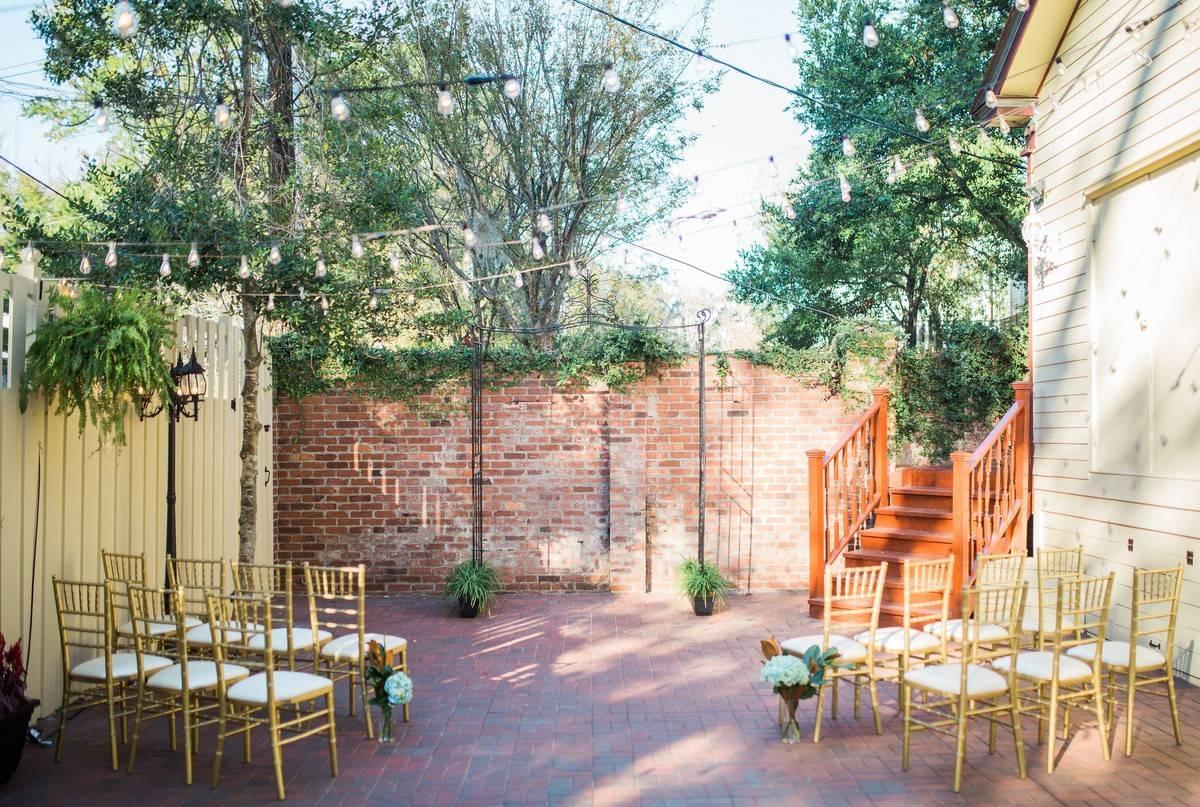 The Gingerbread House
Situated in the heart of Savannah's Victorian District, The Gingerbread House is no cookie-cutter home. The steamboat gothic architecture and gingerbread trim give this turn-of-last-century historic venue a character all its own. Couples can put a ring on it on the brick patio hidden behind a fence and shaded by oak trees. Walking indoors transports guests back to another place in time. It's decorated with Victorian-era light fixtures, like vintage chandeliers and furniture. And guests will have plenty of room to savor Southern cuisine on the large, 60-inch round tables. The gold Chiavari chairs add understated opulence to the space.
Learn more about The Gingerbread House »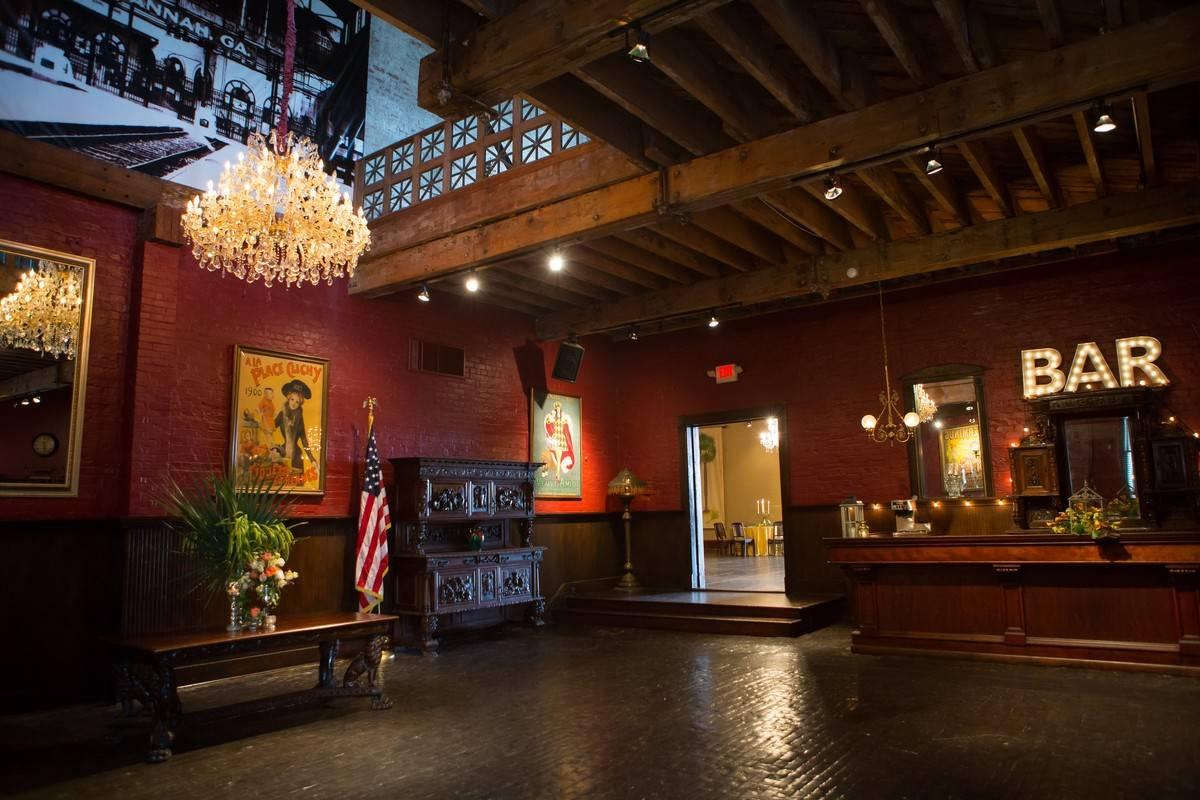 Savannah Station
Couples envisioning a grand, ballroom-style wedding that doesn't sacrifice charm for space will want to check out this special event venue. Initially built as a stable in 1902, Savannah Station includes 12,000-square-feet of event space perfect for large weddings. But the interior is more rustic-meets-classic than the traditional ballroom you can find anywhere. In the 6,000-square-foot ballroom, a wooden ceiling with exposed beams and steel chairs juxtapose perfectly with the spacious dance floor and jeweled chandeliers. The Parlour leans into a Victorian-era ambiance with 13-foot, heavily-trussed ceilings and crystal chandeliers. In this space, which fits up to 70 guests for a sit-down dinner, everyone can dance on the room's original brick floors.
Learn more about Savannah Station »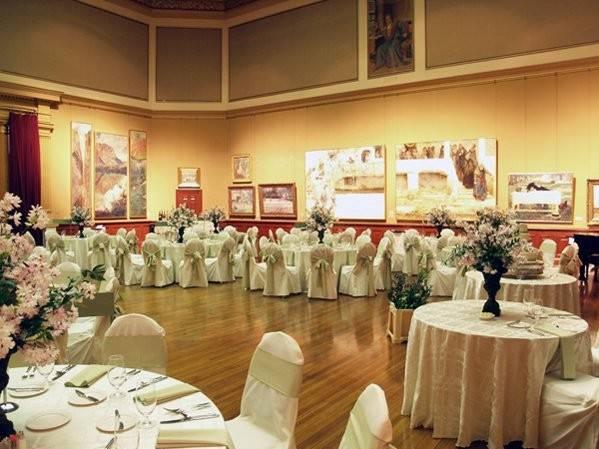 Telfair Academy
Classic romance, historic architecture and world-class art make Telfair Academy a breathtaking space to make things official. The building, located in the famous Telfair Square, was designed by English architect William Jay and completed in the early 1800s, making it the oldest art museum in the south and a National Historic landmark. The three-story rotunda, where couples can hold their reception, looks more like a timeless masterpiece than an event venue. Paintings hang from the light green walls, and guests will be seated at round tables along the rotunda's perimeter, enveloping the couple as they share their special dance (before they join in themselves).