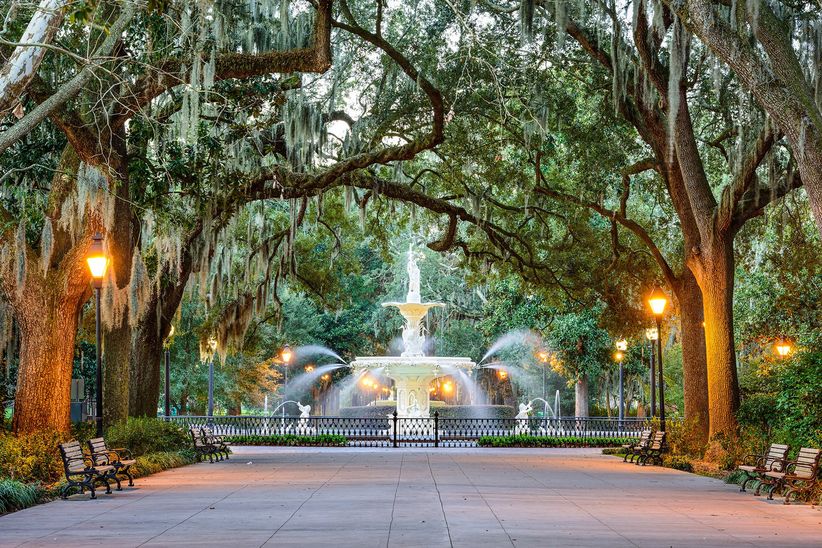 Tree-lined streets, horse-drawn carriages and beautiful Victorian architecture are just a few reasons why getting married in Savannah, GA is like a dream come true. If you picture this charming Southern locale as the perfect destination for your wedding day, then you've come to the right place! We've done the hard work for you and have researched everything you need to know about getting married in Savannah, GA, from marriage requirements to the most covetable venues.
Here's all the essential information about how to get married in Savannah.
The Basics
While Savannah weddings don't ring up as the most expensive in Georgia, couples who marry in the state should expect to spend about $20,000. According to WeddingWire data, Atlanta is the priciest place to get hitched in Georgia, with an average wedding cost of $26,000. Fall weddings are a favorite among Georgia couples, with October being the most popular month to get married. Lastly, the average number of guests at weddings in Georgia is 110, although Savannah itself is a popular destination for elopements and small weddings.
If you're planning a spring wedding, you should know that Savannah's annual St. Patrick's Day parade is the city's most popular event of the year (and one of the largest St. Paddy's Day events in the country). The whole city bands together for the occasion — even the water in the fountains is dyed green. The parade starts at Forsyth Park and goes through the center of downtown Savannah along the waterfront, so expect large crowds, road closures and heavy traffic if you'll be in the area.
Getting There
If you're flying to Savannah, the main airport is Savannah/Hilton Head International Airport (SAV), which is about 15 miles from the historic downtown district. The airport is serviced by several major airlines, including Delta, United, jetBlue, and American Airlines. Traveling by car? Savannah is about a four-hour drive east of Atlanta, two hours south of Charleston, and four hours north of Orlando.
Weather
Much like the rest of the Southern U.S., Savannah's subtropical climate means hot and humid summers with relatively mild winters. Snow is rare in Savannah, which makes it a year-round destination, although tourism peaks in the spring and fall. If you're getting married in Savannah, GA during the spring, the city's historic parks and beautiful magnolia trees will be at peak bloom (the Spanish moss stays on the trees year-round). Because Savannah is a coastal city, hurricanes and thunderstorms can affect weddings at certain times of the year, especially during the summer months. The Atlantic hurricane season runs from June 1 to November 30.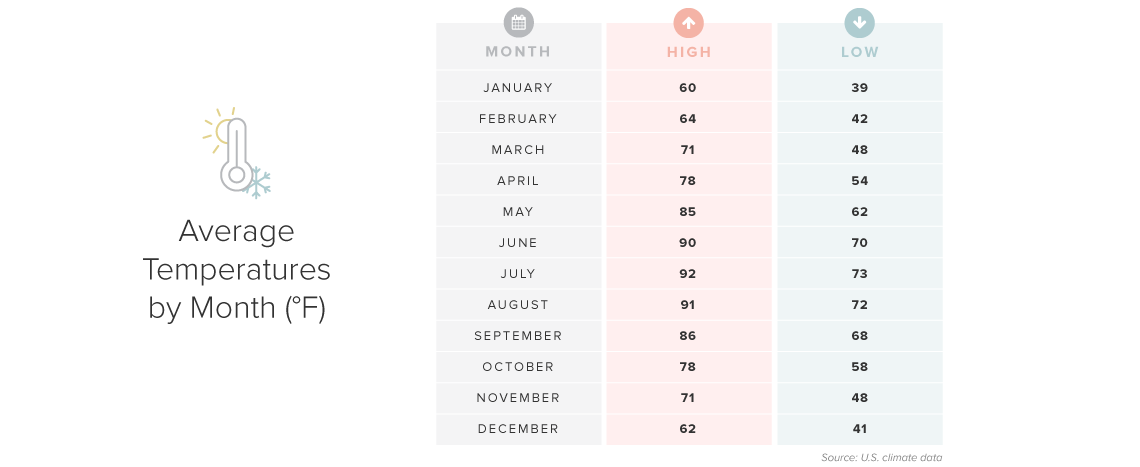 Wedding Venues
The average cost of a wedding venue in Georgia is about $7,000—lower than the national average of $9,000. Whether your style is classic and elegant or modern and trendy, there are a lot of different options available when it comes to wedding venues in Savannah. Some of the most popular types of venues include:
You'll find big-name hotels in Savannah, such as the Hyatt Regency and The Westin, but the city is also home to smaller boutique hotels that are perfect for any couple wanting a more unique experience.
Check out hotel wedding venues in Savannah »
Savannah's historic parks and town squares are popular spots for wedding ceremonies, especially because of their downtown location. If you want a more secluded venue, there are a number of farms, gardens and even riverboats that all embody the Southern charm of the region while offering a little more privacy.
See the best outdoor wedding venues in Savannah »
Take your pick from the dozens of Victorian mansions and historic estates throughout the city. Most mansion venues in Savannah offer elopement and wedding packages.
Learn about historic wedding venues in Savannah »
From top-rated restaurants to stately museums and banquet halls, some of the best wedding venues in Savannah are located right in the heart of the downtown district.
See our favorite downtown Savannah wedding venues »
These industrial chic venues are ideal for any modern, trend-setting couple. Our favorite places include an old railroad terminal, a quirky cafe, and a renovated cotton warehouse.
Check out refurbished wedding venues in Savannah »
Marriage Requirements
Read the Georgia marriage requirements before heading to the clerk's office to pick up your marriage license. Non-Georgia residents getting married in Savannah, GA must apply at the Chatham County Probate Court located in the city's downtown district.
Wedding Accommodations
Savannah, Georgia is a popular spot for destination weddings. Luckily, that means that there are plenty of hotels that offer room blocks for weddings in Savannah. One of the most unique things about the city is the number of wedding venues that also provide overnight accommodations. For couples who want the five-star treatment, there are a handful of hotel wedding venues in Savannah that we love. If you're looking for something more out-of-the-box, check out the historic estates, inns and mansions in Savannah that double as wedding venues.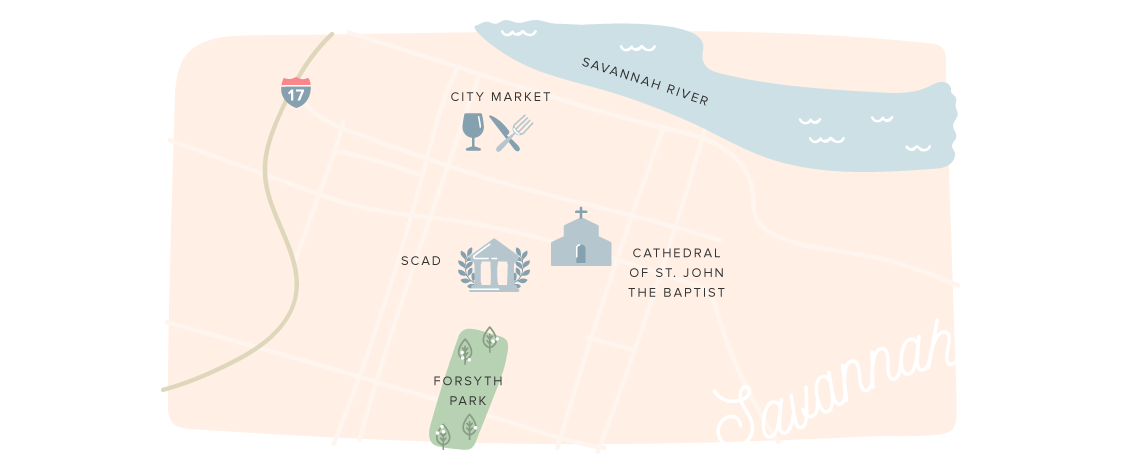 Exploring Savannah
Part of Savannah's charm is thanks to the fact that it has something for everyone, from history buffs to foodies, artists, and nature lovers. Historic downtown Savannah is a super-walkable area, and the city's carriage and trolley routes make it easy to get around town without a car. If you're staying for a long wedding weekend, there are plenty of attractions to keep everyone entertained during downtime:
This gorgeous 30-acre park is a must-see for anyone visiting Savannah. Forsyth Park is home to the city's iconic 19th-Century fountain, which is a perfect backdrop for wedding photos and Insta photos alike. In the summer, you can usually find free concerts happening here!
Savannah College of Art and Design
For a bit of local culture, check out the university's event calendar. Visit the latest art exhibit or catch a show at the SCAD Trustees Theater. This top-ranking fine arts school brings a hip and young demographic to downtown Savannah.
With more than a dozen courses located throughout the Savannah area, this town is a haven for golfers. Georgia is also a popular stop on the PGA tour, usually sometime in the spring, so check out a tournament or two if you're more of the spectator type.
If a trip to the shore is more your style, make the quick 20-minute drive from downtown Savannah to Tybee Island. Here, you can check out the Tybee Island lighthouse, the Tybee Island Marine Science Center, or simply lounge on the beach.