6 Outdoor Wedding Venues in Savannah, Georgia
These stunning outdoor wedding venues in Savannah, GA are full of low-country charm and Southern elegance.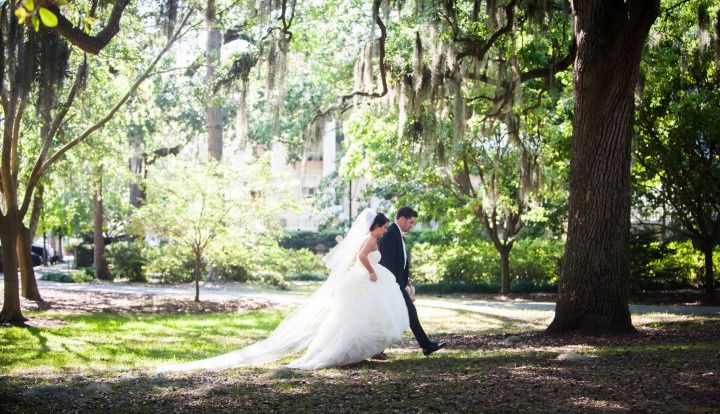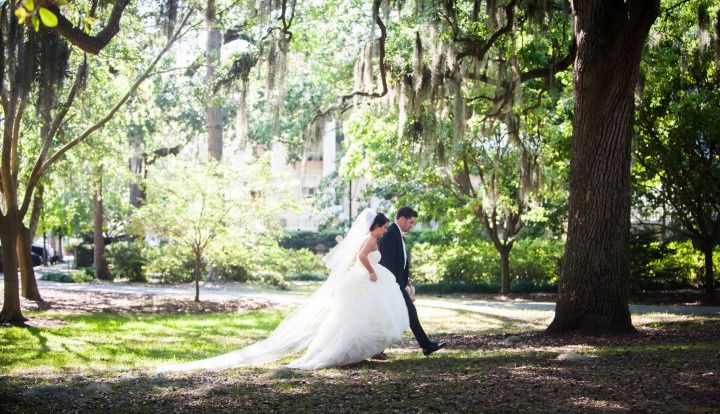 From historical mansions that exude elegance, to secluded farms with low-country charm, there are plenty of reasons why outdoor wedding venues in Savannah, GA are some of the best locations for couples getting hitched in the area. Finding the perfect venue for your wedding day is one of the most important steps in your planning process, so we've rounded up some of our favorite options in Savannah to get you started.
If you're dreaming of saying "I do" in the South, check out these outdoor wedding venues in Savannah, GA.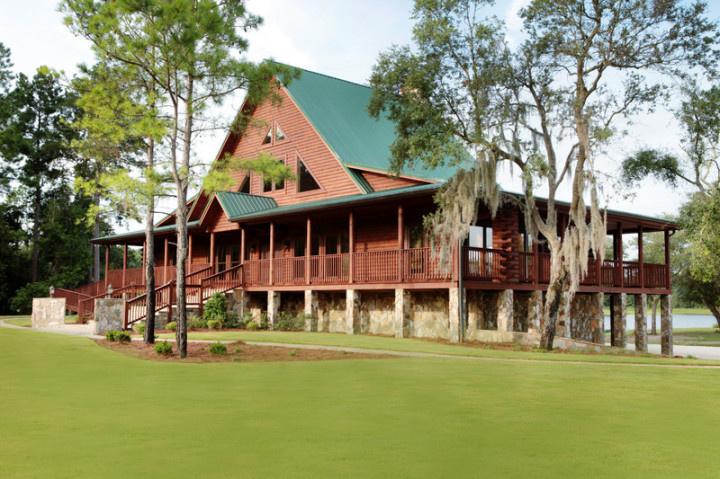 Forrest Pond Lodge Lakeside Facility
This gorgeous log cabin is the perfect spot for couples in search of private, secluded outdoor wedding venues in Savannah, GA. Forrest Pond Lodge, located just an hour outside of downtown Savannah, gives you the best of both worlds. Your guests can enjoy everything that downtown Savannah has to offer — from the numerous five-star restaurants to the peaceful parks — while escaping to the scenic Georgia countryside for a few hours as you say 'I do.' The cabin is surrounded by picturesque grounds featuring romantic Spanish moss-covered trees, private lawns and 100 acres of water. The lodge itself can hold up to 250 people and has five bedrooms to accommodate wedding guests overnight.
Learn more about Forrest Pond Lodge Lakeside Facility »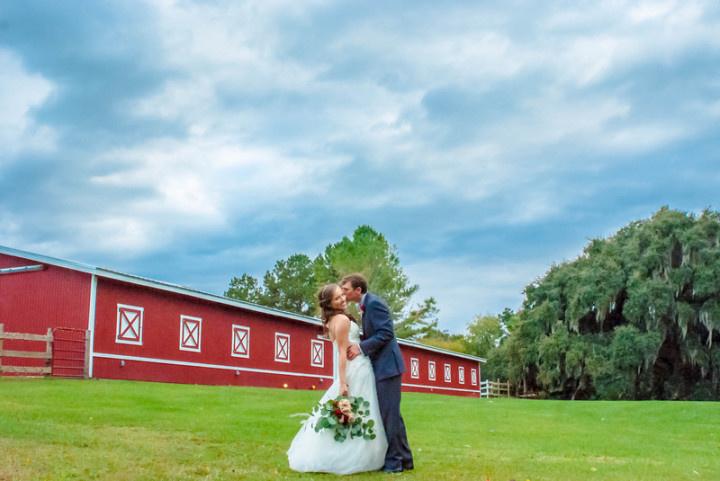 Red Gate Farms
A giant red barn is the main event space at Red Gate Farms, which is located less than 10 minutes outside of the Savannah historic district. With its rustic elegant beauty, gorgeous oak trees and scenic lake, Red Gate Farms is a charming spot for couples who love the idea of having a traditional Southern wedding. This is one of our favorite Savannah wedding venues that is available year-round, and the staff at Red Gate Farms can provide everything you need, from event planning to rentals, linens, catering, and more.
Learn more about Red Gate Farms »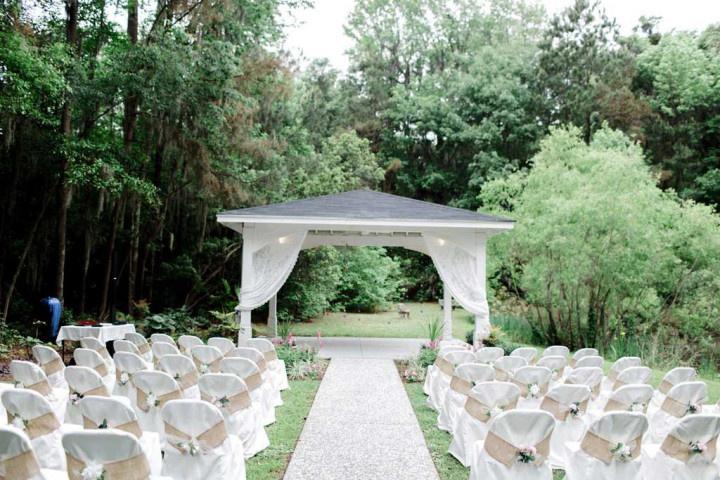 Savannah Botanical Garden
If you have a small guest list, you'll want to consider the Savannah Botanical Garden as a unique setting for your big day. This 10-acre property has both formal and natural gardens, along with an amphitheater (the perfect spot for outdoor ceremonies), a two-acre pond, nature trails, archeological site, and a charming 19th-century farmhouse. The Savannah Botanical Garden is among the top-rated Savannah venues and has rave reviews for its event staff, not to mention the gardens themselves. Couples getting married here during the spring or summer are in luck — the venue's flowers are in full bloom at that time and will be a stunning backdrop for your wedding photos.
Learn more about the Savannah Botanical Garden »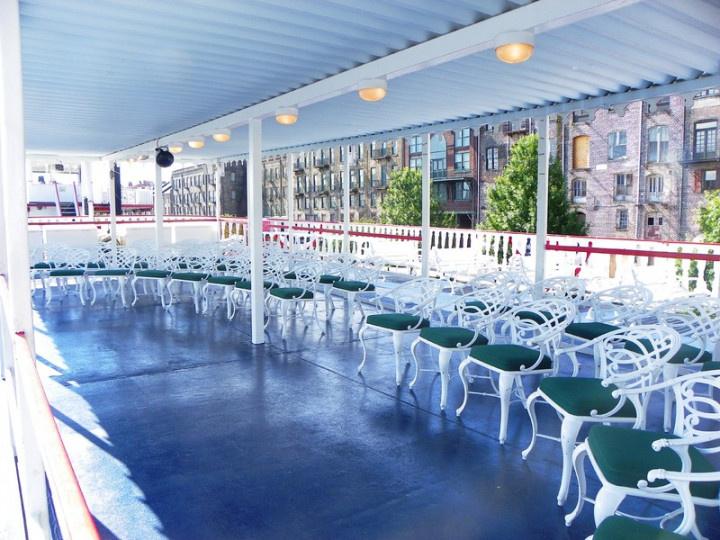 Savannah Riverboat Cruises
Among the most unique outdoor wedding venues in Savannah, GA are the historic Savannah riverboats. Whether you're having a wedding with 60 guests or 600 guests, Savannah Riverboat Cruises can accommodate your needs to ensure that your wedding day is one to remember. Choose from the fleet's two classic ships, The Georgia Queen or The Savannah River Queen, both equipped with grand ballrooms, full bars, restrooms, covered patios, and private parlors. Travel along the Savannah River in style as you pass the Talmadge Memorial Bridge, Fort Jackson, and the shipping ports of Savannah. When it comes to Savannah wedding venues, you can't get more creative than a cruise down the river!
Learn more about Savannah Riverboat Cruises »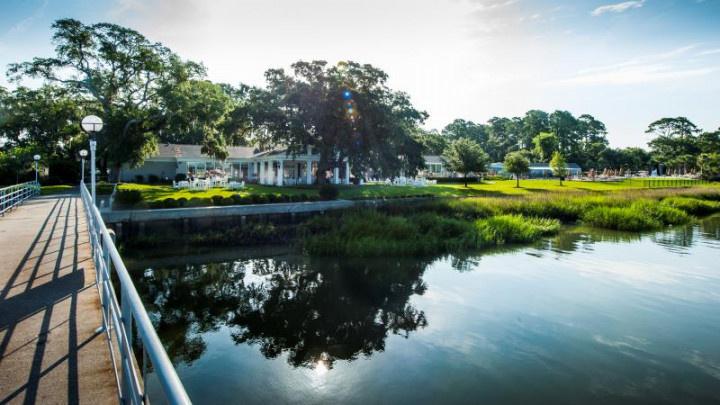 Savannah Yacht Club
The Savannah Yacht Club is a stunning venue overlooking the Wilmington River between downtown Savannah and Tybee Island. This venue combines classic Southern hospitality with modern upgrades, making it an ideal destination for any couple looking for the five-star treatment on their big day. Customize the flow of the wedding with indoor and outdoor spaces — the waterfront lawn provides breathtaking views for your ceremony, while the clubhouse is an elegant setting for your reception. The venue's top-rated catering staff will create a delicious reception menu to wow your guests. A short 20-minute drive brings you to the heart of the Savannah historic district.
Learn more about Savannah Yacht Club »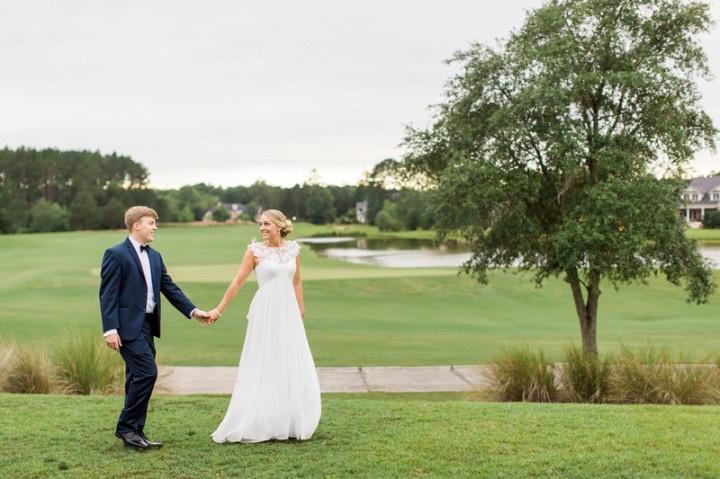 The Club at Savannah Quarters
The Club at Savannah Quarters is a full-service, all-inclusive wedding venue offering event coordination, catering, decor rentals, and more. The picturesque green lawn overlooks the country club's pond, which would be a beautiful backdrop for an outdoor ceremony. Host a tented reception or choose from three different indoor spaces depending on the size of your guest list. The Club at Savannah Quarters is conveniently located 10 minutes from downtown Savannah, giving you and your guests plenty of options when it comes to lodging and activities in the heart of the city.