11 Carmel-by-the-Sea Wedding Venues With Central Coast Charm
Turn your special day into a total fairytale moment by getting married at one of these picturesque Carmel wedding venues.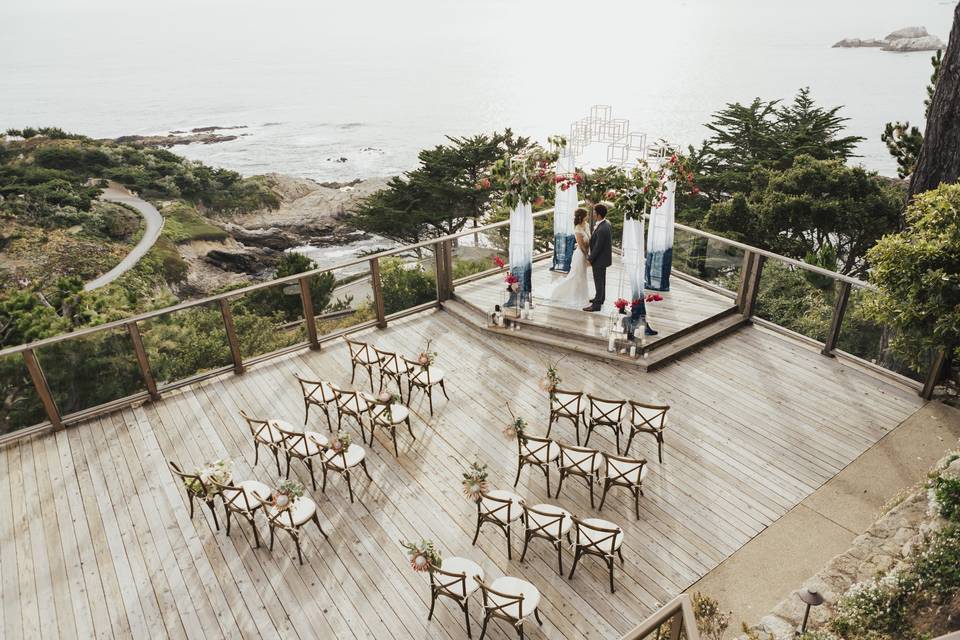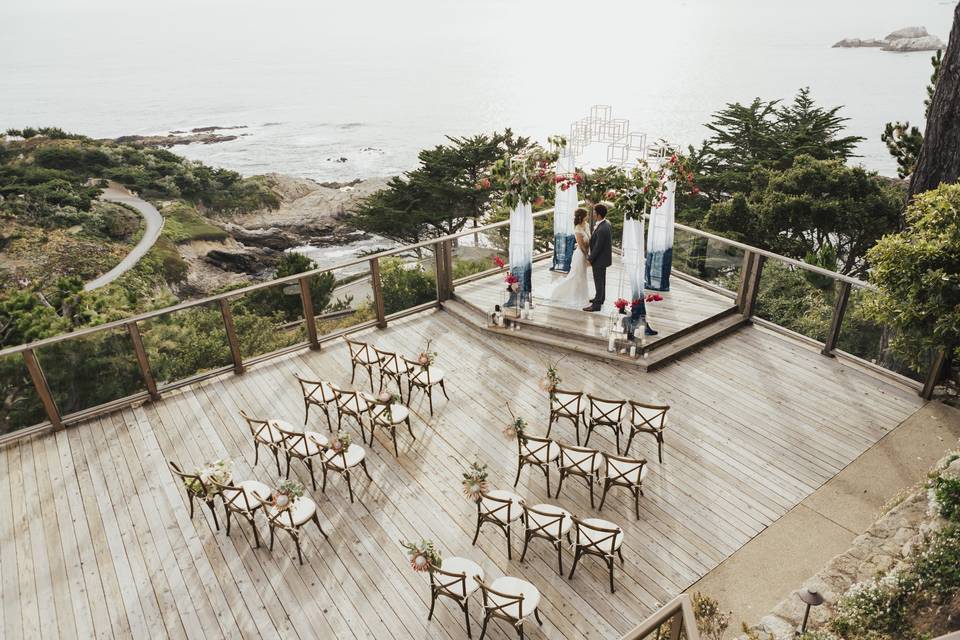 Embrace the romantic charm and sweeping scenery of California's Central Coast by hosting your big day at these Carmel wedding venues, just a short drive from Monterey, Santa Cruz, and San Jose. With everything from low-key beach venues to traditional ballrooms, vineyards, and rustic barns, idyllic Carmel-by-the-Sea and the surrounding valleys are magical backdrops for weddings of any style. Get ready to be charmed right off your feet by this tiny European-inspired town—read more about our favorite Carmel wedding venues below.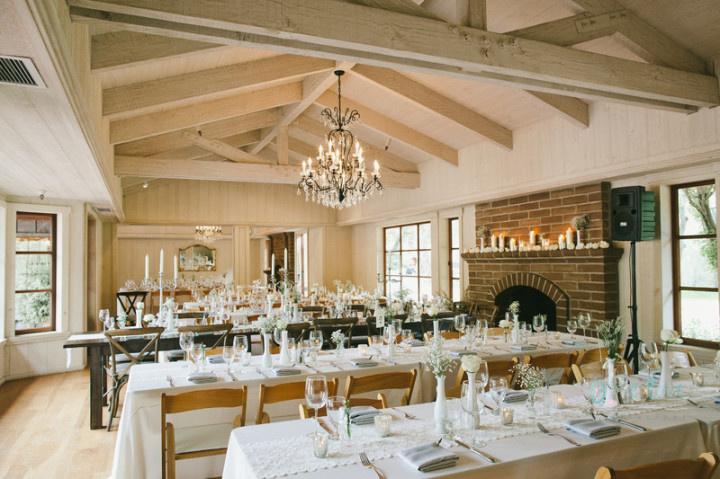 Gardener Ranch
Your dream of having a rustic elegant wedding will come true at Gardner Ranch. This venue has several outdoor event spaces, ranging from neatly manicured lawns to a rugged but serene spot along the Carmel River. There's also an event clubhouse for up to 150 people that features three fireplaces, separate banquet rooms, full-service kitchen for catering, an outdoor patio, and a fire pit. On the wedding day, you and your wedding party can get ready in separate guest houses, which are also available to rent if you'd like to stay at the venue overnight. Gardner Ranch will supply various decor items, including altars, arches, tables, chairs, and a dance floor.
Learn more about Gardener Ranch »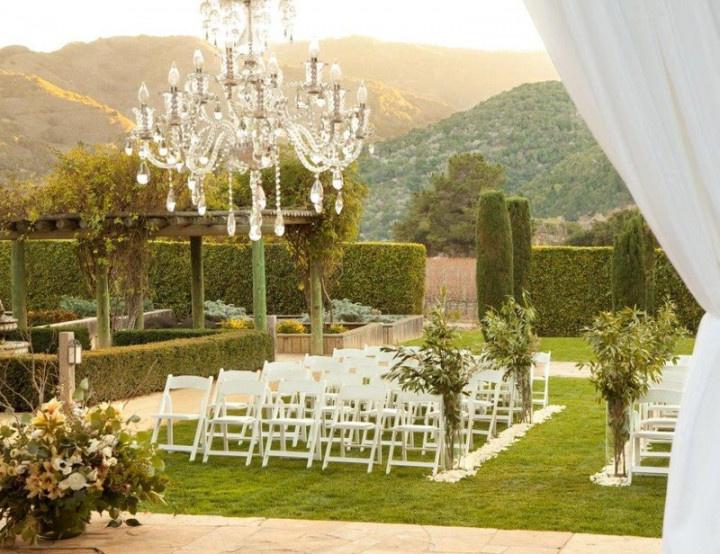 Bernardus Lodge & Spa
The rose garden at Bernardus Lodge & Spa is straight out of a fairytale. Tall hedges and vine-covered arbors surround the wedding ceremony lawn, which has an elevated stone terrace and chandelier to create a picture-perfect setting for your vows. Bernardus Lodge & Spa also has a French country-style ballroom with space for 150 guests. Elopement and wedding packages at Bernardus Lodge & Spa include catering, event coordination, open bar with house wines, and complimentary wedding night accommodations for you and your spouse. If guests want to stay at the venue overnight, they'll enjoy the resort's luxury rooms and top-notch amenities, including a spa, pool, restaurant, and bar. Organized outings, such as wine tastings, hiking, horseback riding, and sightseeing tours, will keep everyone busy during downtime!
Learn more about Bernardus Lodge & Spa »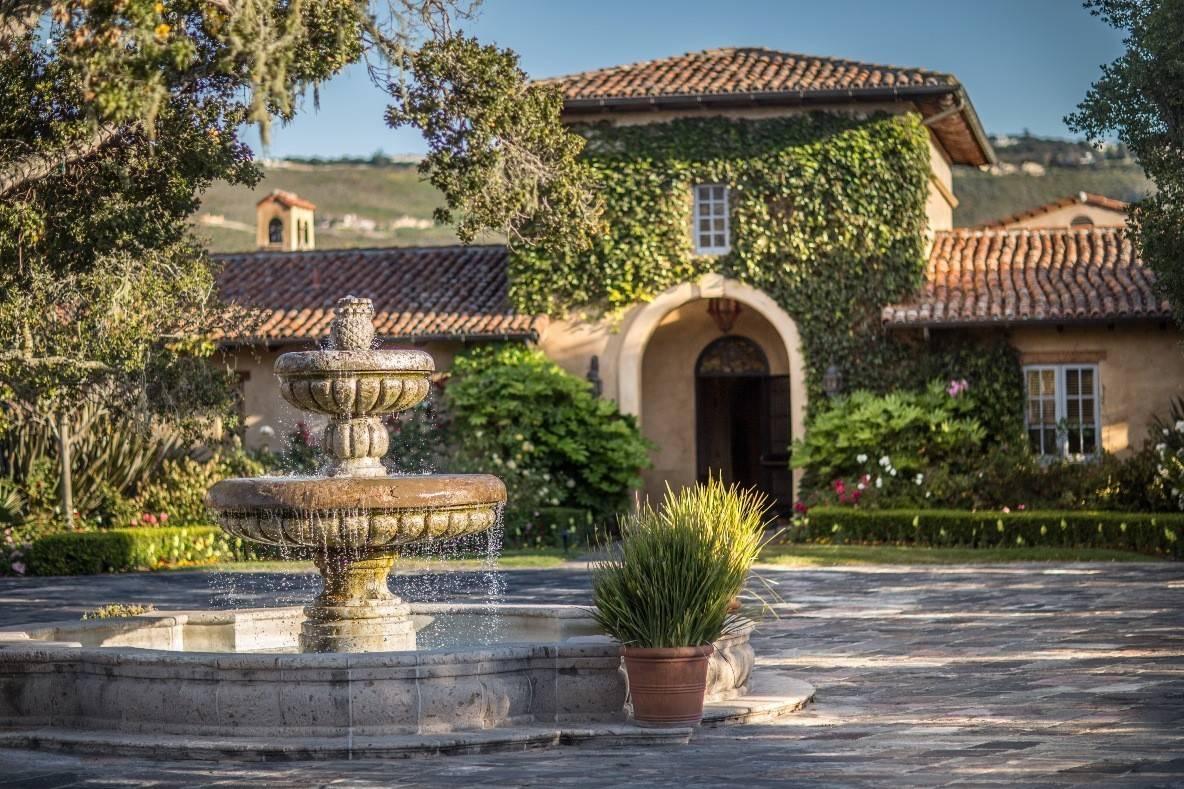 The Club at Pasadera
This Hacienda-style Carmel wedding venue is a beautiful choice if you're looking for authentic California charm. Featuring a main house (complete with terracotta roof tiles and ivy vines), a spacious stone courtyard, and a beautiful fountain, The Club at Pasadera embodies Old World style at its best. From the outdoor ceremony space, you'll have a view of the Santa Lucia Mountains in the distance. There's also a ballroom, covered patio, and golf course on the property. An in-house vendor team handles all of the catering, day-of coordination, and bartending.
Learn more about The Club at Pasadera »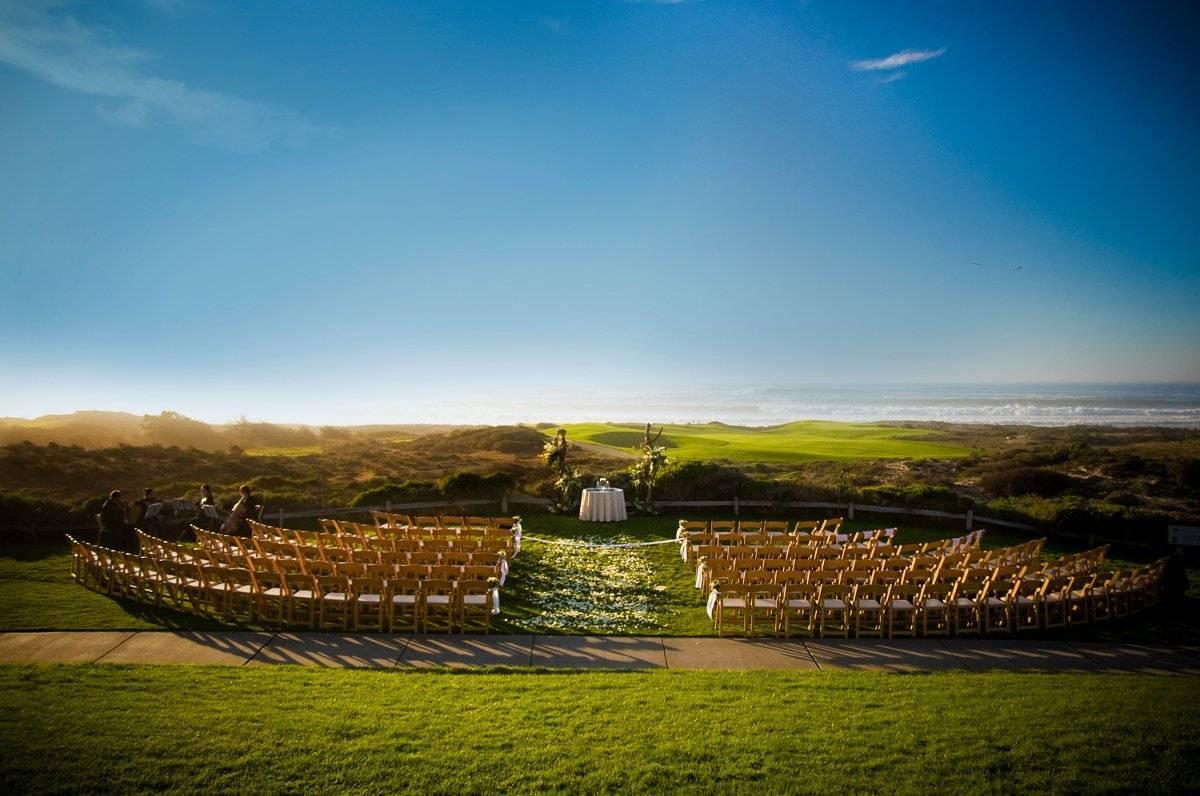 Pebble Beach Resorts
This famous community is one of the most breathtaking locations in Monterey County to get married. Home to the iconic Pebble Beach Golf Links, stunning 17-Mile Drive, multimillion-dollar private estates, and many unforgettable ocean lookout points, Pebble Beach Resorts has so many different event spaces and backdrops to choose from for your special day. The 18th Hole Lawn overlooks the ocean for a memorable outdoor ceremony, while the tennis club and clubhouse lodge provide views of the golf course. As part of your wedding package, Pebble Beach Resorts offers catering, floral design, and professional beauty services for the big day.
Learn more about Pebble Beach Resorts »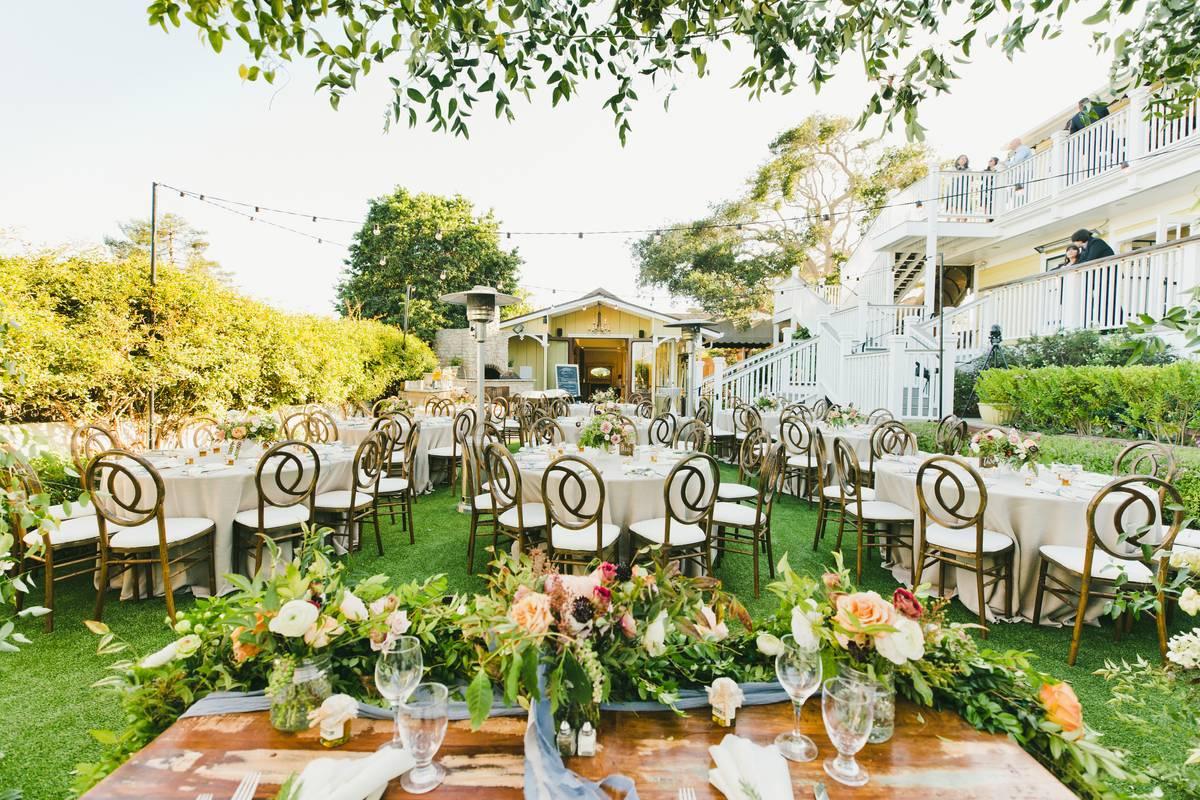 The Perry House
If you're looking for an intimate, low-key Carmel wedding venue, check out The Perry House just a few miles away in downtown Monterey. Getting married at this private estate is like having a backyard wedding, but better—the in-house vendor team and event managers will handle all of the day-of coordination so you can focus on relaxing and celebrating. From the deck at The Perry House, you'll have views of Monterey Bay and the marina, while a landscaped lawn is a beautiful setting for your ceremony or reception. Already have your sights set on a different wedding venue? The Perry House is also available for rehearsal dinners and engagement parties!
Learn more about The Perry House »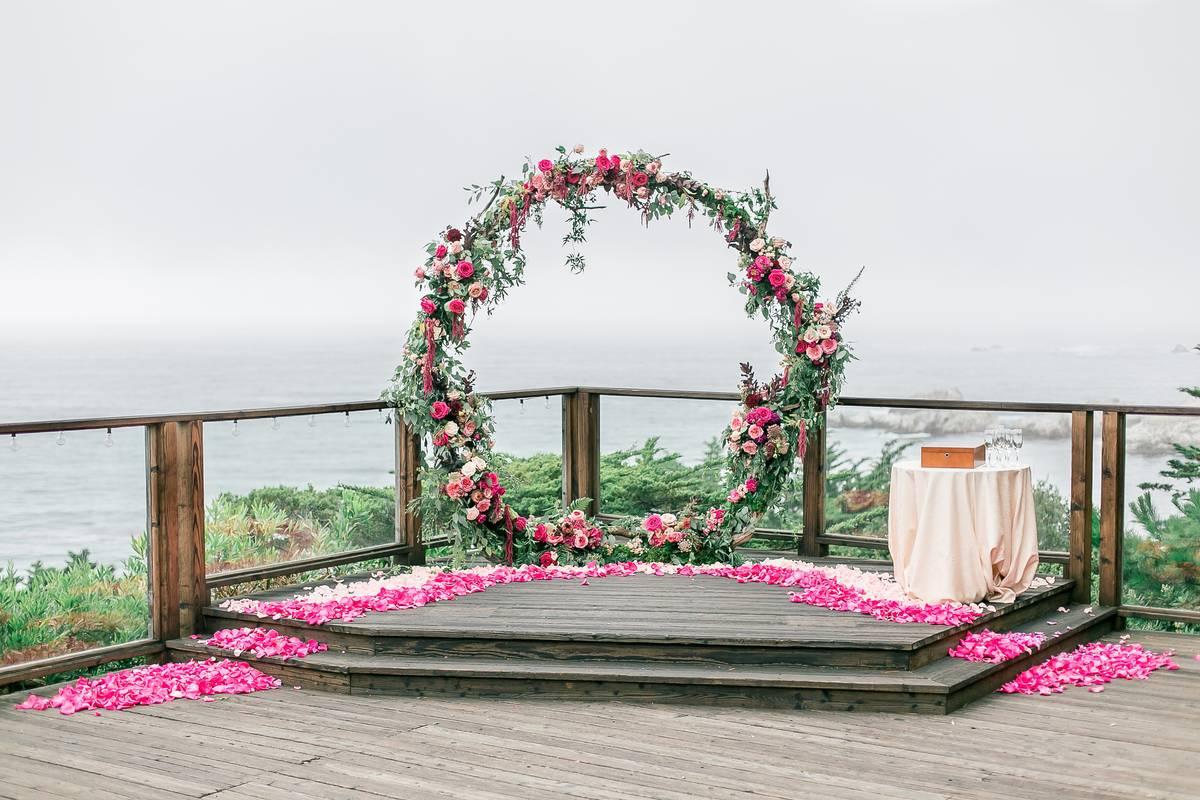 Hyatt Carmel Highlands
The Hyatt Carmel Highlands is our pick for couples searching for Carmel wedding venues with a more traditional aesthetic. Located about five miles south of Carmel-by-the-Sea along the Big Sur coastline, it's an easy drive for both locals and out-of-towners who are in the Carmel area. The Hyatt Carmel Highlands has several event spaces to choose from—we personally love the seaside gazebo, which offers gorgeous views of the Pacific Ocean as your wedding backdrop. The venue's all-inclusive wedding packages have options for every budget and include catering, linens, tables, chairs, glassware, bar service, and more.
Learn more about Hyatt Carmel Highlands »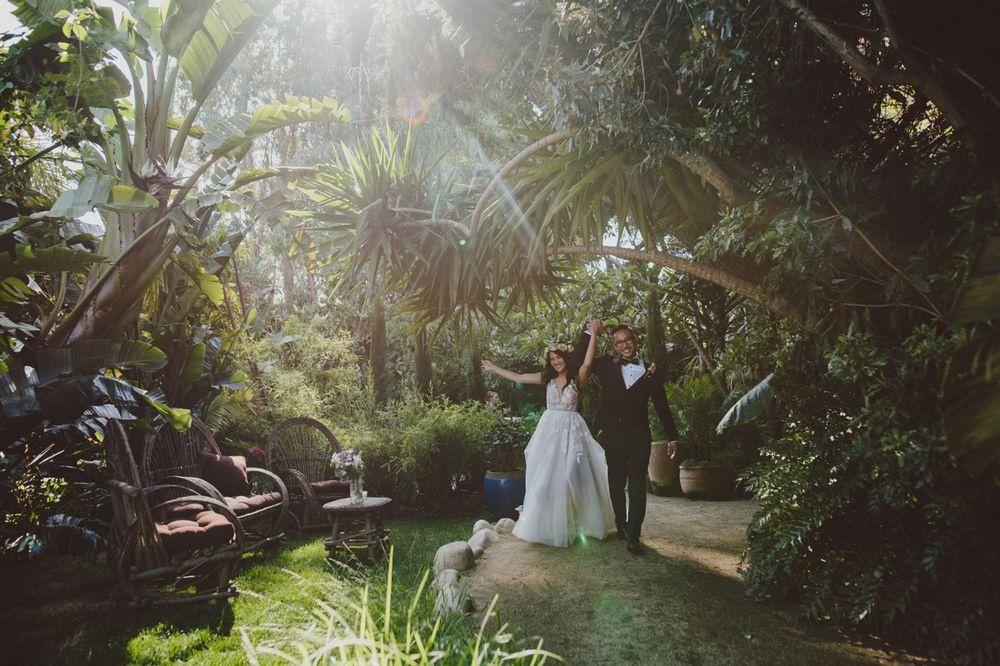 The Holly Farm
If you're looking for Carmel wedding venues that will give you and your guests a totally unique experience, check out The Holly Farm. This seven-acre venue was made with destination weddings in mind, and it's the perfect place to spend a few days with your closest loved ones in tow. The Holly Farm is a retreat-style venue that helps couples create a relaxed, intimate event that lasts for an entire weekend instead of just a few hours. Cottages at the venue are included with your rental fee and can accommodate up to 24 people. The Holly Farm will handle all the details of your wedding weekend from start to finish, including a customized event schedule, day-of coordination, in-house catering, daily housekeeping, and more. The venue is filled with lush, tropical-style gardens that will become your own little slice of paradise for the duration of your stay!
Learn more about The Holly Farm »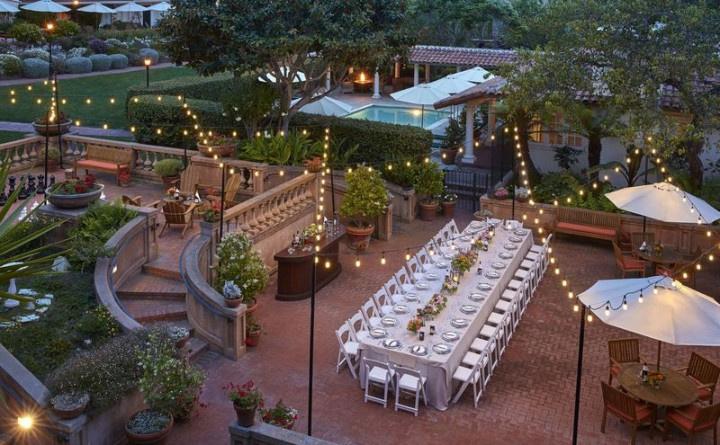 La Playa Carmel
This historic hotel is one of the most idyllic Carmel wedding venues if you're looking to get married in the heart of town. It's located only a few blocks from the beach and is an excellent home base for anyone exploring Carmel-by-the-Sea on foot. The hotel is decorated in California's signature Spanish hacienda style, with warm stone buildings, exquisitely landscaped courtyards, and indoor/outdoor spaces that evoke Old World charm. Whether you want an indoor or outdoor wedding (or both!), La Playa Carmel has several options for each. The venue can host weddings for up to 150 guests and will provide you with a personal event specialist, in-house catering, bartending, and a wedding cake. For those traveling from out of town, La Playa Carmel has 75 guest rooms, each with their own unique decor.
Learn more about La Playa Carmel »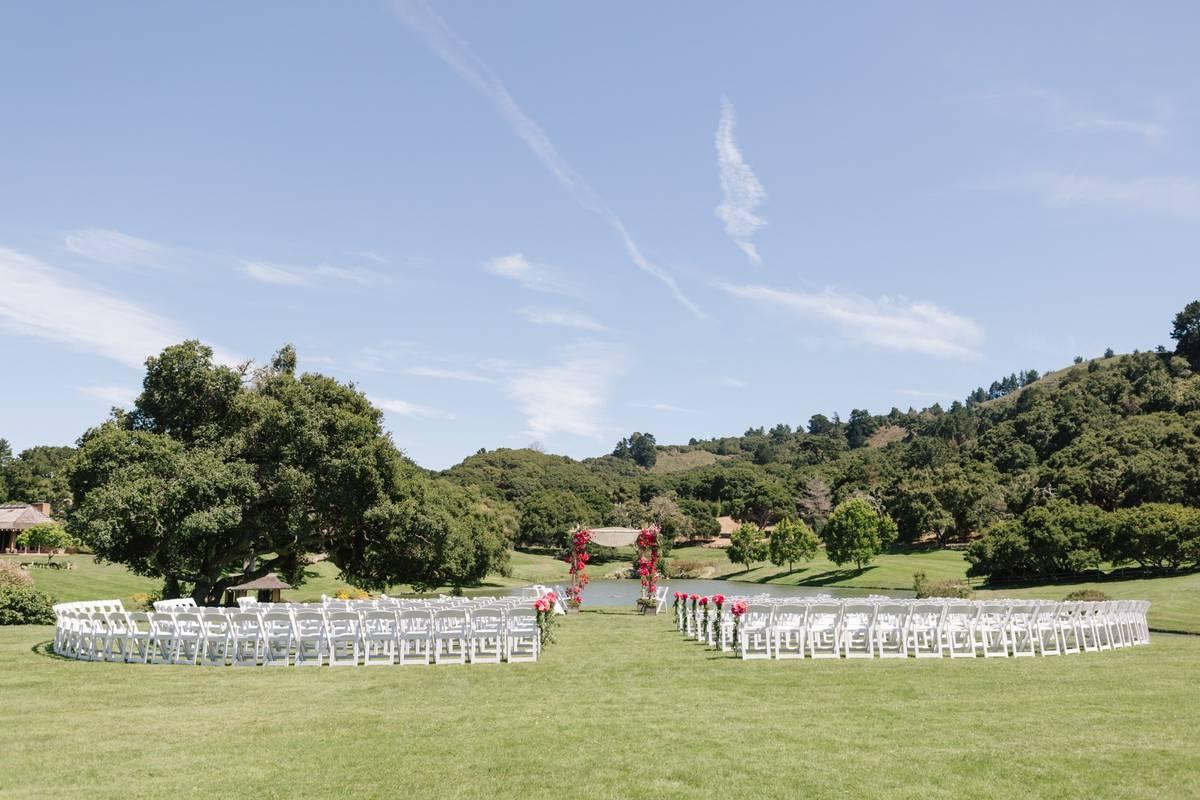 Quail Lodge & Golf Club
Pay a visit to this Carmel wedding venue if you love rustic chic style. The Quail Lodge & Golf Club, located in the Carmel Valley, can host events for up to 350 people throughout the venue. For an outdoor event, you'll love the lawn overlooking a lake and the Santa Lucia Mountains in the distance. Indoors, choose from the main ballroom or several smaller banquet rooms depending on the size of your party. A final perk: This venue has 93 guest rooms, which makes it easy for you and your loved ones to plan a wedding weekend getaway.
Learn more about Quail Lodge & Golf Club »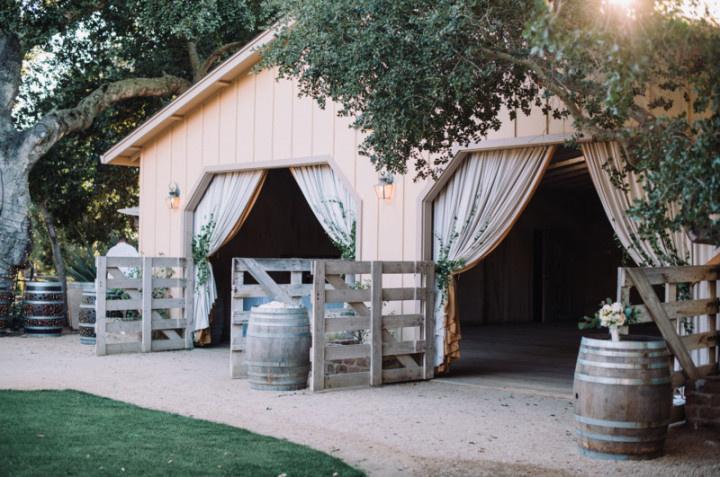 Holman Ranch Vineyards
Perched high on a mountaintop in the Carmel Valley, Holman Ranch Vineyards is an ideal location for couples looking to blend past and present on their special day. The estate, originally built in 1928, features a Spanish-style stone hacienda surrounded by 392 acres of incredible hillside scenery, vineyards, and views of the Santa Lucia Mountains. Holman Ranch Vineyards only hosts one event per day, so you'll have exclusive use of the entire property throughout your wedding. Start by exchanging your vows on the ceremony veranda before transitioning to cocktail hour on a nearby terrace tucked in a grove of olive trees. Receptions can be held on the venue's outdoor stone patio, at the carriage house (pictured above), or a main lawn at the heart of the ranch. Holman Ranch has 13 guest rooms for couples or guests who want to stay at the venue overnight.
Learn more about Holman Ranch Vineyards »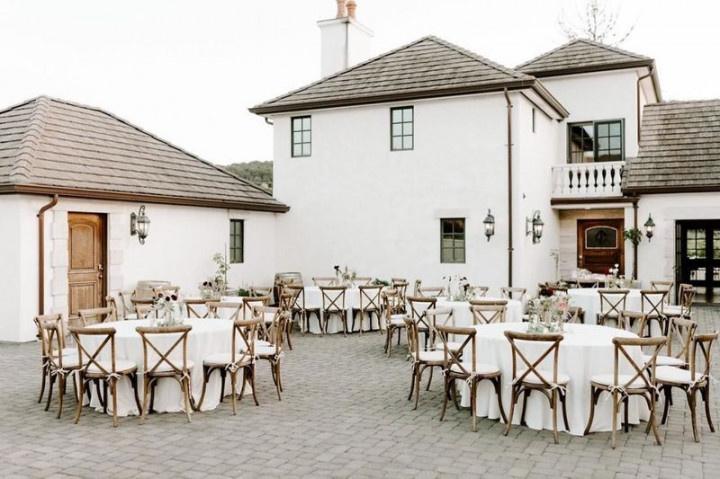 Folktale Winery & Vineyard
We can't talk about Carmel Valley wedding venues without mentioning the region's lush wine country. Folktale Winery & Vineyard is a must-see venue for anyone dreaming of saying "I do" at a vineyard along the Central Coast. Whether you're hosting 20 guests or 200 guests, Folktale Winery & Vineyard is an undoubtedly romantic location. The venue has seven different event spaces, including two vineyards, a vineyard house, garden, greenhouse, barrel room, and wine cellar. Don't miss the stunning gallery room, which is designed in French chateau style and features 40-foot vaulted ceilings, exposed beams, floor-to-ceiling windows, a fireplace, and antique decor. Folktale Winery & Vineyard is situated on five acres of sustainable farmland along the Carmel River, giving you amazing views everywhere you look. The vineyards are at their most beautiful during the peak season from March through November.