11 Black-Owned Businesses in New Jersey You Should Know About
There are so many talented pros to choose from in New Jersey, but here are a few that couples absolutely love.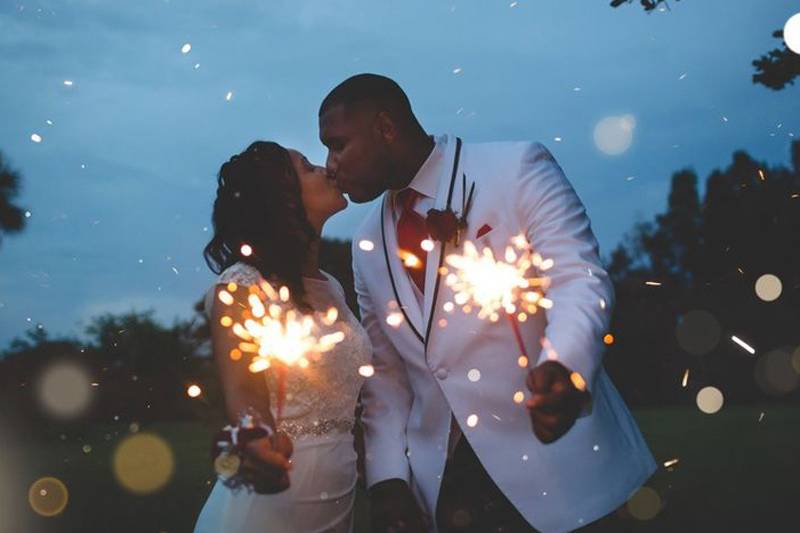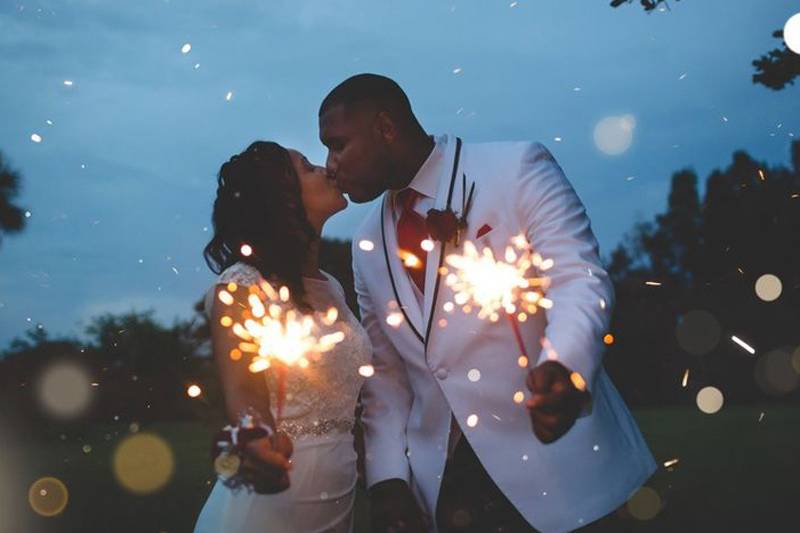 You're engaged—congrats! Now comes the fun part: selecting the team of wedding vendors who help you plan your dream day. We know there are so many amazing pros out there, which is why we're featuring 11 Black-owned businesses in New Jersey you'll definitely want to know about. Some of these vendors have established themselves over the years while others are quickly rising on the scene. All of them have near-perfect ratings on the WeddingWire Vendor Directory, and some have also earned multiple Couple's Choice Awards. Of course, this is just a small list of Black-owned businesses in New Jersey. Visit the WeddingWire Vendor Directory to find other talented and innovative pros in the area, and be sure to check out the new Diversity filter to find Black-owned, Asian-owned, Hispanic or Latinx-owned, LGBTQ+-owned, Native American-owned, Veteran-owned and Woman-owned businesses. Learn more about these top Black-owned wedding businesses in New Jersey so you can start planning your dream day.

After Ijeoma Ezinne Chimezie completed pharmacy school, she felt she was missing a creative outlet in her life. So, she taught herself about makeup application and started her own business, Ijeoma Ezinne Beauty in Bloomfield. Her first gig was a wedding. She says she fell in love instantly and never looked back. "What I really love about weddings is the opportunity to be a part of somebody's special moment," she says. "I see makeup and beauty as a powerful opportunity to connect with somebody, and weddings amplify that opportunity." Forming those connections with clients is Chimezie's favorite part of her job, she says. In fact, she's become close friends with a number of her past brides.
Chimezie's advice for couples planning their nuptials is to use the time to truly connect with your vendors. For example, Chimezie offers video tutorials and consultations, which can be a great way to keep in touch with your wedding makeup artist if you've had to postpone your wedding.
A top priority for Chimezie is ensuring that all of her clients feel taken care of. "A lot of my clients are women of color, so it was really important for me in the beginning to understand the dynamics of doing makeup on women of color and understanding how to cater to their various skin types and complexions and making sure I'm color matching." Chimezie has worked with every demographic, so she feels confident working on any bride or bridesmaid that comes to her—which she says should be the industry standard. "Any makeup artist should know how to do anybody's makeup. Period."

The core business values of DJ DreSteff (based in Montclair) are punctuality, honesty, creativity, professionalism and attention to detail. "Every couple is unique and every love story is special in their own way, and my team and I always strive to bring each couple's vision to light," owner Stefan Henry says. "We love to create blissful moments and unforgettable experiences because the experience will last a lifetime for my couples and their family."
Henry tells WeddingWire that working with couples is the most rewarding part of his job. "To be able to have the honor of meeting, getting to know and working with amazing people—that is why I love weddings and why I started doing it in the first place," he says. He says he befriends the couples he works with and stays in touch with them because they get so close. "The friendships, trust, knowledge and connections I gain from working with couples is truly unbelievable."

Reverend Dr. Lesly Devereaux says she realized there are couples who want to be married by a minister but don't necessarily want to exchange vows in a church. She started Wedding Bliss Ceremonies in Piscataway to help unite couples at whatever beautiful venue they select. "I am in love with love, and it brings me great joy to join [couples] on [their] journey towards a blissful wedding day," she says. "My mission is to listen and respond to your love story by assisting you with creating a memorable ceremony that is unique and meant for you to cherish."
Devereaux loves both the preparation for the ceremony and the ceremony itself. "My favorite part of the job is meeting my couples, getting to know them, and treating them like family—and watching the tears of love flow at the altar as I perform the ceremony."
Faith Oluwadare, owner and creative director at dE Luxury Events, started the company after planning her own wedding. "My husband and I had a hard time finding a luxury wedding designer who could offer affordable yet sophisticated services in New Jersey," she says. "That was when we identified a need for those with similar issues and dE Luxury Events Rentals was born: a rental company providing you with an opportunity to have your dream event without breaking the bank!"
The company aims to provide clients with premium event services and experiences for all of their special celebrations through impeccable attention to detail and exceptional customer service. For Oluwadare, going the extra mile makes it all worth it in the end. "My absolute favorite part of being a wedding designer is witnessing the light and joy in my couple's eyes when they walk into their reception space for the very first time," she says. "To see all their dreams and vision come to life brings me so much happiness and satisfaction."
Dawn Joseph is a talented fine arts photographer in Ridgewood. She grew up in Botswana and moved to the States when she was 17. In 2012, she started Dawn Joseph Photography, which has grown into one of WeddingWire's top-rated companies. With 110 reviews and a 5-star rating, it's no surprise Dawn Joseph is one of the vendors in New Jersey you should know about.
In addition to her 5-star score, Dawn Joseph Photography has also won 7 consecutive Couples Choice Awards and has pages of raving reviews. Couples praise both her talent and her personality.
"She is so professional, even keeled, easy-going and fun," said one reviewer. "We are in awe of the moments she caught on camera—every photo is emanating with happiness and it was so special to be able to relive our day through her lens. If six stars were an option, we'd give them without any hesitation."
POSH Events, LLC, was founded by Isis Williams and is based in Cherry Hill. The company offers planning services for weddings and other social events. Williams created POSH to cater to clients who feel they don't fit the "traditional" mold when it comes to weddings. Her commitment to helping couples achieve their dream wedding has earned her a perfect record on WeddingWire and 6 Couple's Choice Awards. Her reviews praise her for her work ethic, attention to detail and warm personality.
"Isis made sure nothing was overlooked, every detail was in place, and when the small snags came up, she handled them flawlessly," said one reviewer. "Beyond professional, Isis is warm and friendly and helped put our minds at ease." Additionally several reviewers said hiring Isis was the best decision they made while wedding planning. How's that for a glowing recommendation?

Whether you're dreaming of a local wedding or a destination wedding, Aurélia Poumaroux, founder of Bel'Envolée in Union City, is someone you should have on your radar. Born in France with parents from Madagascar, Poumaroux is a trilingual wedding planner (she speaks English, French and Spanish). She worked in the fashion industry before discovering the wedding industry. In 2018, she opened Bel'Envolée, which translates to "beautiful flight" to signify starting a great adventure together.
Her 5-star record on WeddingWire is backed up by raving reviews, which compliment her planning ability and friendly personality. "Aurelia was awesome, she took care of everything with so much professionalism: dress, bouquet, ceremony, photos in Central Park, private after-party," said one reviewer. "On top of that, she made me feel like I was more than a customer. She was super nice and friendly—it felt as if a friend or relative was organizing my wedding."
Kisha Barner didn't originally intend on becoming a wedding planner. In fact, she initially set out to become an attorney in college before realizing she didn't enjoy it. While planning her own wedding, her husband suggested she pursue event planning full-time, as she was already the go-to planner for her family (and was having so much fun planning her nuptials). "I realized he was right, so I took a wedding planning course and took the biggest leap of faith of my life," she says. Just like that, K. Barner Events was born.
Barner has a three-part mission: to provide luxury, detailed design tailored to each couple, to provide a seamless planning experience that eliminates stress, and to execute every event flawlessly so her clients can enjoy the day. Barner tells WeddingWire she loves event planning and design so much that often breaks out into dance while she's working. "When I get five seconds to take it all in, I stand in the back of the room and I realize what we have done and, honestly, I'm wowed. It's truly an amazing feeling."
Barner says the only thing that's better than that initial sense of accomplishment is seeing her clients' reactions. "When my couples come in and they cry, jump, dance, grab me or smile ear-to-ear, that's just the icing on the cake," she says. "To be a part of someone's dream and bring them inexplicable joy—that's our why."
Nana Annan is a talented photographer based in West Orange. Her expertise in capturing beautiful weddings–especially multicultural weddings—has earned her a 5-star rating on WeddingWire. She has experience shooting local celebrations, destination weddings, large ceremonies and elopements as well. Scrolling through her reviews, words like "amazing," "awesome" and "exceptional" occur repeatedly.
"Booking Nana was one of our best decisions as she captured our wedding day so beautifully," said one reviewer. "Nana is an extremely professional photographer who takes the time to build relationships with her clients. She truly listens to your visions and executes it in an exquisite manner."
With a near-perfect rating and 6 Couple's Choice Awards, it's no wonder Juicy Looks By Abby made the list. Abby Falore-Ayodeji is a professional makeup artist based in Woodbridge. Her passion for beauty has led her to grow her business into one of the most notable beauty companies in the tri state area. On top of her work being featured on the cover of Munaluchi Bridal, Abby has over 27,000 followers on Instagram.
Her ability to bring out clients' natural beauty and creating a flawless finish has earned her raving reviews. "As someone who doesn't usually wear a lot of makeup I was a bit scared of how my bridal look was going to turn out," said one reviewer. "Abby went above and beyond to ensure that my goal of looking natural was perfectly combined with my dream of being glamorous. I cannot thank Abby enough for her exceptional service and calm demeanor throughout the entire process."
JMartin Weddings is a Woodbridge-based photography company that has been in the business for 11 years. Jason Martin, founder and owner, and his team provide quality pictures of the wedding day that couples can cherish for years to come. How does he do that? But working with the couples beforehand so he can get to know them and fully understand their wedding vision.
In addition to his nearly perfect ranking and 2020 Couple's Choice Award, Martin has several reviews that applaud his work and his demeanor. "Jay Martin is a pro at what he does! His professionalism, commitment to excellence, reliability, creativity and expertise are top notch," said one reviewer. "He provides such a relaxed, fun environment but also because his work is stellar and he has an eye for detail. He goes over and above when providing service to his clients!"