90 Reviews
Recommended by 94% of couples
Quality of service

4.8 out of 5 rating

Average response time

4.6 out of 5 rating

Professionalism

4.7 out of 5 rating

Value

4.7 out of 5 rating

Flexibility

4.7 out of 5 rating
29 User photos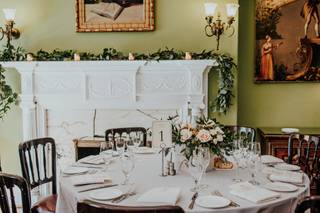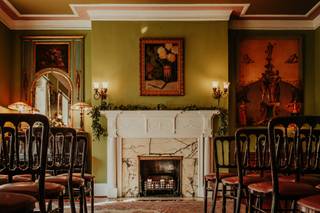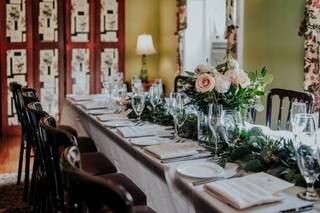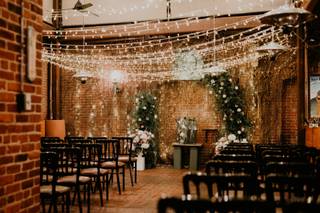 + 25

photos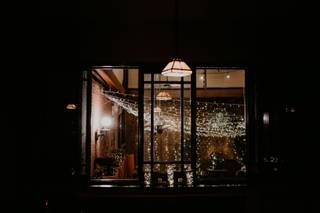 Liliana Z.

Married on 10/22/2022

Stunning Venue

A++ for the Tabard Inn. We had our ceremony and reception in the upstairs rooms and everything was superb. Originally, we chose this venue because of its top-notch food. We had dinner at the Tabard many times before and the food lived up to the hype. Daniel and Elena were wonderful to work with and we're so kind and accommodating. They made sure our big day went off flawlessly. The Tabard Inn provided table numbers, place cards, and all the table settings. It could not have been easier to have the venue equipped to do almost all of it (flowers and party favors were the only things we brought ourselves). It is a unique venue that has a certain charm and ended up being the perfect place for our special day. Looking forward to returning year after year to celebrate our anniversary!

Photos by Darcy Troutman Photography and flowers by Uncloudy Studio

Sayana

Married on 09/24/2022

The best place for an intimate wedding

We recently had our wedding reception here and everything was outstanding! The food received rave reviews, starting with the hors d'ouvres through the dinner and the desserts, and the ambiance was perfect. The staff created our seating chart and the seating name/place cards for us, and set everything up just as we arranged beforehand. It was an unforgettable night of eating, drinking, speeches, and dancing. The two large connected rooms used for the reception enabled people who wanted to dance to dance the night away in one room, while the others could socialize in the other room without the music from the dancing room being too overly loud for them to talk and hear each other. And yet it still all felt like one big interconnected space. The venue has so much character that we didn't have to worry about all the decorating that we would otherwise have had to do ourselves, which saved us a lot of time and stress. We brought some flower centerpieces and that was it! All of our guests absolutely loved the venue. They accommodated our vendors with seating stations even helped with the set up. And the prices were also very reasonable/competitive. We also booked a room at the inn and stayed there for the night after the reception, and the hotel room too had a ton of character and was super comfortable. Hotel staff was accommodating, we were able to check in early to get ready for our ceremony. Breakfast at the restaurant the following morning was also excellent. We highly recommend the Tabard Inn to anyone looking for a venue for their wedding reception or other events!

Alexa

Married on 05/07/2022

Tabard Inn is the place for intimate wedding

Tabard Inn is such a beautiful place for small, intimate wedding. The patio has greens in the background and reception space is cute already. Daniel is very responsive and helpful. We would recommend Tabard Inn for weddings.

Are you interested?

Send a message

Laurie V.

Married on 12/31/2021

Dream NYE Wedding

The Tabard was the first (and only!) venue we looked at for our New Years Eve wedding. We fell in love with the garden/patio space, but since we were planning a late (8 pm) ceremony, we weren't sure if we were going to be able to use it. During our walkthrough, Daniel brought up the idea of a restaurant buy out for the evening - which would let us hold our ceremony in the garden, as well as use the other parts of the restaurant during our wedding and reception. We loved the idea, and thankfully so did the Tabard and their staff!

Since the hotel is employee owned, they were super flexible and allowed us to make some changes and swaps their usual bar and reception packages. They also moved around furniture and had some amazing suggestions that really helped us capture our vision for the evening. The additional rooms they made available to us to get ready in and for the DJ were also absolutely perfect. Daniel did a great job of communicating with us throughout the process, and was extremely helpful.

Our wedding turned out exactly as we dreamed (the best NYE house party you've ever been to), and we owe a lot of that to the Tabard and their wonderful staff.


Matilda B.

Married on 10/03/2021

The Perfect Venue and Team

We visited Tabard Inn as a possible venue shortly after we got engaged in January 2020. My husband and I knew we would have a small, intimate wedding (under 60 guests) at the time. We wanted a venue that felt like we were getting married in a cozy, intimate setting (like home) and Tabard Inn fit the bill. We needed minimal decor (we only had floral centerpieces and the chuppah for the reception and ceremony) given the beauty of both the ceremony space (patio) and reception spaces. Furthermore, when Covid hit, Daniel and his team offered to postpone our wedding at no extra charge from September 2020 to the date of our choosing. The team was super flexible and helpful as we all navigated the new normal. We were so happy with the service, we decided to stay and get ready at Tabard Inn for our self-officiating elopement in October 2020. As our new date approached (October 2021), Daniel and his team were beyond helpful in making sure we were able to make the most of the reception food and beverage packages given our decreased guest list due to pandemic. His team helped set up our wedding favors and guest book, reserved a space for our ketubah signing and for yichud (seclusion) with hors d'oeuvres and champagne while the rest of the guests were in the cocktail reception. Furthermore, when my husband and I got stuck in traffic returning from our first look portraits and were late to our own ceremony, the team was flexible in letting us take family portraits in the ceremony space for a few minutes after the allotted time. We could not have picked a better venue and team to host our wedding!

+ 5

photos

Meredith M.

Married on 08/21/2021

Trust the Tabard

We were like many couples whose initial plans were altered by the pandemic. When we decided to have a safe, small civil ceremony Daniel and the team at the Tabard really came through for us. The Tabard patio is a covered, outdoor space meaning that we were able to have a personal intimate celebration even in the face of shifting indoor masking mandates during the rainiest month in D.C. with out any worries. We had many, many gluten-free guests who were able to enjoy almost everything that was served and Daniel made sure to check each order with the chef. We were able to have valet parking which made our city location easier for our guests with cars and the cocktail hour started as we wrapped up photos at our ceremony site. Service was flawless, the food was delicious, and the F&B minimum was the most reasonable rate we found of a party of our size anywhere in town. The team even rolled away our central table after dinner and dessert to ensure we had a little space to dance and helpfully played a playlist controlled by one of the guests over the speakers to the patio. Daniel was easy to work with and responsive. For a smaller party, the patio at the Tabard is a perfect, safe venue for these crazy times!

Colleen M.

Married on 08/31/2019

Magical place for wedding guests to stay

Funky place! So much fun! Delicious food! Highly recommended

Julia

Married on 05/19/2019

Venue was stunning, service was excellent

I can't say enough good things about the Tabard! It was the perfect place for us to hold our wedding. We got married on the patio and then went right upstairs for happy hour, dinner, and dancing. It's the oldest hotel in DC, and the building is charming with lots of unique and interesting artwork everywhere. If you want a vintage wedding then this is the place. Daniel, the catering manager, was essential to the success of our wedding. He and his team took care of every detail and made sure the event ran flawlessly. I didn't have to worry about a thing. Thank you to the whole Tabard team for helping us on our special day!

Lauren

Married on 12/01/2018

Amazing venue, perfect for an intimate wedding

My husband and I had our marriage celebration at the Tabard Inn in December, one year after we eloped (our families live in different countries, and it was important for us to bring everyone together to meet and celebrate with us). It was a perfect night for us and 50 of our closest friends and families, and exceeded our expectations in every way.

We had a completely DIY wedding, without a wedding planner, but this is so doable at the Tabard, because they provide almost everything, and the rooms are so colorful and gorgeous that all we did was buy some roses (from Costco) and the beautiful setting did the rest of the work. Daniel worked with us to put together a perfect evening that was better than we ever imagined. Tabard is a special venue because it's affordable yet so charming, elegant, and unique. The food is amazing; Daniel put together a tasting for us and two friends, and we were blown away by the options. We went with a plated dinner with lamb or fish, and convinced all the couples to go half and half so that everyone could try both dishes. Dessert was a chocolate orange cake, and the chef surprised us with a beautiful cake for my husband and me to split so we could have a cake cutting ceremony.

We had 50 guests, and the combination of rooms 24 and 26 was perfect. We had cocktail hours, a ring exchange, and dancing in the smaller room, and then dinner was in the larger room. I'm uploading pictures so you can see how we did the layout. The Tabard provides all the linens, tables, chairs, and candles. And the best thing is, the value is amazing! As long as you meet the food and beverage minimum, the venue itself and all the rest is free!

Our guests loved staying there, as all the rooms are unique and colorful, and the breakfast in the restaurant is great. The Tabard is the opposite of a corporate hotel, with lots of tucked away rooms and hallways. So guests with disabilities or who couldn't handle lots of winding stairs (there are no elevators at the Tabard) stayed at the Kimpton next door, which was super convenient. One thing to be aware of is that the lighting can be tricky for photographers, so have your person check out the venue in advance, or go with one of the Tabard's recommended photographers or someone who's worked there before. Also, since it's an active hotel, things need to end by around 11PM, but our guests all relocated to the downstairs lounge and hung out there until the bar closed.

We truly can't say enough good things about the Tabard (I had said more but the Wedding Wire website lost the text of my review!). It was also the place we stayed the night we eloped, so it is going to remain a very special place for my husband and me. Our guests all raved about it, and we are so grateful to Daniel and the rest of the Tabard team.

The Tabard is truly an amazing gem right in the heart of DC, allowing you to have an intimate wedding in a unique venue with amazing food for an unbeatable value. The best!

+ 8

photos

Natalie

Married on 08/21/2018

I worked with Angela Butler to plan a bridal shower for 18 people. Everything was so smooth, from beginning to end, and Angela was a pleasure to work with and made herself available whenever I wanted to stop by in person, or ask questions via email or telephone. The venue itself is beautiful - we were set up in Room 26 - and the staff throughout our party were so accommodating and kind, and went out of their way to give us what we asked for all throughout. The food was delicious, the drinks were a heavy pour, and we were able to bring in our own flowers and music/speaker.

All in all, I really couldn't have asked for anything more. Everything was perfect and well-organized. The bride loved the party, as did all of the guests!

Luther

Married on 08/20/2018

Personnel was friendly and flexible. I highly recommend.

Rebecca

Married on 03/25/2018

Our wedding reception was here and it was a wonderful experience. Judy and Daniel were responsive and helped us make all the decisions for making our day the way we wanted. I was very grateful for how welcoming they were of our guests with special needs. The wait staff were really pleasant and friendly. Everything went off without a hitch and we are very appreciative. The food was also delicious and we received many compliments from guests about the 'classy setting'. We were able to show elegance, delicious food and fun dancing within our time there.

Mary-Margaret

Married on 12/30/2017

Loved loved loved the Tabard Inn. So happy we had our intimate, charming wedding at this delightful inn. Judy and her staff were outstanding. Our guests kept remarking about the wonderful service , atmosphere and food. A+

Kerstin

Married on 12/02/2017

We were totally blown away with everyone at the Tabard Inn, and are so thrilled that we chose them as the location for the venue and reception!
Shout out to Judy and Marianna, they made everything perfect for the special day.

You won't regret having any event there!

Linda

Married on 10/20/2017

Charming, festive - an iconic Washington institution that wowed our guests of 50 for our son's Rehearsal Dinner. A professional staff of coordinators from Judy and Elena in Special Events and Restaurant Manager, Daniel who helped with our wine selection. From set-up to take down - and everything in between - a well-run, first-class operation. Fine, fine food..wine...venue. (Crab cakes possibly the best in the D.C. area!). Thanks to your team that made it a magical, memorable evening.

Amy

Married on 10/14/2017

Professional team, fantastic food. The room upstairs is stunning. Perfect all around.

Shannon

Married on 09/30/2017

We couldn't have imagined a better venue for our small wedding (about 55 people). Special thanks to Judy and Elena for going above and beyond to make everything went smoothly. The patio and rehearsal dinner were picture perfect, and the food was incredible. Don't think twice about hosting your event here!

Martha

Married on 09/27/2017

We had a wonderful experience hosting a large-scale dinner at Tabard Inn! The staff were helpful, responsive, flexible, and so wonderfully kind! They made the whole experience easy and trouble free. Food was delicious and everything went well! We will definitely be hosting more events at Tabard Inn!

Marilyn

Married on 09/16/2017

Absolutely speechless! Every guest, family member and the happy couple (that includes me) were astounded by the effort, commitment and dedication to making the big day memorable. The Tabard Inn was one of our first dates, so, naturally, it held a special place in our hearts. The space is truly unique, especially the patio where we first had dinner. The biggest selling point, though, was the staff. The Special Events Lead Judy Ingabire was by far the deciding factor in our decision to book. I've said it many times and will continue to say it. Judy made us feel secure. And that's a HUGE deal. She understood our perspective and was open to sharing insights with us. Even better, our day was EXACTLY as she had detailed and we had no surprises. When Judy was not available to chat, Elena was an amazing support as well. She carried us through the winter months when we just getting all the big details together.
We also leveraged the Tabard Inn for our room block. If you've never seen a Tabard Inn room, they're extraordinarily quaint, with no TVs (there's wifi, no worries), clawfoot tubs, big open windows and a maze-like quality through the three townhouses. It's that place you always read about when growing up, but never had the opportunity to see for yourself. Many guests stayed on-site to maximize their wedding experience and it worked. Nothing like walking upstairs or down the hall to your room. On this front, Alba was our quarterback. All I can say is... WOW! Alba was quick to respond, made every room special and established a strong connection from the moment we chatted.
One last thing! THE FOOD!!!! The Tabard Inn made everything so easy as it was a one-stop shop. Catering, venue, room block all in one. Every guest told us how much they loved the structure of our wedding. We didn't do a traditional sit down, but had delicious passed appetizers with stationed bites and nibbles throughout the entire night. Thanks to Hotel Manager Dave for cheering us on as well!

Laura

Married on 08/12/2017

I am very grateful to everything the Tabard Inn did to make my wedding reception this August a relaxed, lovely event.
The staff is outstanding and the meetings leading up to the event really helped shape it into exactly what we
wanted. The rooms were great, the food outstanding. I highly recommend this wonderful venue!

Alex

Married on 05/28/2017

Tabard Inn went above and beyond putting together the perfect evening for our rehearsal dinner. They listened to each of our requests and somehow put together an evening that far exceeded our expectations. The only thing that trumped the service (which was impeccable) was the absolutely delicious food. If I could rate them higher than 5 stars I certainly would!

John

Married on 05/28/2017

Our experience with Tabard was excellent and we would definitely use them again. Every detail was thought of and any hiccups were quickly taken care of in a professional manner. Thank you for helping make our rehearsal dinner special.

Abby

Married on 02/18/2017

Perfect venue for a smallish wedding. Everyone loved it! The staff was very helpful and food was delicious!! We had 57 people and it still felt intimate.

We could not have selected a better place than the tabard Inn to be married in the winter. While the tabard Inn is great for all seasons, we chose to get married in the winter which leaves us with a lack of locations. Tabard Inn was absolutely magical, like a fairytale. But also made getting married at the tabard Inn so great was working with their staff. And particular, Elena was wonderful and spearheaded everything for them on their end. She was very responsive, levelheaded, and punctual. We truly felt like everything was taken care of with her and had full confidence. From an economic standpoint, the tabard Inn is very reasonable. In fact my husband and did a double take when we got the bill because we were so pleased with it. I would recommend tabard Inn to anyone!

Abigail

Married on 02/18/2017

If you want something extraordinary, you will be happy you chose the Tabard Inn. It's a one of a kind experience and our guests absolutely loved it!
Are you interested?
Send a message