38 Reviews
Recommended by 89% of couples
Quality of service

4.5 out of 5 rating

Average response time

4.5 out of 5 rating

Professionalism

4.5 out of 5 rating

Value

4.2 out of 5 rating

Flexibility

4.6 out of 5 rating
4 User photos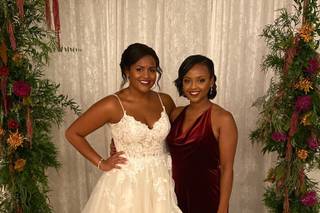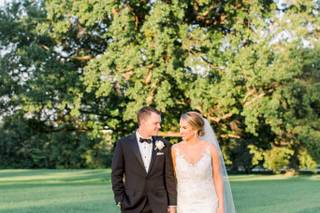 Solianna M.

Married on 10/19/2019

Great experience!

Diana did a wonderful job of taking in, hemming, and bustling my wedding dress. My dress has a number of layers and a lot of lace so you had to be very delicate with the alterations. It turned out beautifully and for like a glove. She is quite pricey -- the cost of my alterations was the same cost of the dress, but it looked great so worth it in the end.

Liz G.

Married on 09/29/2018

Diana was a dream to work with!

I worked with Diana for alterations for my Casa Blanca wedding dress and I am SO glad that I did. Diana literally transformed the dress and made me feel so beautiful on my wedding day. From start to finish she was fun and easy to work with and she does absolutely beautiful work---worth every penny. You can tell that Diana has been in this business for years and is extremely experienced as she truly knows how to alter a wedding dress (which is difficult and different than regular alterations). I was very self conscious of the bust area of my dress and worried about how it was going to work. Diana worked her magic on it and it was PERFECT on my wedding day. She has such an eye for alterations and knows how to make a dress fit like a glove. I am so grateful to Diana and SO glad that I worked with her for my wedding day! In addition to the beautiful alterations, Diana also had great suggestions for me on undergarments and other things to use to make my dress stay put and feel comfortable and after my wedding, I worked with her to get my dress cleaned and preserved. It was a one stop shop and she made this process so easy for me!

Paula

Married on 10/21/2017

Diana is an amazing designer and tailor. It was such a treat to work with her. She has good ideas, works quickly, and is very flexible when setting up fittings. I loved my dress and the fit was perfect!

Are you interested?

Send a message

Kelly

Married on 09/17/2016

Diana saved my wedding! I had gotten my dress altered at Le Reve, picked it up the weekend before my wedding and the bustle was dragging everywhere and I couldn't walk well not to mention dance. The original shop did not reply to me until four days later (3 days before my wedding) so in the interum time I panicked and contacted Diana, who agreed to see me that night after hours. She had me come to her home studio in Virginia, and quoted me a very fair price for a bustle that successfully got the dress most of the way off the floor so I was able to move around. She is very responsive by phone - answers it immediately. The one small thing is that because she is so accomodating and does all these last minute fixes for people shes got a lot to coordinate. She forgot to bring my dress to the DC location to pick up so I had to go to Virginia later that night. I'd just suggest calling and reminding her before appointmetns etc, since she has two locations to make sure your dress ends up where it should be and when. But she really did a great job with limited time - and she even danced with me so I could see if the bustle worked - I really enjoyed working with her!

Miracle worker! Diana is an absolute miracle worker! I purchased my gown from Kleinfelds and after a very difficult time with Kleinfelds trying to make an appointment to have it altered in NY I decided to have them send it to me and they recommended her.

My gown was 9 inches to big and falling off of my body. It was an all lace, trumpet gown with 3/4 length sleeves and a sheer lace back. She literally had to operate on my gown taking the ENTIRE gown apart and put it back together. My first fitting was so sad and not the bridal experience I wanted but when we asked if she could fix the mess that was my gown, with confidence she said "yes!".
After only one fitting it was perfect and stunning and fit like a glove! She fit my appointments in as I live in NC when I was in town and was extremely polite and had a great demeanor.

Diana saved my gown and my wedding and I can't even begin to say enough! I would send any gown or garment to her to fix! She also sings and cooks :) And all around talented lady who is a dress miracle worker!

Katie

Married on 05/02/2015

A true expert at what she does! I had bought a dress out of town and was so nervous about taking it just anywhere to get altered. Considering she makes dresses I felt like she would be safe. My dress was a trumpet style with corset through the middle and needed certain parts let out a little and others taken in since I was between 3 sizes. She was a perfectionist about tailoring it correctly and new exactly what it needed (a relief to me being type A personality). It turned out perfect and my bustle stayed attached all day. Diana was very flexible with scheduling appointments. I met her in her basement of her home in Annandale, which was closer to me than her DC shop. Very sweet lady, highly recommended!

Norah

Married on 04/18/2015

I can't say enough nice things about Diana. I made the mistake of ordering my dress a year before the wedding (it was the only chance I had to shop with my mom) and, despite not planning on it, ended up losing a substantial amount of weight. I brought my sad, huge dress to Diana, and she took it in about 4 sizes. It looked better at the end than it did when I fit the size that I ordered!

Diana gave me a quote on my first visit to her and while it was high, I knew it was going to be a big job. She also met with me several times to get the sizing right. I believe I saw her a total of 5 or 6 times, including once two days before my wedding after I got the dress steamed and some of the ruching had come undone. I emailed her in a panic at 8 pm, and she got back to me 20 minutes later saying to come to her place in Virginia at 10 the next morning. She fixed it right then and there while it was on my body and it was perfect. Despite the ridiculous number of fittings I needed, the quoted price was the final cost.

She is so sweet and patient and very encouraging. She is definitely worth the money! If you go to her shop in Georgetown, stop by the restaurant downstairs (Simply Banh Mi), which is run by her children, and have some delicious, healthful food!

Diana is amazing. I couldn't find a dress that had the material and shape I wanted, so I ended up buying a dress that had an amazing top in organza. Unfortunately, the bottom of the dress was way to big for my small size 0 frame. Diana was able to create the exact fitted look I wanted and basically remade the entire bottom of my dress. I don't know how she did it, but the results were amazing!! If you can't find exactly what you are looking for, give Diana a call!

Diana is an one in a million seamstress! My wedding gown is very detailed with crystal and beads, so I was apprehensive about getting my alterations done by just anyone. I am so very happy I found Diana. She did all my alterations and made my dress look like it was made for me! My mother and I had an amazing experience. I was privileged enough to see some of the dresses she has made from scratch or using dresses from brides' grandmothers or mothers. Her work is flawless and extremely unique!! Not only is she a wonderful seamstress, but a very nice person as well. If you are in the DMV area and looking to have your wedding dress made or alterations done, look no further!

Nakeisha

Married on 10/02/2010

Diana made the dress of my dreams from scratch. I showed up with some thoughts in my head and a vision on paper. From there she created my silk wedding dress with beautiful rhinestones, and it fit like a glove. She truly has gifted hands. She is quick, feisty, and knows what she is talking about. Listen to her! This is definitely the route to go! I love Diana!

Erika

Married on 05/15/2010

Diana performed alterations on my dress. I had purchased my dress at a sample sale, so did not have the option of getting alterations at that time and had to look elsewhere. She took in the bustline, added boning to the bodice, reworked some of the beading, and took up the hem, and did it all perfectly after just one fitting! The dress fit and flattered. She is also a very kind woman and takes a lot of pride in her work. Her value for cost is excellent. She is a good seamstress!

Heidi

Married on 07/11/2009

I found a dress that I really liked but did not love. I loved the layers of chiffon that rippled down it like a wedding cake but it was a mermaid cut which I did not care for, and a few sized too big. I took the dress to Diana (the miracle worker) and she agreed to help me. She basically had to unstich each layer, take it in, and rebuild the dress from scratch... all the while she was busy planning, hosting, and sewing for her daughter's wedding making all of the dresses as well as taking care of other customers. Diana is wonder-woman and is creative and fun, but also a perfectionist. My dress was perfect and no one could see all the work Diana had to put into it. If I did anything differently, I would have just gone to Diana initially with my ideas and had her make me a custom dress because her work is fabulous and she gives a fair price. I was also able to get my veil from her. Good Luck and trust me when I say, call her!

Diana

Married on 05/23/2009

She worked with me to make my dream dress come true. I gave her tons of pictures and she worked her magic to make my ideas come alive. She is truly amazing. Not only did she create my dream dress but also did it within a short period of time. I would recommend her to anyone and everyone.

DM, Fairfax, VA

Jaclyn

Married on 03/14/2009

The dress is obviously the first thing a bride starts searching for after getting engaged and I made the mistake of falling head over heels in love with an Oscar. Unfortunately for me, I found out after trying on many dresses and coming repeatedly back to its picture online, that it was never actually produced but was a runway dress only. A friend had gone to Diana Tran (aka The Gown Doctor) and loved her practically haute couture gown. I made an appointment with Diana in her Georgetown shop (don't be put off by the clutter, she is a professional), and showed her pictures of the dress. She assured me she could make a similar dress, drew up a sketch and discussed some details, found the perfect silk, and then quoted me an unbelievable price. I am sure I paid no more than a third of what I would have paid had the shop down the street actually carried the dress. I had one fitting to get the proportions right, and during the second and last fitting, Diana had only to fix the hem, and I walked out with my dress. It fit like a glove, the attention to detail was superb and I got so many compliments on it. Plus, despite being based on another design, it is 100% unique and one of a kind.

I will say that purchasing a gown sight unseen is not for the weak at heart, as I was not sure until the last fitting (when it was done and fit properly) that I loved it. But if you fall in love with an expensive designer gown but the price gives you heartburn, I suggest talking with Diana because she can undoubtedly create something beautiful for you in your budget.

Kayleigh

Married on 03/21/2015

Oh, where to begin. I found a gorgeous Oscar de la Renta gown at a sample room in NYC and fell head over heels for the lace and floral appliques. However, the top of the gown was much more covered than I wanted it to be (we were having a beach wedding) so I knew I needed to find the best alterations woman in town to help me open it up, but keep the beauty and intention of Oscar's original design. After scouring the web, I met with Diana.

Diana knew it would be a big job due to the delicate material and the reconstruction that was needed. So yes, it was pricey as far as alterations are considered, but Diana more than earned the cost I paid. She had me in for probably 5-6 fittings, and worked tirelessly until she had achieved my vision and the fit I had wanted. It took a lot of trust, but believe me, the end result was amazing and was the most commented-on part of the wedding. In the end, it truly was an Oscar de la Diana.

I noticed some of the reviews comment on Diana's workspace, and while her Georgetown store is very small and congested at times, this is because she is so busy and she takes her work back and forth to her other shop which is in her home in Annandale, VA. For only 15-20 more minutes in the car, her Annandale location is much more comfortable, and I ended up doing the majority of my fittings there. You don't hire Diana for a bridal salon type atmosphere, you hire her because she's the best in the business. I never could have trusted a standard alterations person at a bridal salon to do the work she did.

My original dress design:
https://www.pinterest.com/pin/28991991326678040/

And the "after" pictures:
https://www.pinterest.com/pin/28991991327834956/
https://www.pinterest.com/pin/28991991327834959/

Hannah

Married on 11/03/2018

If you can afford it, they are the best dresses available.

I'm going to be very blunt. Diana's website is kind of 90's looking but don't let that dissuade you from using her services. I would argue that if you have the budget to get a custom made gown - it's the way to go. You will get a dress that is better than something you can buy in a store, and it will actually fit your body without tons of alterations and hassle. The cost is steep ($$$) though - you're paying for higher quality materials, expertise, and attention that you won't get from a store.

Allison

Married on 08/21/2016

Diana was fantastic to work with. My dress looks fantastic, she listened to what I needed altered (hemmed, bustle, and have the shoulders taken up a little) and was fun to work with. Highly recommend! Only downside is that she is cash only. Not a big deal, but I did have to go find an ATM because I didn't know in advance.

Dianas was great. She took my sample sale dress that was a off the shoulder dress and changed it to the vneck that I wanted. It was amazing and I know alot of work, but she did it perfectly! She suggested a great side bustle and was really nice to work with. Klienfields in NY is how I was matched up with her and I was so happy I was. If you need anything really difficult done on your wedding gown (like changing the whole neckline) you want to go with someone great and Diana is your perfect person!

Melissa

Married on 03/08/2014

I worked with Diana to make a cocktail length dress for my March wedding ceremony and dinner reception. Diana is truly a master of her craft. She really knows how to fit the proportions of a dress to your individual body and I just loved the end result. There were a couple quality issues on the day of in that a few seams/stitches came loose, but nothing that some double-sided tape couldn't fix. If you're thinking about a custom dress, or just some alterations, you should meet with her. She's great. One thing, her studio is a bit messy, but don't let that scare you. :-)

Diana is a true artist. She is extremely talented and cares tremendously about the products she creates, which I saw exemplified in how she works to do her best for every client, no matter how complicated their alteration or vision for a dress may be. Her shop is deceiving- it is messy, which I found disconcerting at first, but it has no bearing on the work that she will do for you- she is precise, creative, extremely experienced, honest, and daunted by no design!! I learned as I got to know her better that she is also a very compassionate and kind person. She will tell you her opinion in a very straight forward manner, but if it has to do with something related to your dress, listen to her, because her experience with fabric, design, and construction is invaluable. Diana spent quite a bit of time working with me on the construction of my wedding dress, which my mother and I designed, and a portion of which my Mother had made. Diana very kindly incorporated the part of dress my mother made into the design and took the time to consider all of my mother's effort in creating a pattern. The final product was incredible- truly a one-of-a-kind dress and something I never could have purchased.

Maura

Married on 07/02/2011

Diana is great! I bought my dress at a sample sale and although it fit, I thought it needed a few different alternations to make it perfect. She changed the straps, the entire bottom of the dress (including hemming, removing the train and taking out poofiness) and also changed the design of the back. In addition she was very patient with me as I needed the dress taken in just a few days before my wedding. I couldn't have been happier with the results and got SO many compliments on the dress on my wedding day. It was perfect!

Laurie

Married on 12/18/2010

Diane altered my off the rack dress. She did a beautiful job; added a bustle that looked like a dream. She was responsive to my needs and could have done a better job on the dress. A little expensive, but worth it.

Robyn

Married on 09/06/2009

I had a dress that was literally 4 sizes too big and Diana did an amazing job at taking it in. It was heavy material, beading and pleating on the bust and you couldn't tell anything had been done. I agree she does charge a lot of money but in my case the cost was well worth it since the dress practically had to be remade. I had no problem with my bustle and found her to be very responsive to my calls for appointments. She was also proactive about letting me know when my dress was done (which was earlier than she had originally said) and arranging appointments.

Hannah

Married on 11/11/2017

I had a great experience getting my Christos dress tailored by Diana. She made it shorter for me, adjusted the shoulders, and made me a veil, and then came up with the great idea of cutting away some of the lining from the back to let the beautiful lace on the dress show more. Just like everyone in the reviews recommended, I trusted her ideas and the end result was perfect. I only wish it had been a little less expensive, but I guess that's what you get with such a stellar tailor.

Miriam

Married on 07/21/2016

Diana made my wedding dress based on something I had seen at a very expensive boutique. I was so nervous, but she got it just right. The dress looked so beautiful, and everyone said it was one of the prettiest dresses they had seen. The material flowed perfectly, and though it took a few visits, the dress ended up looking nicer than the more expensive one.
Are you interested?
Send a message