Wedding Planner Responsibilities vs. Your Tasks: Who Does What
Wedding planners do a ton, but they don't do everything. Here's a list of a wedding planner's responsibilities, as well as the tasks you'll need to take care of yourselves.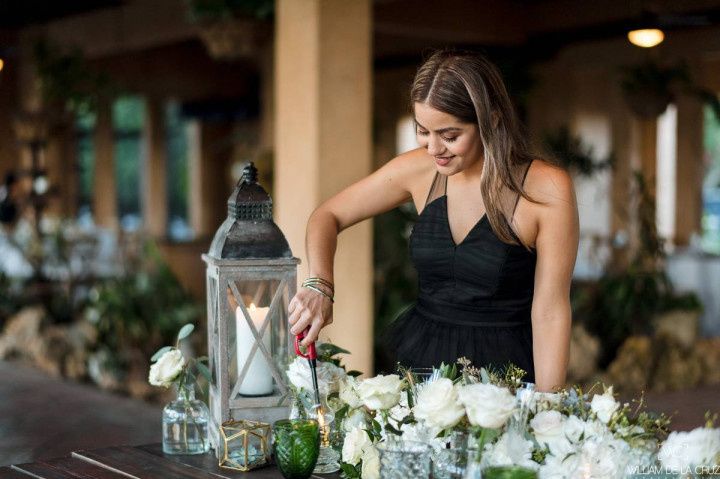 Whether you're thinking about hiring a wedding planner to help you plan your big day, or already did, you're probably wondering just how much a wedding planner's responsibilities really entail. Despite what many think, hiring a wedding planner does not take all of the to-dos off the couple's plate. There are still many responsibilities during both the planning period and day-of that the couple are expected to handle pretty much solo—or with the help of the wedding planner. After all, it is their special day, not the wedding planner's, meaning they have to be involved in the majority of the decision making as well as the execution.
"While a wedding planner's responsibility is sometimes to fully plan and execute an event, there are a lot of tasks that cannot be done without our couple's involvement," explains Kelly L. Heyn of SociaLife Event Planning in Spring Lake, New Jersey. "A planner's job is to offer advice and match couples with the perfect venue, as well as help them find the right team of wedding vendors that not only meet their budget goals, but also fit their personal styles."
To help you better understand which are the wedding planner's responsibilities, and which fall under the couple, we asked real-life planners to weigh in.
The wedding planner's job: Coordinating with other vendors
Heyn explains that it's the planner's job to take over the research and coordinating side of hiring vendors. "This ensures that our clients can focus on choosing a vendor they feel most comfortable with, without worrying about the logistics," she says. "Often times, vendor coordination includes multiple phone calls and emails to negotiate price and services, reviewing contracts for discrepancies, arranging and attending meetings and venue site walkthroughs, accommodating equipment requests, collecting event insurance, overseeing load-in, setup and breakdowns, as well as coordinating the services and timing that the vendor is responsible for." In other words, the planner acts as the liaison between the other vendors and the couple.
The couple's job: Creating the guest list
Your wedding planner doesn't know your guests and how close you are to each of them. For this reason, only you and your soon-to-be spouse can come to a decision on who should and shouldn't be invited to your big day. "A wedding planner can certainly provide guidance on number of guests, but your guest list is personal and might even entail opinions from family members," says Nicole McCann of Exhale Events in Pittsburgh, Pennsylvania.
The wedding planner's job: The floor plan
While it's certainly a collaborative process, Alison Szleifer of Two Kindred Event Planners in New York, New York, says that the wedding planner should take the lead when it comes to the day-of floor plan, as they understand the best flow for the space, all legal egress requirements, and what will work best for your guest count. "The planner will review multiple options with the couple and it will ultimately be their decision, but they should let the planner take the lead on creation," she says. However, when it comes to deciding where your guests should sit, that's the couple's call.
The couple's job: Establishing the wedding budget
While the planner assists in managing the budget and ensures the target amount remains a realistic goal, it is the couple's job to work with their families and choose a budget that they feel most comfortable with, explains Heyn. "A planner will never ask about a couple's finances, but we do expect that when we are given a number to work with, that there will be no conflicts about this decision in the future," she says. "Should any conflicts regarding the budget or any wedding related matters arise, it is up to the couple to settle this and alleviate tensions."
The wedding planner's job: The processional
The planner will also oversee and coordinate your ceremony processional. "This means they'll make sure your musicians play the right songs at the right time, that your officiant is positioned and ready to go, that microphone and speakers are organized, and that all the correct people walk down the aisle and know whether to sit or stand," says Szleifer. "The couple will provide all of the names and details, but the planner will make it all happen on the big day."
The couple's job: Getting wedding insurance
"Weddings are a big investment, and while we never like to put a damper on the day, life can happen!" says McCann. Although no one wants to spend an extra penny, especially when it comes to an event as costly as a wedding, planners agree that insurance is worth it. And some venues require it! "There are several types and it's important to understand your options and make sure that you are covered not only in case of an incident, but for cancellation or postponement purposes as well," McCann adds.
The wedding planner's job: Creating the wedding-day timeline
The wedding-day timeline is a detailed hour-by-hour schedule of the entire wedding day, from getting ready in the early morning until the tail end of the reception (and potentially beyond). "The schedule includes everything from beauty and transportation schedules, setup and breakdown for vendors, the start and end times of the ceremony, cocktail hour, and reception as well as the timing of all important formalities such as the first dance or cake cutting," says Heyn. "A wedding planner uses their experience to strategically time out other important elements in your day, like the sunset time in order to get the best golden hour photos, or working the band breaks around toasts and meal times so that guests don't notice the gap."
The couple's job: Selecting wedding attire
Although some planners will accompany a couple to appointments and fittings, choosing the wedding attire is ultimately not their responsibility. "While planners can provide great recommendations on where to purchase your wedding attire, the big decision regarding what to wear ultimately lies on that of the couple," says Heyn. " This is also a part of the planning that many couples rely on the opinions of family members and close friends."
The wedding planner's job: Day-of concerns
Your only job as the bride or groom on your big day is to enjoy as much as possible—after all, it's only one day! The job of your wedding planner is to tackle any issues that may arise. "We are firm believers that your planner is the first line of defense and should handle the situation at hand without alerting the happy couple," says McCann. "There's likely a chance that they've encountered a similar issue before or have an understanding of how to fix the situation from previous experience."