11 Outdoor Wedding Venues in Utah With the Best Views
Are you dreaming about an outdoor wedding venue with breathtaking views? Here is a list with 11 choices for outdoor wedding venues in Utah.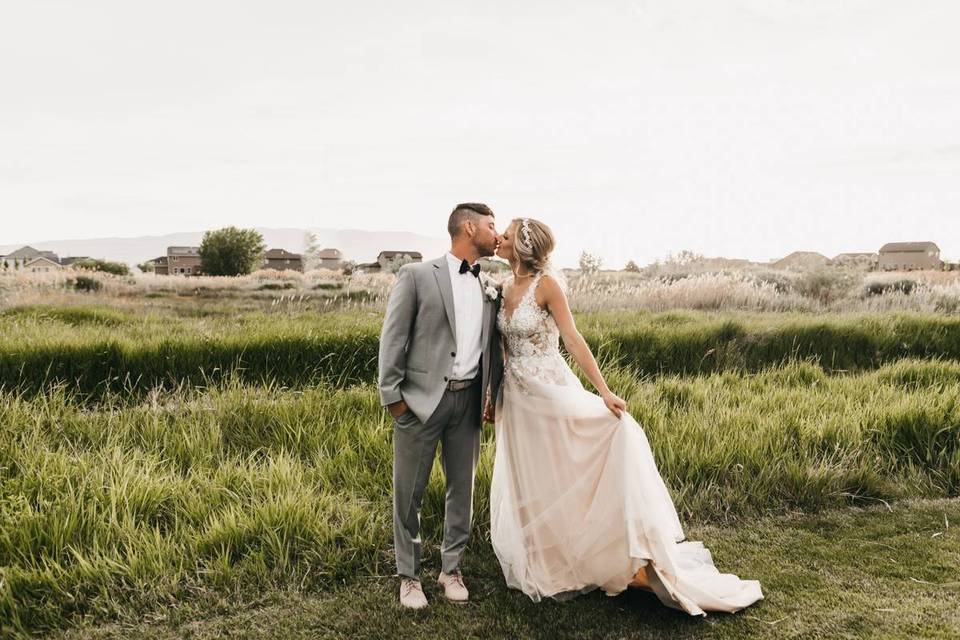 Utah is filled with all types of scenery, from the deserts and red rock canyons in St. George to the snowy peaks of Park City. No matter where you're getting married in the state, you can easily find outdoor wedding venues in Utah with amazing views to match your style and budget—the hardest part is choosing just one place! If you're planning an outdoor wedding, start your venue search with these hand-picked locations throughout Utah. We spent hours reading up on some of the state's most popular wedding venues (and the hidden gems) to find out which ones have the best views, perks, and event packages for your big day.
Here are the outdoor wedding venues in Utah that will guarantee unforgettable views and memories.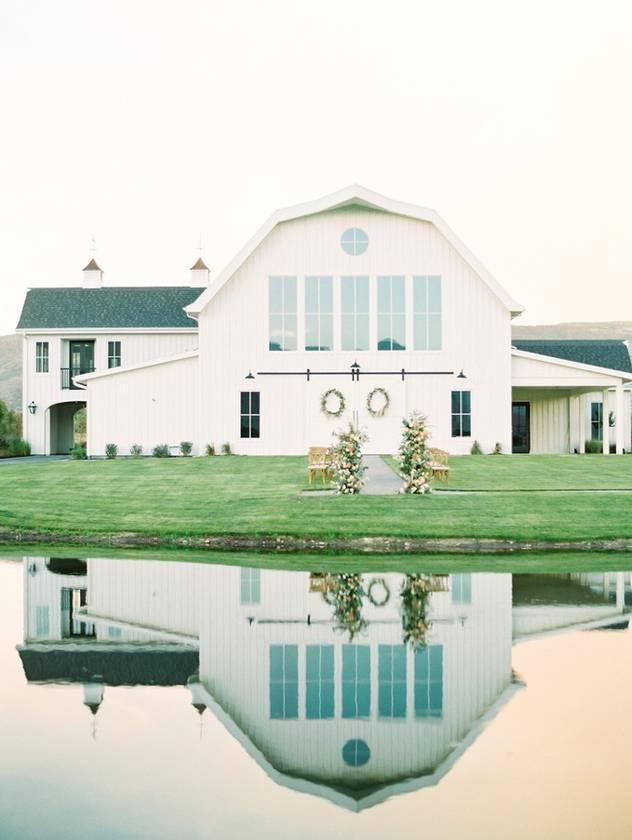 River Bottoms Ranch
From its gorgeous three-story barn to its location along the Provo River and views of the surrounding mountains, this Utah wedding venue is one of the dreamiest places to get married in the state. River Bottoms Ranch is located in Midway, about 40 minutes from both Salt Lake City and Provo, making it convenient for anyone in north-central Utah. The venue has an unbeatable wedding ceremony location overlooking a pond with Mt. Timpanogos in the background. Transition to the covered patio (complete with a fire pit) for your reception, or take the party indoors to the barn's great hall, which is decorated in an airy, modern farmhouse style. Complete your celebration by reserving the ranch's overnight lodging, an extension of the main barn with four bedrooms, four bathrooms, a fireplace, and a hot tub.
Learn more about River Bottoms Ranch »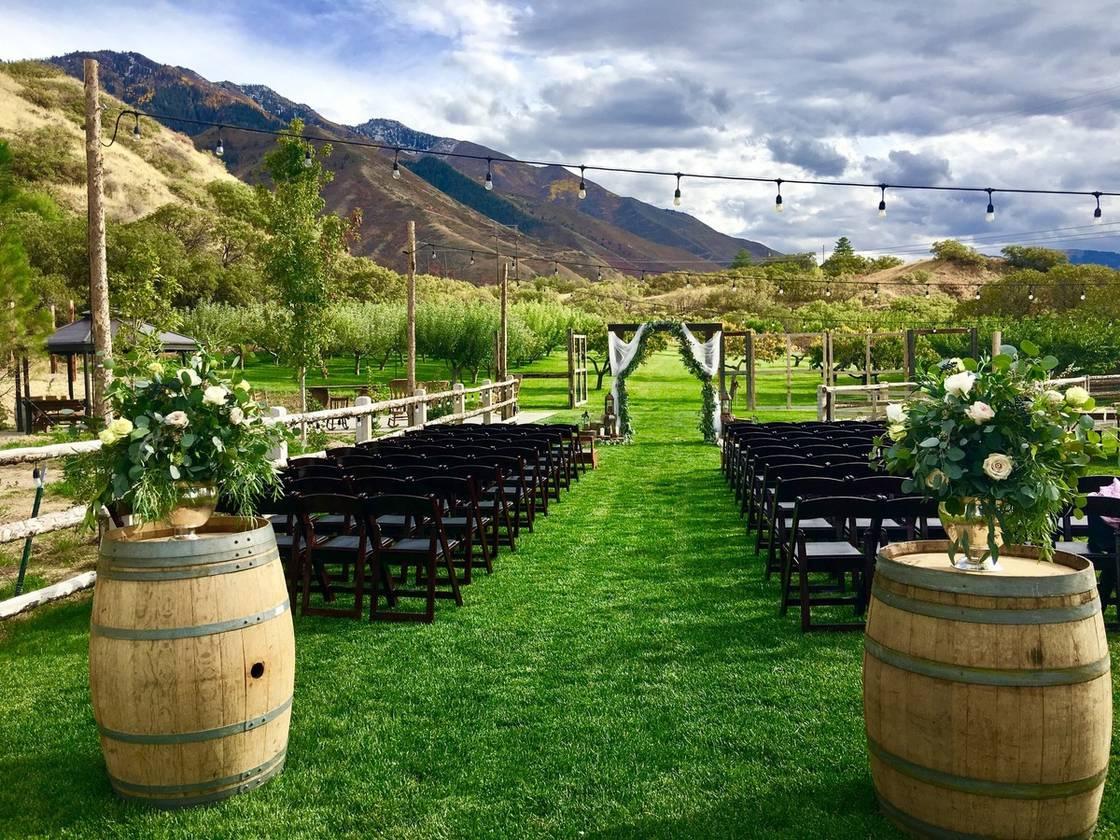 Quiet Meadow Farm
For a more rustic wedding venue in Utah, Quiet Meadow Farm in Mapleton is a must-see. Nestled at the base of the mountains about an hour southeast of SLC and 12 minutes south of Provo, Quiet Meadow Farm becomes a lush, green landscape in the summer and a magical, snow-covered wonderland in the winter. A fenced lawn just steps from the barn is a beautiful location for outdoor weddings, while the venue's orchards are perfect for portraits or a unique reception setting. Quiet Meadow Farm is a full-service outdoor wedding venue in Utah that provides tables, linens, chairs, centerpieces, and a variety of decor—plus, the venue's event coordinator and staff will handle all of the setup and cleanup.
Learn more about Quiet Meadow Farm »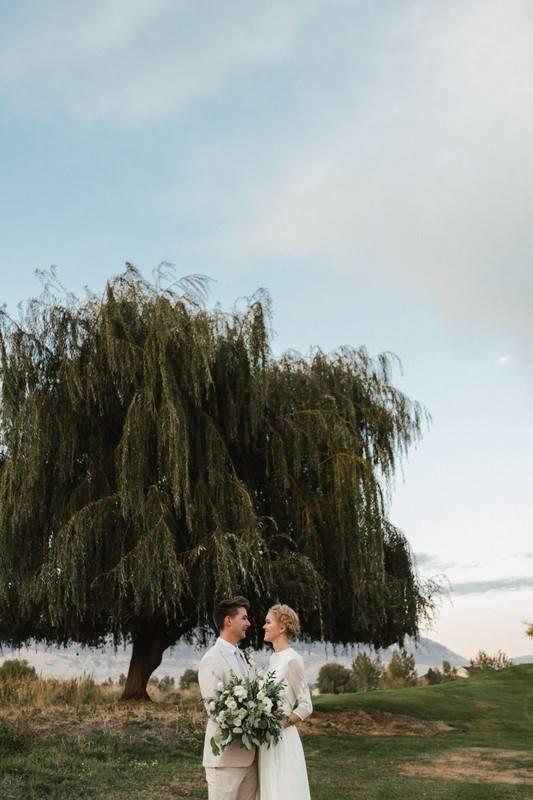 Sleepy Ridge Weddings
This Utah wedding venue is the perfect balance of country club elegance and rustic flair. Sleepy Ridge Weddings is located on a quiet golf course near Utah Lake, only a short drive from Provo, American Fork, and downtown Salt Lake City. An intimate patio (complete with a bronze gazebo) is the venue's outdoor event space, and there are two banquet rooms to choose from inside. Sleepy Ridge Weddings offers two seasonal wedding packages (summer between April and September, winter between October and March) and provides banquet tables, padded Chiavari chairs, dressing rooms, and event staff.
Learn more about Sleepy Ridge Weddings »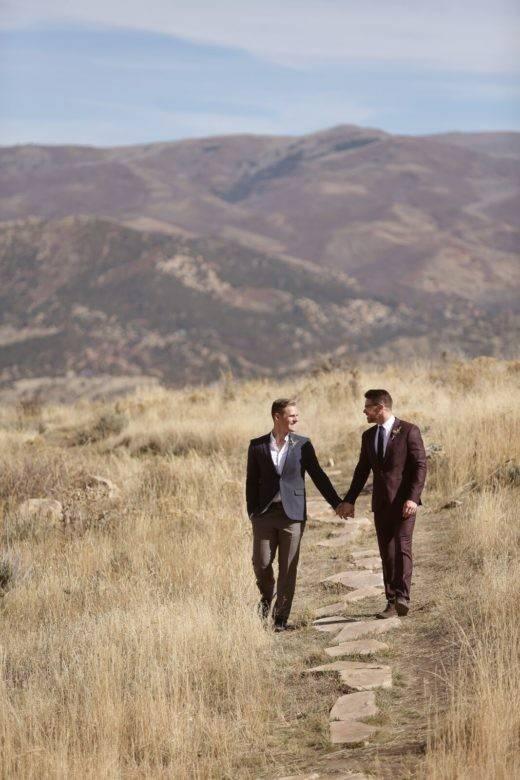 High West Distillery
You don't have to be a whiskey drinker to appreciate the scenery at this outdoor wedding venue in Utah (although the distillery specializes in unique copper still blends, so it doesn't hurt!). For your big day, choose from the venue's lawn or deck, which has room for 80 seated guests or up to 250 for a cocktail-style reception. High West Distillery is located about 20 minutes from Park City in Kamas and provides in-house catering, event coordination, and bar service.
Learn more about High West Distillery »
Enrada at Snow Canyon
Southern Utah couples are in for a treat at this stunning St. George wedding venue. Entrada at Snow Canyon is surrounded by gorgeous red rock cliffs, waterfalls, and black lava beds that create a unique desert setting for your nuptials. Along with a private event lawn for outdoor ceremonies and receptions, the country club offers various ballrooms and indoor event spaces to choose from. This all-inclusive venue also takes care of everything you'll need for a memorable day, from gourmet in-house catering to event coordination and decor items. And if you're wondering why this venue looks familiar, it was used as the filming location for High School Musical 2.
Learn more about Entrada at Snow Canyon »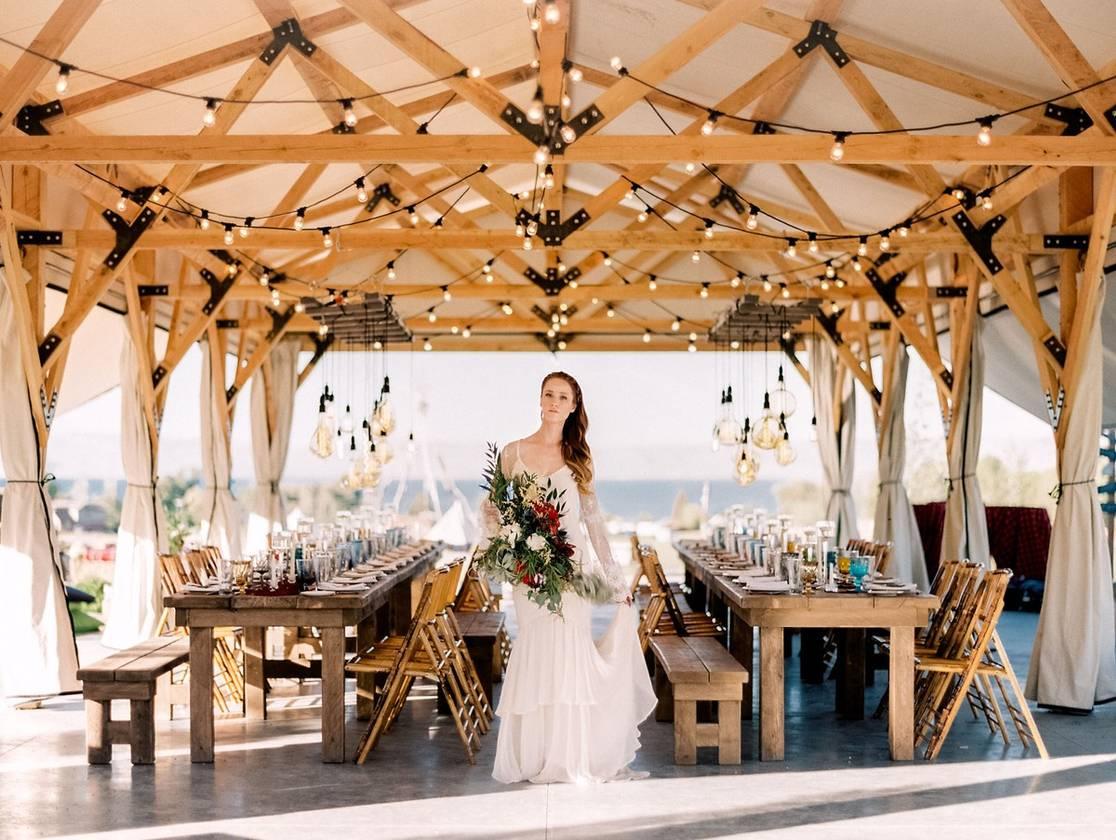 Conestoga Ranch
If you're looking for unique or waterfront wedding venues in Utah, you can't miss Conestoga Ranch. Located along the shore of Bear Lake in Garden City, just a few miles south of the Idaho border, this glamping-style ranch is perfect if you've been dreaming of hosting a multi-day event with all of your guests in one place. For an outdoor ceremony or reception, the venue offers covered and uncovered event spaces, along with a wooden pavilion that doubles as a restaurant. The ranch is open from May to September and provides catering, audio/visual services, plus fun add-ons like line dancing lessons, stargazing, and yoga if you're planning to stay a while.
Learn more about Conestoga Ranch »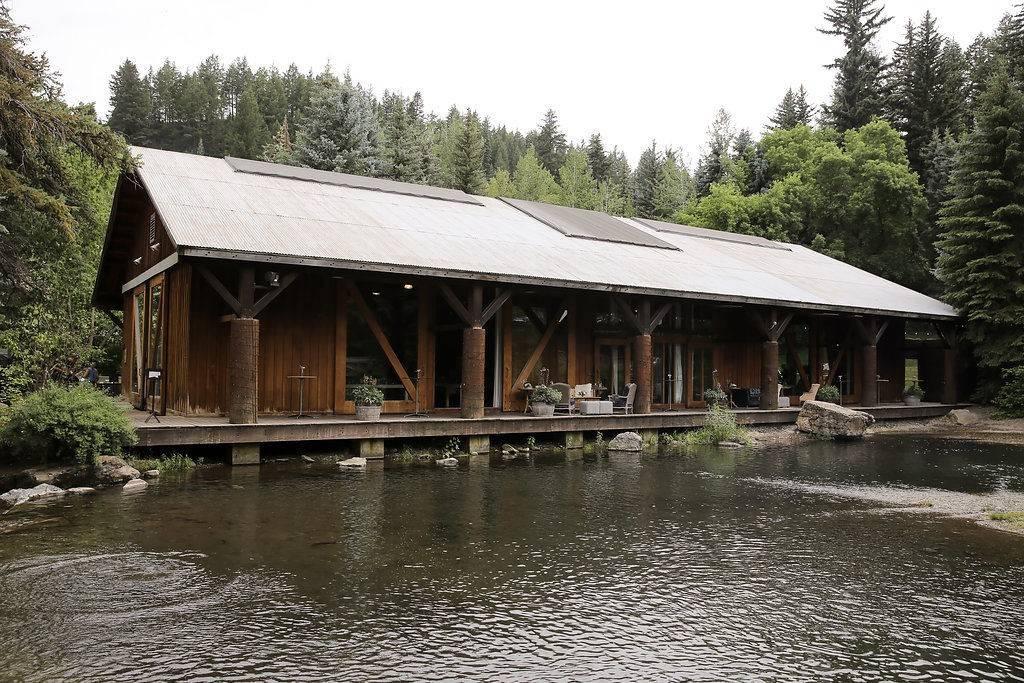 Sundance Resort
Ski resorts are some of the best outdoor wedding venues in Utah, regardless of whether you're getting married during the summer or the winter. Sundance Resort is one of the state's most iconic ski resorts, so it's no surprise that it also offers a variety of picturesque backdrops for your wedding day. Choose from a meadow encircled by alpine trees, a creekside ballroom with sliding doors that open to the outside, or a remote location atop Mt. Timpanogos. When you and your guests aren't partying the night away, you can enjoy the resort's luxury guest cottages, relaxing spa, zip tours, and more.
Learn more about Sundance Resort »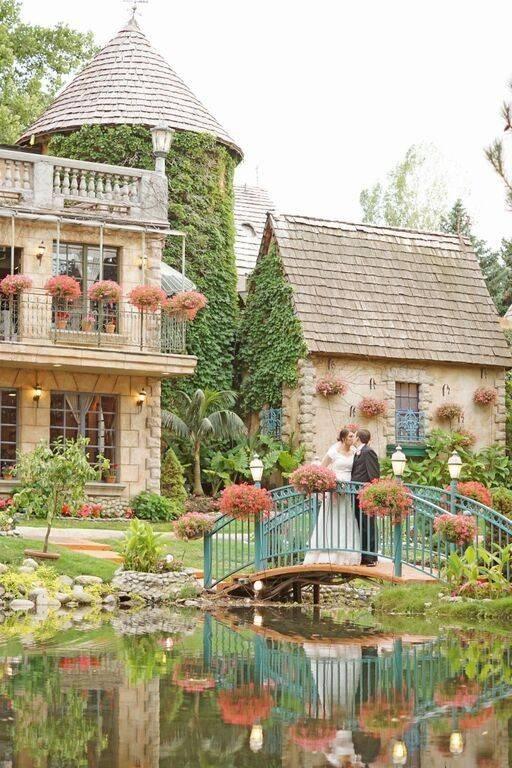 La Caille
Inspired by French Country style, La Caille feels like your own private European village in the heart of Utah. It sits on 20 acres of land near Cottonwood Canyon in Sandy, Utah and offers seven unique event spaces, including a vineyard, a brick courtyard with a gazebo, and a covered greenhouse-style room that brings the outdoors in. This top-rated Utah wedding venue is big enough to host up to 800 people, but it's also a charming place if you're eloping or having a smaller celebration. La Caille provides all the essentials, such as in-house catering, event planning, and onsite dressing suites so you won't have to sweat the small stuff on your special day.
Thanksgiving Point Golf Club
Searching for an outdoor wedding venue in Utah that's also classic? Thanksgiving Point Golf Club in Lehi is an ideal location for hosting a sophisticated, chic event. The venue's lawn is one of the most popular places for outdoor ceremonies and receptions, but there's also a clubhouse with an adjoining patio and a great room with French doors to provide panoramic views of the surrounding scenery. Catering, decor rentals, and bar service are all available through the venue.
Learn more about Thanksgiving Point Golf Club »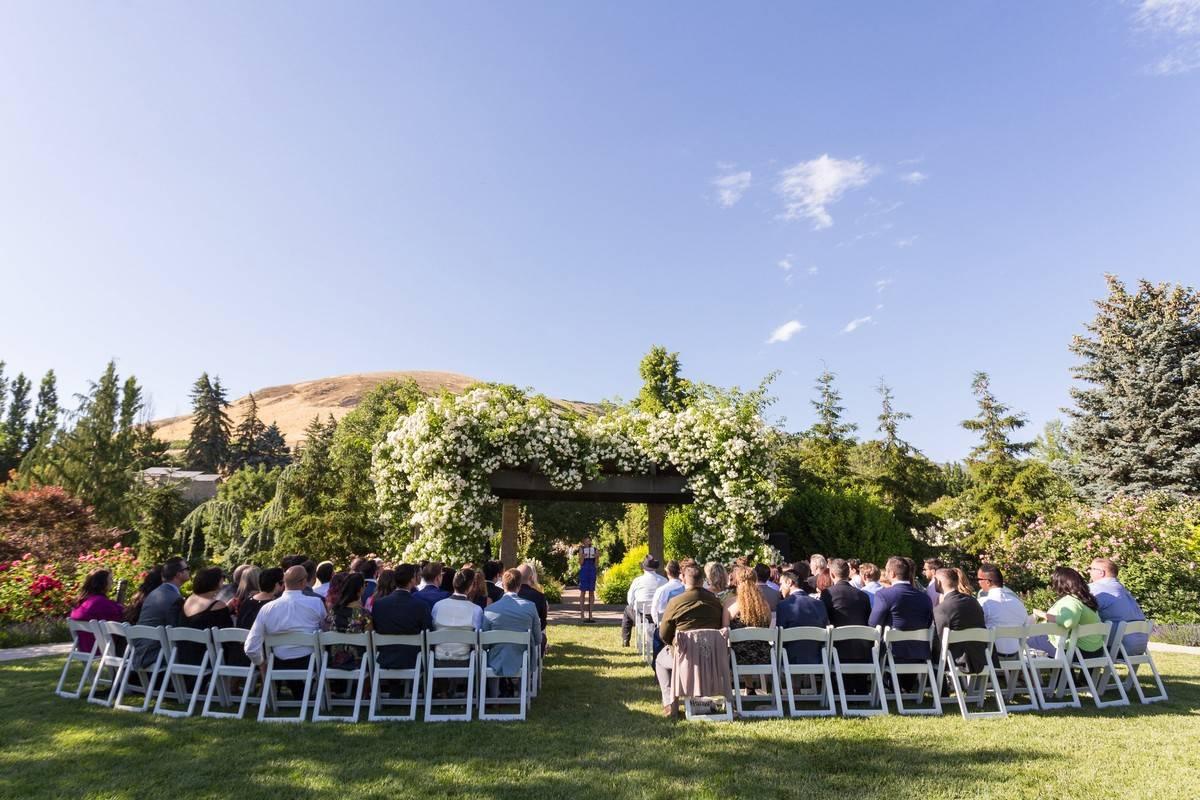 Red Butte Garden
If you love flowers, you'll immediately fall for this romantic garden wedding venue in Salt Lake City. Spanning 21 acres, Red Butte Garden is a botanical wonderland filled with seasonal floral displays, walking paths, and more than five miles of natural hiking trails. For your wedding day, you'll have a range of event spaces to choose from, whether you prefer the fragrant garden filled with lavender and wisteria, the exotic citrus orangerie, or the charming rose garden featuring waterfalls, a covered patio, and floral-covered arbors. Red Butte Garden can host weddings for up to 150 people and is open year-round.
Learn more about Red Butte Garden »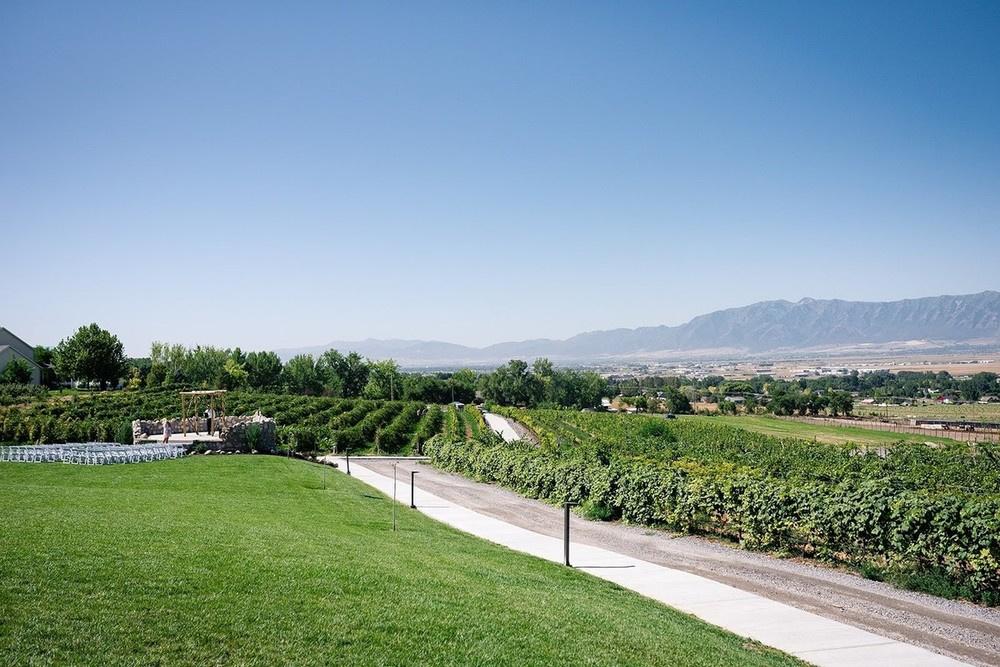 The Vineyards at Mt. Naomi Farms
The ceremony amphitheater at the Vineyards at Mt. Naomi Farms is perched high on a hill, giving you and your guests an unobstructed view of the Wellsville Mountains in the distance. And the views don't stop there—for your reception, the venue's barn features a glass wall that opens out to a porch to create an indoor/outdoor feel. Rental fees at this outdoor wedding venue in Utah begin at $1,600 and include banquet tables, chairs, tablecloths and napkins, and shuttle service during winter months.