20 Boat Wedding Venues for the Ultimate Nautical Event
A nautical-inspired boat wedding venue provides guests with a unique experience—and the opportunity to view beautiful scenery from the deck.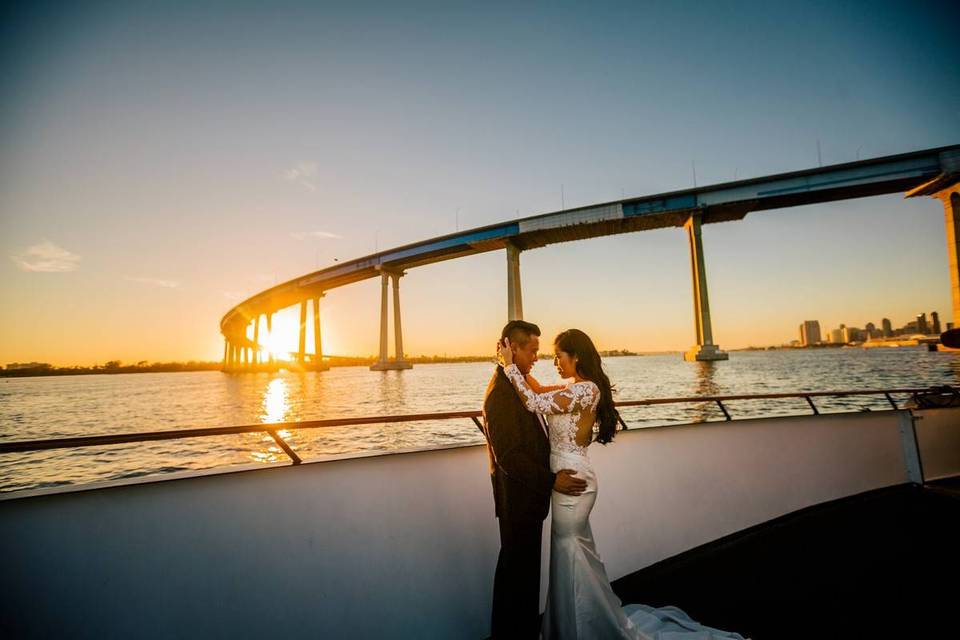 Couples who love the water may want to consider a boat wedding. A nautical-inspired wedding provides guests with a unique experience—and the opportunity to view beautiful scenery from the deck, whether it's a luxurious yacht or a historic steamboat. Usually these boat wedding venues don't travel far, but even just a cruise around your home city can oh-so memorable, especially if you're hosting lots of out-of-towners. Check out these beautiful boat wedding venues where you can host your special day on the water.
Savannah Riverboat Cruises
Savannah, Georgia
You and your guests can enjoy both a wedding ceremony and reception on the deck of one of two incredible and historic riverboats, the Georgia Queen and the Savannah River Queen. The boats' capacity goes up to 1,000 guests, but there are also elopement packages, as well as space for other special events, like rehearsal dinners and bridal showers.

Learn more about Savannah Riverboat Cruises »

City Cruises - New York
New York, New York
Host your luxurious yacht wedding on one of these two sleek and modern vessels, the Atlantica and the Manhattan Elite. Conveniently located at Chelsea Piers, you and your guests will love viewing the NYC skyline from the deck of these boats. The custom wedding packages can include catering, wedding cake, rentals, and more.
Learn more about Entertainment Cruises New York »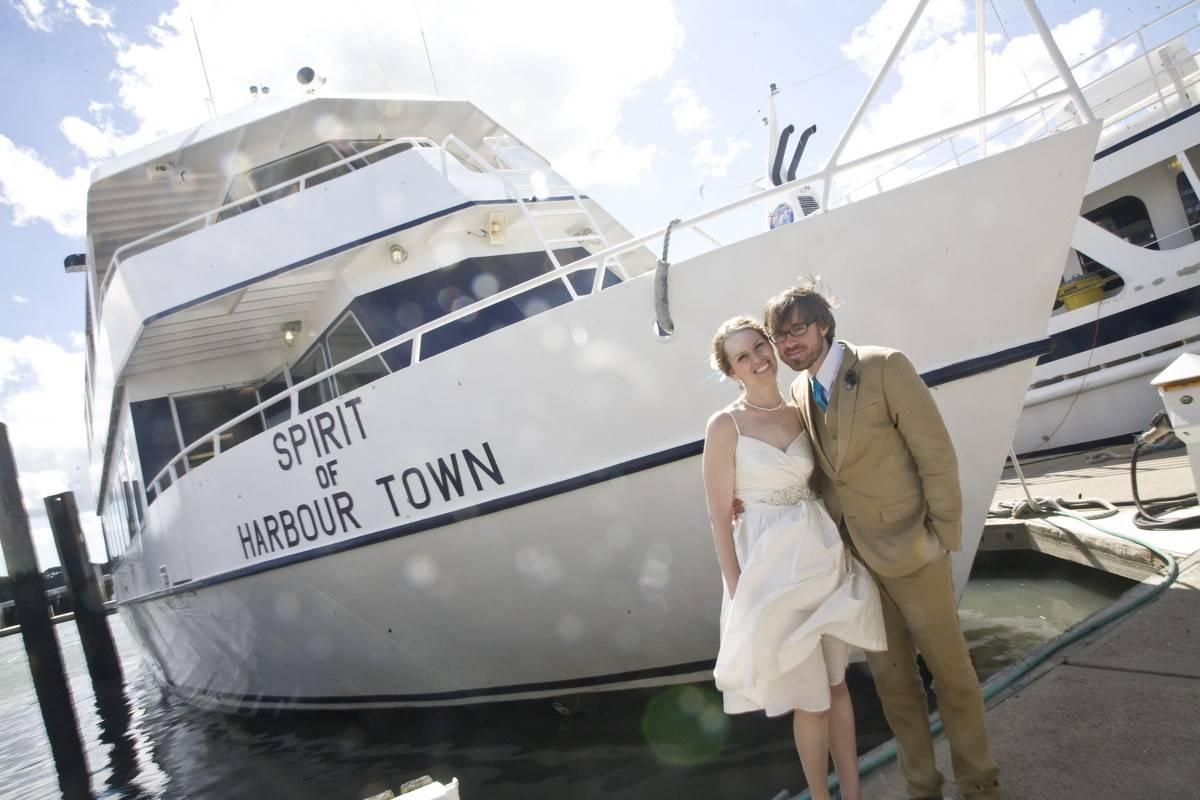 Vagabond Cruise
Hilton Head, South Carolina
Couples hoping for an intimate wedding full of Southern charm should check out this fleet of boats. Not only can you host your wedding onboard, Vagabond Cruise can also host rehearsal dinners, showers, engagement parties, and post-wedding brunches.

Learn more about Vagabond Cruise »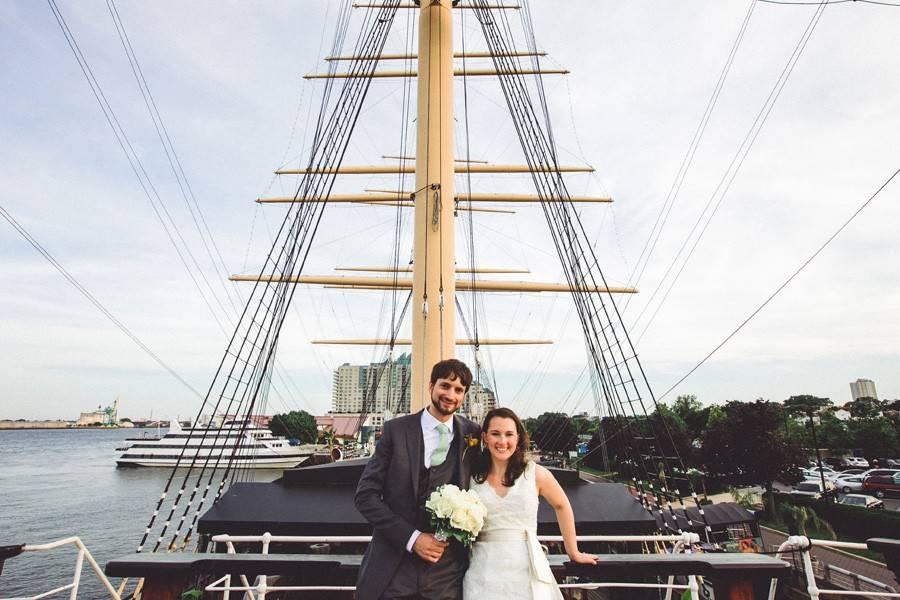 Moshulu
Philadelphia, Pennsylvania
The Moshulu is a historic sailboat wedding venue located on Philadelphia's Penn Landing. This venue is also a restaurant, so you know the food's going to be amazing, plus there are a variety of packages to choose from for couples of all budgets and tastes. Your guests will be totally wowed by this majestic ship, and out-of-towners will be delighted with the Philadelphia skyline views. Pricing for The Moshulu starts at $95 per person for a daytime wedding.

Learn more about Moshulu »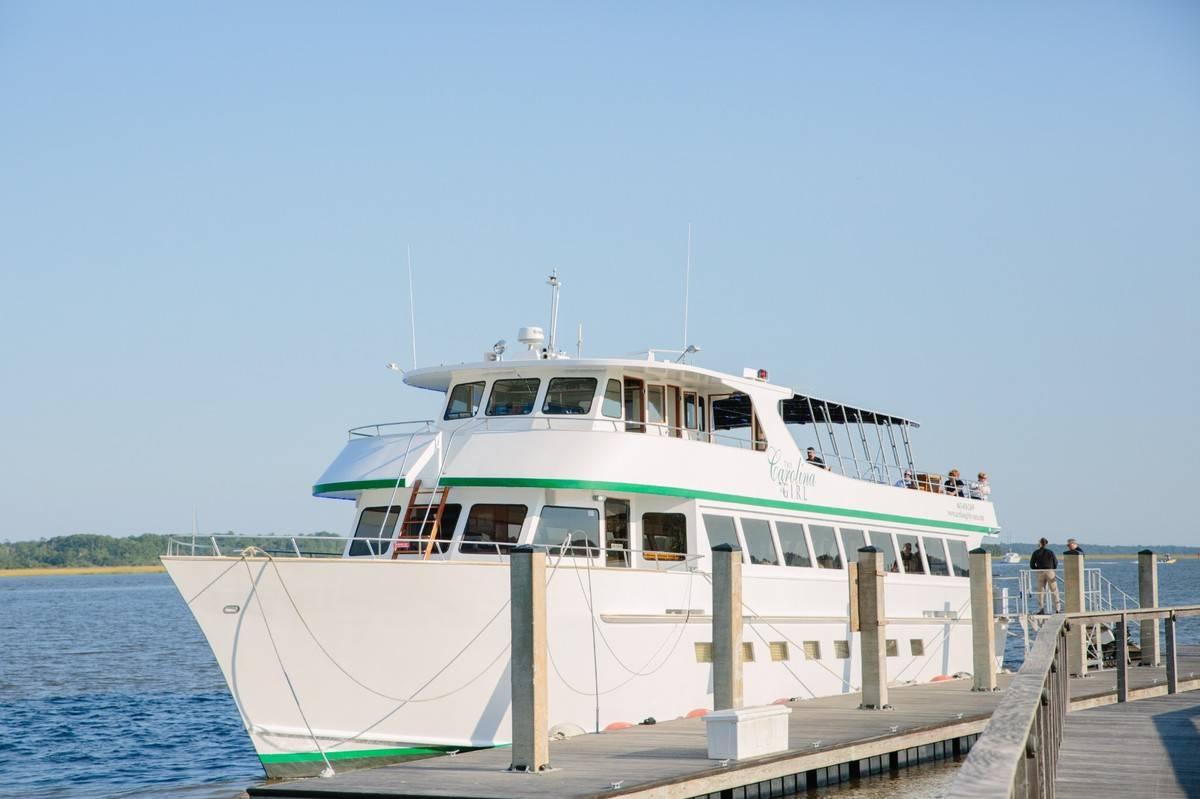 The Carolina Girl Yacht
Charleston, South Carolina
This is the perfect venue for a South Carolina yacht wedding experience. The Charleston scenery will be on full display as you say "I do" on deck. With in-house wedding planners and capacity for up to 150 guests, your planning experience will be stress-free and your wedding event a great time for all! Pricing for this venue starts at $2,500.

Learn more about The Carolina Girl Yacht »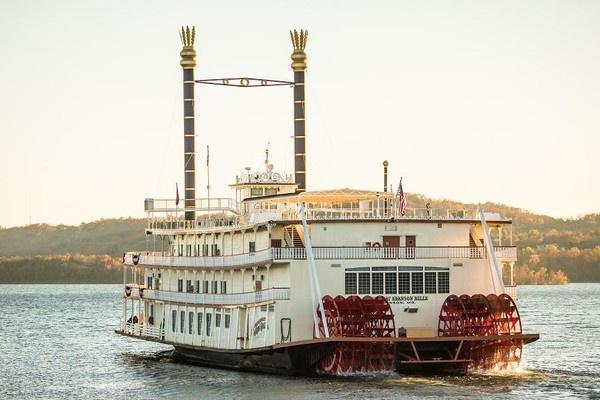 Showboat Branson Belle
Branson, Missouri
There's nothing quite like hosting an event on a real Missouri showboat. The wedding photo ops are truly spectacular on this historic boat wedding venue, and couples rave about the entertainment and affordability.
Learn more about Showboat Branson Belle »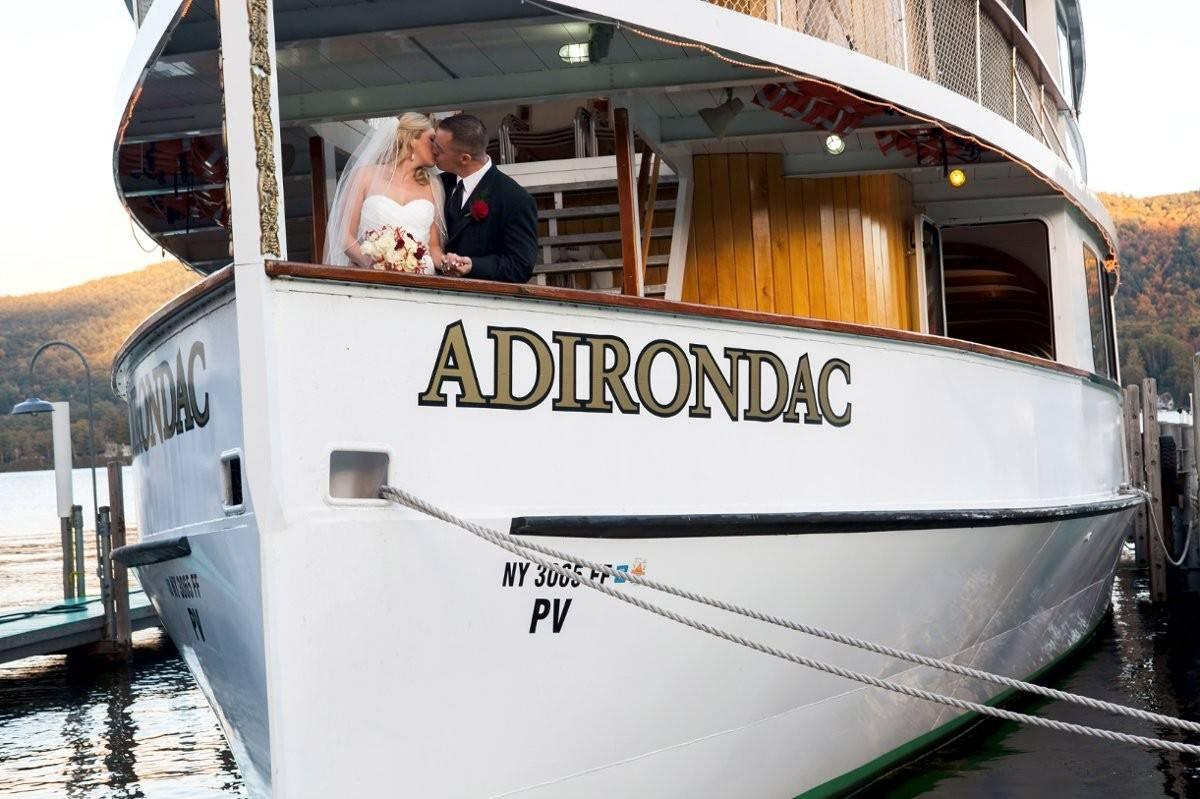 Shoreline Cruises
Lake George, New York
This Couples' Choice Award-winning boat wedding venue has two vessels to choose from, the smaller Horicon, which can host up to 80 guests for a seated dinner, or the larger Adirondac, with its 19th century-style décor and space for up to 250 guests for a sit-down dinner. Both yacht wedding venues offer full bars, modern restrooms, and bridal suites where the wedding party can prep for the big day.

Learn more about Lake George Shoreline Cruises »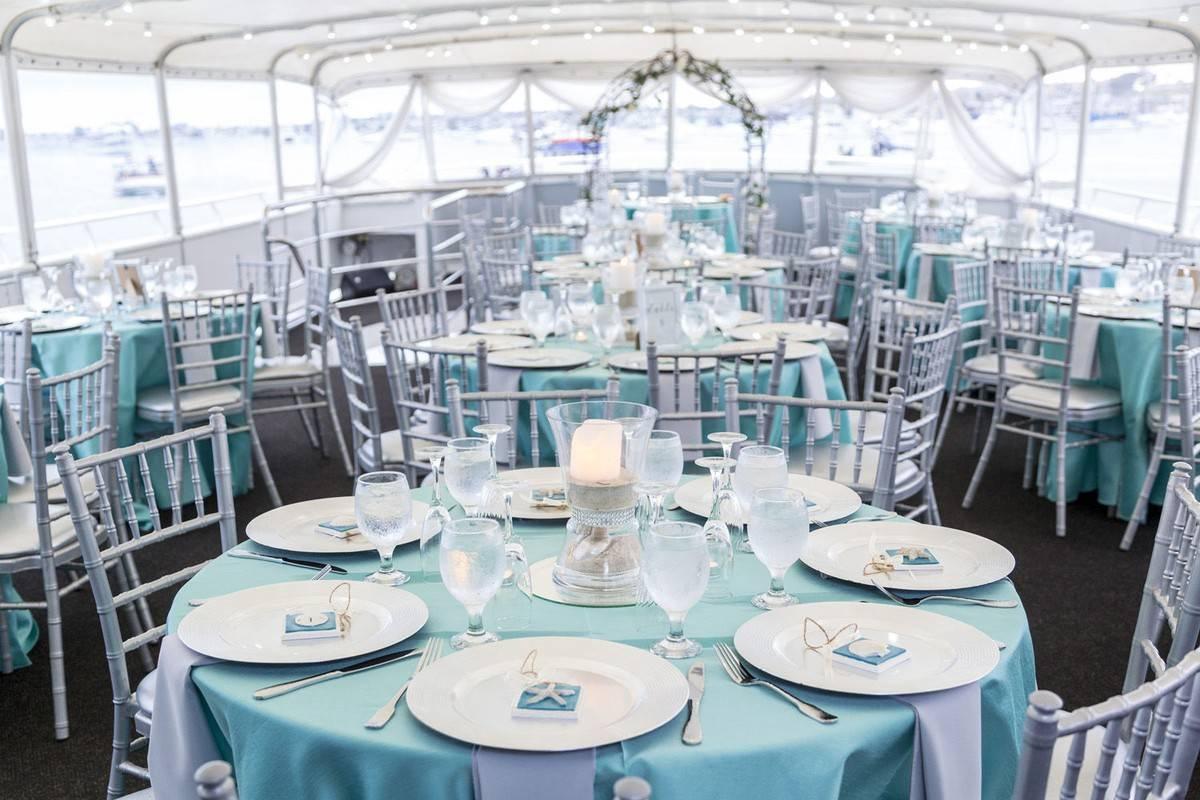 City Cruises - Newport Beach
Newport Beach, California
Explore the waters off of Orange County on this boat wedding venue. The 120-foot Icon cruise ship is mostly used for weddings, as it offers space for 150 guests, as well as marble, glass, and wood furnishings. The captain can perform your ceremony, plus catering is done in-house (or should we say on-ship?) to make your wedding planning process a breeze every step of the way.
Learn more about City Cruises - Newport Beach »

Charles Riverboat Co.
Cambridge, Massachusetts
Boston is such a special city for weddings because of its proximity to the water. Celebrate Beantown's nautical roots by marrying on one of these boat wedding venues. There are five vessels to choose from, including the Vallant, a luxury yacht wedding venue, which has a bridal suite and its own state rooms, and the Lexington, which is a paddle-wheel boat with a large open-air deck.

Learn more about Charles Riverboat Co. »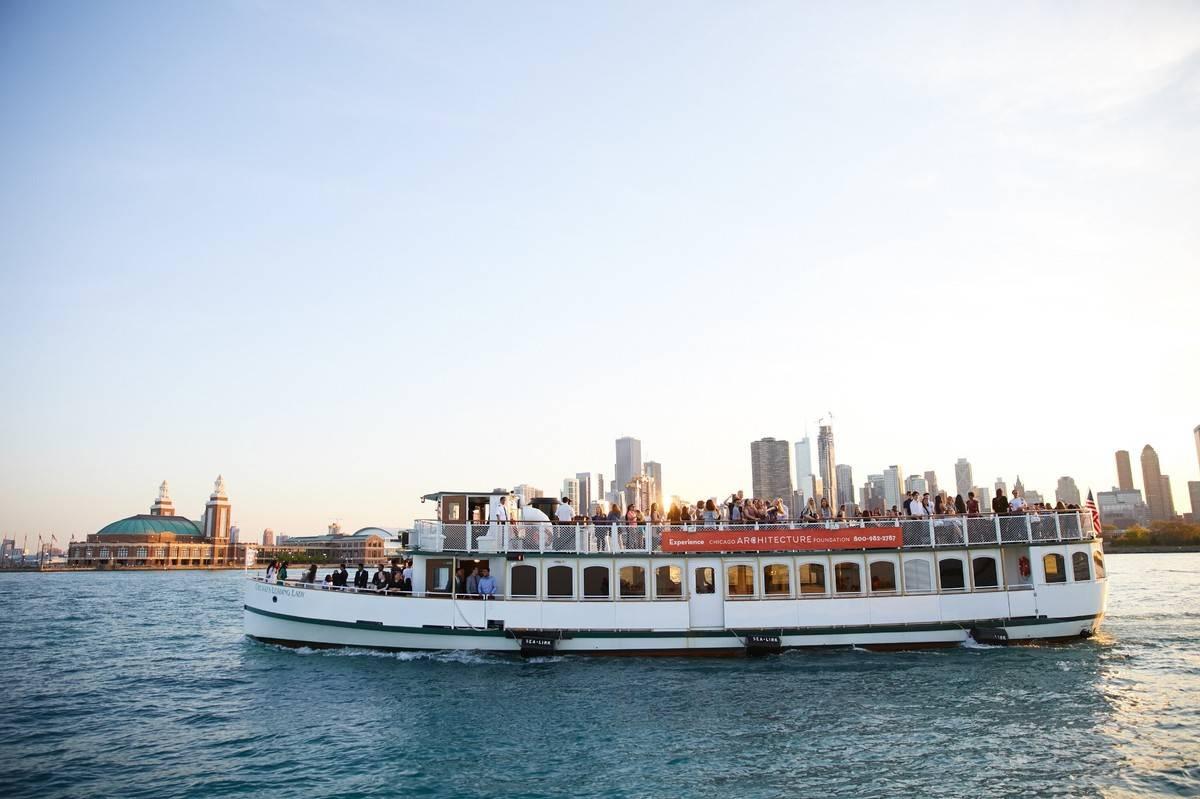 Chicago's First Lady
Chicago, Illinois
Exchange vows on a private yacht wedding venue with the Chicago skyline as your backdrop. There are six vessels to choose from that can accommodate up to 200 guests, wedding packages for any budget, delicious food and drink, and the ability to choose your own route so you can be sure you'll see your favorite Chicago sites during your wedding celebration (hello, photo ops!).
Learn more about Chicago's First Lady »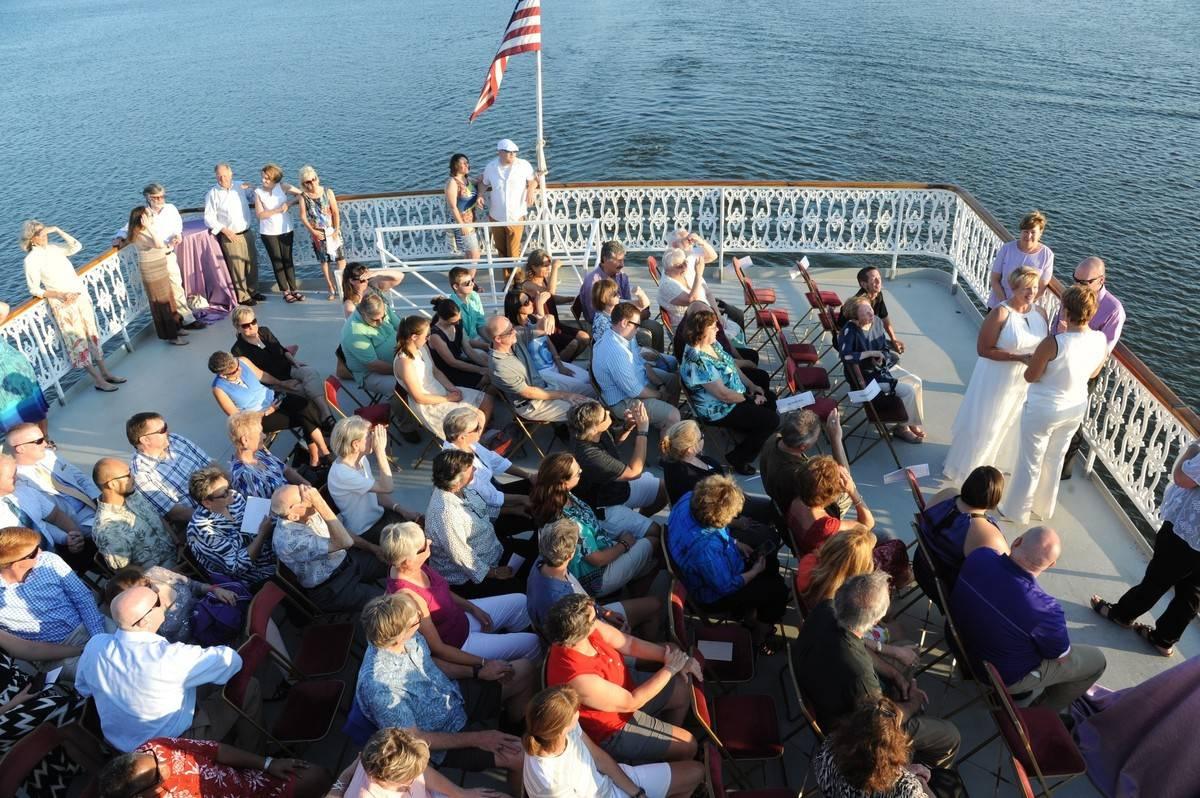 City Cruises Alexandria
Alexandria, Virginia
The Cherry Blossom is a recreated 19th century Victorian riverboat, featuring luxe furnishings such as ornate iron railings and a brass and mahogany interior—and it's climate-controlled! Departing from Alexandria, Virginia, you and up to 150 guests will love the history and majesty of this unique site for a boat wedding. Rental pricing starts at $2,800 for a weekday wedding.

Learn more about the City Cruises Alexandria »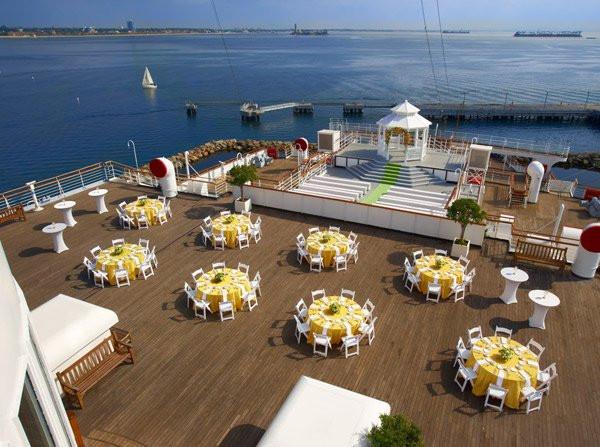 The Queen Mary
Long Beach, California
Weddings aboard the Queen Mary feel like they're taking place in the 1930s Gatsby era. Imagine hosting your ceremony with the sun setting over the water, and your perfect wedding reception in one of the Art Deco event spaces.

Learn more about The Queen Mary »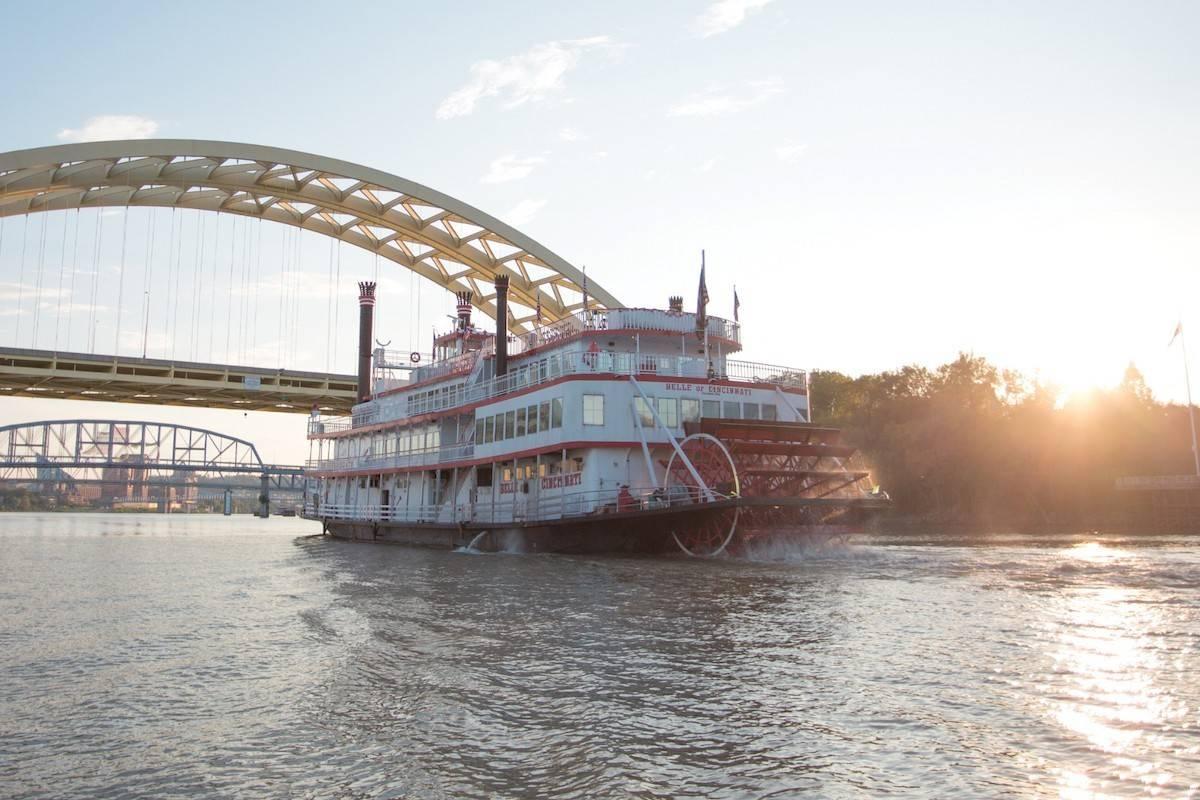 BB Riverboats
Newport, Kentucky
Explore the Ohio River and the Cincinnati skyline by hosting a boat wedding or rehearsal dinner with BB Riverboats. There are a variety of wedding packages to choose from to fit your needs and budget.

Learn more about BB Riverboats »
FantaSea Yacht Charters
Kemah, Texas
If you're getting married on the Gulf Coast, you should definitely consider a yacht wedding to allow your guests to see all the gorgeous scenery Texas has to offer! Your yacht wedding can include up to 128 guests, plus you'll love the elegant décor, two full-service bars, and that portrait-worthy curved staircase.

Learn more about FantaSea Yacht Charters »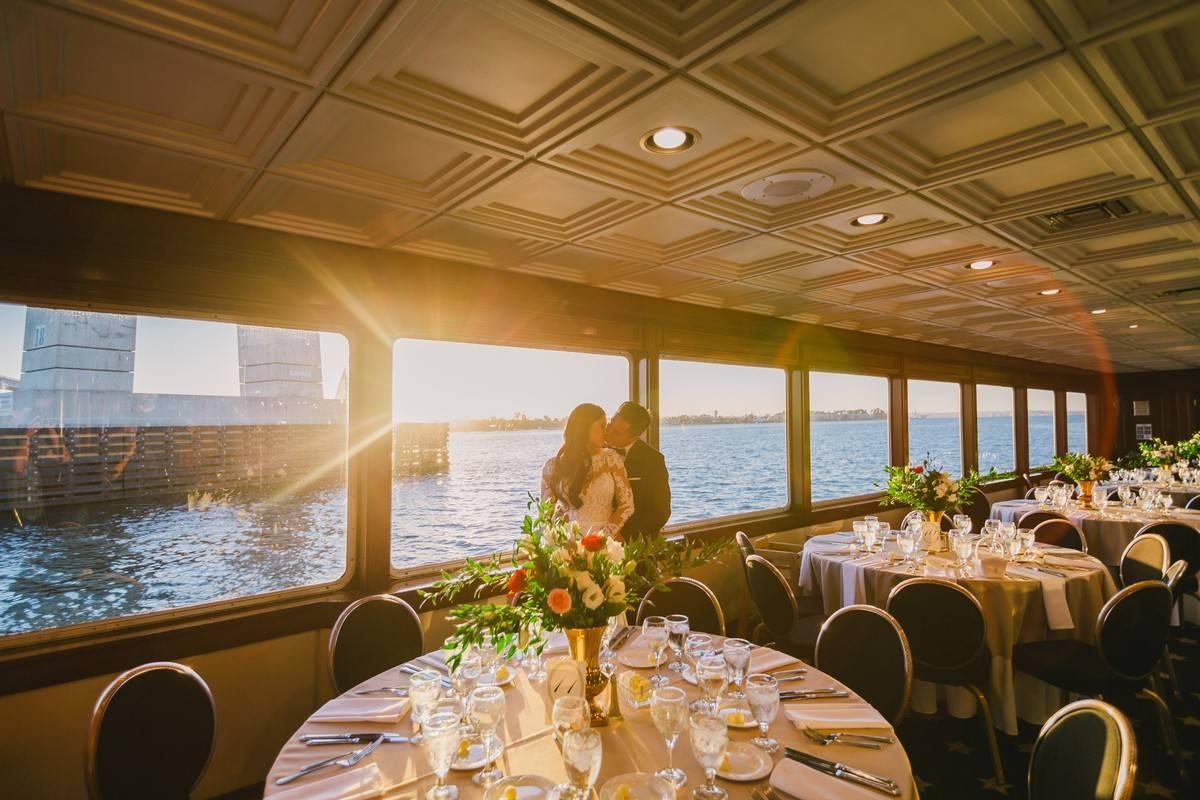 Flagship Cruises & Events
San Diego, California
A truly unique venue that makes wedding planning easy? Yes, please! You and your beloved can be married by the captain of your own private yacht, choose flexible menus for your reception, and have a day-of wedding coordinator make sure every detail is taken care of.

Learn more about Flagship Cruises and Events »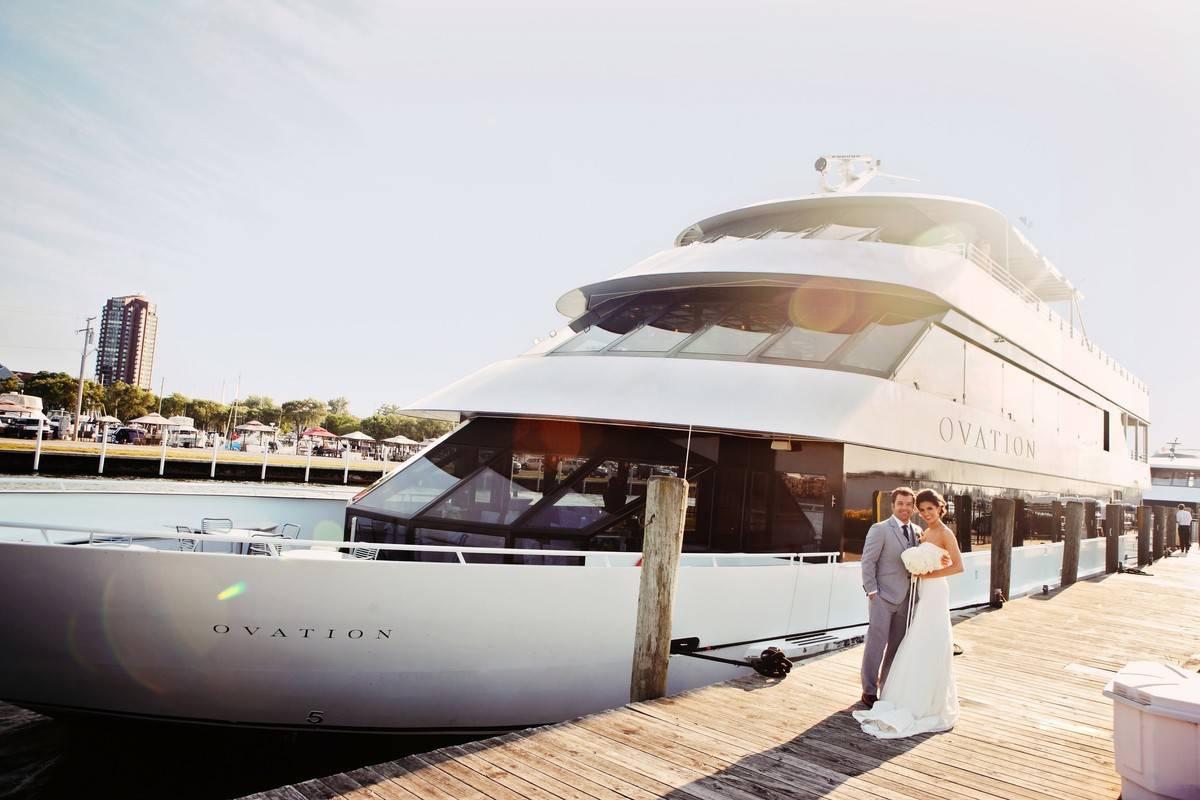 Infinity and Ovation Yacht Charters
St. Clair Shores, Michigan
A Couples' Choice Award winner, this yacht wedding venue has two vessels to choose from, the Infinity, which can host up to 130 guests, and the Ovation, which has space for as many as 300 guests. Couples rave about the delicious food, helpful staff, and elegant space.

Learn more about Infinity and Ovation Yacht Charters »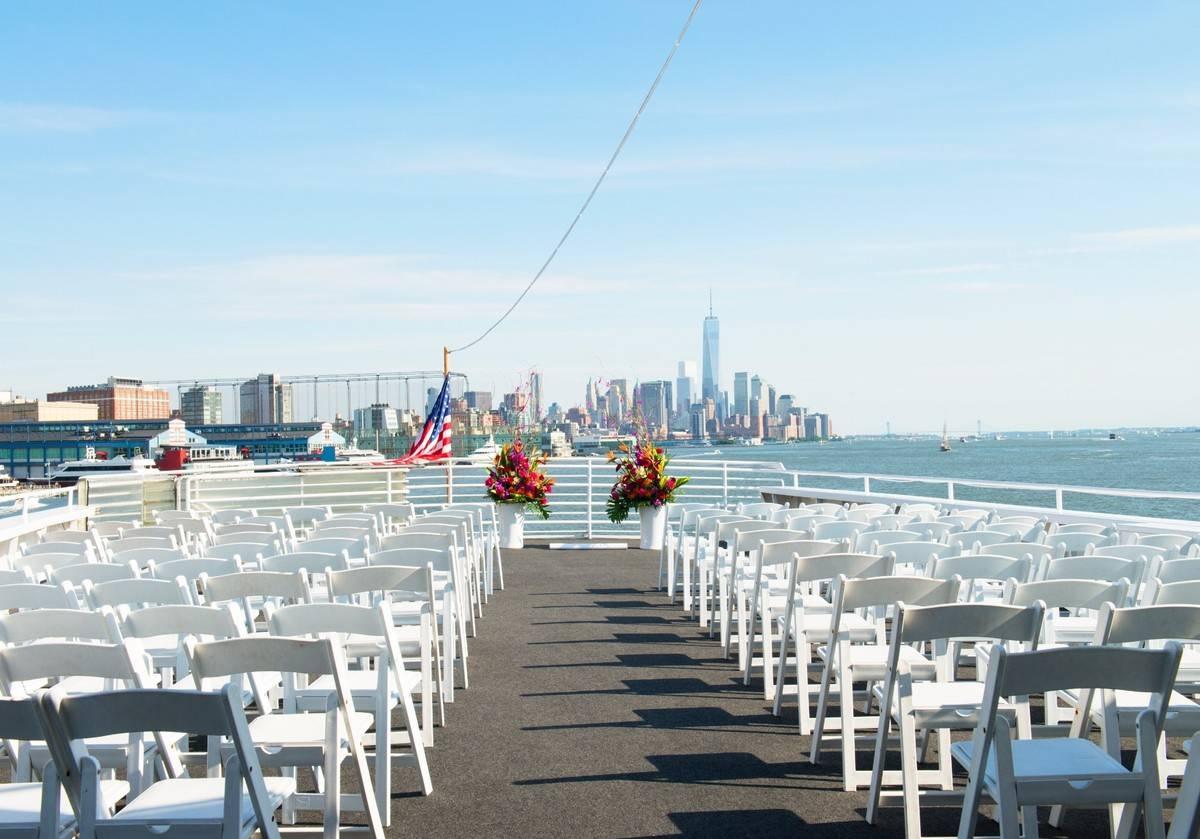 Aqua Azul Yacht
New York, New York
Want your wedding day to feel more like a party? This four-deck yacht is ideal for hip weddings, where you can celebrate with up to 345 of your nearest and dearest. You can tie the knot on board, enjoy a customized menu, and dance the night away on the deck.
Learn more about Aqua Azul & Manhattan Steamboat »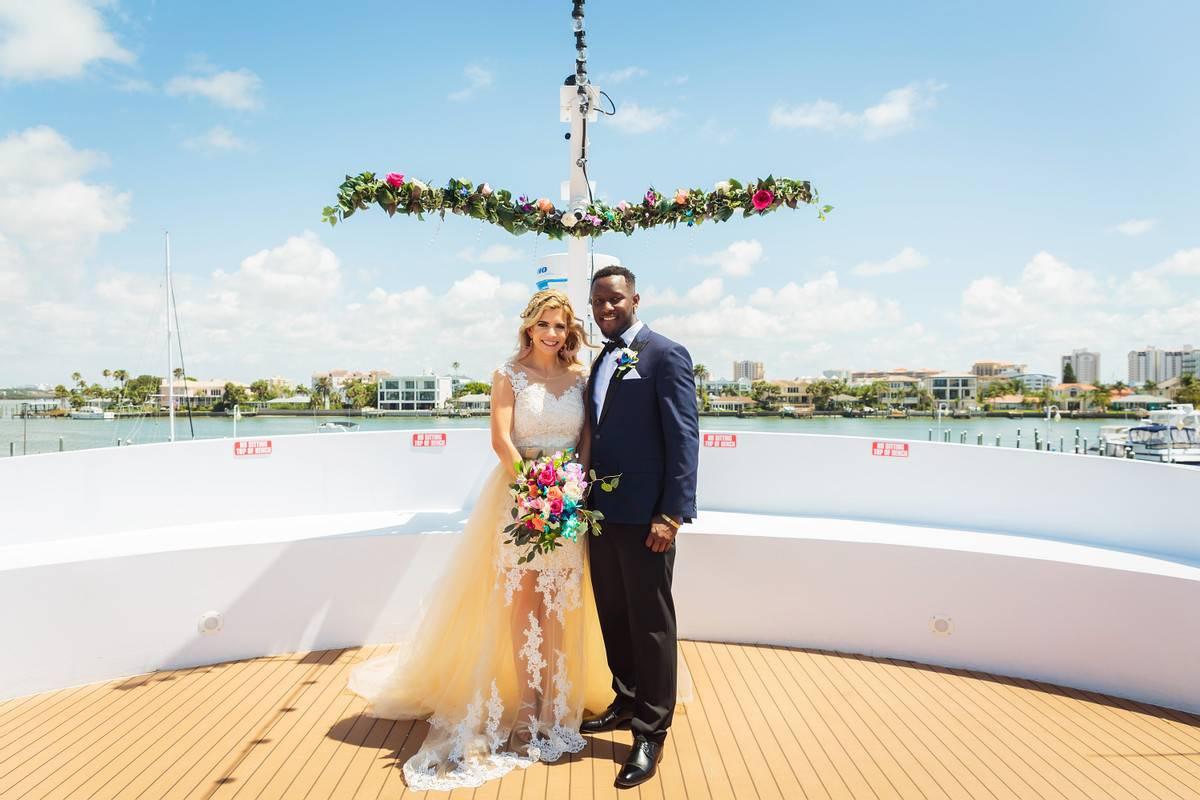 Yacht StarShip
Tampa, Florida
This yacht company has four boat wedding venues to choose from for your big day, the largest of which can accommodate up to 600 guests. You'll love the luxurious feel of these yachts, and the food is highly regarded. Yacht StarShip is truly an all-inclusive venue, and can provide everything from catering to floral design, bartending, event planning, photography, entertainment, and more.
Learn more about Yacht StarShip »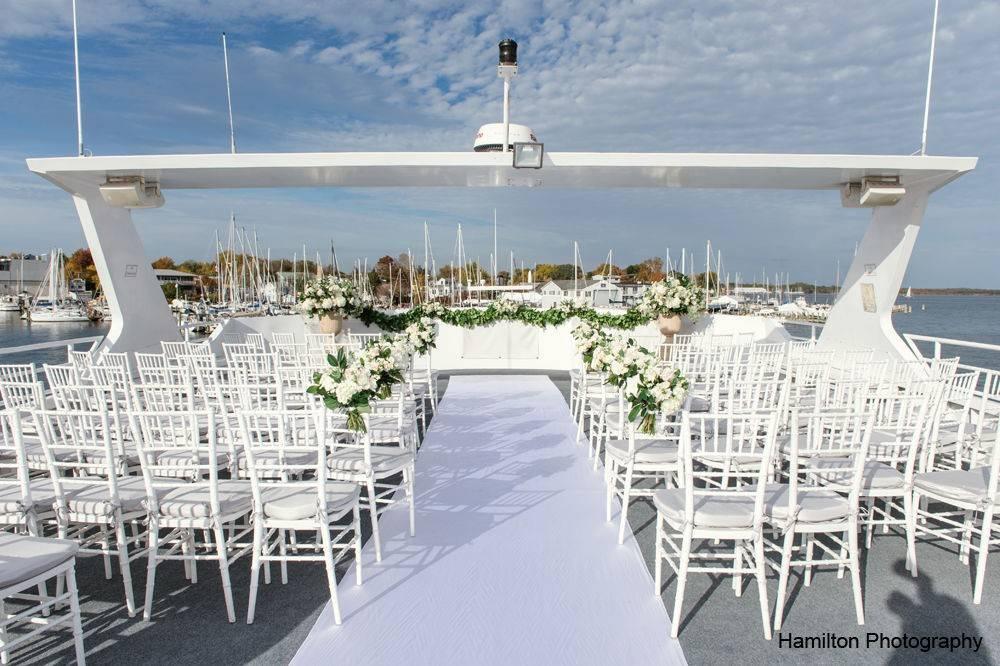 Wedding on the Bay by Watermark
Annapolis, Maryland
Annapolis is known for its nautical vibe, so a boat wedding venue on the Chesapeake Bay is totally on point. Choose from several available yachts, which can not only accommodate wedding ceremonies and receptions but engagement parties and other events. The most popular yachts for weddings are the Cabaret II, which can host events of up to 75 guests, and the larger Raven, which can accommodate up to 149 people.
Learn more about Wedding on the Bay by Watermark »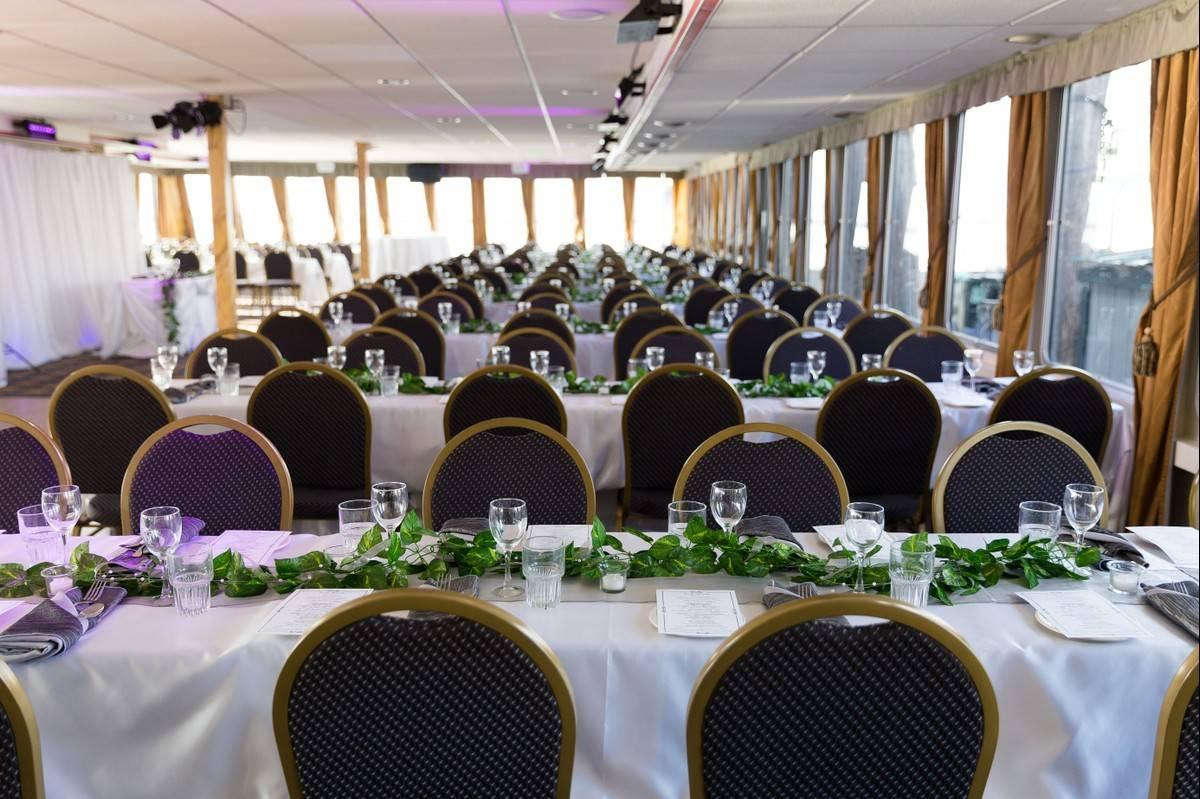 Spirit of Ethan Allen
Burlington, Vermont
Vermont may not be the first place that comes to mind when you think about boat wedding venues, but the Spirit of Ethan Allen is definitely worth checking out. Your guests will love cruising around Lake Champlain and enjoying views of the Green Mountains and the Adirondacks. The Spirit of Ethan Allen can host weddings of up to 350 guests.