There's a reason so many couples leave the Big Apple behind in search of a Finger Lakes wedding venue. This upstate region is scattered with long, narrow lakes (hence the name!) that are surrounded by quaint towns and gorgeous vistas. The Finger Lakes region is stunning no matter the season, whether dusted with snow, glowing with golden fall leaves, or lush with wildflowers. Finger Lakes wedding venues range from rustic barns to industrial spaces to sprawling vineyards, so there's a beautiful venue to host any type of wedding.
Get out of New York City for your wedding and head northwest to check out these Finger Lakes wedding venues!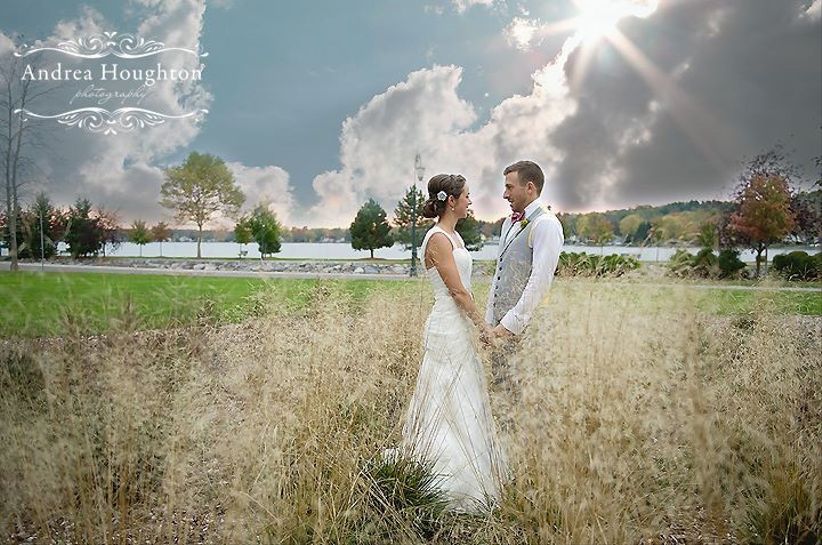 Emerson Park Pavilion
A Finger Lakes wedding venue wouldn't be complete without views of a lake! Set on Owasco Lake, the Emerson Park Pavilion has three banquet spaces to choose from, each with hardwood floors and waterfront views. This historic property is a beautiful backdrop for an elegant wedding, with high ceilings and French doors that add a touch of colonial charm. A paved path around a floral-laden fountain leads toward the lake, where you can exchange vows on a manicured lawn beneath the park's towering trees. Operated by H & J Hospitality, the venue's full-service caterer and on-site special events coordinator will ensure every detail is taken care of.
Learn more about Emerson Park Pavilion »
Marriott Syracuse Downtown
The Marriott Syracuse is the perfect location for an opulent Finger Lakes wedding. This historic hotel, built as the Hotel Syracuse in the early 1920s, features iconic towers, three event spaces, and incredible hand-painted murals and panels throughout the building. Each ballroom is totally timeless, with columns, paneled ceilings, and gleaming parquet floors. Towering windows let in lots of natural light, enhanced by the clouds painted on the arched ceiling of the 10th floor Grand Ballroom. Don't miss the Bridal Rotunda and Groom Suite, private getting-ready spaces where you and your wedding party can prep for your big day in style.
Learn more about Marriott Syracuse »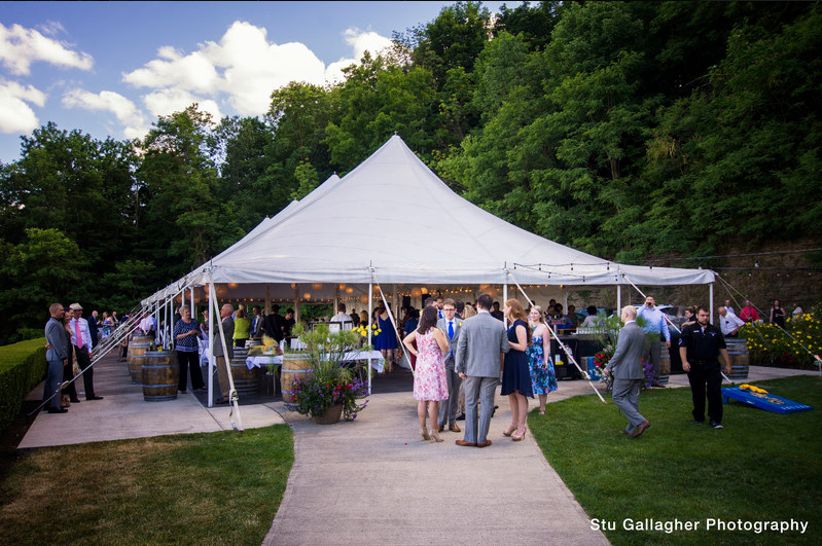 Heron Hill Winery
If you can't imagine your wedding day without a delicious glass of wine, look no further than Heron Hill Winery. The Finger Lakes wedding venue has been producing award-winning wines for over 40 years, and boasts one of Travel + Leisure's top 10 most spectacular tasting rooms in the world, so you can expect incredible wines alongside totally breathtaking views. There are three gorgeous wedding destinations to choose from: The lawn overlooking Keuka Lake, perfectly arranged for garden ceremonies, the 170-person peaked tent with a smooth concrete floor and handcrafted oak bar, and the tasting room on Canandaigua Lake, set inside a renovated 100-year-old barn. The winery team at this Finger Lakes winery wedding venue will help you pair the perfect Heron Hill wines for your wedding meal so you can raise a glass your family and friends will absolutely adore.
Learn more about Heron Hill Winery »
John Joseph Inn
This modern country estate is set on 110 acres just minutes from downtown Ithaca. English gardens, orchards, and pastures surround the restaurant, a restored 1850s carriage house with hand-hewn chestnut beams where the chef-owner offers organic, local, and seasonal tasting menus to discerning diners. An indulgent dinner is the foundation of every wedding (or rehearsal dinner!) on the property, paired with a professional event coordinator and exceptionally-trained staff. There are seven rooms on the property, where you and your wedding party will be treated to baskets of fresh muffins each morning, and a flock of sheep means there might be lambs wandering in the background of your newlywed portraits. What could be more idyllic than that?
Learn more about John Joseph Inn »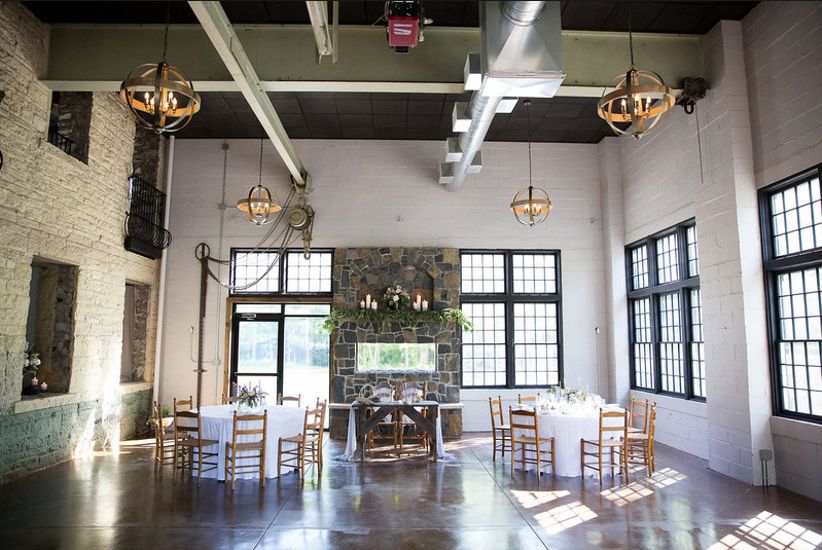 The Sinclair of Skaneateles
Set in the restored Sinclair Chair Factory, The Sinclair of Skaneateles is the perfect intersection of rustic, industrial, and historic aesthetics. This unique setting can accommodate up to 180 guests, while exposed brick and high ceilings provide a beautiful backdrop for your wedding design. Head to the 3rd floor to spend the morning getting ready, then exchange vows surrounded by church pews overlooking the water. Use the multiple floors to create an evolution of experiences for your guests, ending with late-night drinks around the fire-pit. Local restaurant Rosalie's Cucina is the exclusive caterer, treating your guests to indulgent Italian fare as you celebrate your newly-wedded status.
Learn more about The Sinclair of Skaneateles »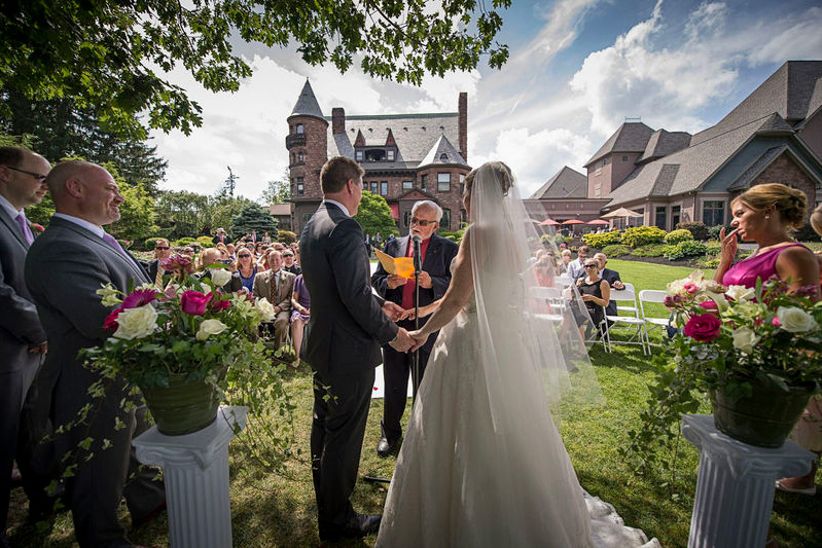 Belhurst Castle
Live out your royal wedding fantasies at Belhurst Castle in Geneva, New York. Tucked away in the heart of the Finger Lakes wine region, the castle combines three hotels, two restaurants, a winery, and a spa into a Finger Lakes wedding venue that is a one-stop-shop. Guests rave about the in-house catering, and couples love that there is no site fee to use the property. That's right - you'll pay for food and beverages, but don't have to pay an extra fee to rent the room! Choose between the Castle Ballroom and the Meritage Ballroom, both with views of Seneca Lake and access to the hotel's manicured grounds for an al fresco ceremony, then dance the night away in Cinderella style.
Learn more about Belhurst Castle »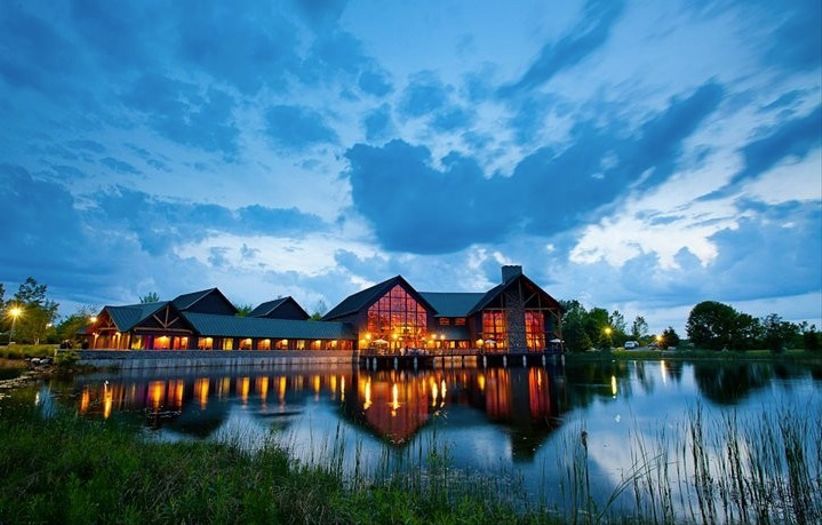 The Lodge at Welch Allyn
Planning a wedding for a crowd? Look no further than The Lodge at Welch Allyn, which can accommodate up to 350 guests in modern-meets-rustic style. Floor-to-ceiling windows overlook a secluded pond and pristine forest, while inside your guests will enjoy a full bar, experienced staff, and dinner from the executive chef who graduated from the Culinary Institute of America. Beams and a vaulted ceiling create an intimate feeling inside the sprawling space, and a towering stone fireplace is the perfect backdrop for an indoor ceremony or a cozy late-night lounge. Looking for an upgrade? Cap the night off with a dramatic fireworks display!
Learn more about The Lodge at Welch Allyn »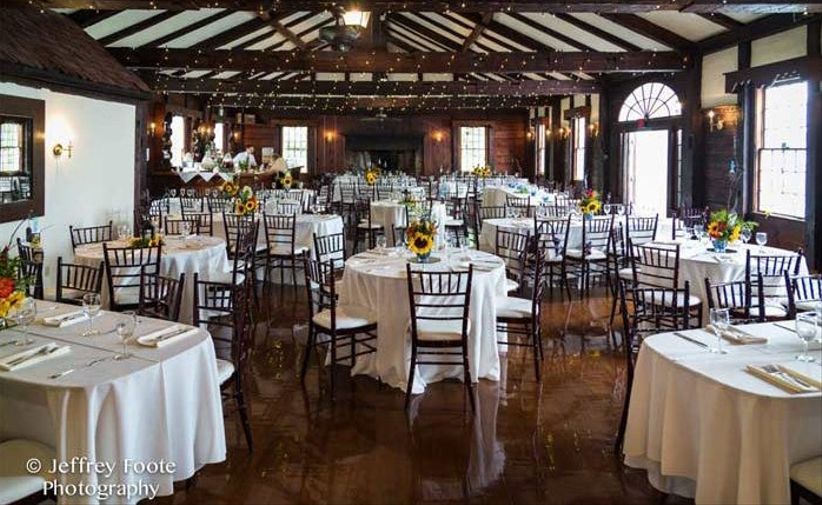 Fontainebleau Inn
This Finger Lakes wedding venue is a picturesque intersection of the charm of the past and welcoming modern amenities. Built in 1814, Fontainebleau Inn is set on 30 acres surrounded by lush old-growth forest, the perfect getaway for a couple that wants to say "I do" away from it all. The spacious patio offers panoramic views of Cayuta Lake, a sparkling backdrop for a wedding ceremony, or gather in nearby Lawrence Chapel for a ceremony inside the historic stone structure. The banquet room features dark wood beams and matching mahogany Chiavari chairs, and the on-site bridal salon has room for up to 10 people and lighting designed with hair and makeup artists in mind.
Learn more about Fontainebleau Inn »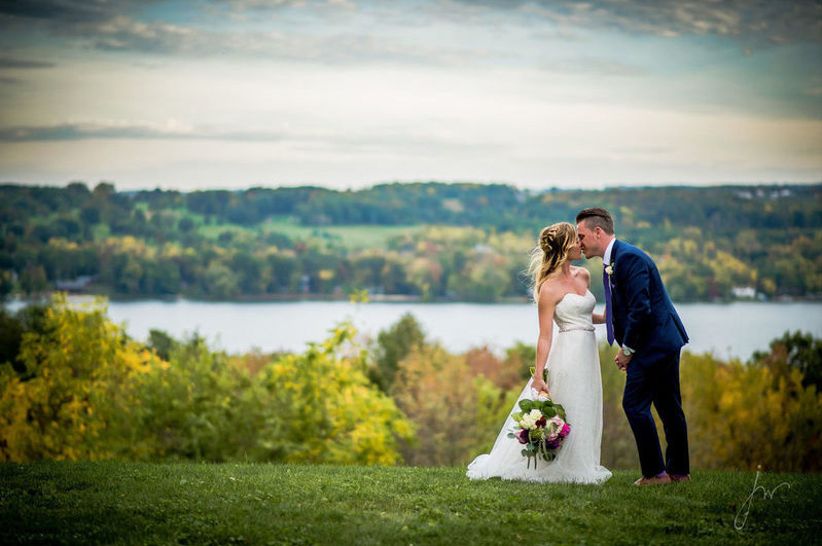 Crispin Hill
For a truly rustic Finger Lakes wedding venue, embrace the region's farming past with a wedding at Crispin Hill. The property features Crispin Hill Farm House, a 100-year-old building with Keuka Lake views and lodging for 14 guests, as well as Crispin Barn, a lovingly restored red barn and adjacent tent with space for up to 175 guests overlooking the lake. The owners' background in hospitality and fine dining make this Finger Lakes barn wedding venue a premier space, offering lots of privacy and picturesque views alongside creative menus and unparalleled service.
Learn more about Crispin Hill »