What to Know If You're Having a Summer 2021 Wedding, According to Planners
Gearing up for a summertime celebration? Here's everything you need to know if you're planning to wed this summer, from hiring vendors to putting COVID safety guidelines in place.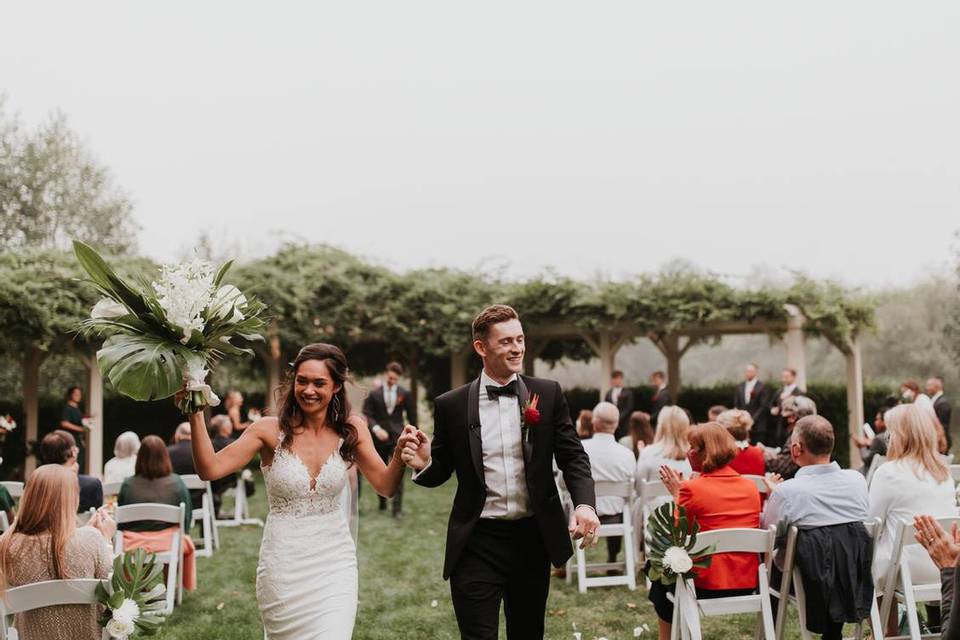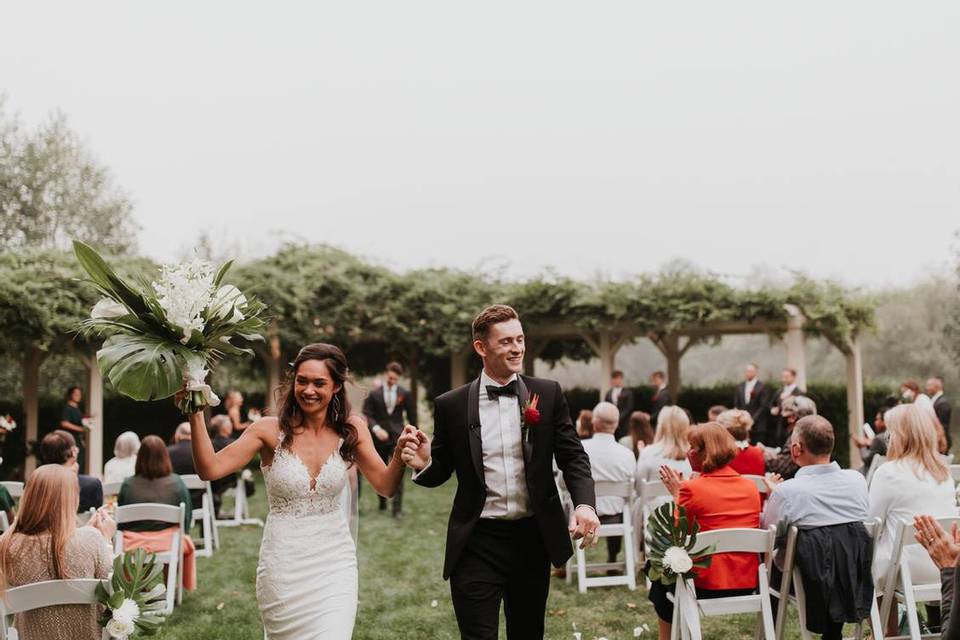 If you've been planning a wedding during the COVID-19 pandemic, you deserve some serious applause. What was supposed to be nothing short of magical, exciting, and celebratory was marred with a great deal of fear, frustration, anxiety and an uncomfortable amount of unknowns. But if you've made it this far, the good news is that there's most definitely light at the end of the tunnel.
As vaccines are being distributed across the country, there's hope for a return to normalcy at some point and it looks very promising that COVID wedding guidelines will ease up at least slightly over the course of the next year. In fact, New York State Governor Andrew Cuomo has already announced that weddings of 150 people will now be allowed—a huge win for countless couples planning summer 2021 weddings.
On the heels of this announcement, Oniki Hardtman, of Oh Niki Occasions in Boynton Beach, Florida, saw a considerable uptick in activity in her email boxes and inquiry forms from couples who've been waiting in the wings to finally move forward with their summer 2021 weddings. "All throughout the country things are beginning to look up in regards to weddings of larger sizes being able to move forward as long as various precautions are observed," she says. "Thanks to the vaccines being administered to healthcare professionals and frontline workers, as well as mature generations that were at higher risk, we no longer have to worry as much about excluding older relatives from the celebration."
Still, it's important to realize that it's very possible that some of your wedding party, potentially even including you and your soon-to-be spouse, may not be vaccinated in time for your big day. Add to that, if you're planning a wedding in 2021, you will still need to plan for COVID restrictions, check state and local regulations, and take all the necessary precautions to keep people safe, notes Jamie Chang of Mango Muse Events and Let's "I Do" This! in Los Altos, California. "With all the unknowns regarding the variants and vaccine efficacy, masks, social distancing and safety measures will still need to be planned for, but the restrictions on weddings will evolve and ease."
So if you are planning a summer 2021 wedding, here are some important things wedding pros want you to know as your big day approaches.
Secure your vendors ASAP.
If you have yet to secure all of your wedding vendors, it's a smart idea to do so now, as many are getting booked up left and right—especially wedding planners. "Last year was a tremendous learning lesson in how life, not to mention plans, can still change at any minute, so ensuring that you have a reliable wedding consultant to guide you through further potentially needed changes will make it less stressful moving forward and you can truly just enjoy your day," says Hardtman.
Read your contracts thoroughly.
It's always important to know the terms to which you're agreeing, but especially during a pandemic when things can change at a minute's notice. "Once you sign a contract, you are making a legal commitment to follow through on all of the terms, just like your vendors are committing to the same thing," says Kate Reavey, owner of Chicago Vintage Weddings in Chicago. "If you are not comfortable with a postponement, safety or cancellation clause, see if it is negotiable."
Keep your guests in the loop.
You're probably getting overloaded with questions about your wedding plans from everyone you know. While their inquiries are well-meaning, it can be stressful, not to mention time consuming, to have to answer each one. A better solution is to keep your guests informed via your wedding website and email correspondence. "Never just assume that your wedding guests are aware of the latest regional status because this varies so greatly depending on where you are getting married," says Hardtman. "Travel warnings, potential quarantine requirements, proof of testing, sanitization stations, mask usage and social distancing requirements are not a thing of the past, so be sure to check in directly with your venue, vendors and update your guests accordingly.
Be thoughtful when deciding on your guest count.
Current projections don't foresee the U.S. achieving herd immunity until fall at the earliest, so it's wise to anticipate that your guest list may be smaller than you initially planned. "Everyone's risk tolerance varies, but you have to think about whether you guests will even want to come to a larger wedding this summer," says Tzo Ai Ang, founder of Ang Weddings & Events in New York City. "Travel is also a big part of the planning if you have many guests who will be travelling or if you have a destination wedding."
Update vendors of any changes.
Hardtman urges couples to be upfront and honest with their vendors about potential changes and updates due to COVID. "For instance, you may not be able to seat as many guests per table as you originally planned if you were a 2020 couple who postponed your wedding," she says. "Spacing guests out at more tables means more linens, more centerpieces, etc. so be sure to stay on top of this not only with your venue, but your floral designer and planner as well."
Incorporate COVID safety measures in your planning.
To make your guests feel comfortable and to ensure that your wedding is safe, it's a wise idea to take the recommended COVID safety precautions—or to at least prepare and budget for them. According to a new study, the average couple spends about $280 on COVID-related health and safety measures for their guests. Even if not required by your state, Hardtman suggests that all of your guests take a COVID test before attending your wedding.
"By being precautionary and at least making the suggestion via your wedding website or perhaps a special insert to your invitations, you will be more at ease knowing that you've helped to do your part in wanting to keep guests as safe as possible while celebrating with you," she says. "If you know of someone that tests positive or comes into contact with someone who tests positive within days of your wedding, kindly ask them to not attend out of respect and concern for your other guests."