13 COVID-Related Wedding Expenses You Need to Budget For
Unforeseen wedding costs? Not today. If you're having a COVID wedding, get ahead of the game (and stay on budget) with this list of expenses you might run into.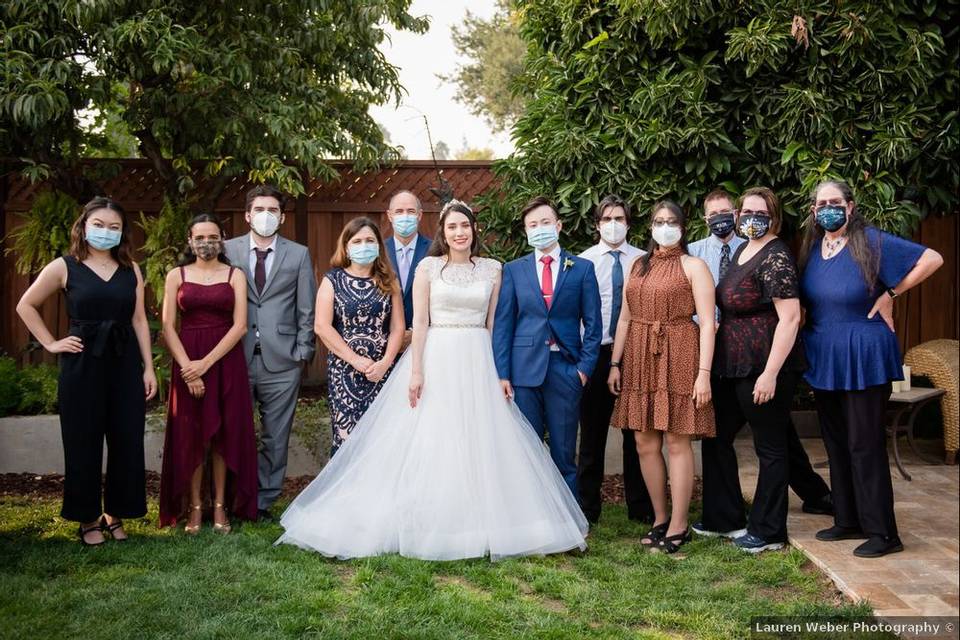 Typical wedding expenses aside, getting married during the pandemic can come with some additional costs—but it's hard to budget for them if you don't know what they are. We've outlined all of the possible COVID wedding expenses you might run into, and while not everything on this list will apply to you, we think it's better to be prepared than to be caught off-guard. Keep reading for the obvious expenses (masks) and not-so-obvious expenses (like additional catering staff) that could require you to readjust your wedding budget.
Masks
Masks are arguably the most important COVID wedding expense you'll need to plan for. Although mask requirements vary by state and city, they're the number-one way to keep your guests safe, even if you're celebrating outdoors or enforcing social distancing. It's up to you whether you want to provide masks for all of your guests or just your family/wedding party, but either way, it's smart to have a handful of extras ready to go for anyone who needs them.
Luckily, there are so many different wedding masks to choose from—you can get creative with customized masks that reflect your wedding theme or keep things simple with a plain colored mask to match your attire. If you're supplying masks for all of your guests, you can save money by looking for retailers who offer discounts on bulk orders.
Hand Sanitizer
Hand sanitizer is another top COVID wedding expense you'll definitely want to prioritize. There are a few different ways you can incorporate hand sanitizer into your celebration, like setting up sanitizing stations throughout the venue or giving bottles of hand sanitizer as wedding favors.
Thermometers
For in-person weddings, temperature checks upon arrival are a quick way to confirm that your guests aren't experiencing any coronavirus symptoms. We'd recommend using a touchless thermometer, which takes an infrared forehead scan in just a few seconds and doesn't require any physical contact.
Social Distancing Signage
Informative and decorative signs were a wedding staple even before the pandemic, but they're especially useful for COVID weddings. Whether you want to remind guests to wear their masks and social distance, make it easy for everyone to find hand-washing stations, or simply share your gratitude for everyone in attendance, signage is a quick and efficient way to share important information.
Pre-Wedding Goodies
While it's definitely not necessary, sending swag bags or welcome boxes to your loved ones ahead of the wedding can be a fun way to get everyone excited about the big day. This is especially true if you're having a virtual wedding—you can include items like ceremony programs, champagne, sweet treats, and other favors that will make the experience feel personal, even if you can't physically be together. If you are celebrating in person, consider mailing table assignments or customized masks to your guests to facilitate social distancing and safety at your venue.
Wedding Insurance
If you recently started planning your wedding, it's a good idea to look into wedding liability insurance, especially amid the ongoing pandemic. In the event of a sudden cancelation, injury, accident, or natural disaster, wedding insurance can protect you from losing more money than necessary. Basic wedding insurance policies start around $100 (but vary greatly depending on the coverage and provider), and they can often be rolled into existing property plans, such as homeowner's insurance.
Wedding Planner
The stress of postponing your wedding or navigating your local (and ever-changing) COVID regulations may feel overwhelming—and we totally get it. If you're struggling to deal with it all, consider hiring a wedding planner to take over for you. Not only will they help alleviate your anxiety leading up to the big day, but your planner can coordinate and enforce safety practices among everyone in attendance throughout the wedding. Many wedding planners offer month-of, day-of, and à la carte services, so reach out to local pros in your area to find one who can accommodate your budget.
Tents or Other Outdoor Structures
For the time being, outdoor weddings are significantly safer than indoor weddings when you implement proper social distancing and other preventative measures. But it may take some effort (and money) to get your venue up to speed for an outdoor wedding, especially if there aren't certain structures already on-site. If that's the case, expect to shell out some additional cash to rent a tent or other open-air structure for your wedding. The exact price will depend on your location and the type/size of tent you rent, but $1,000 is an average starting point.
Change-the-Date or Postponement Cards
As unfortunate as it is to change or postpone your wedding date, it's a reality that many couples are facing right now. If you've had to put your wedding on hold, you may want to let your guests know by sending a change-the-date card or postponement announcement, in addition to updating your wedding website. Many wedding stationery vendors are offering change-the-dates as a discounted or complimentary service if you've already purchased your invitations through them, but we recommend setting aside some extra cash just in case.
Additional Serving Staff
Wedding caterers and bartenders across the country are going above and beyond to ensure that their food and drinks are served in a safe, enjoyable way during the pandemic. For many vendors, that means bringing on additional staff to account for things that your guests would have otherwise done themselves, such as filling their own plates at a buffet or helping themselves to communal refreshments and desserts. So, what does this mean for your budget? Your vendors (or wedding venue, if the catering and/or bar service is offered in-house) may adjust their pricing to reflect the need for more staff at your event. Tipping will also be affected—remember that tips are required for the servers and bartenders at your wedding.
Food Safety Equipment
Along with hiring additional staff, many food and beverage vendors are implementing physical measures to keep everyone safe at their events. Things like plexiglass barriers, single-use food packaging, and disposable gloves are all necessary items for weddings right now, but you may be expected to pay for them. Read your contract or reach out to your vendors directly to find out what they provide and what you'll be required to cover financially.
Livestreaming Equipment and Fees
Virtual weddings are a great way to involve loved ones who can't celebrate with you in person, and there are a few things that will take the experience to the next level. Using high-quality speakers/microphones, professional lighting, and a tripod for your camera or phone will all make a difference for your virtual guests, but they're some of the more unexpected COVID wedding expenses. If you're hiring a photographer or videographer for your wedding, they may be willing to supply the equipment and help you with the livestream setup for an additional cost. Some livestreaming sites charge fees for events that extend beyond a specific time limit (for example, Zoom is only free for events under 40 minutes) so be sure to double-check the cost of your preferred platform ahead of time.
Alternative Entertainment
Packed dance floors feel like a distant memory these days, but there are plenty of other ways to entertain your guests at your wedding reception during the pandemic while also keeping everyone safe. Stand-up comedians, live event artists, and 360-degree photo booths are just a few of our favorite ideas. Brainstorm options with your partner or crowdsource them from your wedding party to choose something that reflects your personalities without breaking the bank.