Save the (New) Date: Etiquette Tips for Communicating a Wedding Postponement
Here's everything you need to know about communicating the "change the date" announcement to your wedding guests.
We have included third party products to help you navigate and enjoy life's biggest moments. Purchases made through links on this page may earn us a commission.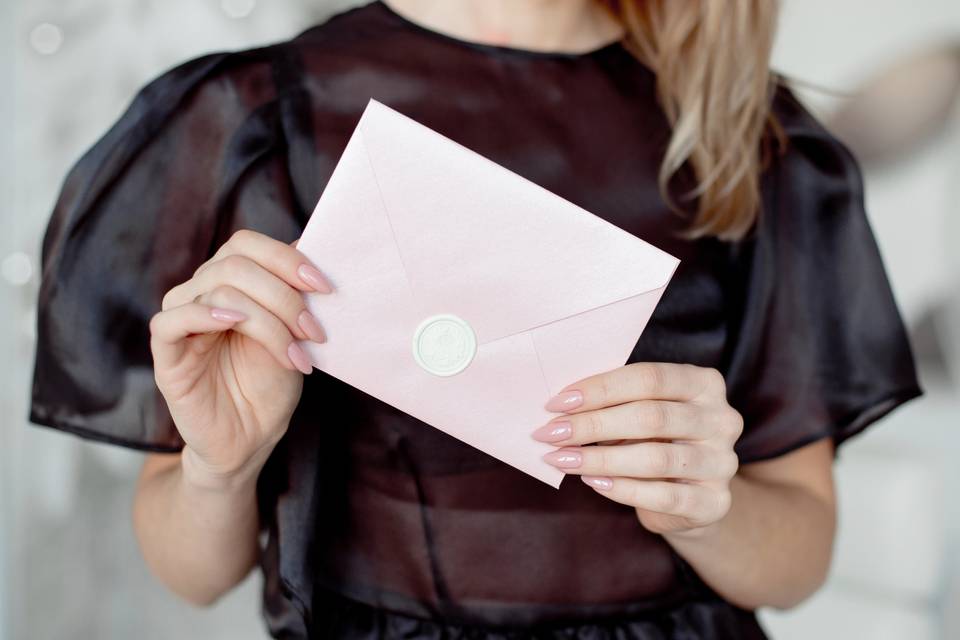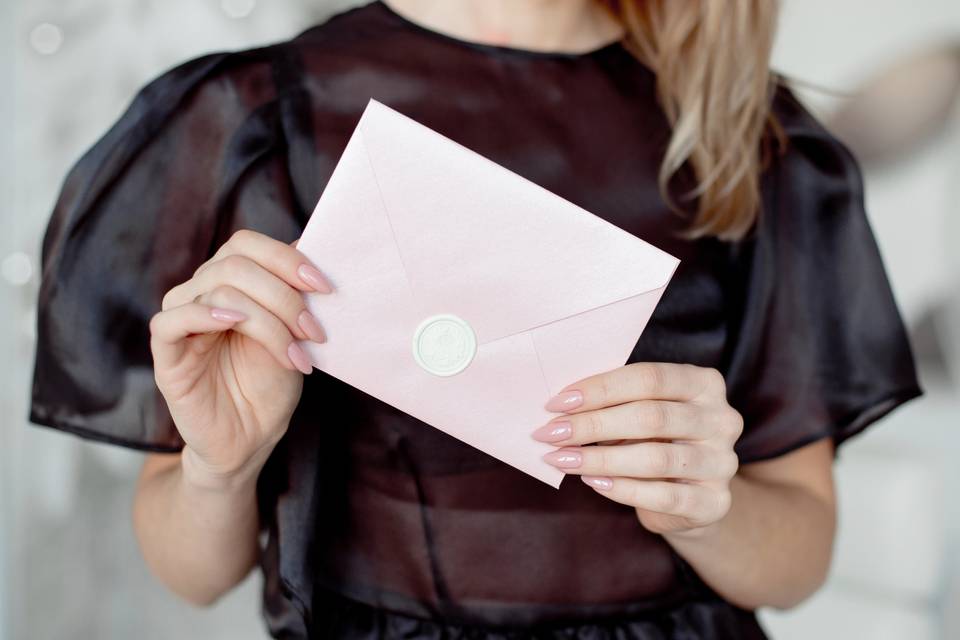 Save-the-dates have long held a major role in the wedding-planning world: Giving your guests basic details about your impending nuptials. And now, there's a new type of save-the-date being sent around as a result of the coronavirus pandemic. These change-the-date cards, or "change-the-dates," serve the important, yet unfortunate, purpose of letting guests know that the wedding has been rescheduled and includes all of the necessary details included in that change. "In the same way that save-the-dates serve a practical purpose, change-the-dates are becoming a staple of 2020 wedding stationery suites," says New Orleans-based stationer, Alexa Pulitzer. "Having to postpone a wedding is stressful, but sending a change-the-dates is both practical and an opportunity to bring humor into an otherwise unpleasant situation."
If you're in the midst of brainstorming the best plan of action for communicating your change-the-date, here are some important things to keep in mind, according to the experts.
Send a quick email or text to guests.
Share updated information with you guests as soon as it's confirmed. "People need to plan accordingly especially if travel and hotel accommodations are involved," says Katie Fischer Cohen of Katie Fischer Design in New York City. "When you do reach out to your guests to notify them of the new date, don't forget to include a nice personal note from you, your partner, and/or your family wishing your guests well," she says. "Everyone's health and safety is the most important thing right now."
Mail a physical card.
While it might be tempting to send a change-the-date electronically, experts still suggest going the formal stationary route with a change-the-date card. "It's still the proper way to extend an invitation to your guests when planning a wedding, so sending a physical card to share updated information about the new date would be best," says Kristy Rice of Momental Designs in Wyoming, Pennsylvania. She recommends using an upbeat, even cheeky, wording to show that you are forging ahead, albeit on a different date. "It will certainly brighten your guests' day to receive a beautiful stationery piece in the mail and let them know happy days are ahead," she adds. Many retailers, like Shutterfly, are offering couples whose weddings were affected by the coronavirus pandemic discounts or other specials to help offset the cost of purchasing an additional set of cards.
Update your wedding website.
What you can do during the interim, while your wedding change-the-dates are on their way, is update your wedding website so that guests can stay as informed as possible. This will also come in handy as you confirm more details regarding your new wedding date. "Encouraging your guests to check the website for updates and new information regarding dates, times, potential location changes, availability at accommodations, etc. is a great way to keep them in-the-know," says Rice.
Request guests to RSVP again.
If you had already sent out your original invitations, chances are, you may have started collecting RSVPs. But if you're sending out change-the-dates, you will most certainly need a recount. Not only may some guests not be able to make the new date, but others may not feel comfortable attending large gatherings due to the coronavirus. Consider giving your guests the same amount of time to respond to the RSVP, or ideally even longer due to the ever-changing climate we're living in.
Don't lose your excitement.
Rescheduling your wedding is certainly a sad thing to have to do—after all, you were probably counting down the days until your original due date and perhaps even chose it for sentimental reasons. But don't forget that moving forward with your wedding plans will be lifting the spirits of your guests who have longed to be able to celebrate with friends and family. At the same time, Rice points out that it's important to be sympathetic to each of your guests' unique circumstances and have the understanding that some might not feel comfortable or confident for a while attending a large gathering.
Need a little inspiration? Here are some shoppable options for change-the-dates: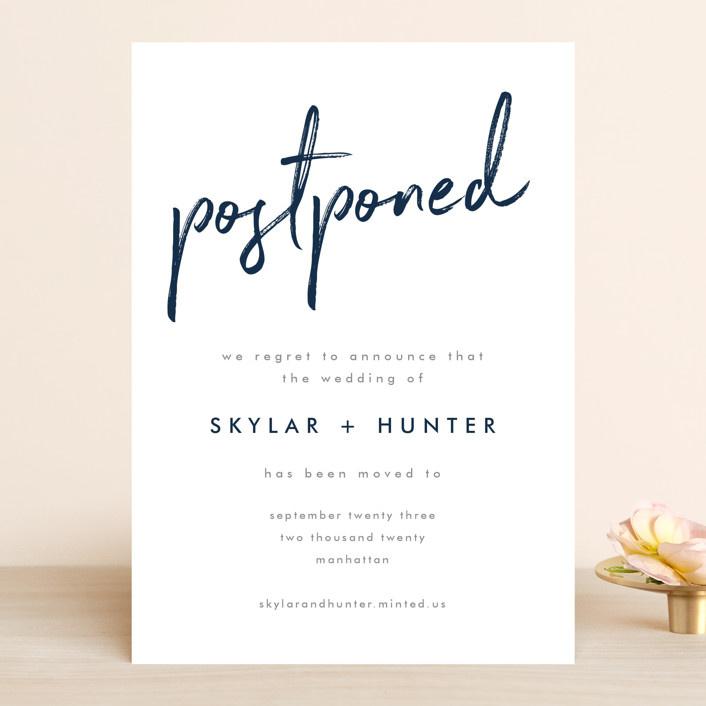 Phrosne Ras Funky Names postponed save the date, $128 for 100, Minted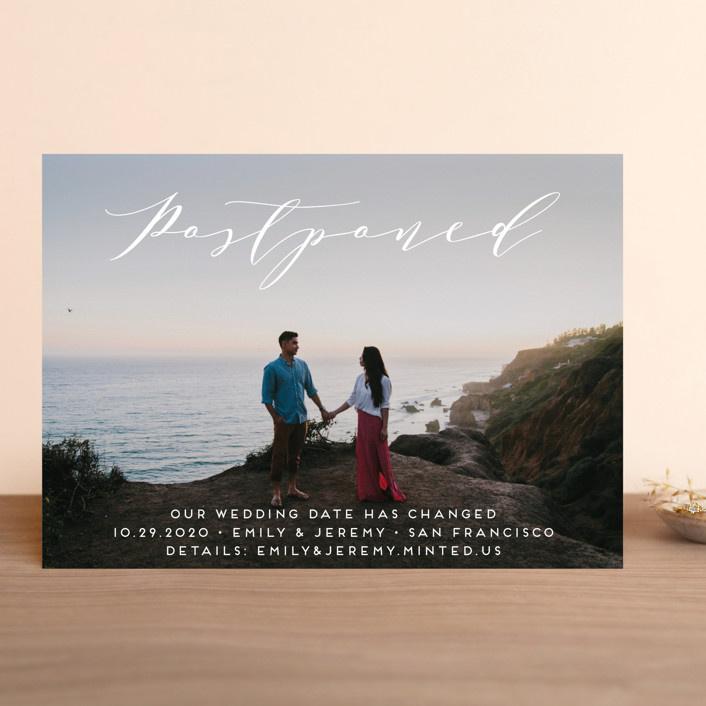 Alexandra Dzh Modern Elegance save the dates, $128 for 100, Minted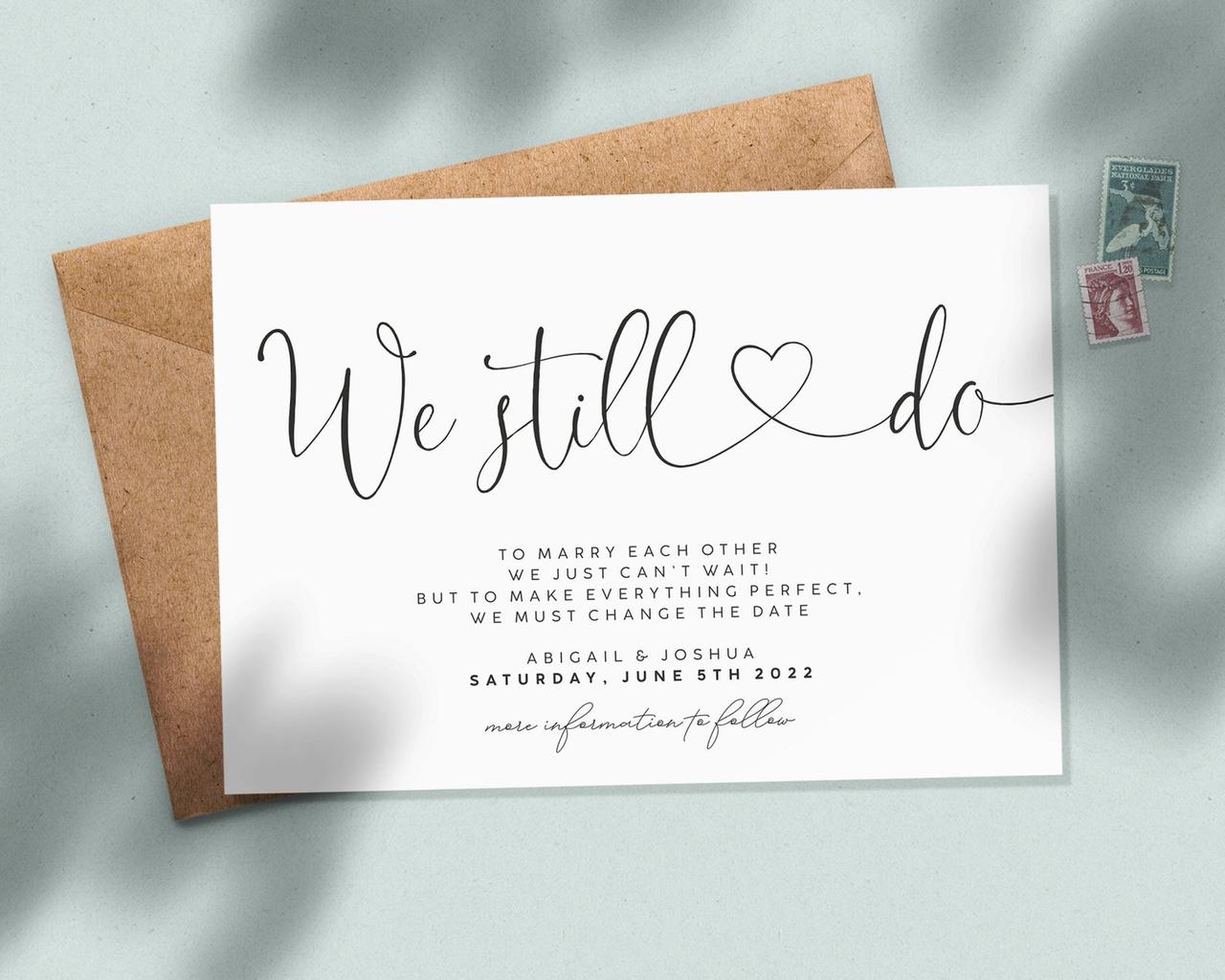 FabLabStationery We Still Do postponed wedding cards, $50 for 100, Etsy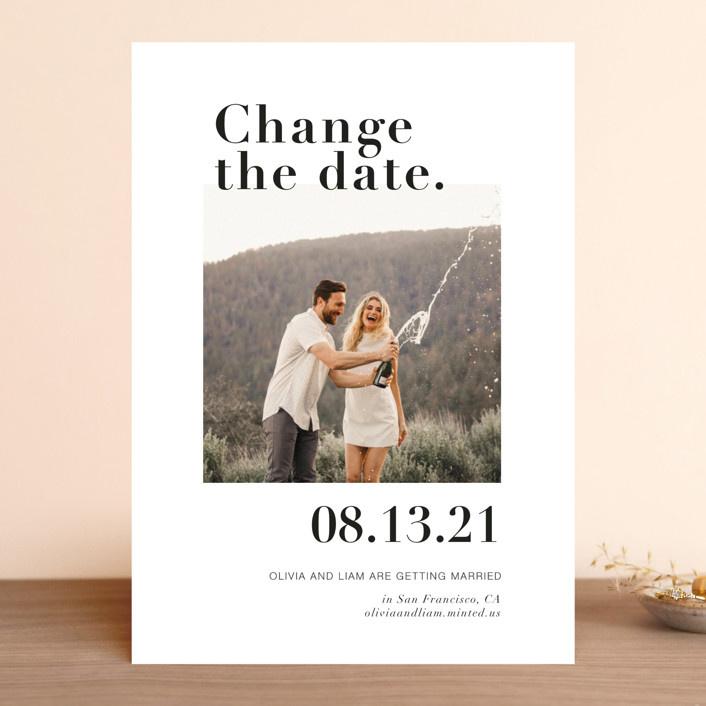 Joyce Pinheiro It's a Date! save the dates, $128 for 100, Minted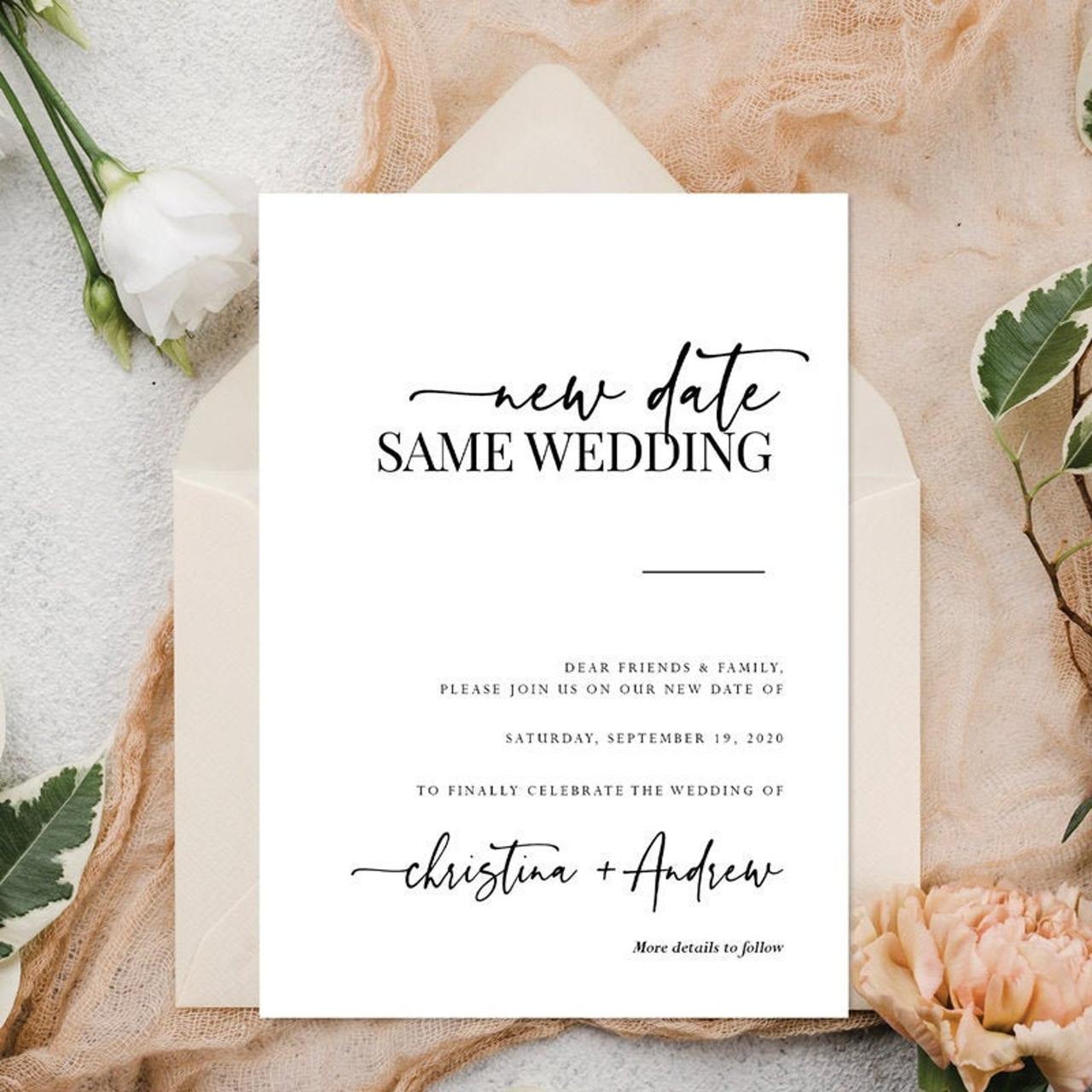 iCustomInvite wedding postponement card; $12 for one digital file, Etsy
Disclosure: This post contains affiliate links, some of which may be sponsored by paying vendors.