If you're dreaming of a rustic theme for your special day, you can't go wrong by choosing to get married in Breckenridge. The mountains surrounding Breckenridge (and Vail, its neighbor to the west) may be best known for their world-class ski slopes, but the Rockies are also a breathtaking backdrop for your nuptials. Luckily, there are plenty of Breckenridge wedding venues that will have you up close and personal with the scenery, while also piling on the rustic, outdoorsy charm. From cozy ski lodges to mountainside decks and private ranches, this former gold rush town is dotted with event spaces that will bring your laid-back wedding vision to life.
Here are eight Breckenridge wedding venues to check out if you love rustic style.
Breckenridge Resort
This sprawling Breckenridge ski resort is actually seven wedding venues in one. The Breckenridge Resort is home to several of Breck's most popular wedding venues and event spaces, including TenMile Station (pictured above), Sevens, and The Maggie. All three venues will put you front and center to some of Breckenridge's best scenery, from waterfront views to the Continental Divide. While some of the venues are only open from late spring to early fall, the Breckenridge Resort also has indoor venues available year-round if you're planning a Colorado winter wedding. One Ski Hill Place, located in the base area of Peak 8, is a banquet hall-style space with dark paneled walls, carpeting, and mountain views. Mountain Thunder Lodge is a chateau-inspired backdrop for your wedding day, with a rustic ballroom featuring dark stone tiles, vaulted ceiling, antler chandelier, and floor-to-ceiling windows. Each full-service venue at the Breckenridge Resort provides in-house catering and event management.
Learn more about Breckenridge Resort »
Lodge by the Blue
Getting married at the Lodge by the Blue is like getting married in a cozy log cabin, with all of the upgrades and amenities you could want. Indoors, this Breckenridge wedding venue provides a warm, welcoming setting for your special day: stone fireplaces act as focal points in the two main event rooms, while wraparound windows ensure that you'll have panoramic views come snow or sunshine. Outside, a ceremony deck overlooks the beautiful Quandary Peak for an unforgettably scenic backdrop. If people are traveling from out of town for your wedding, one and two-bedroom suites give your guests the option to stay at the venue for the entire weekend—and hopefully have a chance to relax at the heated indoor pool.
Learn more about Lodge by the Blue »
BlueSky Breckenridge
Whether you want a waterfront view overlooking Maggie Pond or a secluded mountain location just a few blocks away, BlueSky Breckenridge offers both options. Main Street Station (pictured above) is a wedding plaza conveniently located at the end of Breckenridge's historic Main Street shopping district, giving you the chance to get married in the heart of town while still enjoying amazing Rocky Mountain views. After your ceremony, the Pioneer Club and the Independence ballroom are located just a few steps away, or you can take a short three-minute drive to the nearby BlueSky Lodge to host your reception in the elegant Snowflake Ballroom. BlueSky Breckenridge provides catering and discounted guest accommodations for weddings at any of its venues.
Learn more about BlueSky Breckenridge »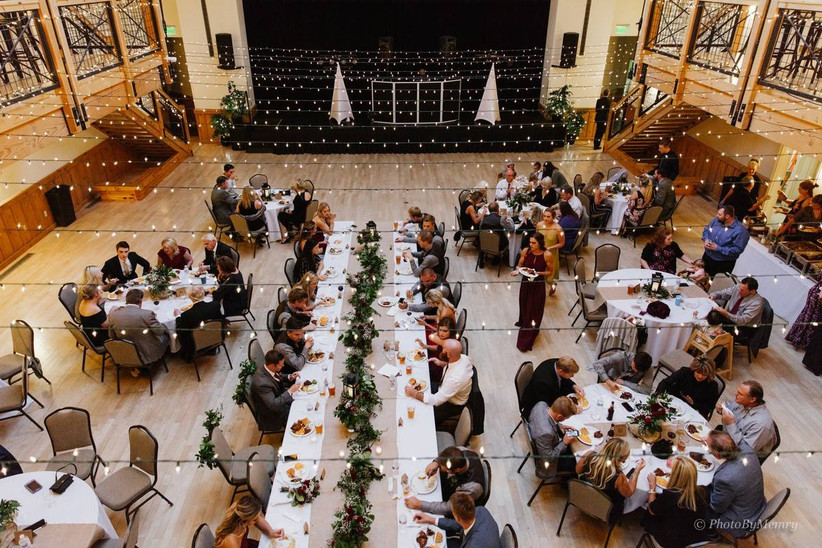 Silverthorne Pavilion
If traditional ski resorts aren't exactly your style, the Silverthorne Pavilion offers a different approach to rustic wedding style. The venue, which is located about 14 miles from Breckenride in Silverthorne, feels more like a modern barn thanks to its high ceilings, iron chandeliers, hardwood floors, and bistro strand lighting. Surrounded by Aspen trees and bordered by the Blue River, Silverthorne Pavilion is extremely scenic and serene. Along with a riverside ceremony area, the venue has its own suspension bridge that is a perfect backdrop for wedding portraits.
Learn more about Silverthorne Pavilion »
High Country Lodge
Keeping your guest list small and intimate? The High Country Lodge is an ideal Breckenridge wedding venue for planning a retreat-style wedding—a celebration where you and your guests all stay in one place for the entire weekend. Overnight accommodations for 24 people are included in the price of the rental, and the venue can host weddings for up to 45 guests. High Country Lodge also provides catered meals and event coordination, whether you need help setting up for the big day or recommendations for local vendors. The mountain lodge is located on Peak 7 and has 12 acres of private property, guaranteeing you'll have plenty of privacy while taking in the surrounding snow-capped views.
Learn more about High Country Lodge »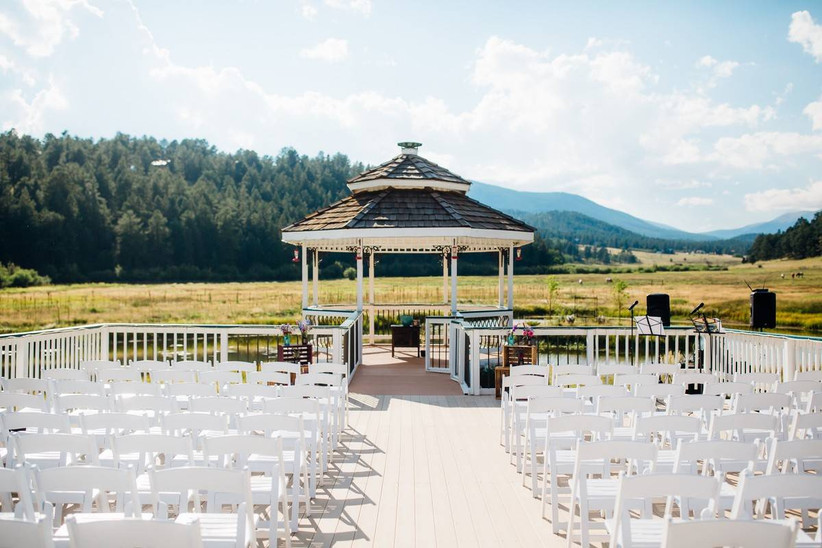 The Barn at Deer Creek Valley Ranch
Located about an hour and a half from Breckenridge, the Barn at Deer Creek Valley Ranch is an ideal venue if you've been thinking about a destination wedding but don't want the hassle of traveling too far from home. The ranch's homestead house has overnight accommodations for 20 people, including a honeymoon suite with its own private entrance. There are just as many perks for your wedding day: this dog-friendly venue has multiple event spaces to choose from, including a lakeside gazebo, meadow, pine tree "cathedral", reception tent, and historic barn. The ranch hosts one wedding per day, so you'll have the venue to yourself for a minimum of 12 hours, with the option to add more time if you're planning to stay overnight. Basic decor rentals, like tables, chairs, lawn games, and ceremony arches are all provided by The Barn at Deer Creek Valley Ranch.
Learn more about The Barn at Deer Creek Valley Ranch »
Warren Stone Center for the Arts
A short 30-minute drive from Breckenridge to Dillon brings you to the Warren Station Center for the Arts. This mountainside venue is known for its gorgeous landscape and ceremony amphitheater, which is surrounded by Aspen trees and wildflowers for a romantic setting that's quintessentially Colorado. Inside, you can host your reception at one of two event spaces, including a modern ballroom or spacious lobby/bar area that overlooks the mountains. There's also a small patio that's ideal for cocktail hour or casual receptions.
Learn more about Warren Stone Center for the Arts »
The Lodge at Breckenridge
With a capacity of 220 people on its outdoor deck area and up to 175 people inside, the Lodge at Breckenridge is one of the more spacious options for hosting your Breckenridge wedding. The wraparound deck (pictured above) gives you an unbeatable 180-degree view of Colorado Rockies, but large windows in the ballroom will let you continue enjoying the scenery even after you've gone inside. This all-inclusive Breckenridge wedding venue offers in-house catering, bar service, linens, transportation, and guest accommodations.
Learn more about the Lodge at Breckenridge »