20 Camping Wedding Venues You'll Want to Write Home About
If you're looking for a wedding venue that combines nature with nostalgia, these camping wedding venues are definitely worth checking out.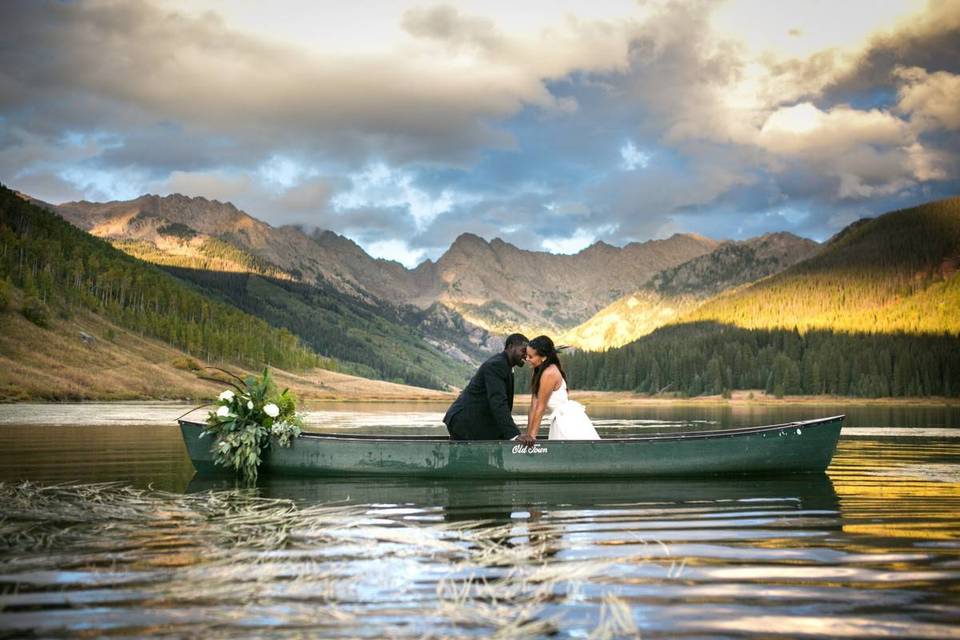 Camping wedding venues offer not only a beautiful natural setting, but also the opportunity to celebrate with your loved ones for an entire wedding weekend full of activities and bonding (hello, making s'mores around the campfire!). Many summer camps and campground wedding venues, as well as ranches, parks, and farms, offer camp-style settings for events. Not only do many of these camping wedding venues feature onsite accommodations (whether in bunks, tents, yurts, cabins, or more traditional hotel rooms), they also can offer many amenities and activities you'll remember from your own summer camp days, from hiking to canoeing and zip lining, singing songs around the campfire and more. And if glamping is more your speed, many of these venues offer more upscale lodging for your special day. So if the idea of an action-packed, laid-back, and unique wedding weekend in the woods surrounded by your nearest and dearest sounds appealing, check out these camping wedding venues from across the United States.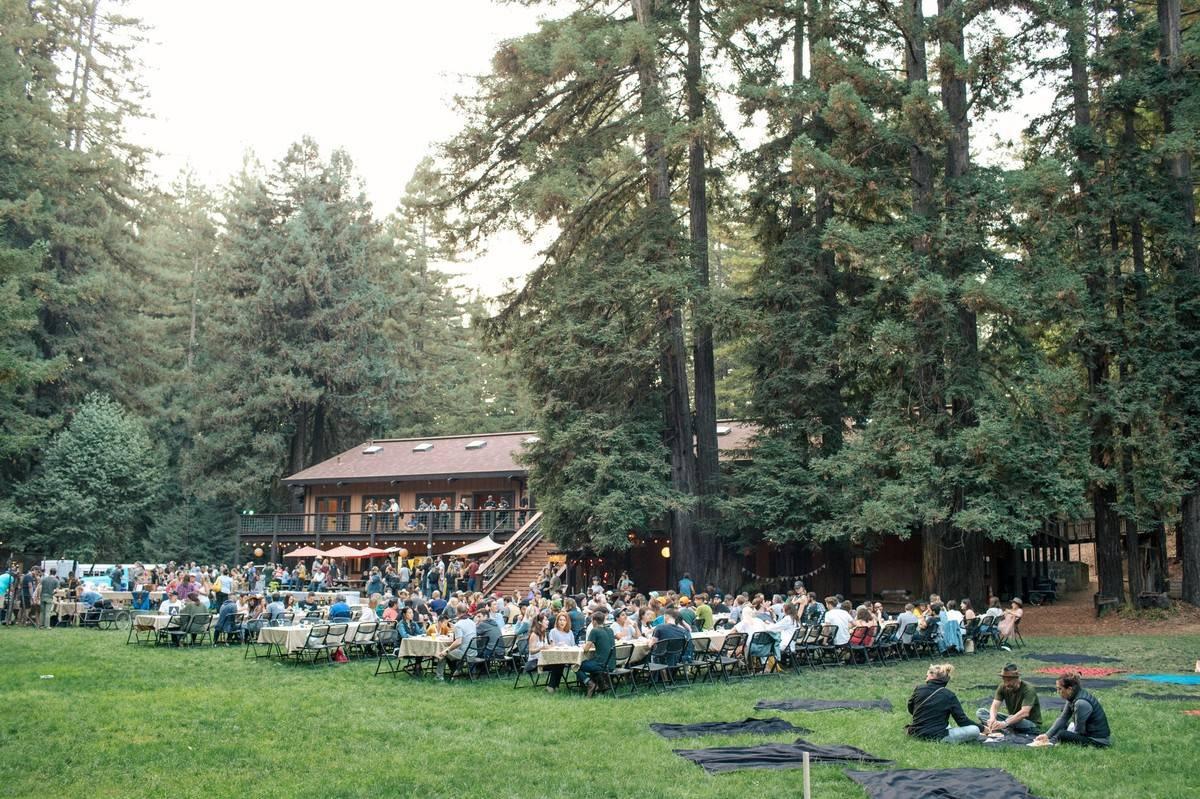 Camp Navarro
Navarro, California
Located in the Anderson Valley, about two hours north of the Bay Area, Camp Navarro allows you to rent the entire 200-acre property for an amazing weekend in the redwood forests. There are about 100 onsite lodging units, including cabins, glamping tents, and Adirondack cabins, as well as room for RVs and full-on tent camping if your guests prefer. The venue can host events of up to 300 guests outdoors or in its 4,600 square foot event hall, and activities such as yoga, hiking, rock climbing, and archery can be organized for your group. Pricing starts at $15,000 for November through March, and $25,000 for April through October, plus lodging and food and beverage costs.
Learn more about Camp Navarro »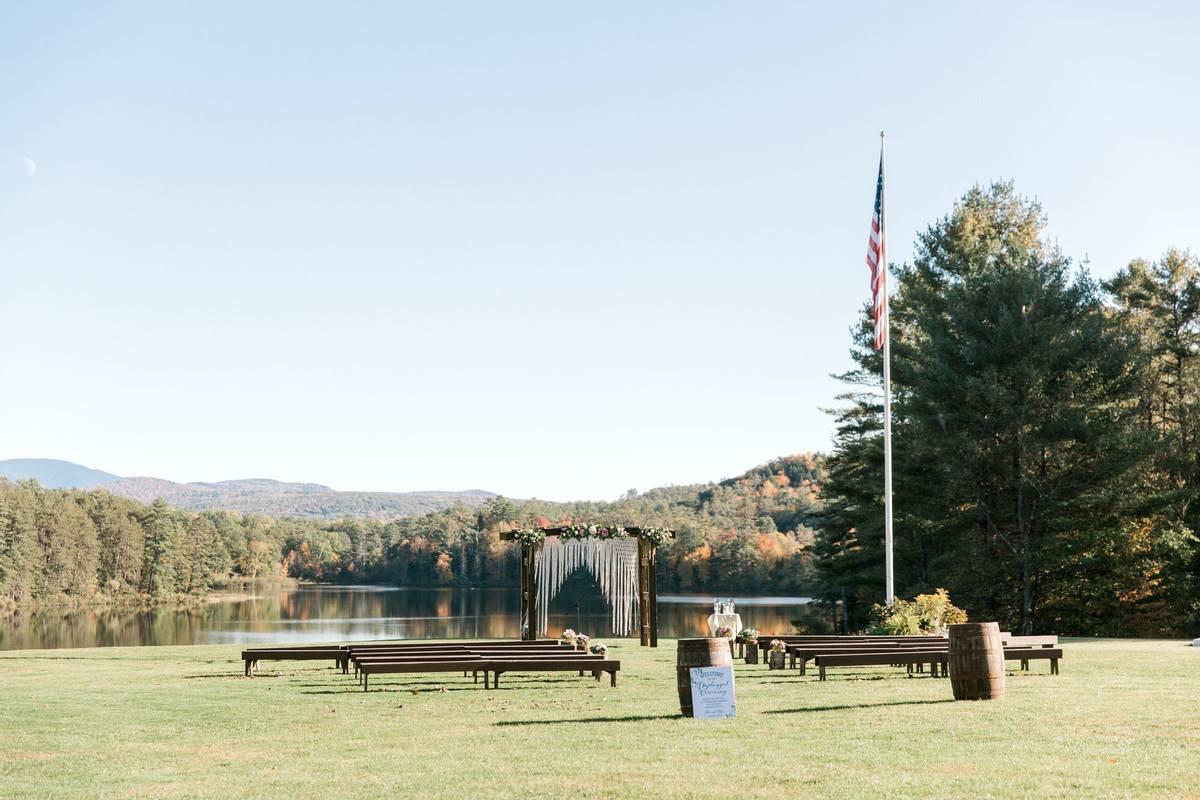 Ogontz Camp
Lisbon, New Hampshire
Set in the White Mountains of New Hampshire, Ogontz Camp features a lakeside setting and various lodging options for your guests, including Adirondack-style cabins, indoor cabins, and more. Activities and amenities include hiking, boating, swimming from your own private swim dock, tennis, volleyball, soccer—there's even a hot tub to enjoy. There are several spaces where you can host your wedding events for up to 200 guests, including the outdoor field and the indoor Ogontz Hall and Dining Hall. In-house catering is provided. Pricing for the venue's all-inclusive package, which includes exclusive use of the property and lodging for an entire wedding weekend, event space, and more, starts at $22,500.
Learn more about Ogontz Camp »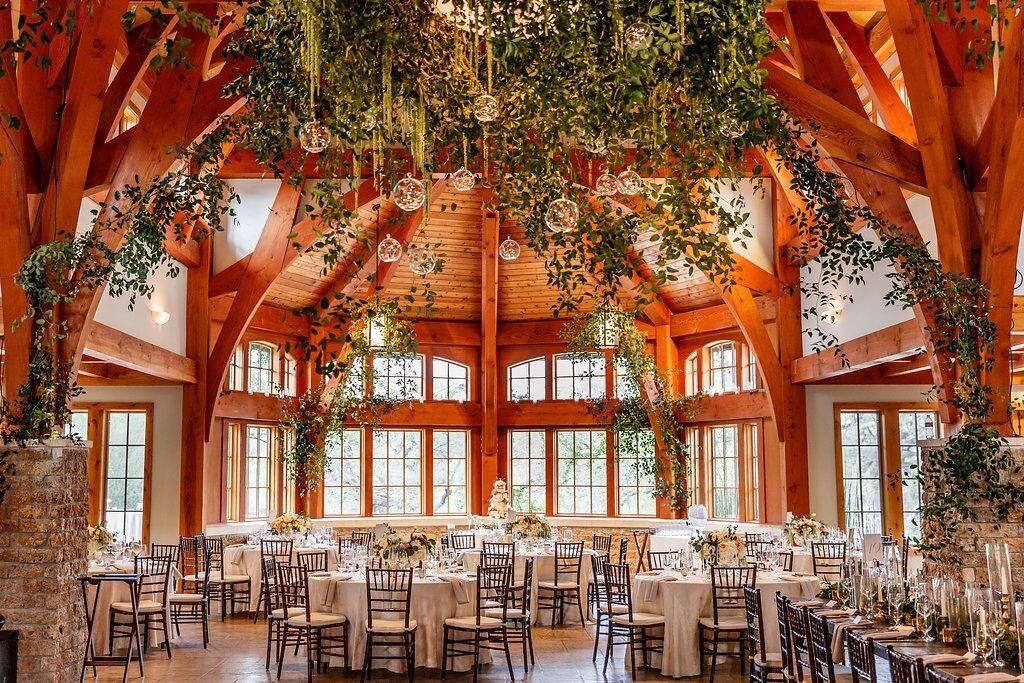 Camp Lucy
Dripping Springs, Texas
If you love the idea of a camping wedding venue but the idea of sleeping in a tent freaks you out, this Texas Hill Country venue is definitely worth a look. With gorgeously appointed guest rooms and cottages, you and your loved ones will enjoy wedding weekend getaway that combines luxurious accommodations with a gorgeous natural setting and an abundance of fun activities. Oh, and there are also donkeys and alpacas that can make an appearance in your wedding photos. In terms of venues, the Sacred Oaks are among the most stunning outdoor ceremony venues we've ever seen, surrounded by dramatic trees. Ian's Chapel offers beautiful indoor and outdoor spaces for ceremonies and receptions. Camp Lucy can host weddings and events of up to 300 guests.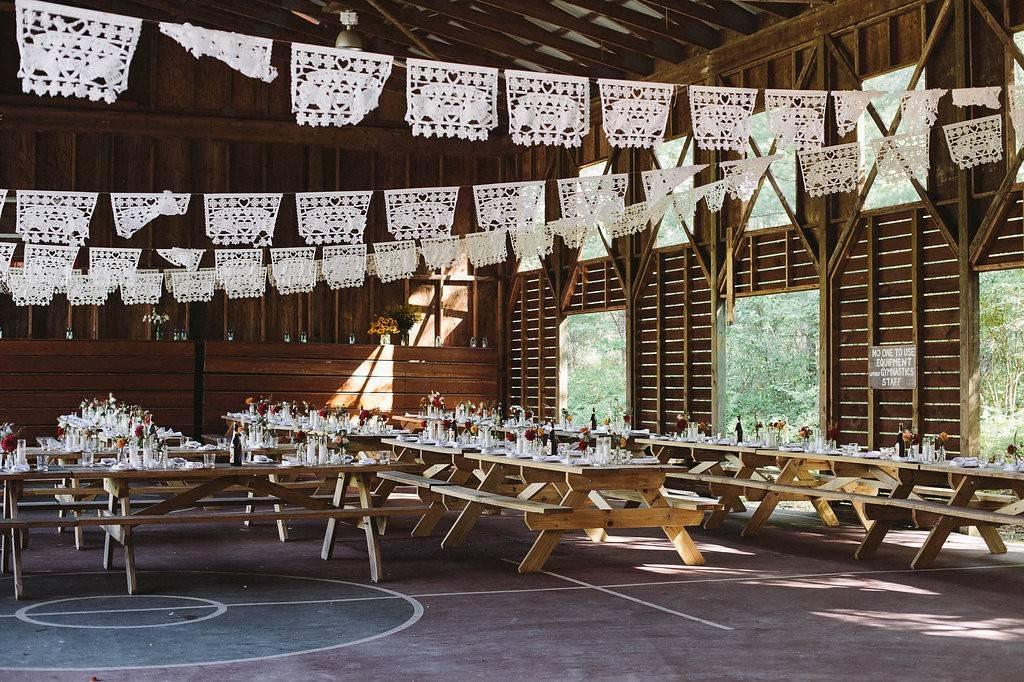 Camp Timber Tops
Greeley, Pennsylvania
A wedding at Camp Timber Tops, or its related sites at Lake Owego Camp and Pine Forest Camp, will feel like a trip back in time to your own childhood summer camp. Located in the Pocono Mountain , this camping wedding venue feels like a destination wedding that's conveniently near the New York City, New Jersey, and Philadelphia areas. Your guests will enjoy the athletic facilities, rock climbing, ropes courses, and more. There are both indoor and outdoor wedding venues for up to 2,000 guests. Pricing for this venue starts at $10,000 per night for the exclusive use of the camp, and onsite catering is available.
Learn more about Camp Timber Tops »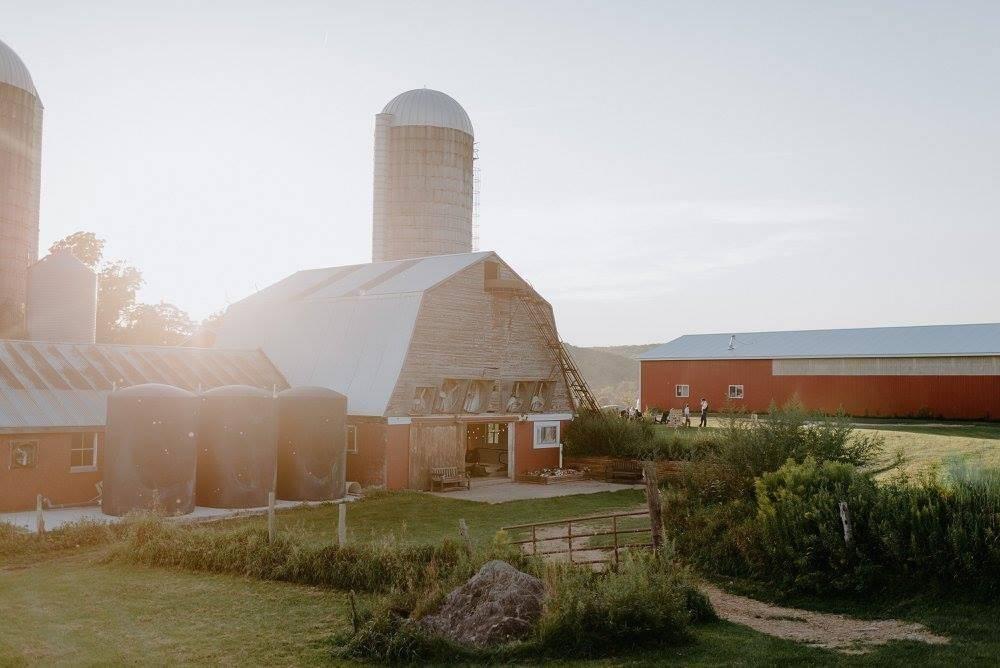 Gilbertsville Farmhouse
New Berlin, New York
If you want to combine the rustic charm of a barn wedding venue with the nostalgic fun of a camping wedding venue, the Gilbertsville Farmhouse offers all that plus incredible mountain views of the Catskills (oh, and there are goats, too!). You can host a three-day retreat for your wedding guests at Gilbertsville Farmhouse—luxury glamping tents can host up to 30 guests, and a 10-bedroom 100-year-old farmhouse, which is ideal if you want to shack up with your wedding party for the weekend. For the big day itself, there are several outdoor wedding spaces as well as a 2,500 square foot rustic barn for indoor events. And if you're looking for a little pre- or post-wedding relaxation, the onsite hammock park is an amenity you never knew you totally needed.
Learn more about the Gilbertsville Farmhouse »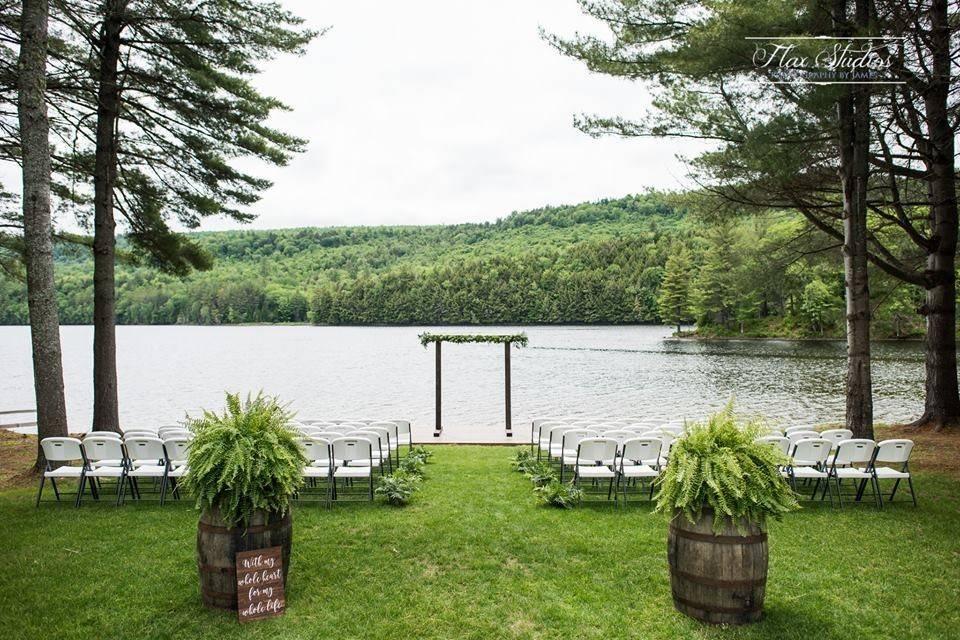 Maine Lakeside Cabins & Event Center
Caratunk, Maine
When it comes to summer camp wedding venues, a lake is pretty much a prerequisite. This Maine venue is set on Wyman Lake and offers both beautiful scenery for your wedding as well as modern cabin lodging so your guests can stay on premises. Host your wedding ceremony on the Waterfront Lawn, followed by a reception in the Lodge, the Barn, or in a tent. This venue can host up to 350 guests in its stunning natural setting and offers on-site catering. Activities such as volleyball, lawn games, and watersports are available—you can even arrive to your big day in a float plane! Oh, and there's also a fire pit perfect for around-the-campfire singalongs and roasting those s'mores!
Learn more about Maine Lakeside Cabins & Event Center »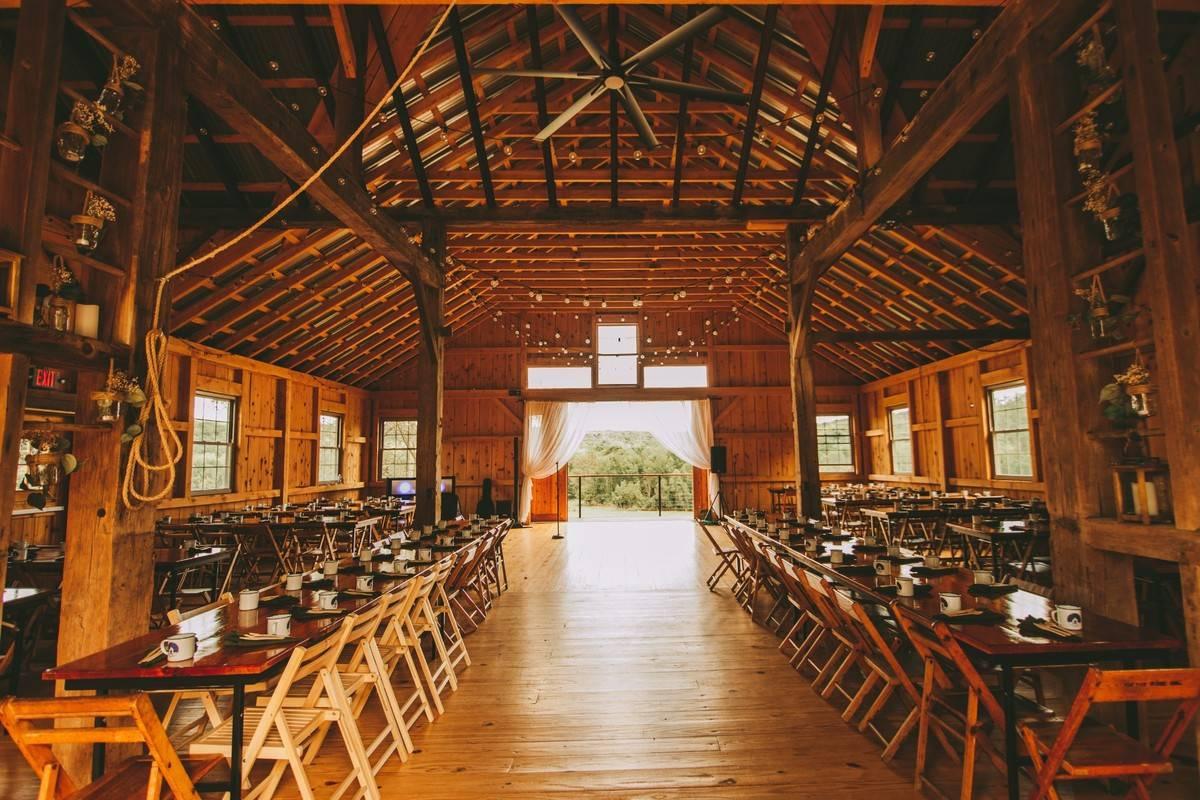 Wallenpaupack Creek Farm
Sterling, Pennsylvania
This Pennsylvania camping wedding venue has it all—a 40-acre farm with rustic barn, a creekside ceremony site, luxury campsites and a yurt for lodging, and much more. Host your outdoor wedding ceremony along the Wallenpaupack Creek, overlooking the green pastures, or inside the barn. Receptions are typically held in the original 1830s-era barn. Wally Creek Farm, as it's known, can host weddings of up to 200 guests.
Learn more about Wallenpaupack Creek Farm »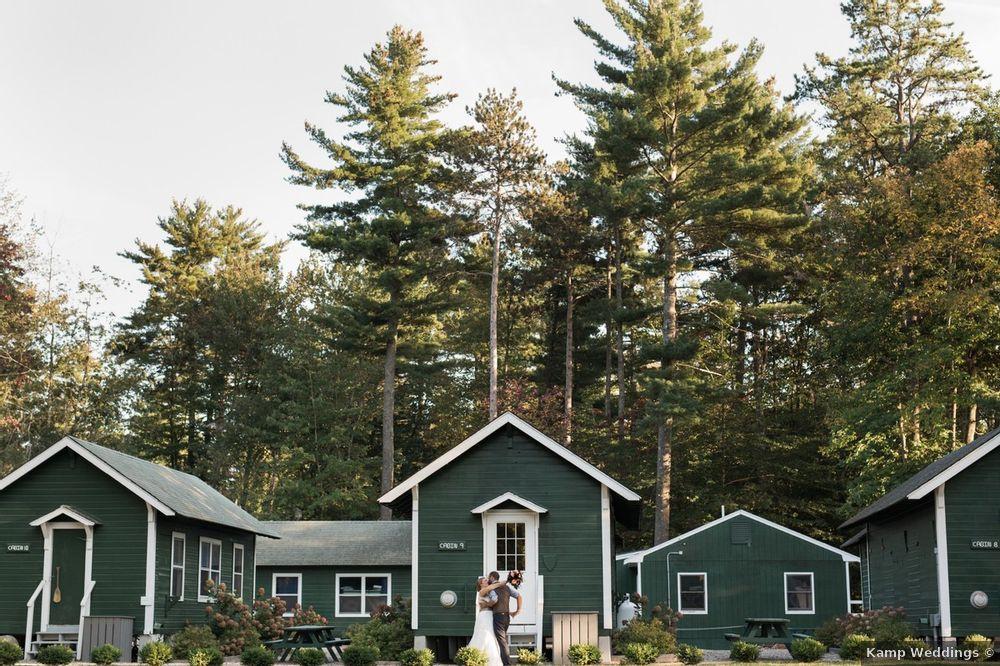 Camp Cody
Freedom, New Hampshire
Maybe you couldn't decide between having a beach destination wedding or a camp wedding. Well, at Camp Cody in New Hampshire's White Mountains, you can actually have both! Rent the lakeside resort for the weekend, and enjoy waterfront activities, sports, and all the nostalgic fun of summer camp on the sandy beach of Lake Ossipee. You and your guests can stay in the cabins and lodges, or in one of the hotel-style rooms, and enjoy delicious food prepared by the onsite chef. When it comes time for your big day, you can exchange vows on the shores of the lake, in the forest, or on the beach. The site fee starts at $12,000 and the venue capacity is 500 guests.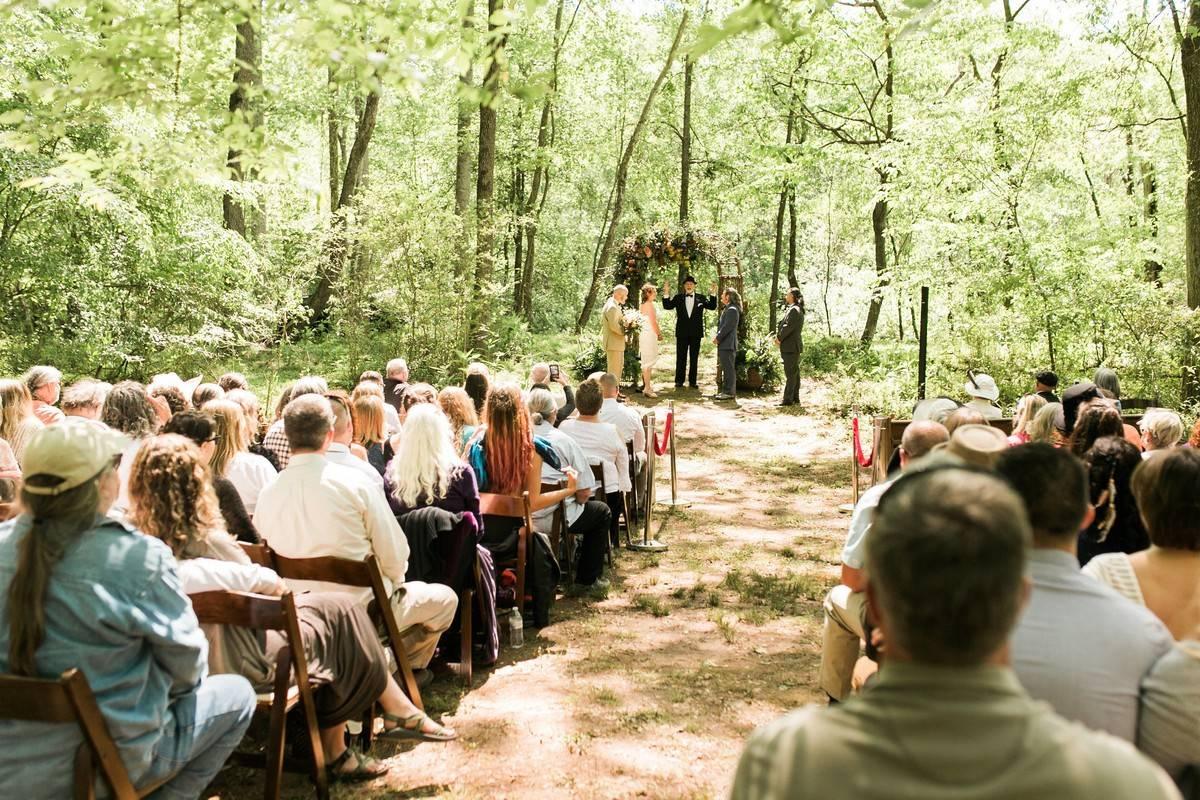 The Music Camp
Spartanburg, South Carolina
Get ready for the ultimate glamping experience at The Music Camp, located an hour west of Charlotte, North Carolina. Set on 55 acres of forest along the Pacolet River, The Music Camp offers options for both DIY couples and those with a full roster of wedding vendors. Ceremonies are held in the majestic forest, and there are three locations for receptions, including a 4,800 square foot covered pavilion. All told, The Music Camp can host events of up to 2,000 guests. And the lodging is pretty amazing, too—large white glamping tents appointed with luxe furniture, including one specially designed for the newlyweds. There's also a lodge for guests who prefer more traditional accommodations.
Learn more about The Music Camp »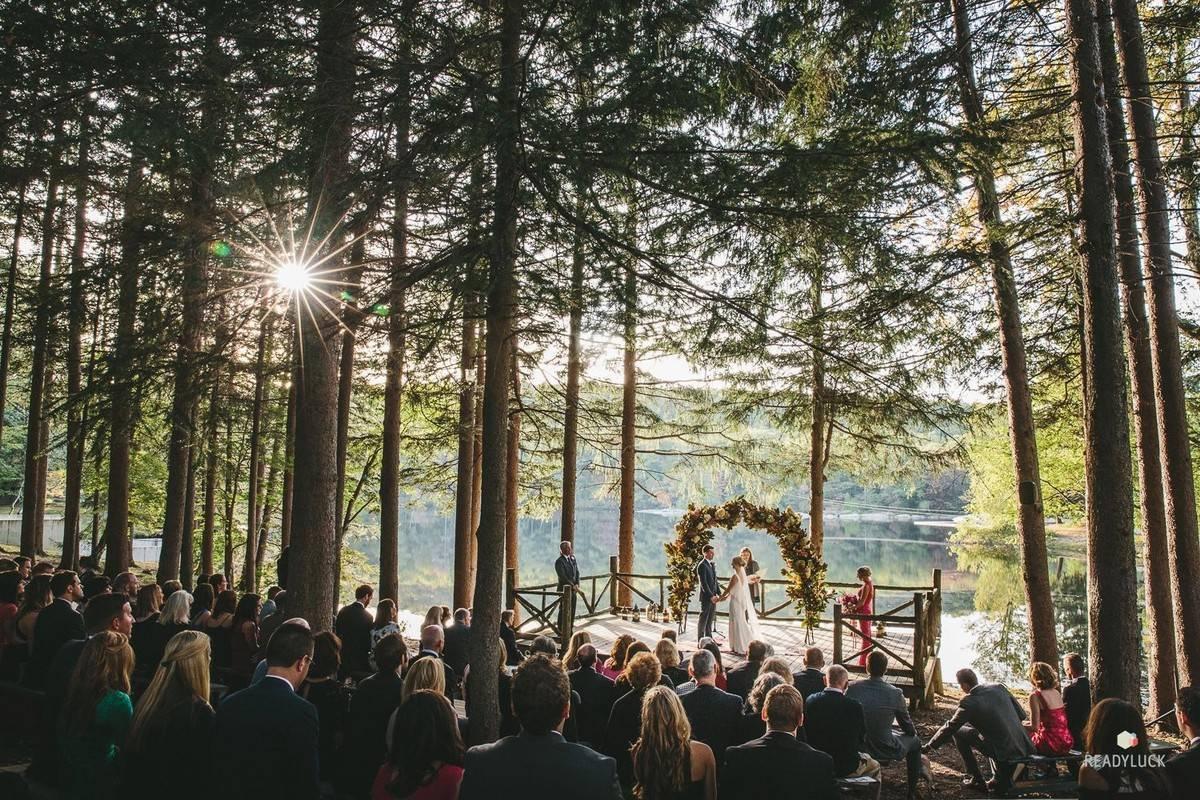 Cedar Lakes Estate
Port Jervis, New York
Couples describe this camping wedding venue in New York's Hudson Valley as "magical," and for good reason. It has the lively, fun vibe of a summer camp with the luxury of an elegant hotel. No need for sleeping bags here: The accommodations feature rain showers, feather down beds, and Wifi, plus delicious meals featuring produce from the onsite organic garden. Activities include hiking, biking, swimming in the lakes and pools, bonfires, tennis, basketball, and more. The Mountain Top ceremony site overlooking the Shawangunk Mountains is simply spectacular and the 5,400 square foot temperature-controlled barn is ideal for receptions.
Learn more about Cedar Lakes Estate »


House on Metolius
Camp Sherman, Oregon
This Oregon wedding venue is surrounded by millions of acres of Deschutes National Forest, and can host weddings for up to 180 guests. The setting on the Metolius River and views of Mt. Jefferson make for some truly spectacular wedding photos. Host your ceremony on the Main House lawn or in the meadow near the river; receptions can be held outdoors or inside the Main House. Your wedding party and other loved ones can stay in one of several well-appointed cabins on the property, and there are other vacation rentals and cabins nearby, as well.
Learn more about the House on Metolius »


Cypress Falls Event Center
Wimberley, Texas
This Couples' Choice Award-winning venue in the Texas Hill Country is an indoor/outdoor space that can accommodate up to 160 guests indoors and 250 guests outdoors. And while the accommodations at Cypress Falls Lodge are far from "roughing it", your guests can enjoy many activities reminiscent of summer camp, including taking a dip in the Cypress Falls Swimming Hole, fishing, bird watching, hiking, and roasting s'mores around a bonfire. There's even an onsite tavern perfect for a wedding after-party. The rental fee for this venue starts at $9,700.
Learn more about Cypress Falls Event Center »


Timber Lake Camp
Shandaken, New York
Located in the Catskill Mountains near Albany, this camping wedding venue is set on 500 acres of natural forest. Guests stay in the camp's newly-renovated cabins and will feel like kids again while zip lining, taking their turn on the jet-propelled water slide, or hanging out around the campfire. Weddings typically take place outdoors overlooking the lake and mountains, or inside the rustic dining lodge. Timber Lake Camp can accommodate weddings of up to 700 guests.
Learn more about Timber Lake Camp »


Camp Cascade
Lyons, Oregon
Just an hour south of Portland, Camp Cascade is the perfect venue where you can relax with your guests and enjoy some truly spectacular mountain views. There are two lodges, the North Fork Lodge and the Cascade Lodge, that offer both event spaces and accommodations for your wedding guests. Say "I do" with the Cascade Mountains as your backdrop, and then enjoy dinner and dancing with your guests in one of the lodges. In-house catering is provided, making the planning process stress-free.
Learn more about Camp Cascade »

Camp Newaygo
Newaygo, Michigan
Looking for a camping wedding venue in the Midwest? Check out Camp Newaygo, located just 45 minutes from Grand Rapids. Camp Newaygo offers both intimate wedding venues (the Peggie Stone Center, with its antique fireplace, lake views, and space for up to 50 guests) and larger event spaces (Lang Lodge, which includes a fieldstone fireplace, vaulted ceilings, an outdoor patio, and room for up to 280 guests). For wedding ceremonies, you can choose between the Walden Chapel or the Ridge Patio, both overlooking Lake Pickerel, as well as other forest sites. On-premises lodging is available for you and your guests.
Learn more about Camp Newaygo »


Trout Lake Retreats & Conference Center
Stoudsburg, Pennsylvania
Why should your wedding last only one night? At Trout Lake, your event will last an entire three-day weekend full of activities and bonding experiences for you and your crew. From rehearsal dinner to the ceremony and reception, followed by the post-wedding brunch, this camping wedding venue can handle it all—with lots to do in between! This 500-acre facility not only offers beautiful event spaces, both indoor and outdoor, and ample lodging options, but your guests are sure to have an action-packed weekend here (or if they'd just prefer to chill by the lake with a beer in hand, that's fine too!). This venue can host events of up to 250 guests.
Learn more about Trout Lake Retreats & Conference Center »


Black Butte Ranch
Sisters, Oregon
This Couples' Choice Award-winning wedding venue is situated on the sunny side of the Cascade Mountains. The 1,800 acre resort features mountain views, a gorgeous lake, golf courses, and lots of activities for your loved ones to enjoy (and for your guests who just want to chill, there's a spa on premises). Guests may stay in several rental properties on site. Wedding ceremonies are typically held outdoors overlooking the spectacular mountains, with receptions held inside the Lodge or outside on the deck and lawn. This venue is truly a photographer's dream, with so many incredible backdrops for portraits.
Learn more about Black Butte Ranch »


Full Moon Resort
Big Indian, New York
Travel just two-and-half hours north of New York City, and you've reached the Full Moon Resort, where you and your crew can enjoy the ultimate in Catskills camping wedding venues. Your guests will have a full array of lodging options to choose from, including luxury cottages, traditional lodge and B&B rooms, modern glamping tents, and other nearby accommodations. There are several outdoor wedding ceremony locations, as well as the historic barn and new wedding pavilion for receptions. All-inclusive packages are available.
Learn more about Full Moon Resort »


Piney River Ranch
Vail, Colorado
A camping wedding venue in scenic Vail? Sign us up! This 40-acre property features gorgeous mountain scenery, as well as views of lakes and the White River National Forest. There's even an in-house caterer to help make planning a breeze. The ceremony deck features some truly gorgeous vistas and the reception pavilion has ample rustic charm and space for up to 200 guests. You and your wedding party can stay overnight in the guest cabins, yurt, or glamping tents.
Learn more about Piney River Ranch »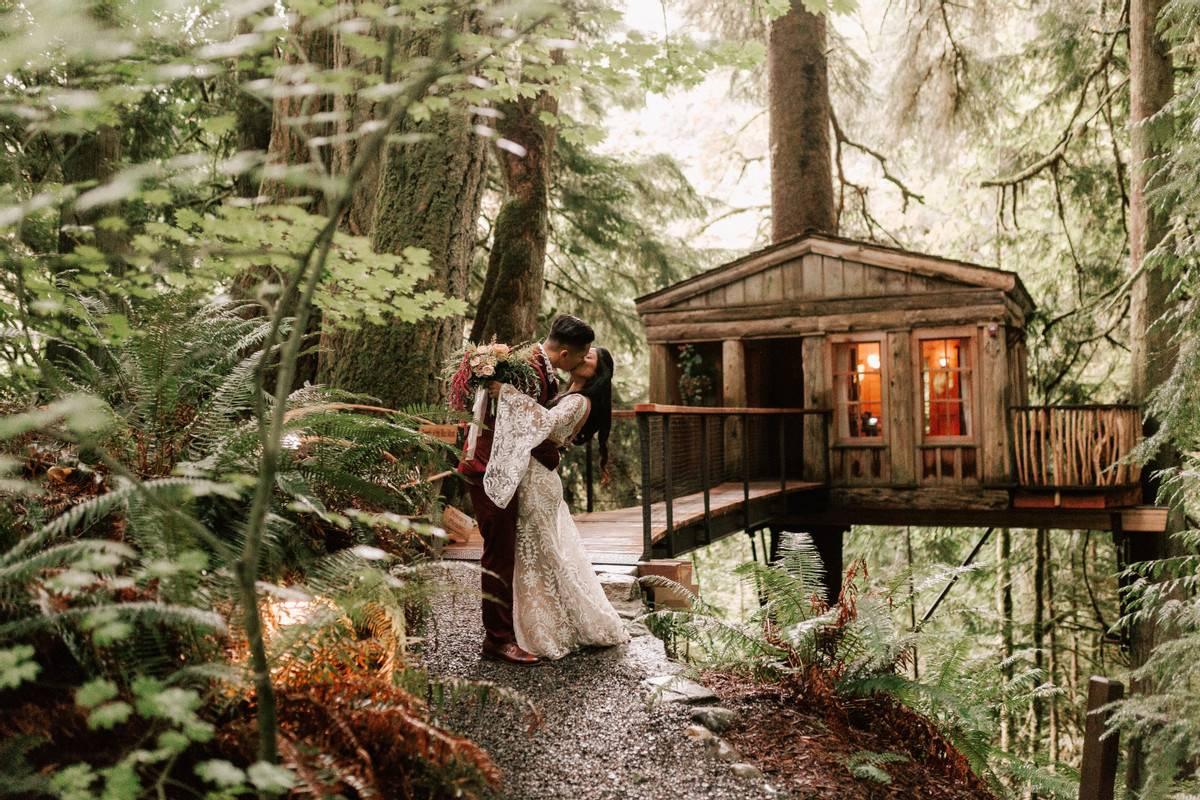 Treehouse Point
Fall City, Washington
While this certainly isn't a traditional camping wedding venue, we had to include this total unique setting that you're sure to fall in love with. Located just 30 minutes from Seattle in the Snoqualmie Valley, this venue features a series of treehouses that look like something out of a fairytale—and they're available for lodging. This is a particularly ideal venue for smaller weddings, and elopement packages are available.