The 2021 Wedding Songs to Put Your Guests in a Partying Mood
The experts have spoken! DJs and music pros from around the country share their top picks for 2021 wedding songs your guests will love.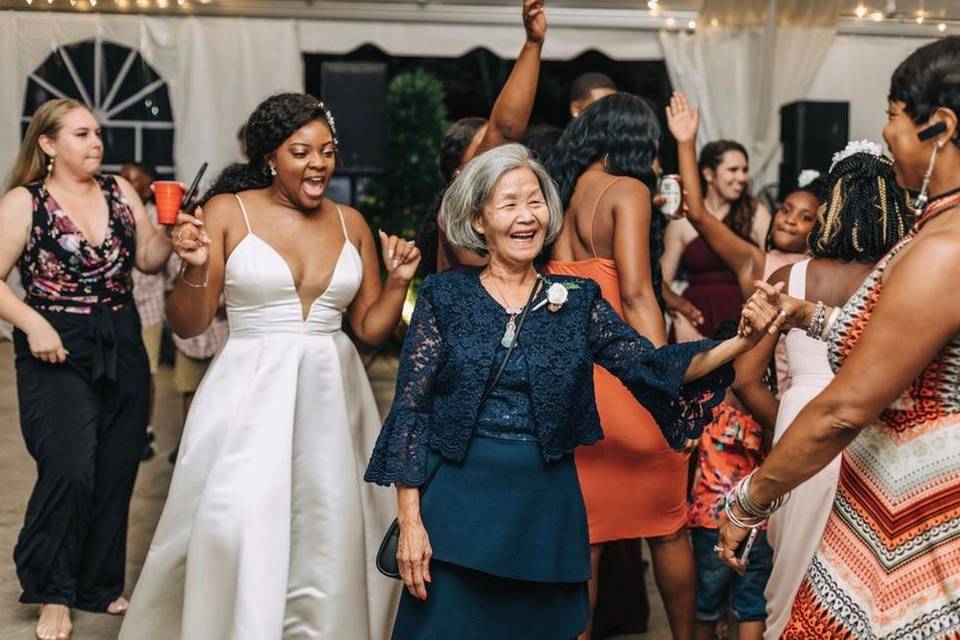 After the year that was 2020, there's nothing we're looking forward to more than hitting the dance floor—when it's safe to do so, of course. If you're planning your wedding and looking for the 2021 wedding songs to please guests of all ages, we've got you covered. Not only are there brand-new 2021 wedding songs to enjoy, but expect some slightly older songs to also hit it big. "With COVID having cancelled the bulk of in-person celebrations in 2020, I think that there will be a lot of pent up demand for songs that came out in the last couple of years, but haven't been fully enjoyed yet in the context of an energetic, crowded dance floor," says Jane Elizabeth of Stylus DJ Entertainment in New York City.
We talked to music pros from around the country to find out their top picks for wedding songs 2021 couples (and their guests) will love.
"Levitating" by Dua Lipa feat DaBaby
Expect this Dua Lipa track to be among the top 2021 wedding songs. "Who doesn't like a song that makes you feel like you're dancing on air?" says DJ D. Jones of Spark Entertainment Group in Chicago. "The texture of the track is like a magic carpet ride that takes you on a pop and hip hop journey with two of the biggest artists out right now."
Adds DJ Flobo Boyce in Los Angeles: "2020 has solidified Dua Lipa as a bona fide superstar. A hit by any other metric, 'Levitate' could possibly be the song that we associate with the decade. Its toe-tapping baseline will get even the more shy guests out to the dance floor."
"Higher Love" by Kygo and Whitney Houston
Several of our music pros predict this reinterpretation of the classic Steve Winwood song will be one of the hot 2021 wedding songs—particularly because of its inclusion of the late, great Whitney Houston. "Another gold star for a fresh take on a familiar favorite goes to the Kygo/Whitney Houston remake of 'Higher Love'," says Jane Elizabeth. And the song holds special meaning for your wedding pros, too. "This was definitely a behind-the-scenes anthem for many of us wedding vendors in the past year."
DJs Pat and Sean Kelly of North Wales, Pennsylvania add that this song can be played during many wedding moments. "It's a powerful electronic tropical house song that can set the vibe for cocktail hour, dinner, or even be part of your dance party," they say.
"Blinding Lights" by The Weeknd
The Weeknd is known for his throwback-style pop hits, and this single is no exception. "Although this song was released in 2019, it is still popular for 2021," says Jesse Palencia of DJ Persist in Chicago. "This song provides a modern twist to a '80s music set, and can easily blend with 'Take On Me' as well as modern R&B hits."
"Stronger" by Sam Feldt feat. Kesha
If you're looking for a totally new 2021 wedding song that hasn't been played at a thousand other weddings, give this track a listen. "There's usually a natural delay between when a song first comes out and when it is embraced as a wedding favorite, but this brand-new song has a good chance," says Jane Elizabeth. "It's classy, positive, uplifting—all good vibes to focus on as we look forward to celebrating again."
"Get Ready" by Pitbull feat. Blake Shelton
"This song is currently the top dance track that I personally love to add in the mix to get everyone on the dance floor," says Shaina Windsor of DJ Lady Shay in Tampa, Florida. "It has great foot-stomping and hand-clapping beats that will get everyone to move their feet!"
"Ritmo" by The Black Eyed Peas and J Balvin
If you're looking to add some Latin flavor to your playlist, this 2021 wedding song is definitely worth a listen. "Nothing says party like the Black Eyed Peas, so I anticipate their collaboration with J Balvin, along with that ultra-catchy Corona sample, will get all generations up and shaking their hips," says Jane Elizabeth.
"Dákiti" by Bad Bunny and Jhay Cortez
"Latin music is starting to appeal to the mainstream market," says Jesse Palencia. "Bad Bunny should be on everyone's playlist as his tunes provide a hype party vibe."
"Forever After All" by Luke Combs
If you're a country music fan, this is a newer song that's definitely worth adding to your playlist. "It's a great slow dance song," says Shaina Windsor. "The lyrics are really beautiful and the melody gives you that perfect love song."
"Lifetime" by Romy
"I'm dying to play this at a wedding," says Mona Dehghan of Mon Amie Events in Brooklyn, New York. "Released in September 2020, it's a super fun dance jam from The XX's Romy—soaring synths and vocals are sure to make this a dance floor filler."
"Take You Dancing" by Jason Derulo
"As the name suggests, Jason Derulo has another danceable gem from his catalog," says Flobo Boyce. "It is the perfect bridge from the more chill vibes of dinner into the more spirited feeling for the open dance floor. Plus, couples who want to have a more upbeat first dance should consider this one as well."
"Head & Heart" by Joel Corry feat. MNEK
"The intro to this song is the perfect way to take the energy of your party to the next level," says DJ D. Jones. "With soulful house inspired vocals and a track that is screaming good vibes, you'll definitely keep your dance floor packed."
"Roses" by SAINt JHN
"This modern song is so infectious that it will be in all my future dance playlists," says Drake Dawson of DJ Drake Entertainment in Boulder, Colorado. "It's going to be a classic…soon!"
"Jerusalema" by Master KG feat. Burna Boy and Nomcebo Zikode
"This is an Afro beat track that's very spiritual and uplifting track," says Shaina Windsor. "Whenever I play it, everybody gets to jumping immediately. Shout out to all my island vibes fans out there!"
"Girl Like Me" by Shakira and Black Eyed Peas
"This could possibly be the new anthem for bouquet tosses," says Jesse Palencia. "The song's lyrics are definitely suitable for the single ladies!"
"Middle of the Night" by MONSTA X
Looking for a song to play during your cake cutting? This K-pop tune should be a contender. "The cutting of the cake is stealthily an important part of the reception," says Flobo Boyce. "For some, it's a sign that the party is winding down while simultaneously being the opposite for others. You'll need a song that keeps the vibe going while not being too distracting. With this mid-tempo jam, 'Middle of the Night' gives you a lot to work with in terms of continuing the mood."
Past Top Wedding Songs
In case you're interested in adding a #throwback or two to your playlist, here's a list of pros' favorite wedding songs from 2020 and 2019.
Top 2020 Wedding Songs
"Dance Monkey" by Tones and I
"10,000 Hours" by Dan + Shay feat. Justin Bieber
"Good As Hell" by Lizzo
"Lover" by Taylor Swift
"Don't Start Now" by Dua Lipa
"Memories (Drinks Bring Back)" by Ajay Stephens
"The Git Up" by Blanco Brown
"Before I Let Go" by Beyonce
Top 2019 Wedding Songs
"Love Someone" by Lukas Graham
"Taki Taki" by DJ Snake feat. Selena Gomez, Ozuna, and Cardi B
"Shallow" by Bradley Cooper and Lady Gaga
"I Like Me Better" by Lauv
"Tints" by Anderson .Paak feat. Kendrick Lamar
"Lost in Japan (Remix)" by Shawn Mendes and Zedd
"Speechless" by Dan + Shay
"thank u, next" by Ariana Grande
"1999" by Charli XCX and Troye Sivan
"Wow." by Post Malone