The Best Annapolis Wedding Venues for a Maryland Capital Celebration
Find the perfect place to wed in Maryland's capital city with these gorgeous Annapolis wedding venues.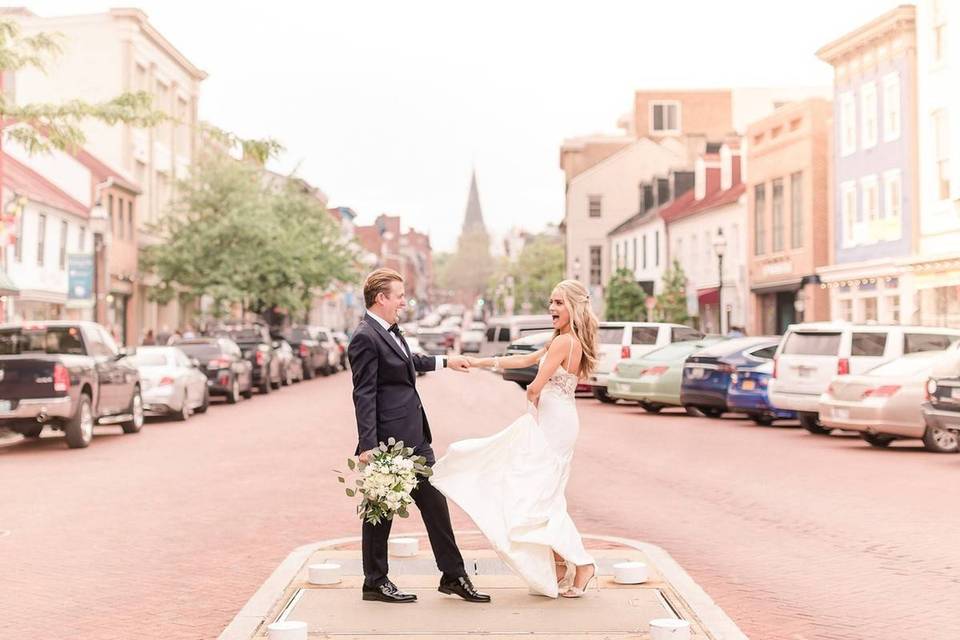 Host the perfect Annapolis wedding at any of these stunning wedding venues in the town's Historic District. If you're attracted to Annapolis wedding venues, you probably have an affinity for either history (both Maryland and United States) or the Chesapeake Bay. Or, maybe not. There are about a million things to love about wedding venues in Annapolis, MD, no matter what type of wedding theme you're prepping.
These are some of our favorite Annapolis wedding venues for your special event.
Historic Inns of Annapolis
Located in the heart of downtown Annapolis on State Circle, Historic Inns of Annapolis is a 250-year-old wedding venue that wears its age gracefully. A stately brick facade shrouds the elegant dining rooms that serve as wedding venues for couples with classic and traditional tastes. Old World carpeting, antique chandeliers, and Chiavari chairs add to the ambiance of Governor Calvert House, which is one of two event spaces at this venue. The Maryland Inn, the second event space, offers a cozier event room with a working fireplace, wine-colored drapery, and an 18th-century veranda. This venue can accommodate up to 200 wedding guests.
Learn more about Historic Inns of Annapolis »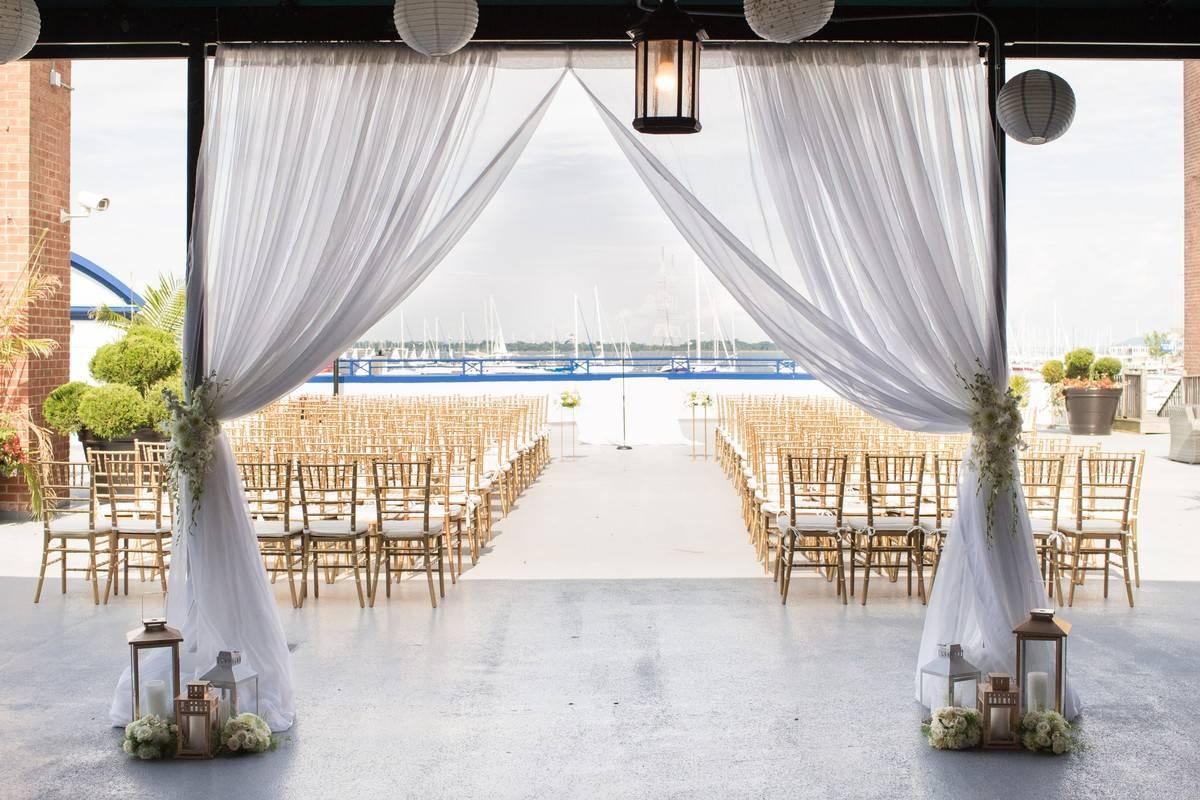 Annapolis Waterfront Hotel
If you're searching for Annapolis wedding venues that overlook nearby Chesapeake Bay, Annapolis Waterfront Hotel is a beautiful option. With a maximum capacity of 250 wedding guests, plan a scenic bayside wedding ceremony before heading indoors to a tiled dance floor, trendy hanging greenery, and elegant furnishings for the reception.
Learn more about Annapolis Waterfront Hotel »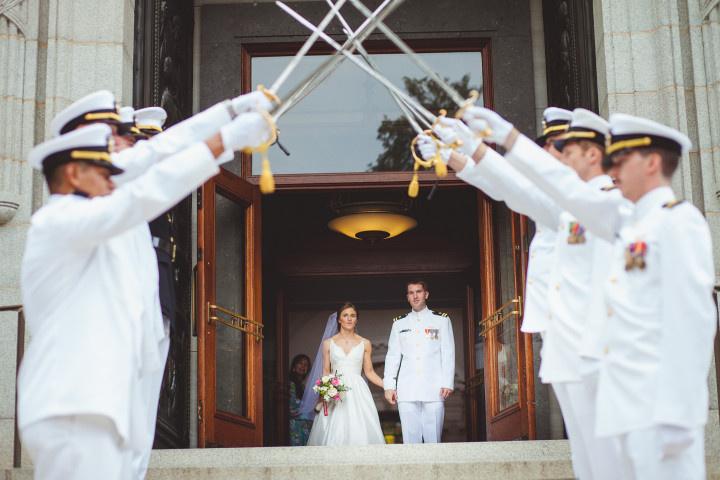 United States Naval Academy
For many, United States Naval Academy is one of the most the quintessential Annapolis wedding venues. Just ask Grace and Matt, who hosted their fall wedding here. The Academy's gorgeous Chapel is available for Catholic wedding ceremonies of Academy alumni, military staff, and faculty members. You may also be eligible to be married at the Academy if you are assigned to Naval Support Activity Annapolis as active-duty military or if you're an active-duty military personnel living near the Chapel and attending regular services there. The Chapel is presided over by the Archdiocese for the Military Services, so there are additional requirements you'll need to speak with the chaplain about before qualifying your right to marry in this space.
Learn more about United States Naval Academy »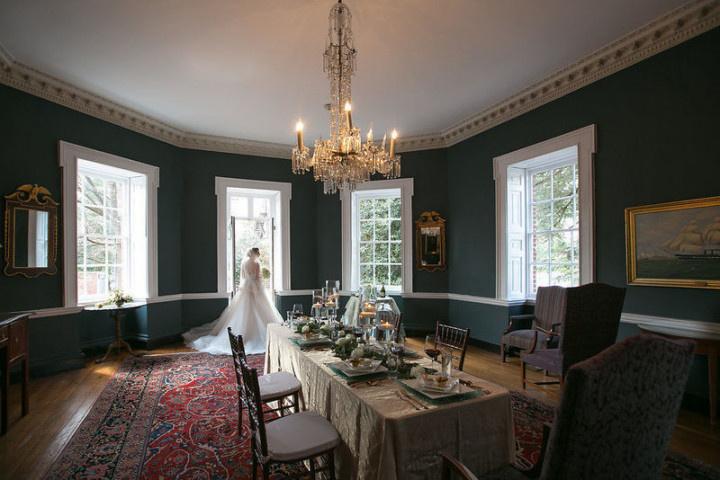 Historic Ogle Hall
A Georgian-style mansion with a ballroom that was once called the most beautiful in America, Historic Ogle Hall is full of colonial beauty and charm. Built in the 18th century, this wedding venue is a standing piece of Maryland history, having housed three governors and now being owned by the Naval Academy Alumni Association. As a venue, couples have seven distinct event spaces to choose from, including the aforementioned ballroom, which accommodates up to 40 people for a cozy reception. Larger reception spaces include the Courtyard, which can be tented or left open, and seats up to 140. Indoors, the beautifully appointed Historic Ogle Hall serves as a popular location for bridal portraits.
Learn more about Historic Ogle Hall »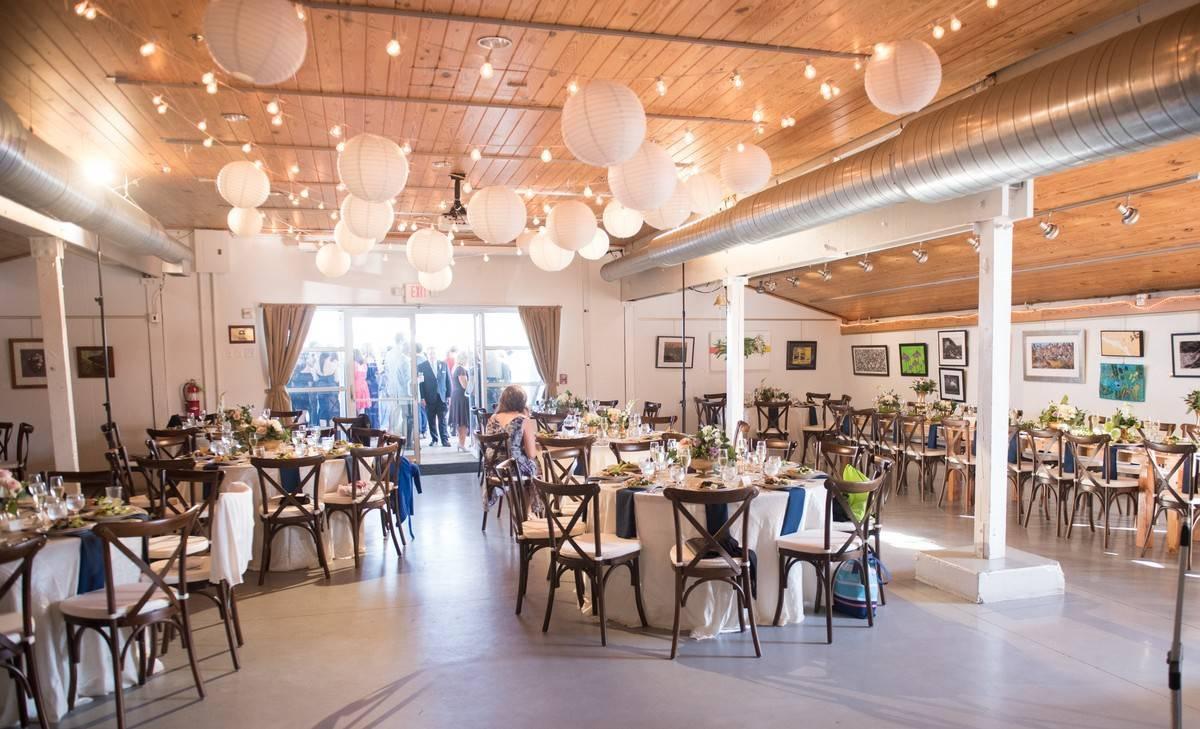 Annapolis Maritime Museum & Park
The perfect setting to take in the beauty of the Chesapeake Bay and indulge in a few Maryland crabs, Annapolis Maritime Museum & Park is home to five event spaces for nautical couples. Ceremonies and receptions here take place with a 180-degree view of the Bay and Back Creek. Outdoor ceremonies are often held on the dock while outdoor wedding receptions on the main deck and piers can use a special tent with retractable, clear side walls — all the better to enjoy the view in cold or rainy weather. There's also indoor space, including the 2,500-square-foot Bay Room, crafted in an industrial chic style and adorned with local maritime art.
Learn more about Annapolis Maritime Museum & Park »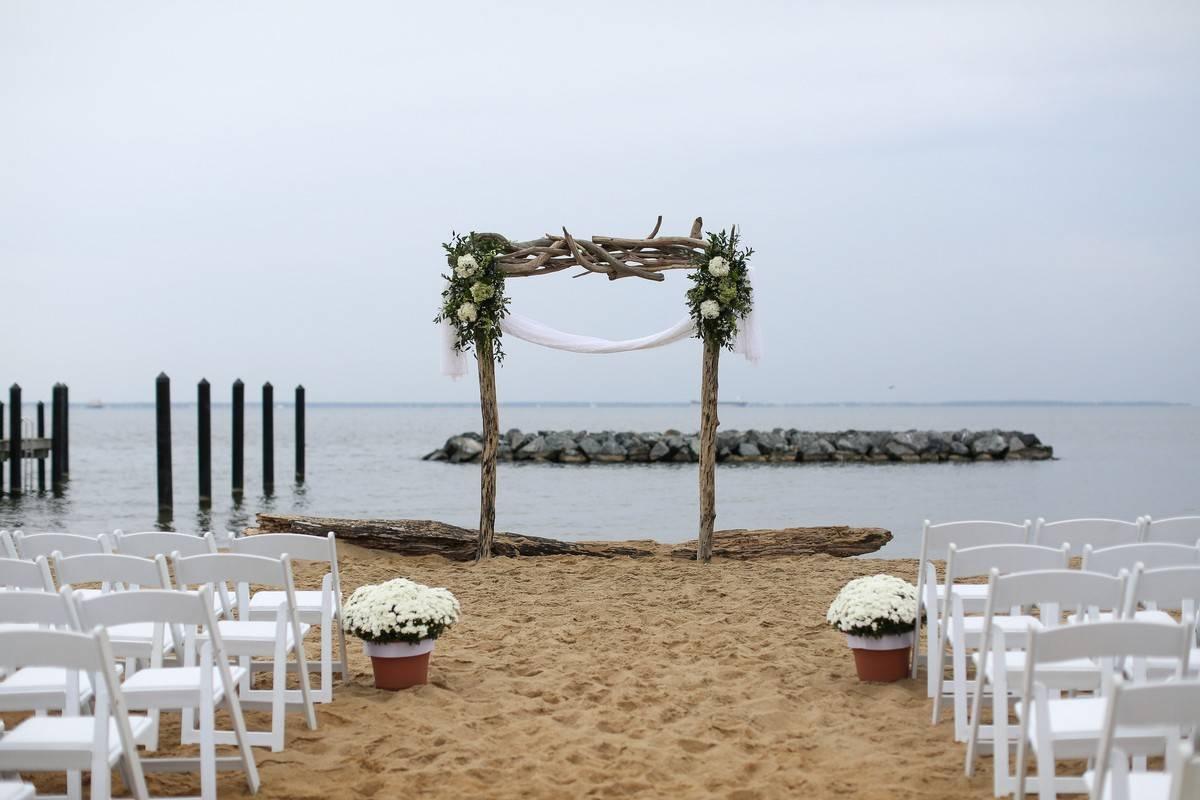 Chesapeake Bay Foundation
Nestled in a wooded area just off the beach, Chesapeake Bay Foundation's Philip Merrill Environmental Center is as lovely as it is green. Constructed to offer breathtaking views of the Bay, this is the perfect event center for couples looking for Annapolis wedding venues a little further from the historic district. Still only a few minutes from downtown Annapolis, your wedding day here is convenient to the city, but you'll have 33 acres of unspoiled nature to roam. Ceremonies are usually beachside, then the party moves indoors for lots of space to dance. Style with romantic, waterfront-inspired details like Brittany and Kevin.
Learn more about Chesapeake Bay Foundation »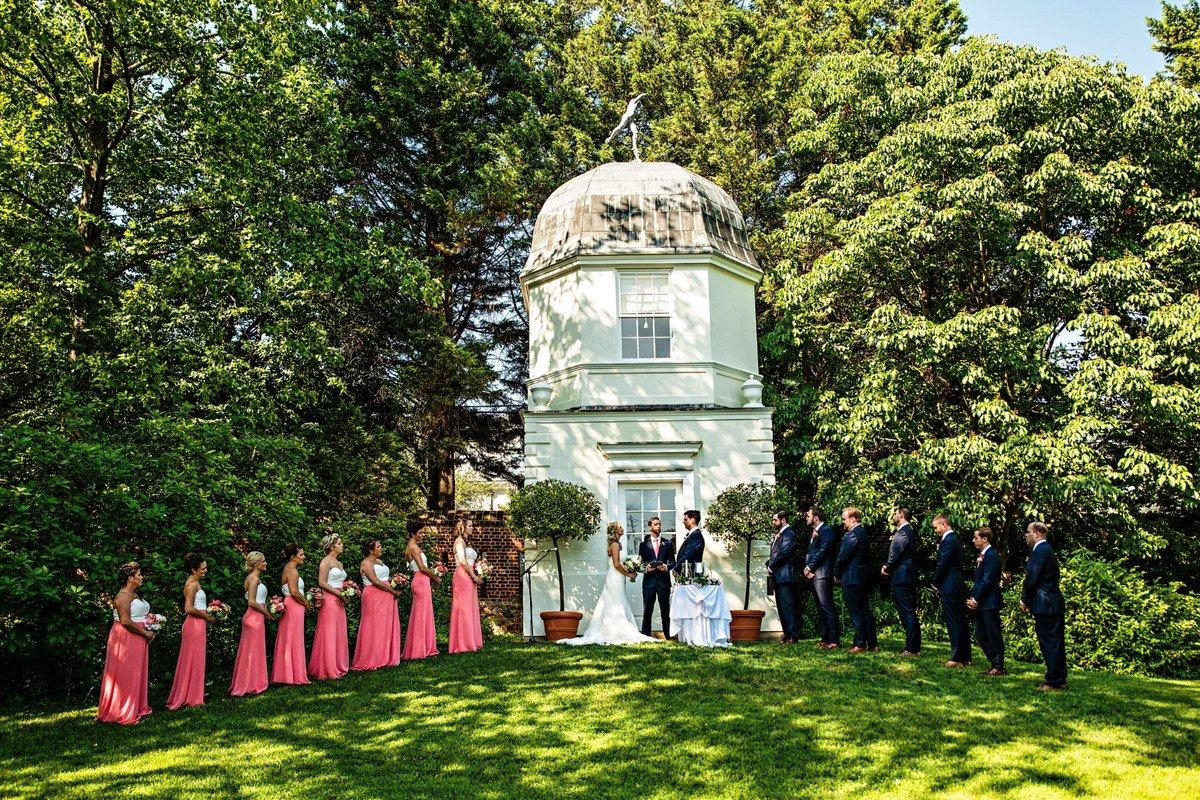 Historic Annapolis: Paca House & Garden
Couples searching for romantic Annapolis wedding venues need look no further than The William Paca Garden and The Summerhouse, both part of Historic Annapolis. The two-acre garden is an authentic, reconstructed colonial garden, based on portraits and archaeological details of a 1772 Maryland garden. Beyond lush greenery, there are terraces full of plants that would have been available at that time, including parterres (plant beds in symmetrical patterns) for roses, holly, and boxwood plants. Little decor is needed with this venue, which hosts 150 standing and 120 seated guests. The brick Summerhouse is a gorgeous backdrop to the outdoor venue and can be used for small ceremonies of up to eight guests.
Learn more about Historic Annapolis: Paca House & Garden »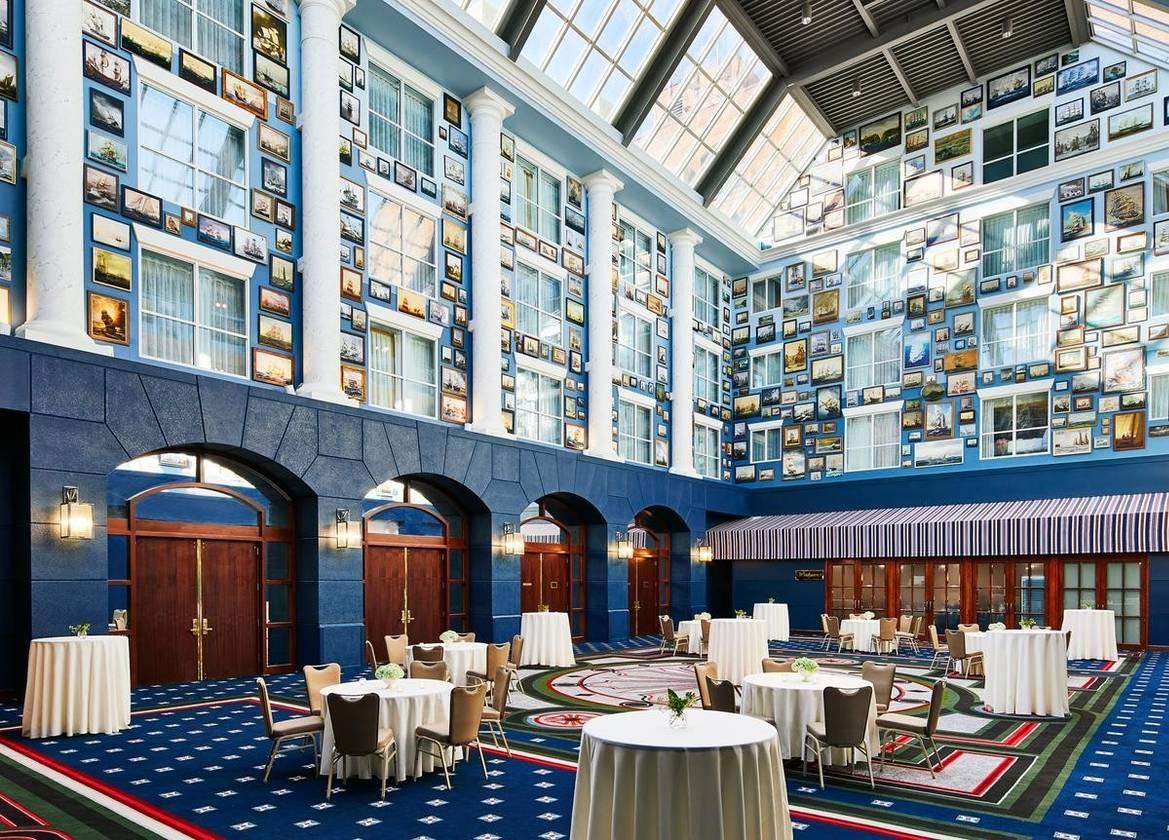 Graduate Annapolis
This Annapolis wedding venue is ideal for couples who are hosting a lot of out of town guests. The hotel venue is conveniently located a short walk from the U.S. Naval Academy and the Chesapeake Bay, and can host up to 350 guests in their well-appointed Regatta Ballroom. There are 14 different event spaces at the Graduate Annapolis, including great locations for rehearsal dinners, post-wedding brunches, and other events. All-inclusive packages are available to make your planning process a breeze.
Learn more about the Graduate Annapolis »
The Westin Annapolis
If you're looking for a classic Annapolis wedding venue with a touch of glam, this venue is definitely worth checking out. The Capitol Ballroom is the largest space, with its contemporary feel, neutral palette, and a capacity of 400 guests. The Annapolis Ballroom can host weddings of 150 guests and has an open-kitchen concept with lots of natural light. The more intimate Caucus Room can host events of up to 50 guests—great for rehearsal dinners. This Couples' Choice Award-winning, all-inclusive venue also has 225 guest rooms so all of your loved ones can stay on site.
Learn more about The Westin Annapolis »

Wedding on the Bay by Watermark
Many couples choose an Annapolis wedding venue to be near the water—well, this venue is actually on the water. You can choose from a variety of yachts that will set sail on the Chesapeake Bay while you and your guests celebrate. The Raven is the largest yacht, which can host up to 149 guests and features two floors of event space and amazing views. The Cabaret II is a smaller yacht, which can host up to 75 guests, and features a mahogany bar, French doors, and a lovely outdoor space.
Learn more about Wedding on the Bay by Watermark »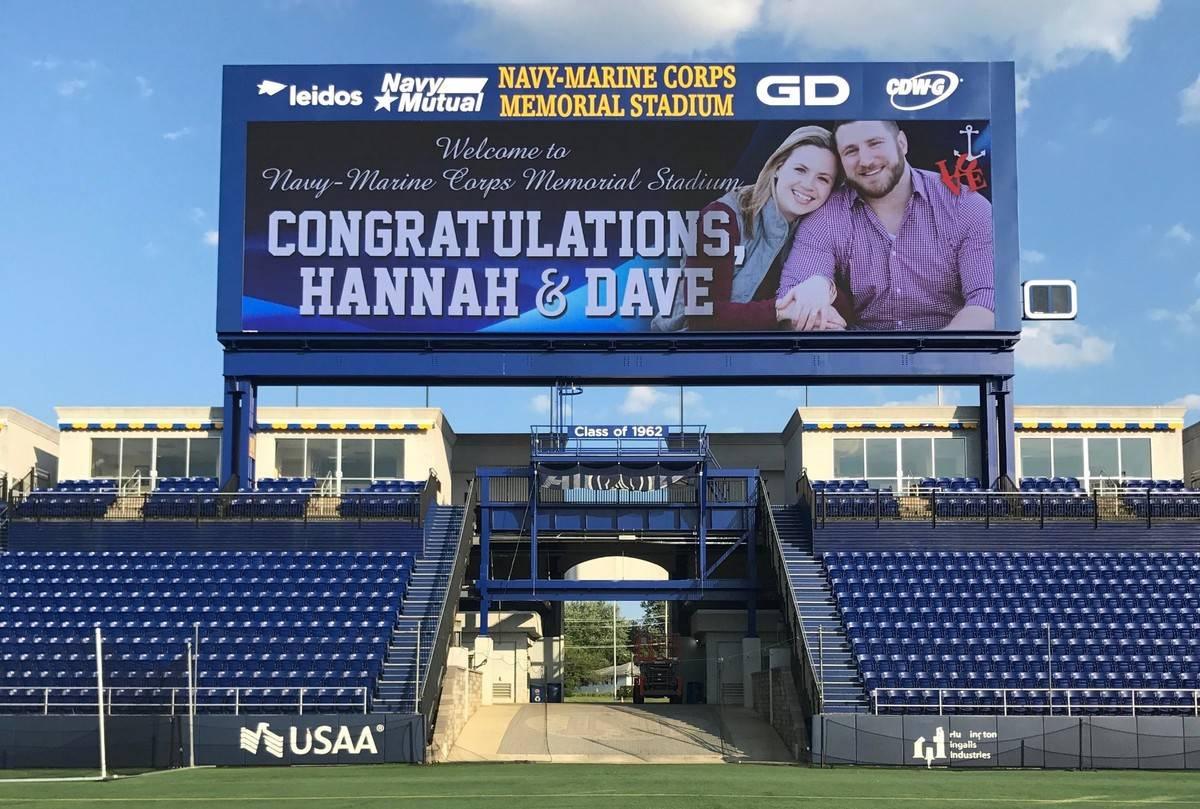 Navy-Marine Corps Memorial Stadium
Are you and your partner big football fans? Turns out you can actually get married at The Clubs at Akerson Tower at Navy-Marine Corps Stadium. Each club features 3,600 square feet of space and room for 150 seated guests. You and your guests will love the high ceilings and amazing views of the stadium, downtown Annapolis, and the Chesapeake Bay. Plus, you can choose from several preferred catering to create the wedding menu of your dreams.