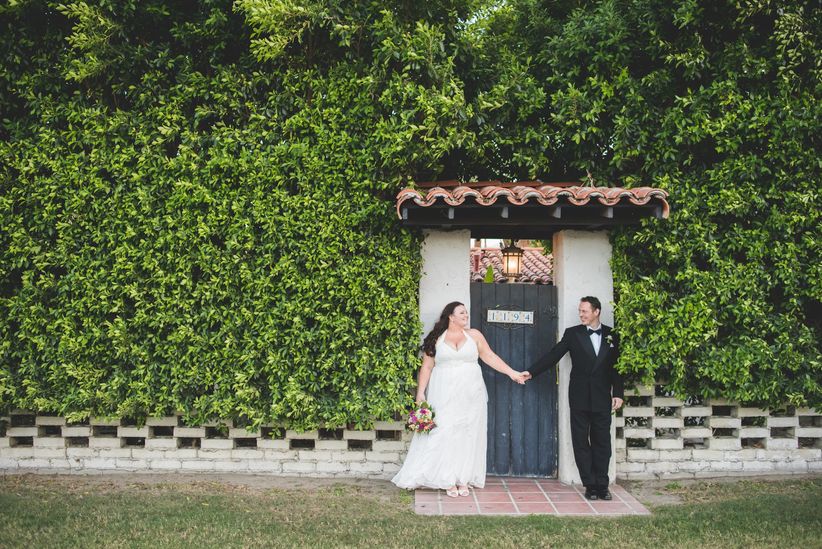 Photo: Hitched Photo
While Las Vegas may have gotten all the identifiable markers of a former Rat Pack playground, the abundance of Palm Springs celebrity homes makes a strong case for the tiny desert town being the go-to getaway for Old Hollywood elite. Thanks to the burgeoning Hollywood studio industry's two-hour rule — stars and starlets couldn't travel more than two hours from Los Angeles so as to be available for any last-minute filming — Palm Springs became home to Old Hollywood stars as early as the 1920s. In fact, many Palm Springs wedding venues are the former homes of America's biggest stars. At some point, everyone from Albert Einstein to Sammy Davis, Jr. boasted a pad in Palm Springs' mountains, located a mere 100 miles south of Los Angeles and approximately 140 miles north of San Diego. In addition to private estates and affordable resorts, Old Hollywood homes are one of the most popular places to get married in Palm Springs.


Check out our favorite Palm Springs celebrity homes that double as wedding venues!
Photo: Derek Chad Photography
Twin Palms
Known to most locals as simply, "The Sinatra House," this deceptively simplistic mid-century stunner is one of the most popular stops on tours of celebrity homes in Palm Springs. Although earlier stars had dabbled in desert real estate, it was Frank Sinatra's fortuitous decision to buy a weekend home for his family in 1947 that cemented the town's reputation as a playful refuge for celebrities. Although Ol' Blue Eyes moved into the home with his first wife, singer Nancy Sinatra, the property in the Movie Colony neighborhood of Palm Springs soon became more famous for the tumultuous relationship between Frank and Ava Gardner, famed actress and Sinatra's second wife. As a wedding venue, Twin Palms is best suited for smaller weddings of 50 guests or less. The estate is a tribute to its most famous owner, with a luxurious pool in the shape of a piano, a grand piano in the living room (in case, your
romantic first dance song
needs music accompaniment) and rooms filled with mid-century furniture.
Learn more about Twin Palms »
Photo: The Merv Griffin Estate
The Merv Griffin Estate
If you've never thought highly of your chances of winning a game of "Jeopardy!," or "Wheel of Fortune," a stay at storied creator Merv Griffin's 39-acre estate might be the next best thing. Located just on the other side of the Palm Desert, in the resort town of La Quinta, the legendary talk show host and game show creator used the expansive property to breed horses during Griffin's 20-year tenure at the estate. Ideal for weddings both large and small, the estate is home to some 5,000 square feet of house for the main residence, in addition to two guesthouses and four independent guest units. With 13 bedrooms and 11 bathrooms, it's ideal for wedding party accommodations in addition to wedding ceremonies and receptions. Built in the Spanish ranch style, The Merv Griffin Estate includes an equestrian racetrack, horse paddocks, a bocce ball court, infinity pool and a spa.
Learn more about The Merv Griffin Estate »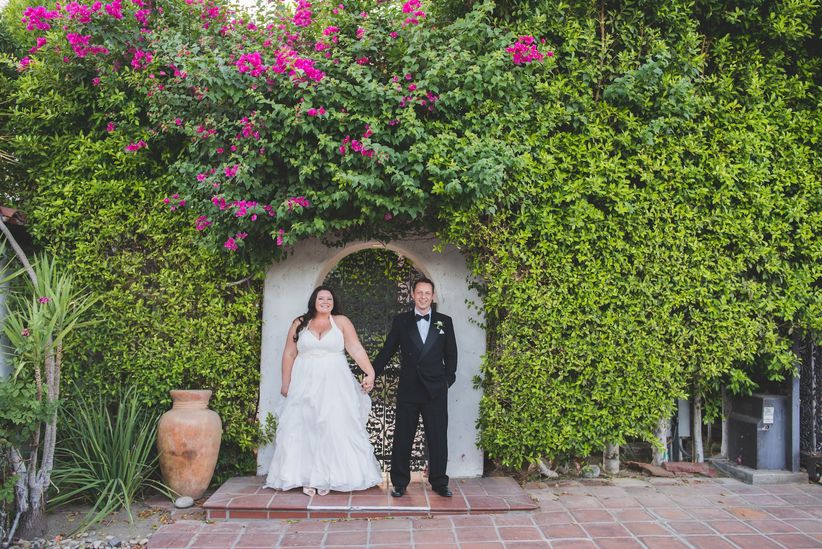 Photo: Hitched Photo
Lucy House
You can practically hear that ubiquitous, "Lucy!" when you walk into the Spanish colonial style wedding venue Lucy House, affectionately named because stars Lucille Ball and Desi Arnaz used it as a vacation home. While we can't confirm rumors that Desi won the plot of land near the Thunderbird Country Club (home to Merv Griffin's Estate as well) in a poker game, we do know that the famous couple moved into the five-bedroom home in 1954, after their show "I Love Lucy," took off. Featuring the one-level ranch-style design that was popular in Southern California at the time, the Ball-Arnaz home is the perfect place for a casual outdoor wedding with an antique stone fountain and elegant swimming pool serving as natural places to gather.
Learn more about Lucy House »
Photo: Casa Elizabeth
Casa Elizabeth
No mention of Old Hollywood is complete without including Elizabeth Taylor, Academy Award-winning actress, activist and former owner of one of the most popular Palm Springs celebrity homes. The star's four-bedroom bungalow, just off Palm Canyon Drive, is a formidable shrine to the actress, with a large oil painting of Taylor (talk about
wedding beauty inspiration
!) greeting guests as they enter the home. Elegant full-length glass doors bring the outdoors in as the swimming pool and cabana — a Palm Spring-essential — take center stage.
Learn more about Casa Elizabeth »