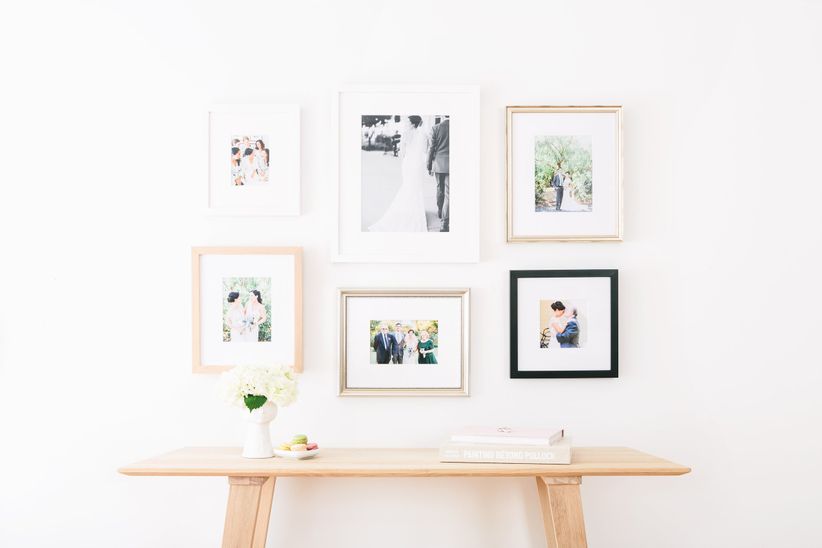 After the wedding ends, you'll be left with photographs, memories, and an assortment of mementos (invitations, accessories, etc.) that will help you cherish the day for years to come. If you're even the slightest bit sentimental, you're probably wondering what to do with those miscellaneous wedding keepsakes — you don't want them to risk getting damaged, but they deserve more than being tucked away in a box and put into storage. Our solution? Frame them! It's a win-win situation: they'll be protected and preserved, but you'll also get to enjoy them on a regular basis as decorative keepsakes throughout your home.
To get you started, WeddingWire partnered with Framebridge to create a list of wedding keepsakes you can frame after the big day ends — and you might be surprised to learn they're not just photos. If you want to show off your unique wedding day moments and details, you can enter WeddingWire's #HowWeWed contest through September 14, 2018 for a chance to win $1,000 and a gallery wall from Framebridge!
Here are some of our favorite frame-worthy wedding keepsakes.
Stationery
Your wedding stationery, especially the invitation, is one of the most meaningful tokens from your big day. The invitation includes all the important details about the wedding, from your venue and date to the ceremony time. It's also a snapshot of your wedding aesthetic, showcasing your color palette, style, and personal touches, like your married monogram. A lot of work went into creating your wedding stationery, especially if you had something custom-made, and we love the idea of framing the pieces as artwork. Save-the-dates, ceremony programs, menus, and your reception place cards are other frameable options.
Wedding Day Notes
If you and your spouse exchanged love notes or cards on the morning of the wedding, you can turn those into decorative pieces by putting them in frames. They'll be a sweet reminder of your wedding day butterflies every time you look at them!
Vows
Whether you followed a traditional set of vows or wrote your own, the vows signify your transition into marriage — no doubt a huge part of your wedding day. We suggest preserving your vows in frames and displaying them in your favorite room as wedding keepsakes. If you scribbled your vows down on scrap paper at the last minute (hey, it happens!), you can keep them in their original state for added character, or hire a calligrapher to rewrite them for a look that's more intentional. Vow booklets are easily framed, too!
Informal Marriage Certificates
Paperwork is often the less-glamorous side of getting married, but it's still an important part of your wedding story. Instead of storing the documents and wondering where they went years down the road, frame them! Jewish couples sign a non-legal contract called the ketubah, which outlines the marriage duties — but you don't need to be Jewish to have one at your wedding. Ketubahs and similar documents get a stylish upgrade with the help of a simple frame. Remember not to confuse these with legal documents like your marriage license or marriage certificate, which you'll need for things such as insurance, bank accounts, and changing your name.
Accessories
Don't be afraid to get creative when it comes to your frameable wedding details — the list of possibilities goes way beyond paper and flat items. You can use frames to preserve your more delicate wedding day accessories, like a veil, garter, dress sash, bow tie, jewelry, or even socks. Turn a wedding handkerchief or pocket square into a colorful, unique wall accent by displaying it unfolded inside a frame.
Flowers
Not ready to say goodbye to those beautiful blooms after the wedding ends? Save a little piece of your decor by arranging the flowers or individual petals inside a frame as wedding keepsakes. You'll need to press and dry the flowers first — depending on the look you want, you can do this with an entire bouquet, a boutonniere, or simply use a few of your favorite flowers.
Favorite Wedding Photo
This hopefully goes without saying, but your favorite wedding photo is an absolute must-frame item! We highly recommend ordering a set of professional-quality prints from your wedding photographer after receiving your photos. Then, pick your favorite (if you can even bring yourself to choose just one) and hang it in a special place in your home.