20 Wedding Card Boxes to Display on Your Welcome Table
These wedding card box ideas are just a few stylish ways to collect cards and well-wishes on the big day.
We have included third party products to help you navigate and enjoy life's biggest moments. Purchases made through links on this page may earn us a commission.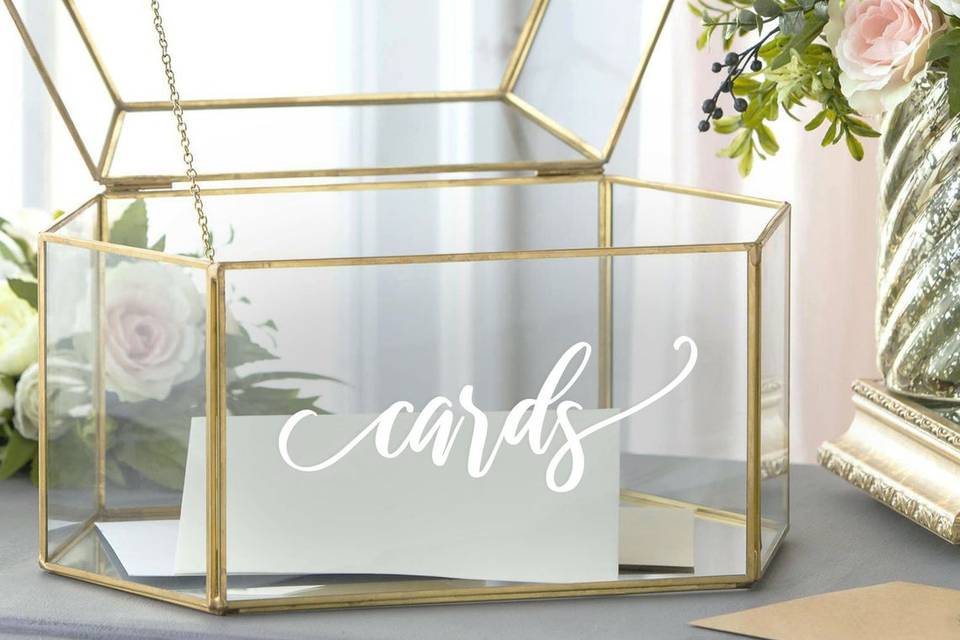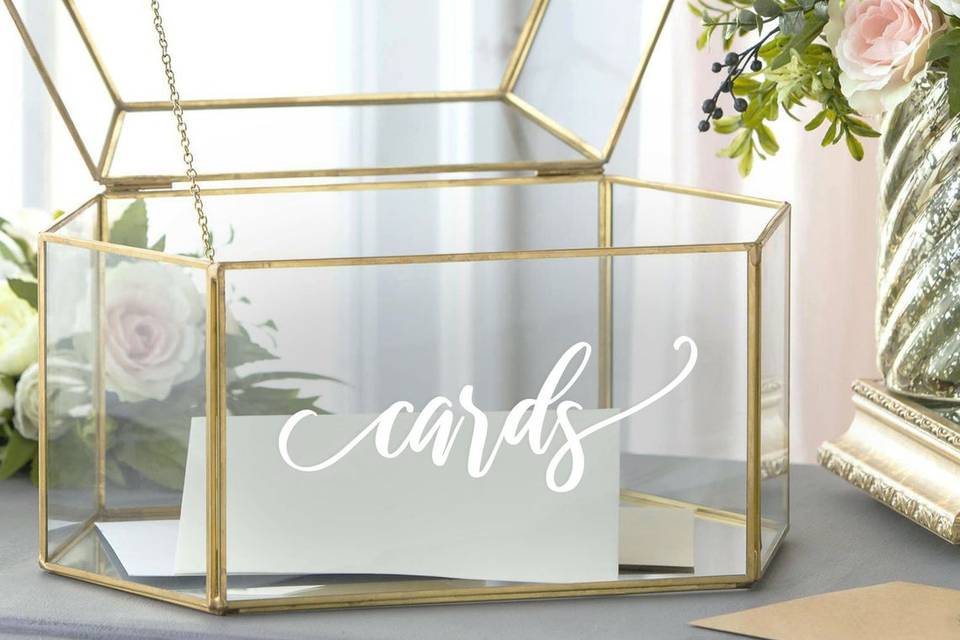 Although most of your wedding guests will probably shop from your registry when it's time to purchase a wedding gift, there's a good chance that many of them (especially older relatives and loved ones) would prefer to give you their gift in the form of cash or a check instead. Enter: these wedding card box ideas that are perfect for collecting and storing envelopes that guests might bring in-person on your wedding day. From modern acrylic options to rustic crates and vintage-inspired birdcages, here are 20 cute wedding card boxes you can buy online right now.
Where should you put a wedding card box?
The wedding card box should be displayed in a highly visible location so that it's easy for guests to find. You can set it near the entrance at the wedding ceremony so guests don't have to hold onto the cards during your vows. If you're not setting up a separate wedding gift table at the reception, a great spot to put the card box is on your reception welcome table, alongside your guest book. You can also showcase it next to escort cards, your seating chart, or arrange it with other decorative items, like family photos in picture frames.
Who's responsible for the wedding card box?
Although the box itself is pretty self-explanatory, it can unfortunately become a potential target as guests continue to deposit their cards with cash or checks inside. And while you hope none of your guests would ever tamper with the card box when no one's looking, it is still a possibility, and it's best to have a backup plan to keep any mischief at bay. Choosing a box with a lock is great, but we also recommend nominating someone trustworthy to keep an eye on your wedding card box while you're busy enjoying the wedding reception and celebrating being married. For this, it's best to choose someone who isn't in the wedding party (since they already have enough going on), like a close relative, friend, or your wedding planner if you're working with one. Since you don't want to worry about cleanup at the end of the night, you should also trust this person to collect the card box when the reception ends and keep the gifts safe until you can pick them up.
Wedding Card Box Ideas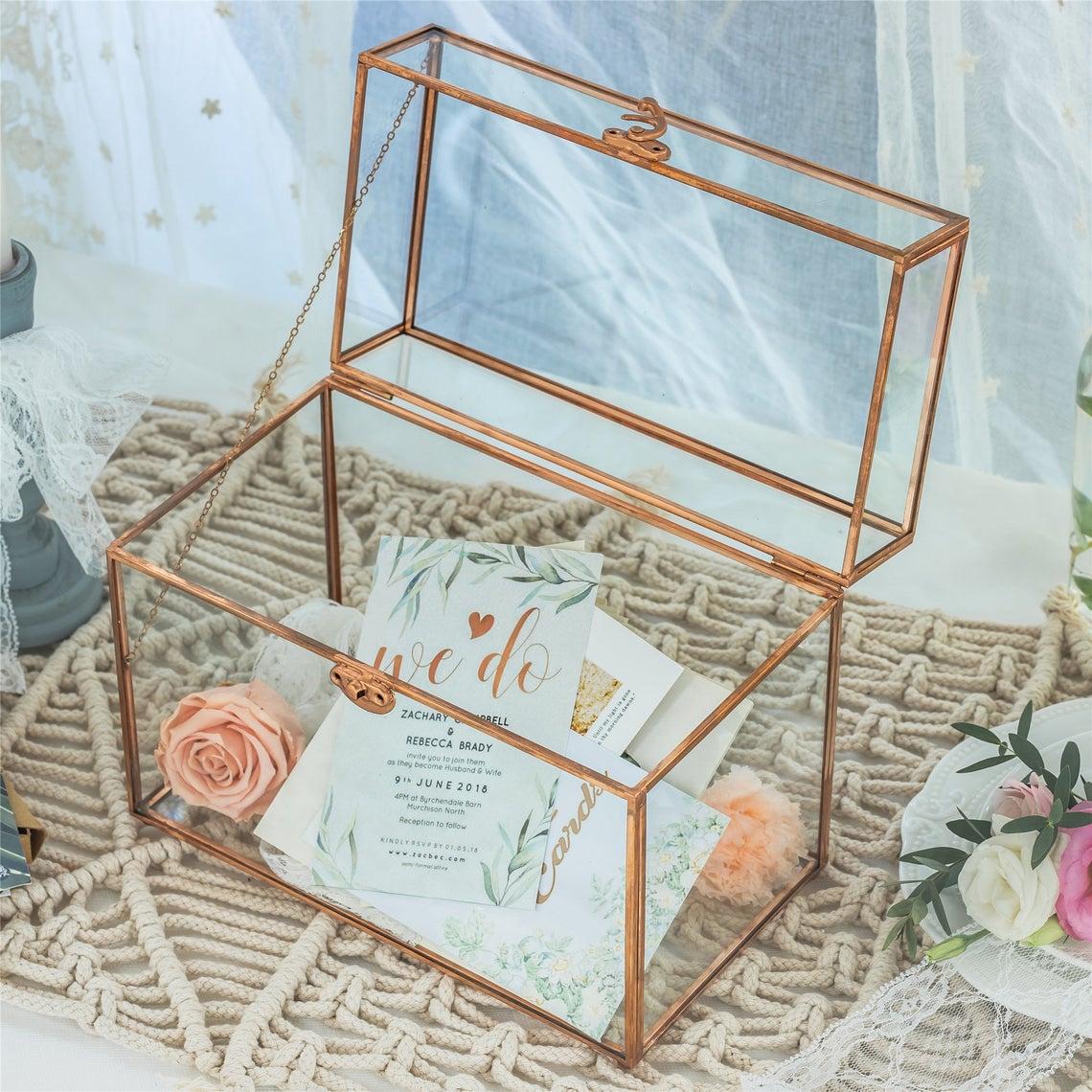 Sleek and minimalistic, this copper and glass wedding card box is a pretty choice if you're going for a modern romance theme with your reception decor. Plus, you can use it to showcase wedding keepsakes in your home after the day is over, like a dried wedding bouquet.
NCYPGarden copper geometric glass box, from $60, Etsy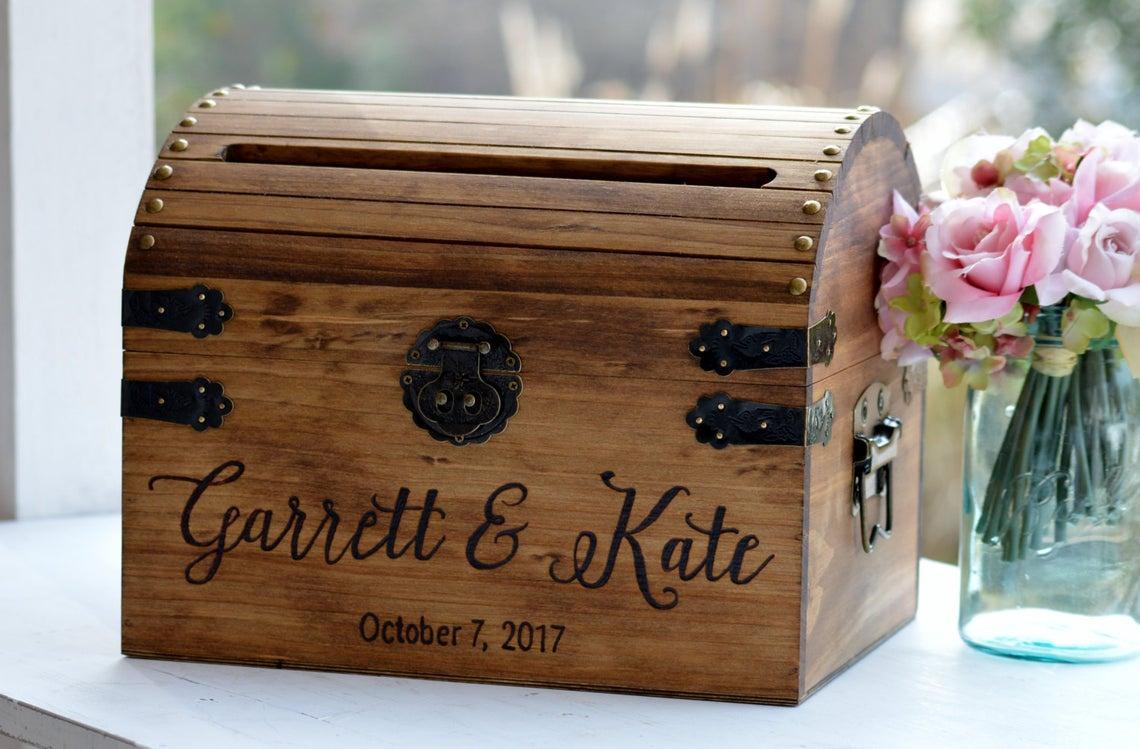 If you're planning a rustic-themed bash, this miniature wooden trunk will be a good addition to your wedding decor. With the dark metal accents and custom engraving, we could envision this at an elegant vineyard wedding.
RedHeartCreations rustic wedding card box, from $49, Etsy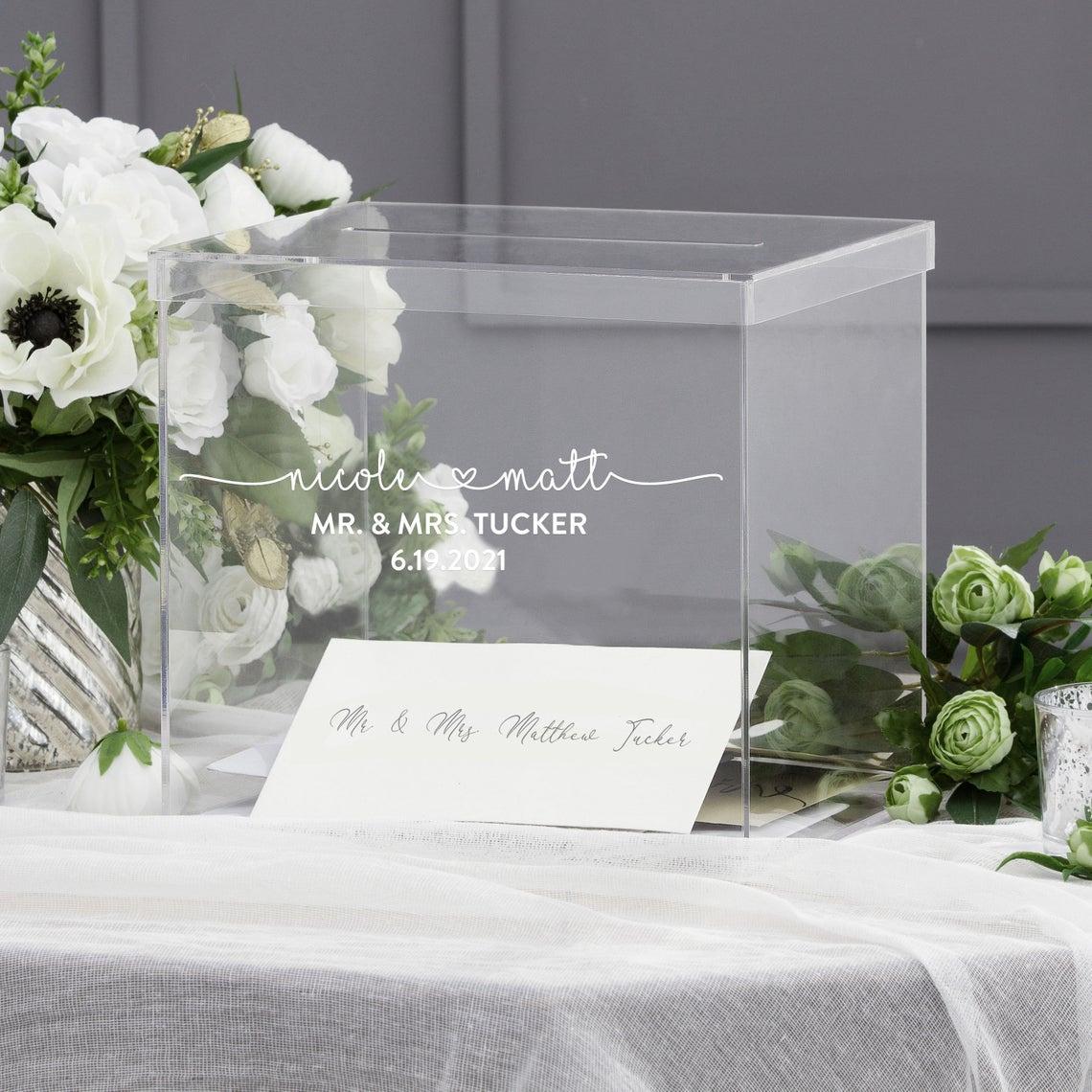 Acrylic details are still going strong as a wedding trend. This clear square box is an understated wedding card box idea that you can customize with your names and wedding date in five different vinyl lettering colors. The box comes with a removable lid featuring a laser-cut slot.
Vandue 10-inch clear acrylic wedding card box, $75, Etsy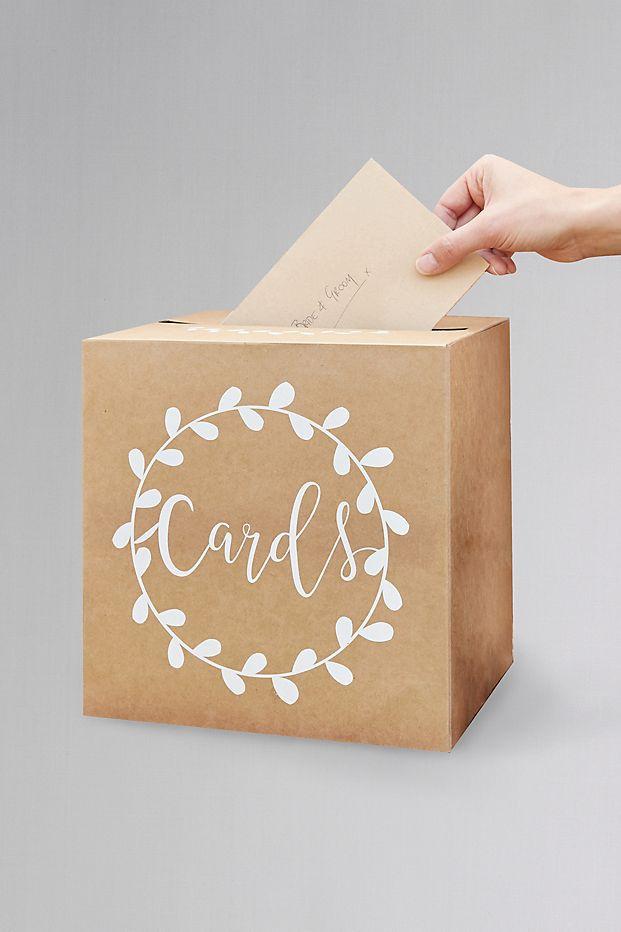 This simple wedding card holder is made from sturdy kraft paper with "cards" in calligraphy script and a vine motif decorating the front.
David's Bridal kraft card holder box, $15, David's Bridal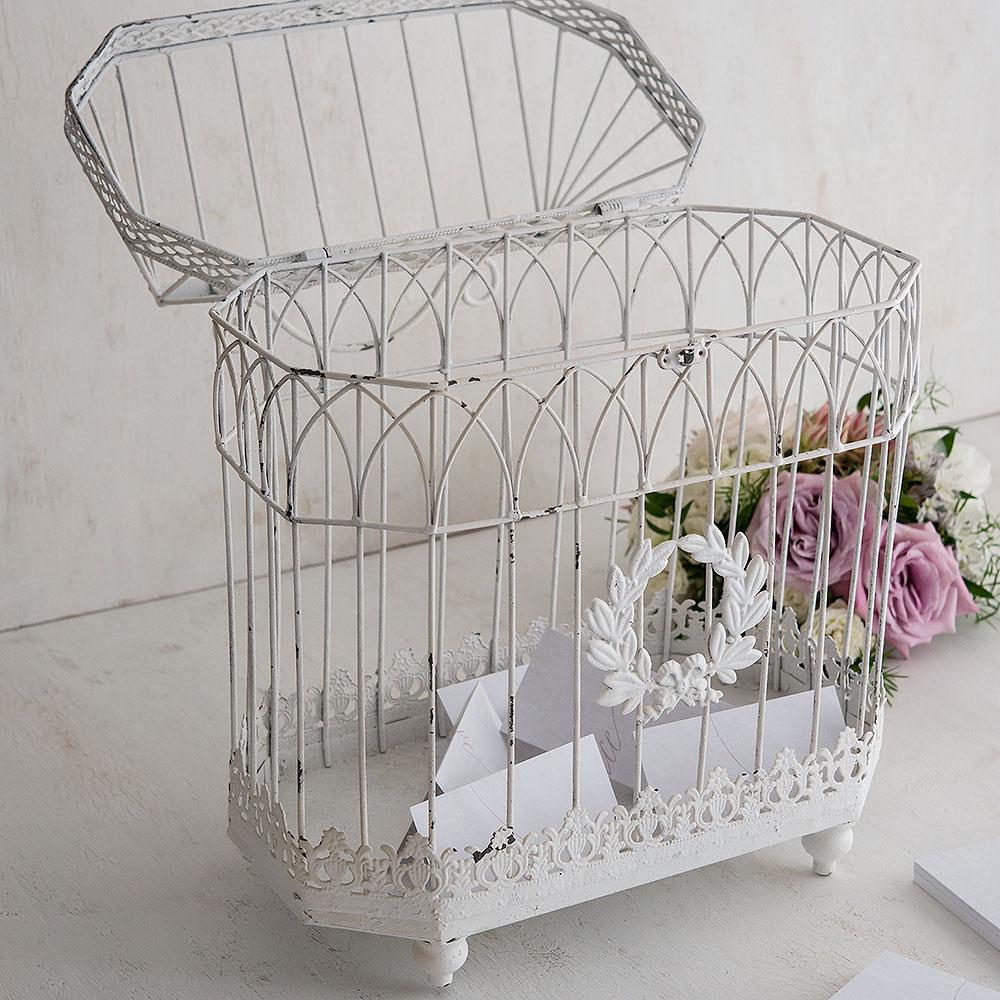 If you're planning a vintage wedding, this antique-style birdcage is a decorative way to collect wedding cards. Fill the bottom with greenery and flowers trailing out of the cage to create a true statement piece.
WeddingWire Shop conservatory-style metal bird cage, $70, WeddingWire Shop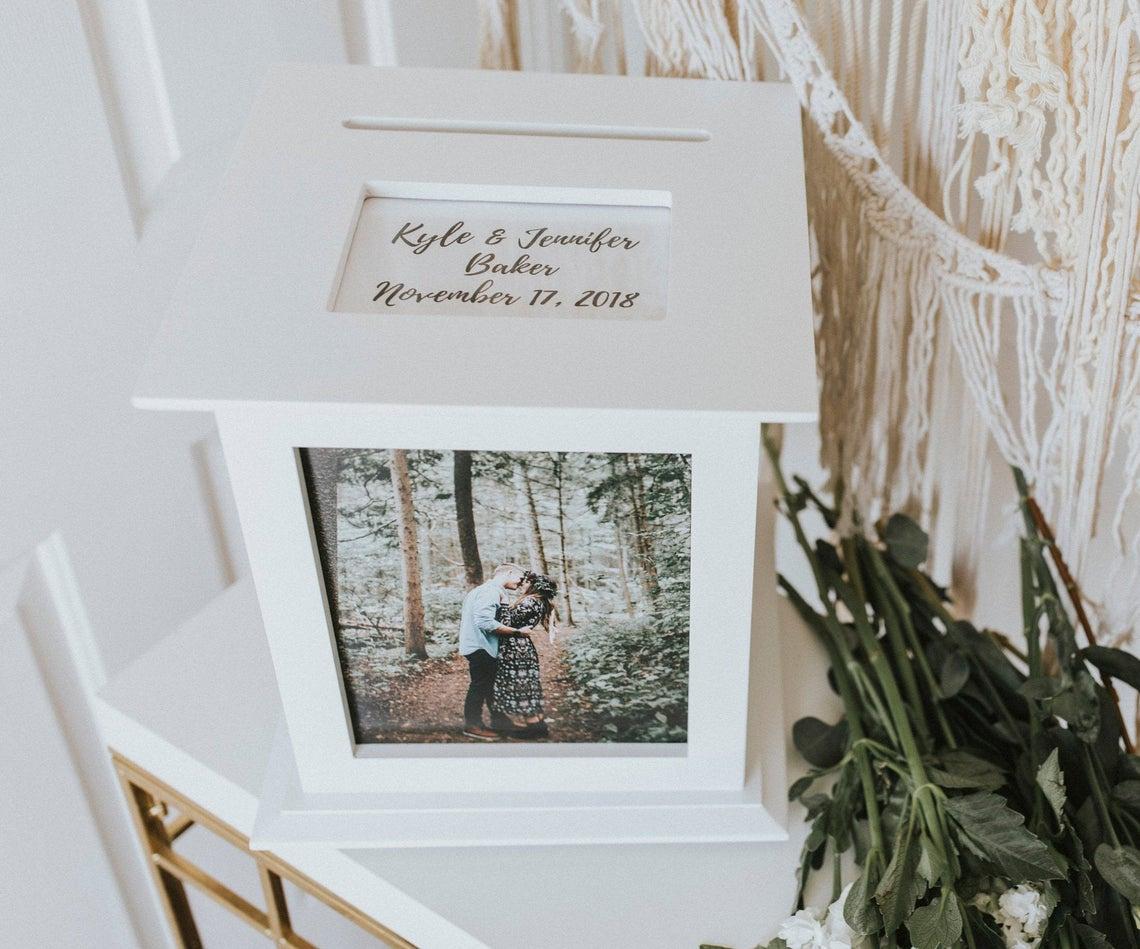 Show off your favorite engagement photo with this cute wedding card box idea. The box can be personalized with a black-and-white or color photo on the front and a short message on the lid.
KellyMarieCollection wedding card box with photo, from $86, Etsy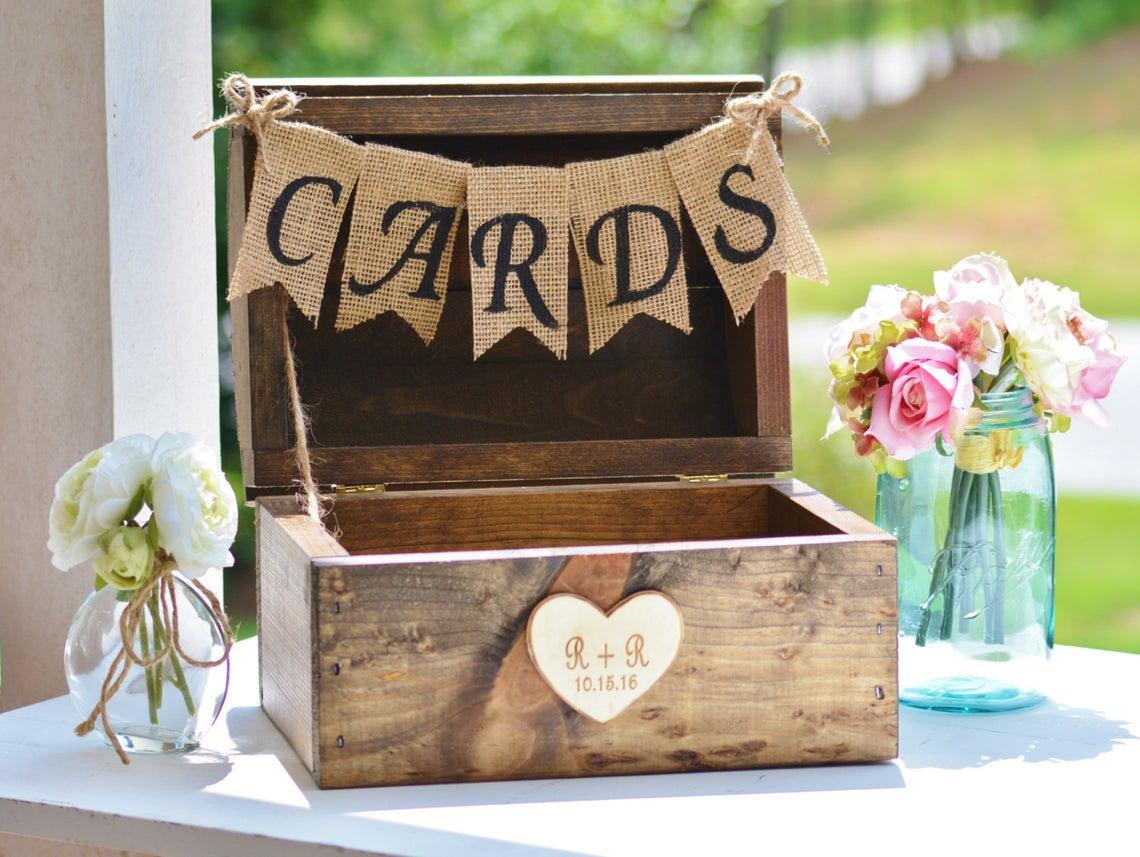 Incorporate a cute burlap bunting banner into your wedding card box to complement a rustic or shabby chic theme.
RedHeartCreations rustic card box with burlap banner, $84, Etsy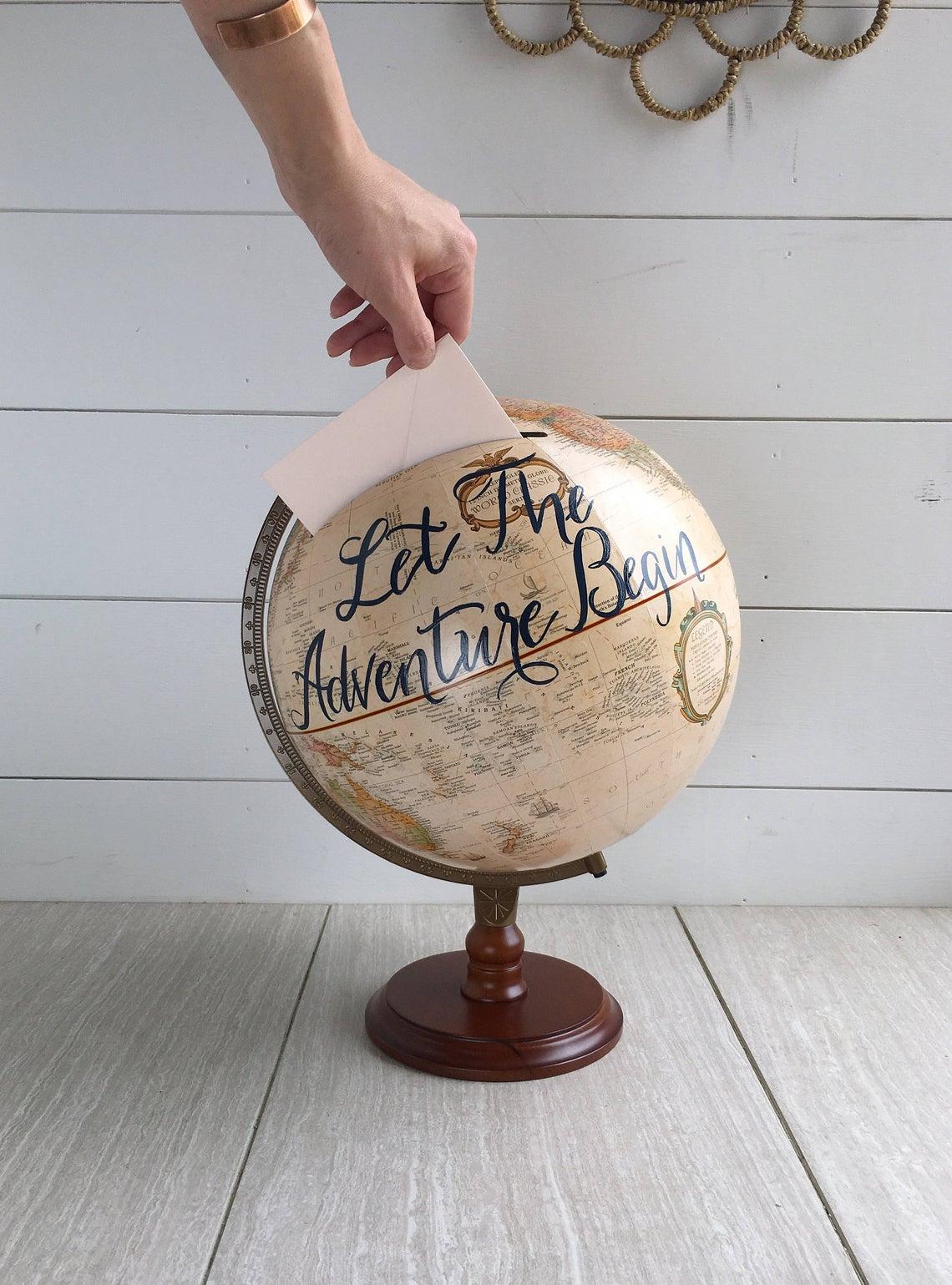 This handmade wedding card box idea is a must-have for any travel-theme reception. Made from an antique-style 12-inch globe, the wedding card holder comes with a greeting card slot and can be personalized with your names or a quote, like "Let the adventure begin."
AmberRosenbergDesign globe card box, $198, Etsy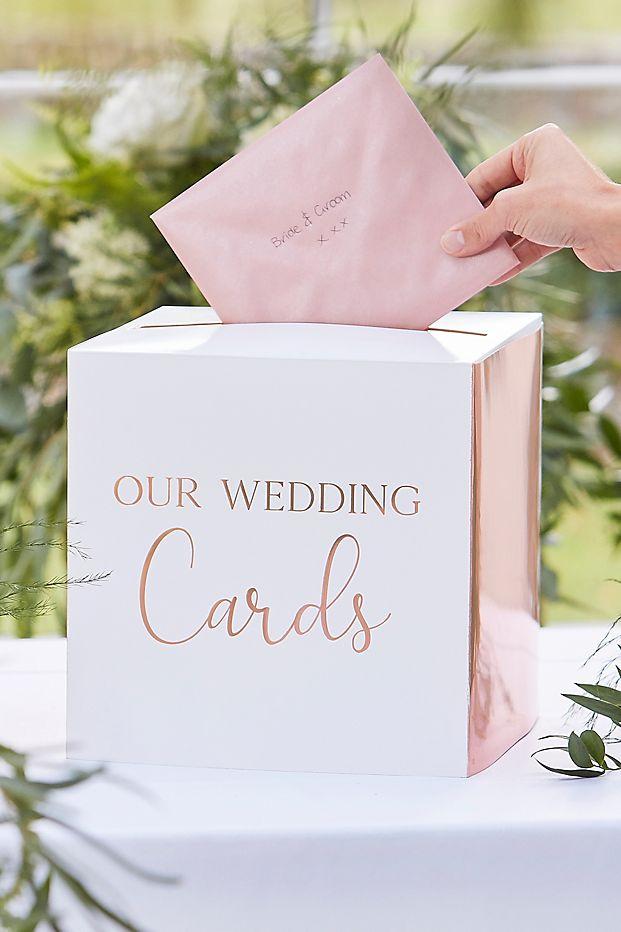 If rose gold is one of your wedding colors, this paper wedding card box decorated with metallic rose gold foil is simple but stylish.
David's Bridal rose gold card box, $17, David's Bridal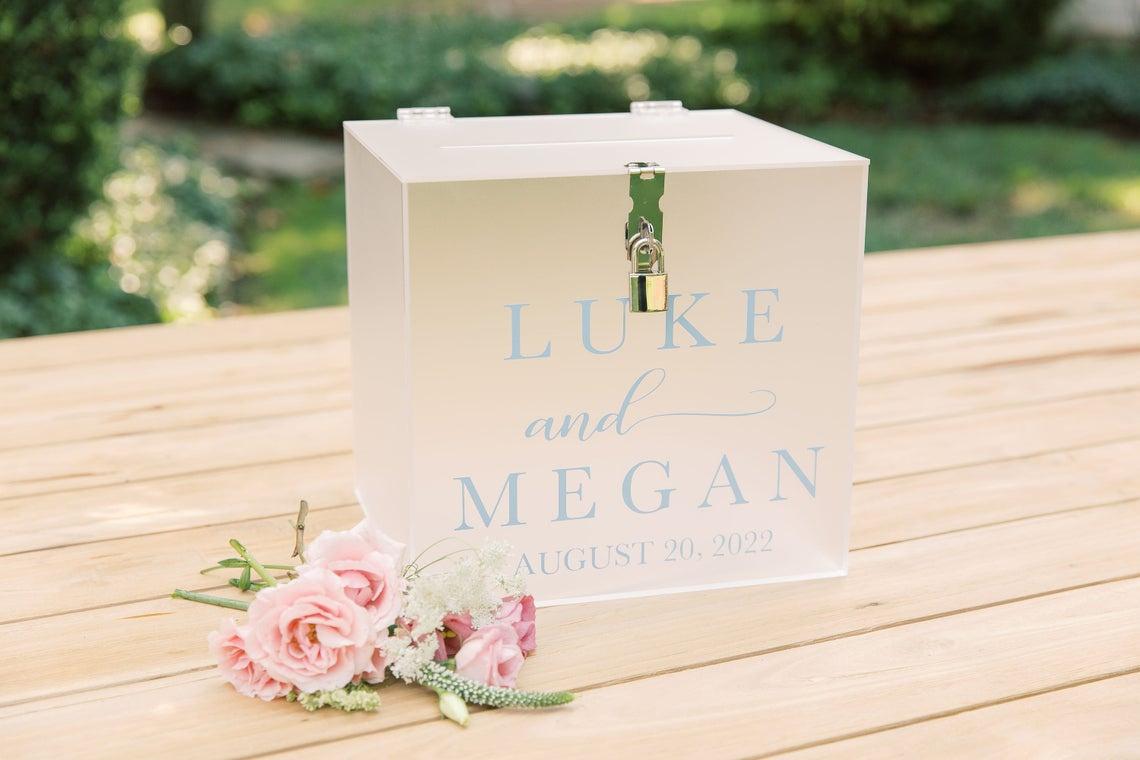 This opaque frosted box is a more unique twist on the clear acrylic trend. The best part: you can customize it with over 30 lettering colors and two lock colors to match your wedding color scheme.
SaveTheDateDesignsCo. frosted acrylic card box, from $80, Etsy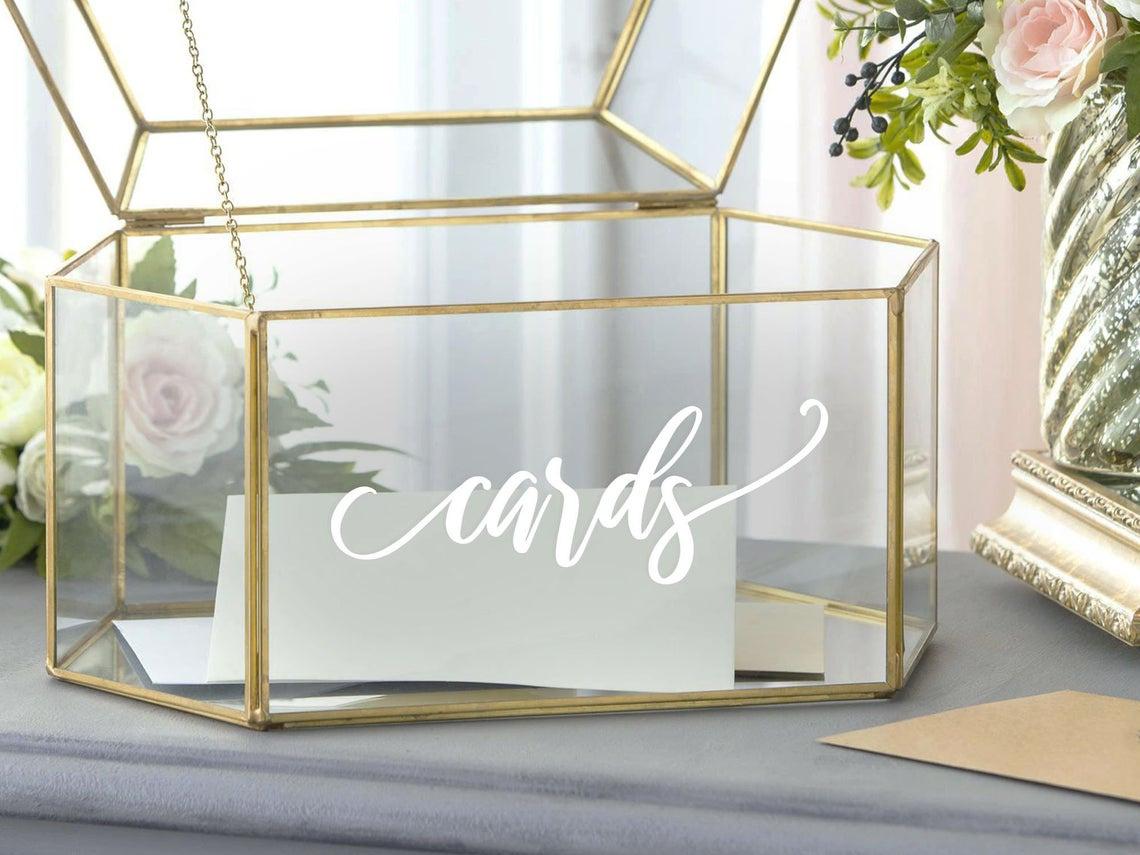 If you'd rather DIY your wedding gift card box, all you need is a vinyl decal like this. Choose from more than 20 colors and add it to a glass or rustic wooden box to create a one-of-a-kind wedding decoration.
VyoletShop wedding card box decal, from $4, Etsy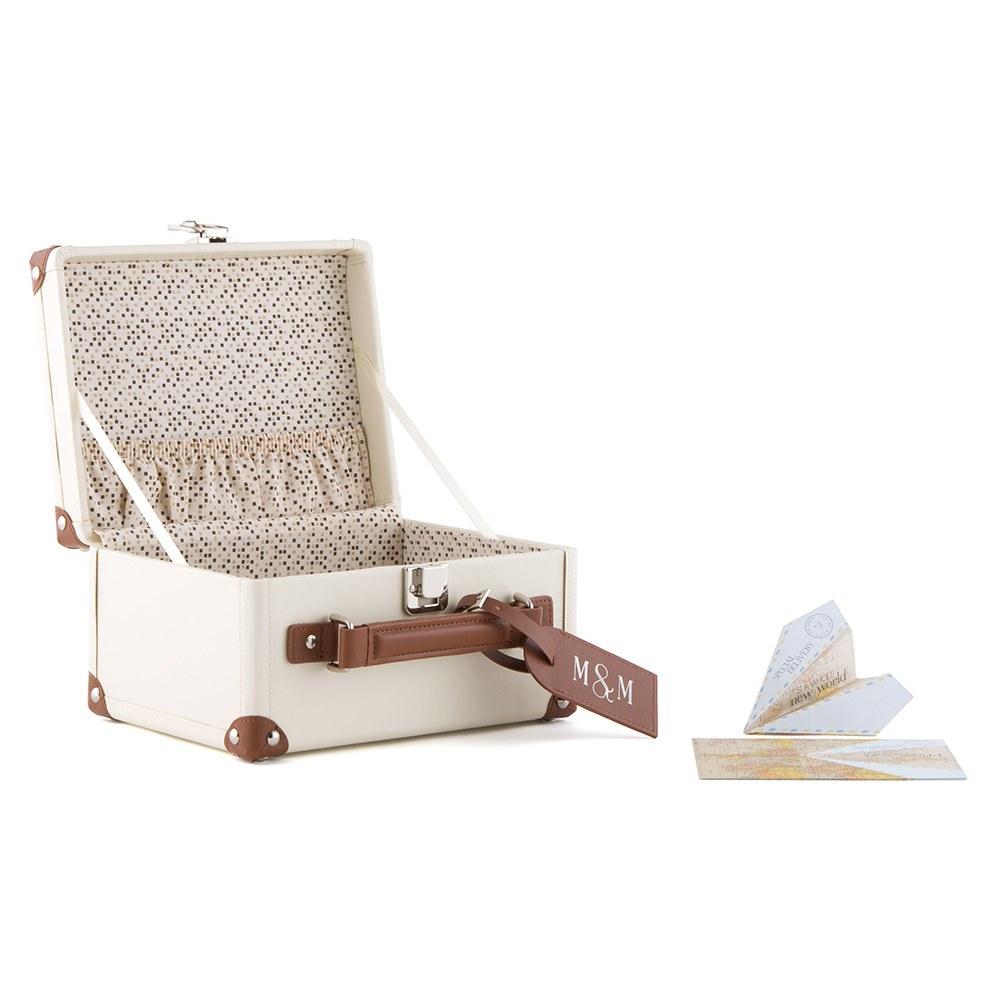 Suitcase card boxes are popular for vintage and rustic wedding themes. This mini vintage suitcase features faux leather details, a personalized luggage tag, and an adorable polka dot liner.
WeddingWire Shop mini suitcase wishing well, $80, WeddingWire Shop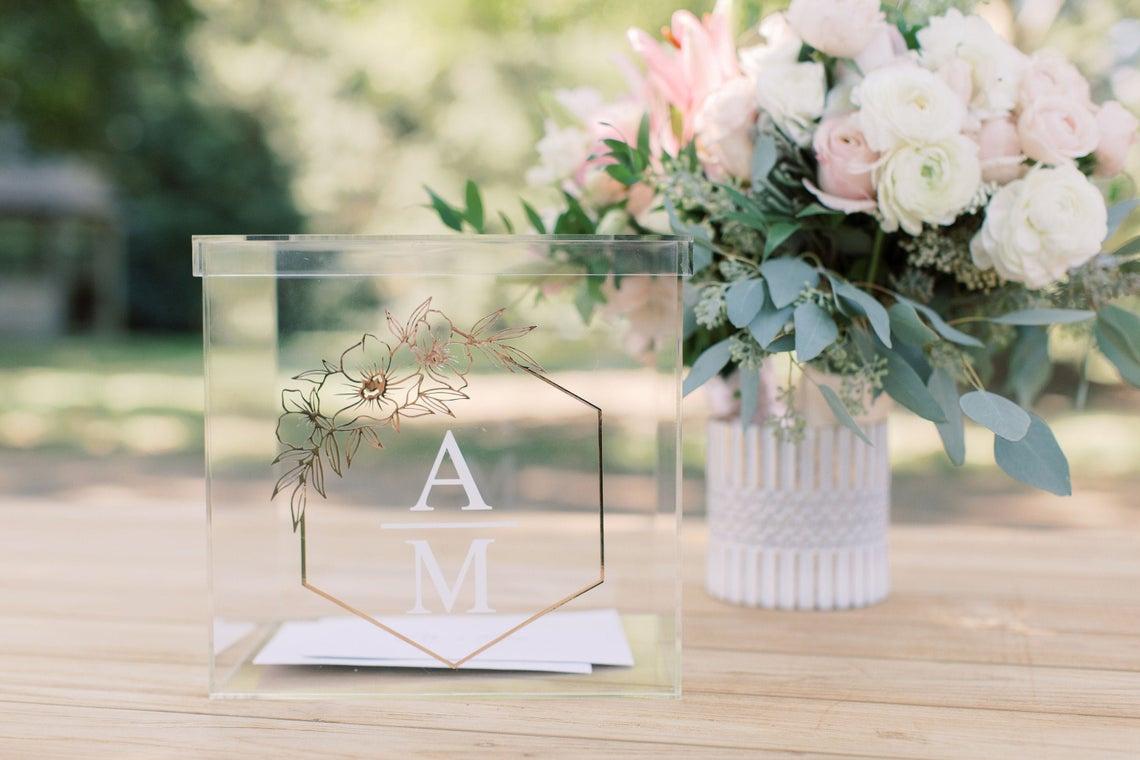 Personalize this sweet wedding card box idea with your monogram and a floral hexagon border that comes in more than 30 colors.
SaveTheDateDesignsCo. personalized acrylic wedding card box, from $65, Etsy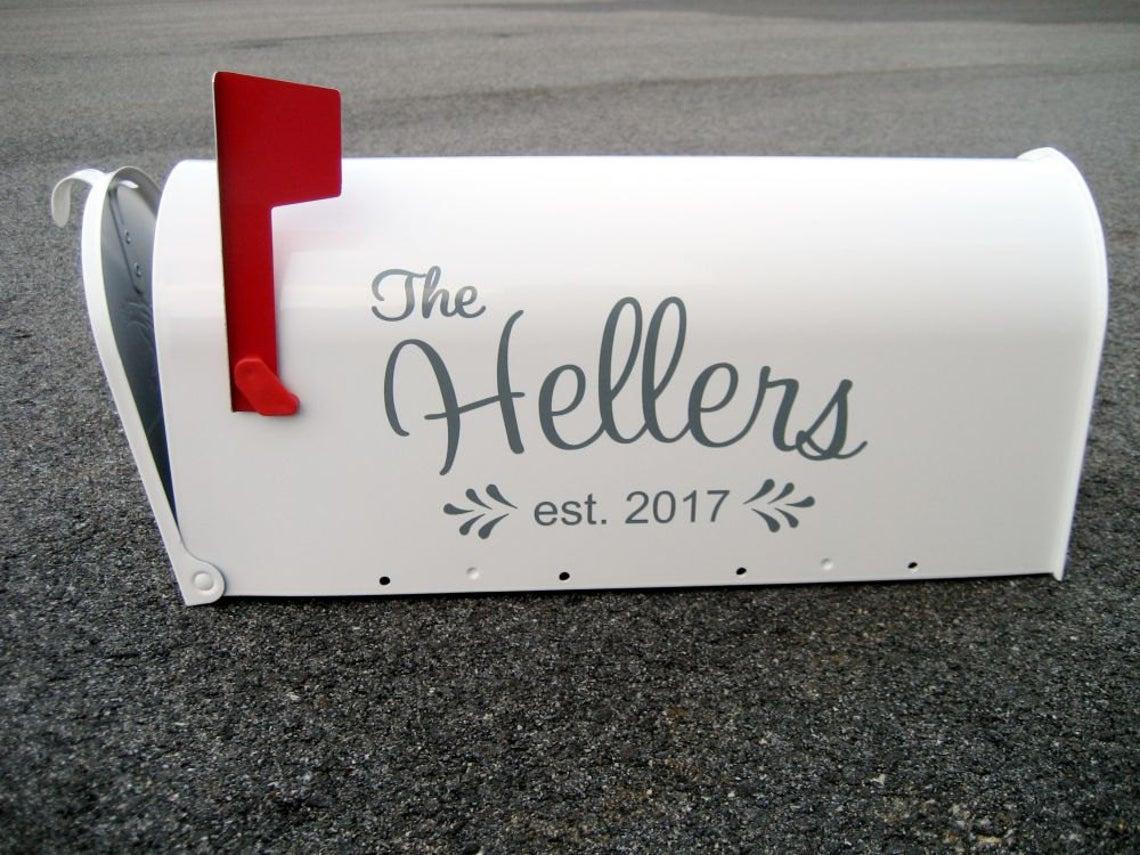 If you want something more unique than the average wedding card holder, this mailbox is a creative option that will look cute on your welcome table, especially for a country wedding theme. Choose from a black or white mailbox and 12 different lettering colors.
VillageVinyl custom wedding card post box, $68, Etsy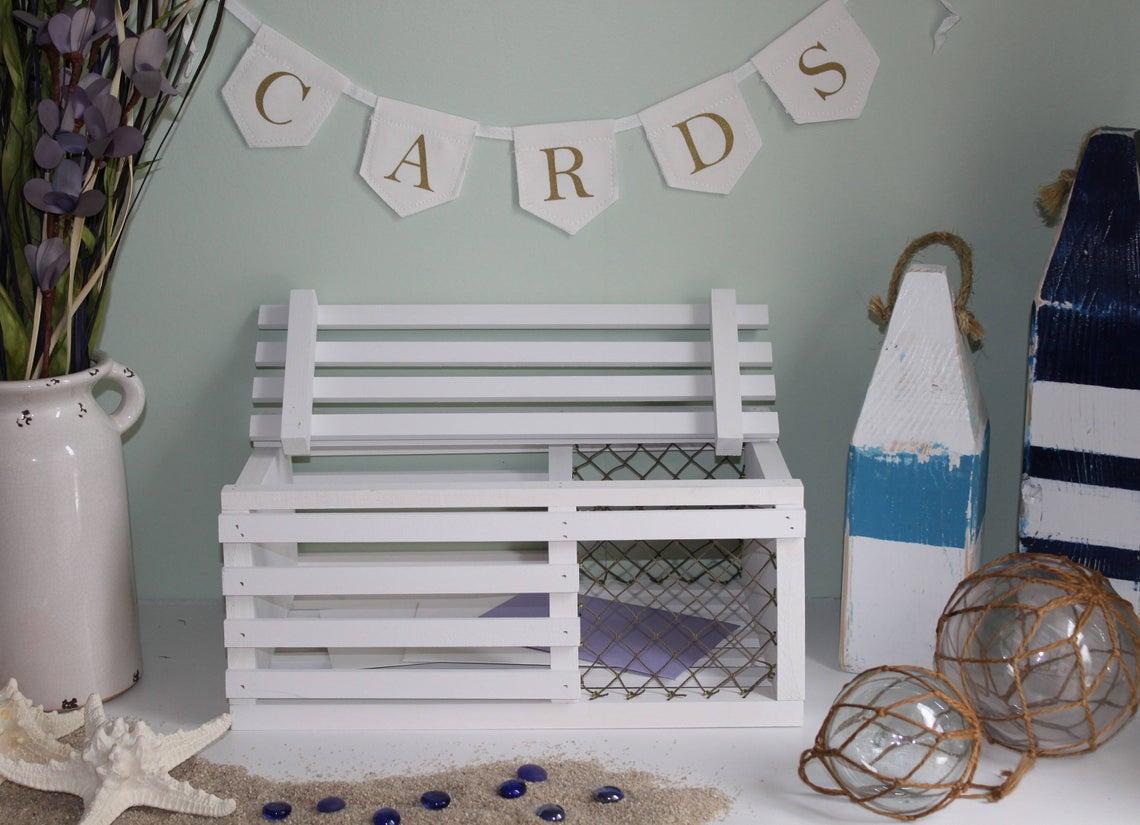 Convert a wooden lobster trap into a decorative card box if you're having a nautical beach wedding.
ChipHowarth lobster trap wedding card box, $55, Etsy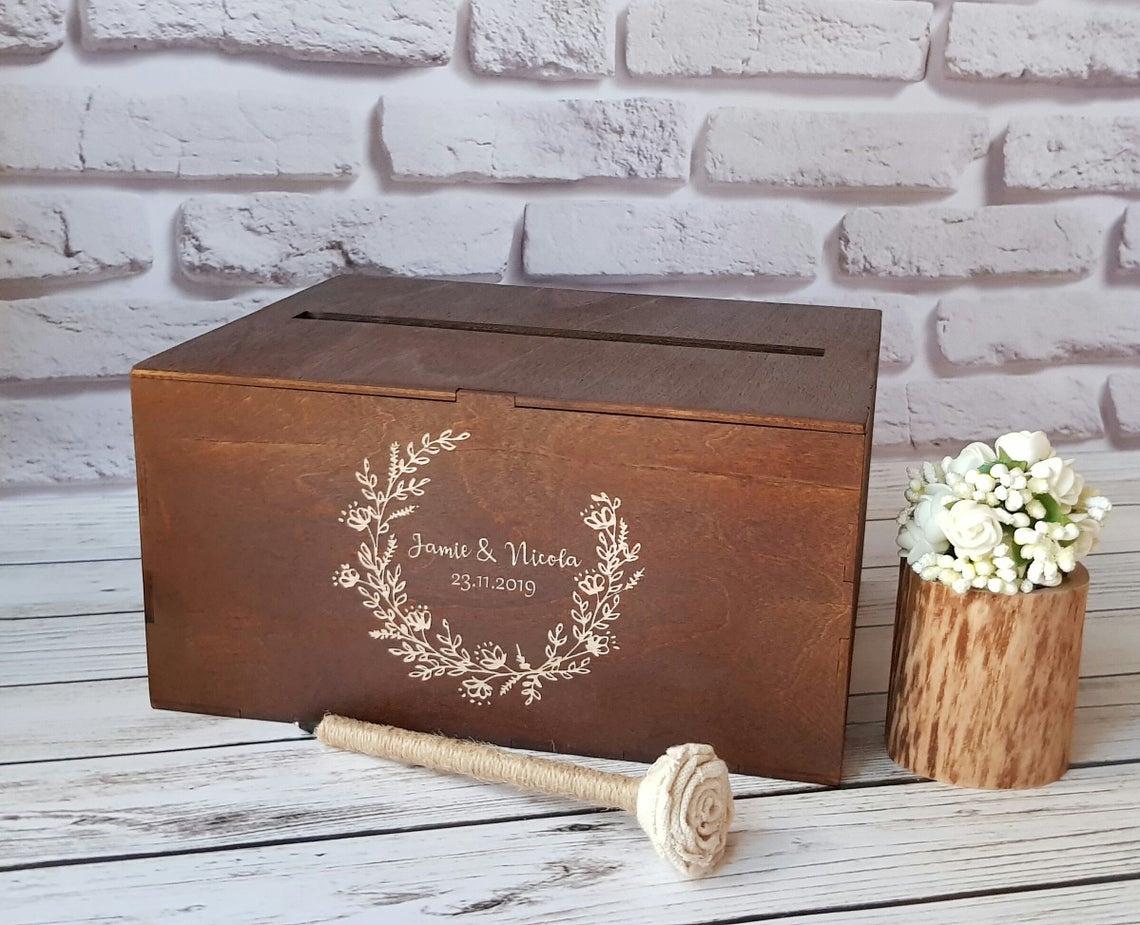 This wood card box comes engraved with a beautiful pattern of your choosing, from simple monograms to intricate floral wreaths (shown here).
RoyalWoodArt wooden card box, from $36, Etsy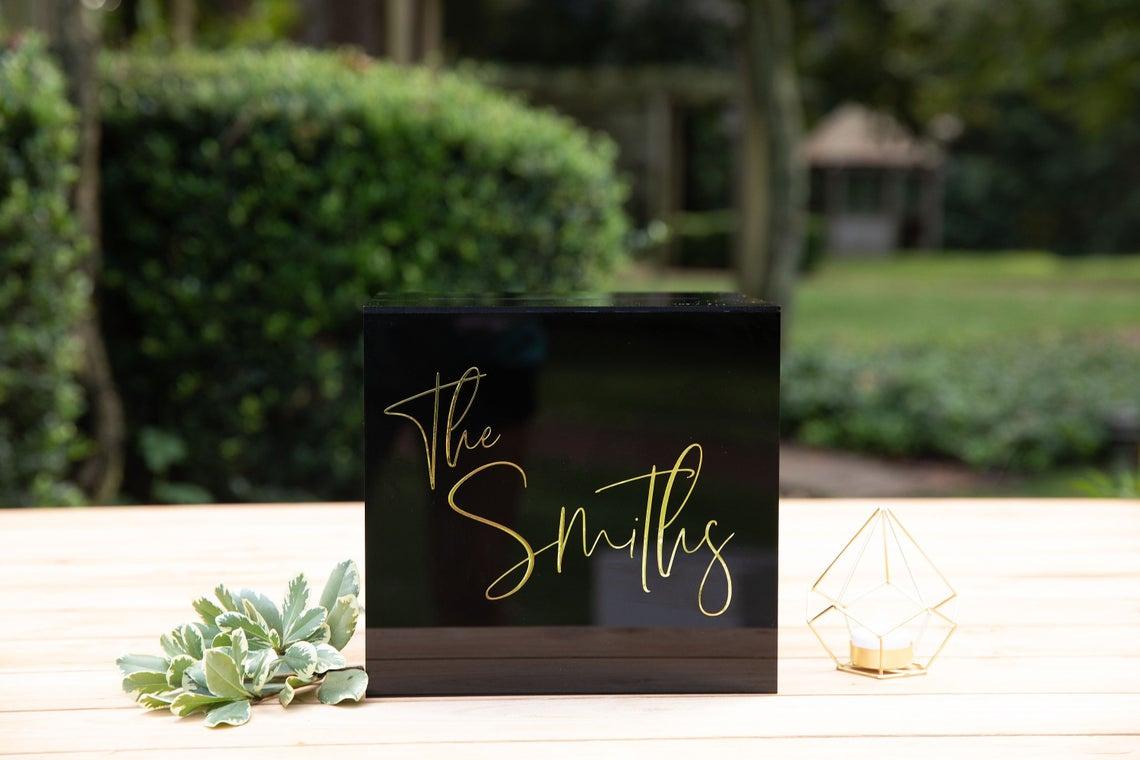 Perfect for an edgy glam theme, this chic wedding card box made from black acrylic can be personalized with your last name and more than 30 different lettering options.
SaveTheDateDesignsCo. black acrylic card box, from $90, Etsy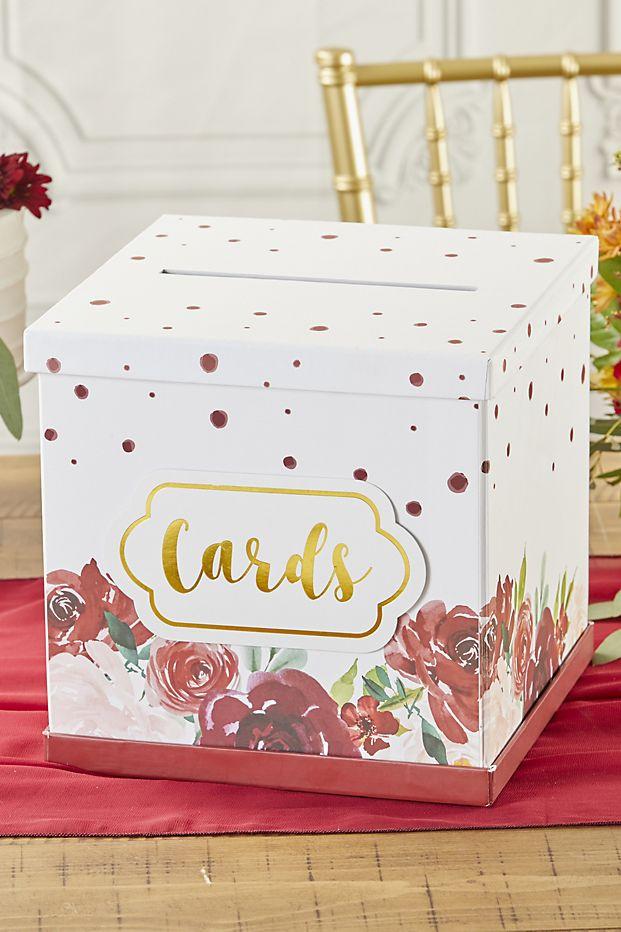 We love this floral wedding card box idea for a winter wedding, especially around the holidays. The burgundy red flowers are romantic and festive, with "cards" written in metallic gold calligraphy on the front.
David's Bridal floral card box, $23, David's Bridal
Not only will this keepsake box look gorgeous collecting wedding cards, but it can be repurposed as a terrarium or home decor after you're married.
JDevlinGlassArt glass display box, $80, Etsy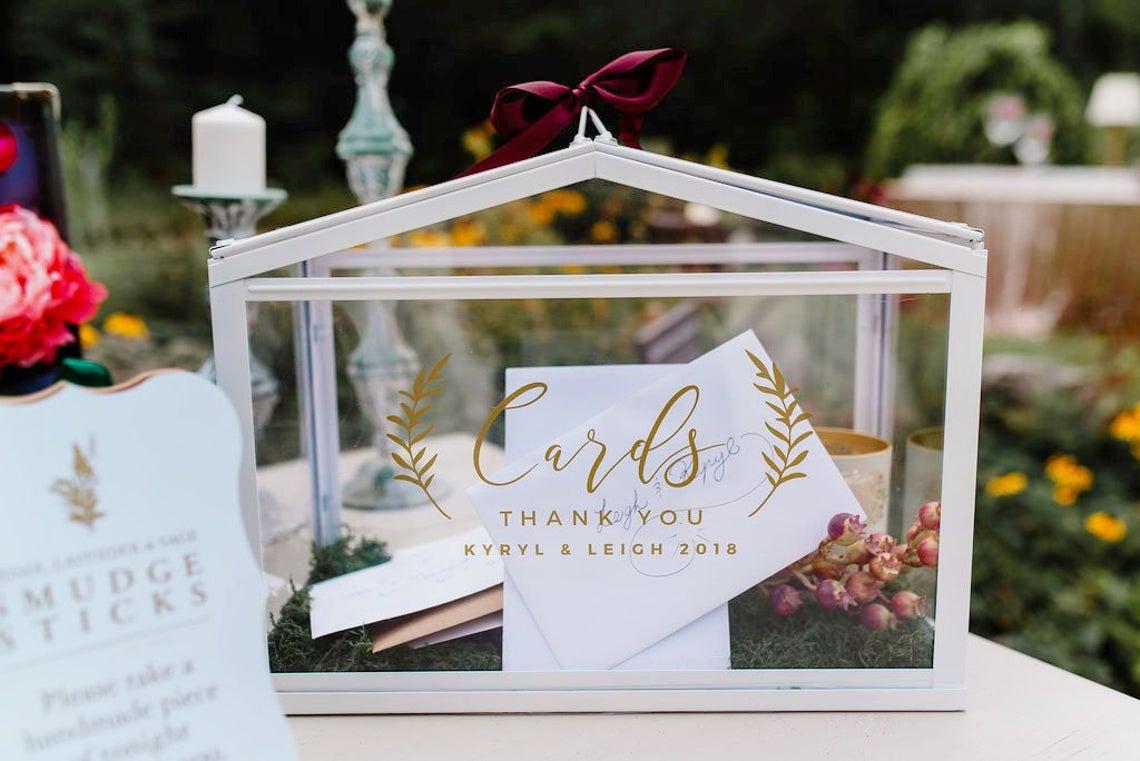 Create your DIY wedding card box with the help of this "cards" calligraphy decal, which you can customize by adding your wedding date, decorative motifs, or changing the vinyl color.
RusticHustleShop custom vinyl card box decal, from $10, Etsy