Essential Lesbian Wedding Advice: How to Handle 2 MOBs
Two brides sometimes means two (or more) MOBs! Find out how to avoid drama and hurt feelings when there are two moms involved.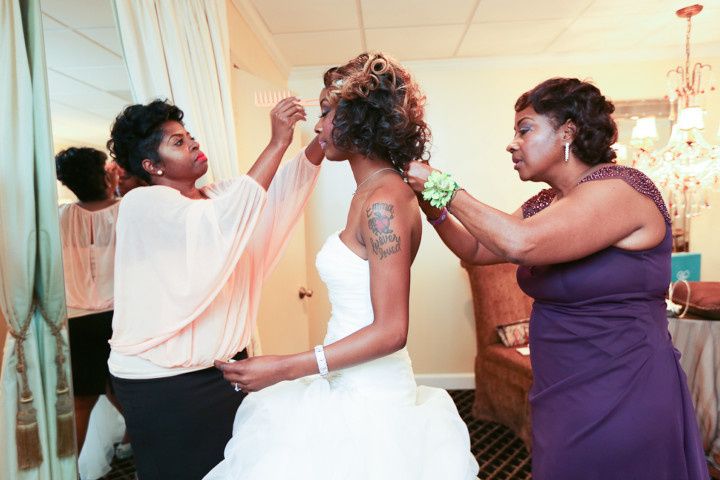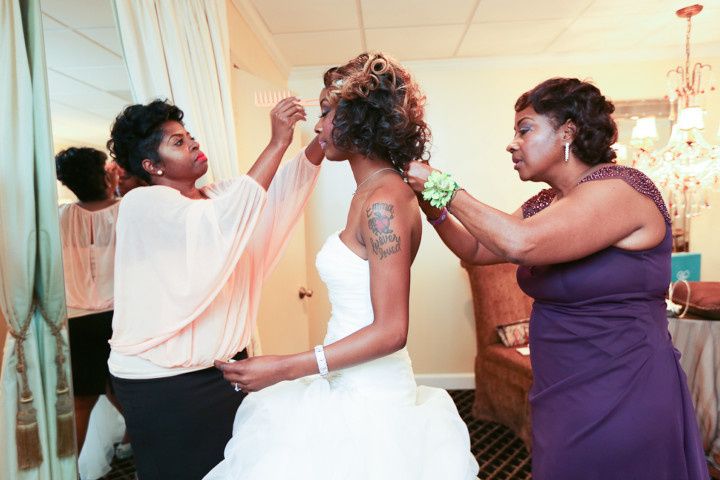 Photo: Same Sex Wedding Photographers
If you're lucky enough to have two happy, engaged mothers supporting you and your fiancée as you plan a lesbian wedding, congrats! But, while it's sometimes preferable to plan a wedding with the emotional and financial support of parents, it can be tricky when there are two mothers of the brides. Traditionally, the MOB is the second most important lady of the hour at a wedding, with her own set of rituals and time in the spotlight at an opposite-sex wedding. For queer couples with two brides, it can be an awkward tightrope exercise to make sure both MOBs feel celebrated and important during the lesbian wedding planning and on the big day.


Here's what you need to remember when there are two MOBs.
Get everyone on the same page.

This is a must for everyone who will be involved in the wedding planning, particularly for those who might be making financial contributions. For the mothers of the brides specifically, you'll want to be sure they are comfortable communicating with each other and that everyone is clear about what the couple expects from the MOBs (and vice-versa). If your folks haven't met your future in-laws yet, use this as an opportunity to have a friendly, working lunch or dinner, so there isn't a ton of pressure during the first meeting. Also, take this time to suss out the personalities in the room and how they might relate to lesbian wedding planning. For example, an extroverted, joke-cracking MOB might be more comfortable with duties like making a speech at the rehearsal dinner and wedding while a more industrious, shy MOB might want her contribution to be behind the scenes or more intimate.



Break up traditional MOB duties.

Some areas of wedding planning fall under the domain of "Mom duties," so what happens when there are two moms and two brides? This is when really clear expectations can be set about who's going to do what. If you're planning to have one joint bridal shower, make sure the moms are aware if one or both of them will be on planning duty, along with the MOHs. Other responsibilities, like helping the brides select their wedding attire, will be easier to decipher since your mom will help you and your girlfriend's mom will help her.

Additionally, the groom's family is expected to host the rehearsal dinner in opposite-sex weddings, so chat with both mothers early on to decide if either is up for the gig. This could be a great way to make sure both mothers have a pre-wedding event they can own.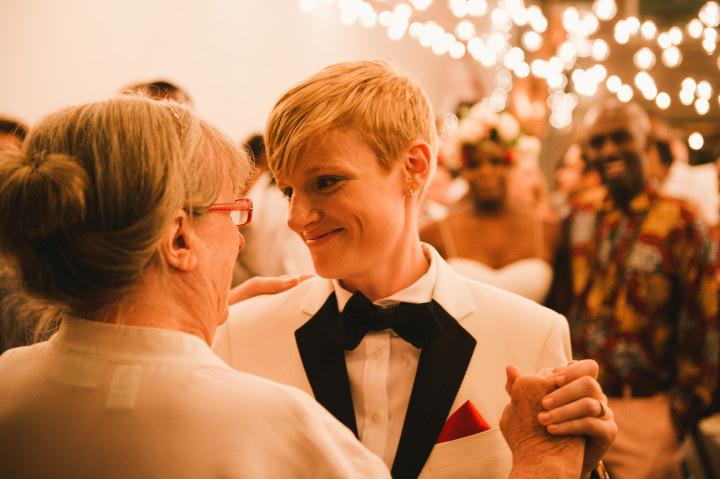 Photo: Bryan Sargent Photography
Treat both moms equally.

Many mothers dream of their daughter's wedding from the moment she's born, and have expectations for what that day will be like. Having two mothers who have these heightened expectations can be a recipe for drama, but avoid potential snafus by being sensitive to both your mother and your future MIL. Be careful to evenly split things, for example, if your mom invites 10 of her friends, then your MIL should also be able to invite 10 of her friends.

Also, be aware of how the mothers are feeling about being honored. For example, if your fiancée decides to wear her mother's veil with her wedding dress, your mother might start to feel pangs of jealousy if you don't also wear something of hers. Maybe a veil isn't your style, but ask her for a ring, watch, scarf or something else that has meaning that you might want to incorporate into your wedding attire. Beyond attire, maybe you'll plan to carry her prayer book with you down the aisle, or make a bouquet or boutonniere of her favorite flowers. These may seem like small details, but they go a long way to being sure your mothers feels included.



Since you and your fiancée are probably searching for wedding attire separately, it can be challenging to secure two MOB dresses or suits that match the wedding color palette, but don't clash with either of your attire choices. If you're working with a bridal salon, let your stylist know that you're also on the lookout for coordinating and complimentary attire options for your mothers. If you feel comfortable allowing your future MIL to know what you'll be wearing on your wedding day, have the MOBs get together, review the attire both of you will be wearing and then coordinate their outfits from there.




On your wedding day, your mother will expect to be acknowledged in some way. Traditionally, the MOB is escorted down the aisle before the processional as well as given some time to make a speech (along with other parents) during the reception. With two MOBs, be sure that both of them are given these honors, so neither feels slighted. You can also designate their seats at the ceremony with sweet signs or decorate them with their favorite flowers. Your photographer can also suggest some special photos you can take with your mother (and grandmother!) to commemorate the day for both of you. Lastly, don't rule out a mother-daughter dance! While you may be anxious to take a twirl with your dad, lots of brides are also choosing to do the same with their mothers.




Show your appreciation to both MOBs.

Mothers are a big part of your lesbian wedding planning support team, so don't forget to thank your mothers (new and old!) for their help. Write a thoughtful note to both mothers for them to read on your wedding day; order two beautiful floral arrangements or publicly thank them at your reception. You can also give your mother and your MIL your wedding bouquets at the end of the night as a sweet parting gift.