The 7 Biggest Bonding Moments You'll Experience During Wedding Planning
Wedding planning can put some stress on your relationship, but it can also totally strengthen your partnership.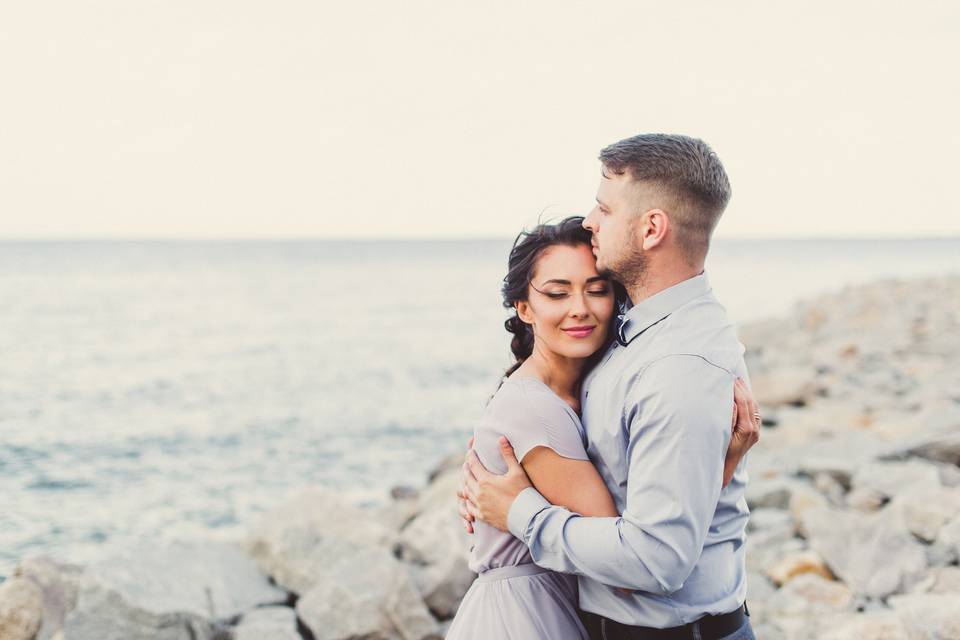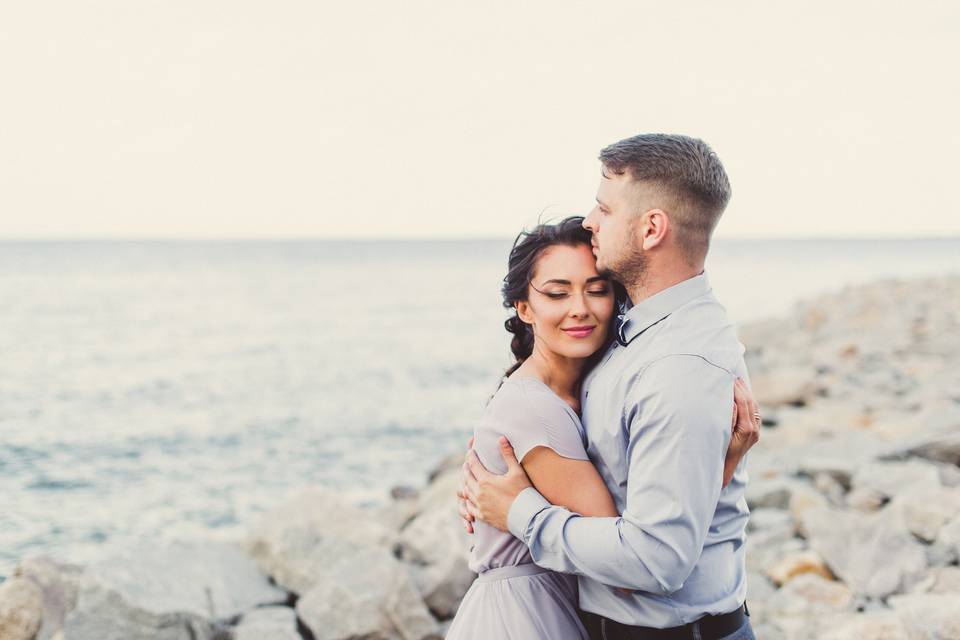 This much is true about wedding planning: It's incredibly stressful—but it's equally as meaningful for couples if they approach the process as a team. In fact, putting together your special day is a microcosm of married life, complete with pressure, finances, family dynamics, compromise, surprises, and more, says Shari Foos, MA, MFT, MS, NM, a marriage and family therapist.
"Dealing with unforeseeable challenges and last-minute changes can put any couple to the test," she continues. "But ironically, the very things that challenge your capacity to empathize and compromise are also the hurdles that give way to selflessness, generosity and the ability to see the bigger picture."
Rather than looking at hiccups along the way as a threat to your wedding fantasies, make an effort to find joy in the process. After all, at the end of it all is the person you have decided to share and build your life with. The reward is much bigger — and more important — than having the picture-perfect moment. "Couples who stay connected through the wedding planning process, who laugh at their disagreements, and who can quickly realize what matters most are more apt to begin their marriage in a state of love and grace," Foos adds.
Here, the most bonding moments during wedding planning that you should pause to appreciate:
When you name your wedding party and officiant
There are a few moments while putting together your wedding that make it feel incredibly real. Sure, getting engaged is step one. But once you start to decide who the important people will be, you are involving your loved ones, creating a whole new layer of excitement. These include asking your closest friends to be in your wedding party and selecting who will officiate your service. When you have the first meeting with the officiant, Foos says to be prepared to answer some meaningful questions, like:
What attracted the two of you?
Why do you think this marriage can sustain life's challenges?
What are your mutual values and goals? What are your most significant challenges as a couple?
"These questions, asked by a third party, provide the couple with the opportunity to think deeply, both as individuals and a couple, to clarify their goals and approach to life," she shares.
When you choose your first dance song
As the melody of the start of your marriage, the first dance holds tremendous meaning for many couples. And when you finally choose what it will be? You might get goosebumps! As psychologist Dr. Yvonne Thomas, Ph.D. explains, a couple's first dance song selection is so significant because it is a very personal and vulnerable expression of your feelings for each other, publicly displayed for their wedding guests.
"Along with choosing the special song for their first dance, practicing how they will dance to their song can deepen the couple's bond with each other," she continues. "Be it having a more traditional waltz or a more current, synchronized dance; the couple is working together as a team to celebrate their love with each other."
The moment you come together when things go wrong
Your top-choice DJ isn't available. Your bridesmaid is a pain. Your parents want to invite the whole town. The flowers you really, really wanted are out-of-season and too expensive. No matter how carefully you plan and prepare, something will go wrong, and as Foos says, some of the worst experiences become the best stories to tell later.
"Every couple has had mishaps or near disasters in the process of planning their wedding, that at the moment may feel like deal-breakers. But with time, you can look back at a small disaster you lived to tell as a reminder that you got through that together, and you can get through the next," she explains. "When something goes wrong at the last minute, and there's no time to fix it, you have three choices, you can freak out, you can go with it, or you can briefly freak out and then go with it."
When you book your wedding venue
Being engaged is blissful — and full of happy promises for your marriage. And while you may have envisioned your wedding day as a kid, it probably will look different as an adult. What really drills home the 'OMG, we are getting married!' realization is when you select your venue. It may be a complex process, but once it's settled, you can finally visualize your dreams.
"Finding the perfect wedding venue to exchange your most sacred words to your significant other is not only one of the most exciting parts of wedding planning," says bridal stylist Bri Marbais of The Bridal Finery in Winter Park, Florida. "Couples must do the work and spend the time creating their list of what's most important to them in their venue together. Your venue sets the tone for the entire wedding and will ultimately affect all of the other decisions that have to be made."
The time when you compromise
You really wanted to go retro-everything, but your partner is more of a traditionalist. You wanted the expensive shoes, he wanted the pricey champagne, but you had to stay on budget. Compromise is the recipe for successful wedding planning — and harmonious marriage. As Foos says, a connected couple learns to expect challenges and develops the communication tools to hear each other.
"Weddings are full of opportunities to meet in the middle, so make the most of those opportunities," she continues. "The ability to put aside your ego to join with your partner is a gift and a privilege. You can be right or happy. Being aware of and open about your triggers can help your partner avoid misunderstanding and hurt. Wedding planning gives you a chance to discover those pain points and work through them in a mature and loving way."
When you design your special day
At the heart of a wedding are you and your partner. And you have the opportunity to make it uniquely yours by adding intimate touches throughout the event. The design process is a bonding experience since it challenges duos to think carefully about what makes them, well, shine. It also is one of the first chances you have to combine your individual ideas into one, says wedding planner Valerie Gernhauser of Sapphire Events in New Orleans, Louisiana. For many couples, it's a full-circle experience, starting with ideation and ending with the grand finale and presentation on your wedding day.
One example? Something as simple — yet as personalized — as signature cocktails. You can have two to represent your distinct personalities and another to represent your relationship.
"It is a memorable touchpoint in the process for the couple that together feel that the day itself is becoming more and more real," she explains. "Our couple's often bond through this process and feel victorious when the design presented represents their values and vision effectively."
When you look back through photos
When you're building your wedding website or creating a slideshow for the rehearsal dinner or shower, you and your number-one will scroll through photos of your relationship. The experience of remembering where you started can help you remember all of the reasons you fell in love, says Jen Avey, the vice president of Destination Weddings Travel Group. "Looking through old photos from when you started dating is a great bonding opportunity, especially as you look forward to your future together," she explains. "Selecting your favorite pictures from your entire relationship helps you reflect on special memories."