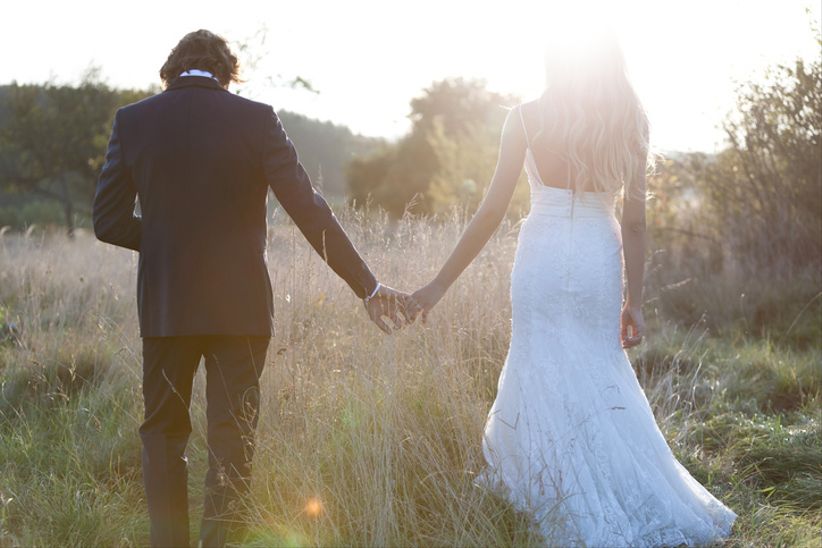 If we're keeping it all the way real, weddings can be annoying AF for a good swath of the population. And, if you're reading this, you might be in that number. Lots of things can make a person host a wedding despite their aversion — familial obligation, a fiancé(e) who's dead set on throwing one, or that nagging feeling that it's a once in a lifetime type of thing. Maybe you just never thought about having a wedding. Maybe you hate dressing up. Maybe the idea of being the center of attention for 12 hours straight gives you hives. Well, it's time to get over it, because you've got to figure out how to plan a wedding, despite you kind of hating them.
Here's how to plan a wedding when you're not that into the traditional process.
Consider an elopement.
There can be a ton of pressure on couples to plan an elaborate ceremony and reception, but weddings aren't one-size-fits-all. For many couples, an intimate declaration of their vows without the attention of others is a much more appealing prospect, and there's absolutely nothing wrong with that. Couples who choose to elope have tons of options, too. You can still participate in as much or as little of the conventional wedding activities are you want, including a wedding shower, a wedding registry and a reception for family and friends.
Get some support.
You're not alone, kiddo. Lots of people despise the idea of weddings, but still need to know how to plan a wedding. If this is you, find your cohort! Your school of fish, your pack, your gang — whatever you want to call them, locate other brides and grooms to be who feel similarly. Wedding forums are great places to go to find your flock. Comment on posts, send private messages to other wedding dissenters or start a post of your own to get started on the forums. Also, don't be shy about opening up to your network. Let your partner and close friends know you're not jazzed about the idea of planning a wedding so they can better support you.
Find some aspect of wedding planning you do like.
While it's easy to find the negative, as you're figuring out how to plan a wedding, focus on the positive aspects (no matter how small). Maybe creating a seating chart is a fantastic, meditative break from your anxiety-filled life. Perhaps the cake tasting is just the sweet treat you need this week. Or, your wedding gives you an excuse to obsessively text your favorite people. You've got to admit—some of these traditional tasks can be pretty fun. So discover your one non-terrible thing about wedding planning, be grateful for it and enjoy.
Surround yourself with real experts.
There are those out there who will insist being engaged makes you a charming prince or a dazed princess planning some sort of fairytale adventure. If you're reading this though, we're guessing that's not your jam. The good news is there are tons of wedding pros who realize you're an actual modern person figuring out how to plan a wedding while simultaneously juggling work, school, friends and the Whole Foods parking lot. It will make wedding planning infinitely more enjoyable if you hire wedding vendors who you really like as people. In addition to checking out past couples' reviews, scroll through the vendor's Instagram to get a feel for their personality. If they make you laugh in at least one post, you've got to reach out to that vendor. Those are the rules!
Take a deep breath.
Not to get all Deepak on you, but have you considered the idea that your hate of weddings is rooted in being way too stressed about your own wedding? It's easier said than done, but taking the time to zen out a bit might be the key to not hating every minute of wedding planning. Grab some healing crystals or meditate, if you're the New Age type. Talk with a therapist, snag some extra SoulCycle classes, justify those extra cuddles with Fido — just relax a bit more, by any means necessary.
Focus on the forest, not the trees.
You probably knew this was coming, but if you need to know how to plan a wedding when you hate weddings, you've got to focus on your why. You've committed to a lifelong romantic partnership. You have family and friends who want to celebrate you. You'll be gaining a whole gang of new family and friends once you tie the knot. These are things you probably appreciate about your upcoming wedding. So, when no one is RSVP'ing on time, or your bestie can't understand why she can't wear a white bridesmaid dress, or you get fed up having to bypass the Starbucks latte in order to save up for an open bar, remember there are actual humans you love who'll be brought together for your wedding. Not to mention you'll get to leave and start married life with your love.