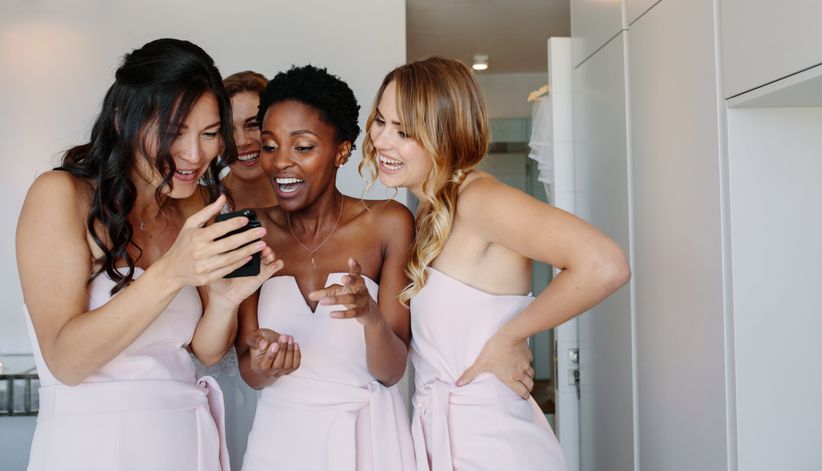 If you're in the throes of wedding planning, you may notice your phone blowing up a bit more than usual. In particular, you might find that wedding-planning-related group texts have practically taken over your life. Whether you're discussing the bach party with your wedding party or brainstorming escort cards with your planner, a lot of wedding planning is done via text these days (for better or worse).
Here's a list of group texts that you might want to set up as you begin your wedding planning journey.
The Wedding Party Group Text
Once you've selected your wedding party, some eager bridesmaid or groomsman will probably get a group text going pretty quickly. This group text will be useful when discussing bachelor/bachelorette party plans ("Should we do Vegas or Iceland?"), choosing and ordering attire ("What's the style number for the dress again?"), and confirming travel and accommodations for the wedding weekend ("Who's rooming with who?" "I waited too long to book my hotel room, can I crash with someone?"). You can also ask use the group text to ask for advice from your besties ("What do you think of this dress for the rehearsal dinner?"). You may end up having several group texts going at once—with the bridesmaids, the groomsmen, and perhaps the wedding party as a whole. It's a great way to get everyone bonding before the wedding—whether your wedding party knows each other well at the get-go or not.
The Complaining About the Wedding Party Group Text
As you get closer to your wedding day, you might find that your wedding party splits off into factions—particularly if your crew is on the bigger side. Perhaps there's one bridesmaid who's gone totally rogue or a groomsman who isn't pulling his weight. While a cliquey wedding party is never a good idea, it's pretty likely that a separate group text will emerge at some point to dish about any drama. This might just be a private text between you and your maid of honor or best man, but it's bound to happen.
The Family Group Text
Perhaps you already have a family group text that consists of your parents and siblings. Whether it's asking your mom for that enchilada recipe or sharing your thoughts on the latest episode of This is Us, a family group text is a great way to keep in touch with your loved ones—especially if you don't live nearby. However, once you start wedding planning, the topics of your family group text might start to focus more on the big event—especially if your parents are contributing financially.
The Complaining About the Family Group Text
If you have siblings, you may have put together a splinter family group text that's just you and your sibs. You might use it to keep in touch if you live far apart, or as a way to sneakily complain about or make fun of your parents. Again, you might start discussing your wedding a bit (okay, a lot) more in the months leading up to your big day, from "Can you believe the outfit Mom wants to wear to my wedding?" to "I don't understand why Dad is complaining about how the catering bill!" to "Why does Mom want to invite Great Aunt Joan? They haven't talked in 10 years!" It's a good way to vent about your parents during wedding planning without blowing up at them—never a good idea.
The In-Laws Group Text
If your future spouse has a group text with his/her family, you might be given the honor of being added to said group text. Then again, you might not and that's totally okay. If you are included, you'll have to follow your in-laws' lead when it comes to this group text and perhaps keep your messages pretty tame. You might use this group text for wedding-planning related reminders or questions like "Just wanted to make sure you booked your hotel reservation!" or "Can you please send me your guest list so I can start working on the save-the-dates?" This is not the place for snark or passive-aggressiveness. If you're having in-law issues, you'll want to discuss them with your future spouse and let him or her take the lead in handling.
The Vendor Group Text (Maybe)
While it's unlikely that all of your vendors communicate via text, it's possible that some will. If there's a vendor or two that you're frequently chatting with (probably your wedding planner), you might end up starting a group text with that wedding pro and his or her team to run through ideas or talk logistics, particularly as it gets super-close to your wedding day. Of course, there is some etiquette involved with texting your wedding vendors, so be sure to keep your texts wedding-planning related—and avoid overdoing it or taking things too far into "friendor" territory.