How to Handle Divorced Parents While Planning a Wedding
Experts share their most helpful advice when it comes to handling wedding planning with divorced parents.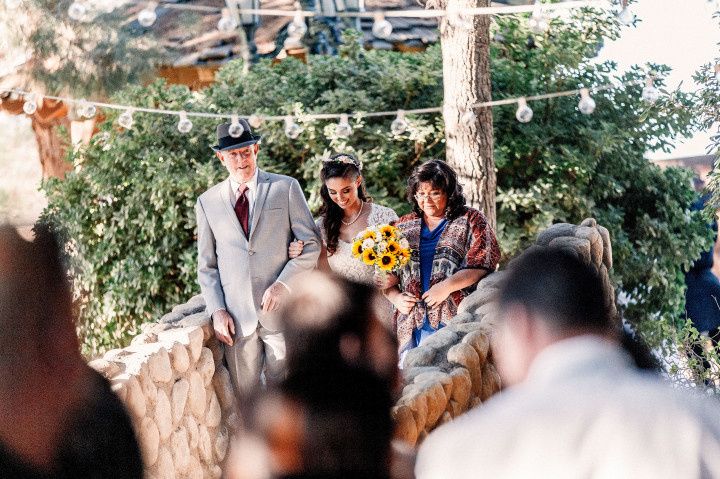 Planning your wedding is an exciting time. Not only are you joining your significant other in matrimony, but your individual families are also coming together to form a single unit. However, if one or both of you are wedding planning with divorced parents, you may be feeling a bit (or a lot) less "together" in this whole wedding thing. It quite possibly will, or already has, make planning difficult.
As Deborah McCoy, president of the American Academy of Wedding Professionals, explains, if the divorced parents have remarried, or one or more is in a serious relationship with another, the problems are magnified because there's the added dynamic of different personalities (who are not family members). "Trying to please everyone can be a nightmare, especially if you have a couple who ignore the issues and believe that 'everyone should come together on their day,'" she says. "That attitude is not the way to win friends or divorced parents to your side."
So how should you handle wedding planning with divorced parents? Here, experts share their best advice.
Fill your planner in on the family dynamics
While it might feel like personal information—and it is—it's important that your wedding planner or coordinator understands the divorce dynamics of your family. "Planners have been there and done that, so don't be embarrassed to spill the details," says Danielle Rothweiler of Rothweiler Event Design in Verona, New Jersey. "Planners can't avoid problems if they don't know what they are dealing with."
You should clue your photographer into the situation, as he or she will need to know for picture-taking purposes. Jimmy Chan of Pixelicious in Montreal, Canada, sends a mini-questionnaire in advance, along with the names of the wedding party members, emergency contact information, etc., to his clients to cover all bases. "We really don't want to be caught asking, 'Let's take a group photo with the parents,' in which the bride says, 'My mom can't stand being next to my dad.'"
Give each parent a specific task that he/she "owns"
"One thing that we've seen work with divorced parents at weddings in the past is to give each parent a specific task that they 'own' that won't involve them having to work together," suggests Tasha Bracken, of SD Events in Boston, Massachusetts. "For instance, if one parent really enjoys food, allow him or her to be part of the menu selection process. Maybe the other enjoy music, so get them involved in selecting music for the cocktail hour or reception." This gives both parents the opportunity to play an integral role in the planning process, which will help keep pressure off of you and your partner. "If both parents do end up contributing to the wedding, and they don't get along particularly well, it's best to keep this information confidential to keep the peace," Tasha adds. "That said, if there are issues that arise, address them head-on immediately—don't ignore them."
Be mindful of their feelings
"Many brides and grooms are so wrapped up in their own wedding-planning to-dos that they often do not realize how difficult it will be for their divorced parents to put on a happy face at the wedding when it's so uncomfortable for them to do so," explains Deborah. "Put yourself in their shoes and everything you ask of them, ask if you'd be willing to do the same if the tables were reversed." Try validating their feelings and reminding them that you're so happy to have them both as a part of your special day.
Avoid sitting them together at all costs
A simple rule that wedding planners recommend as a way to avoid unnecessary drama on the wedding day is to have the divorced parents sit far away from each other. "Picture the typical church having two sides (with the aisle down the middle)—put mom on one side and dad on the other," Jimmy suggests. "This allows them to have the best front row seats, yet separated." When it comes to picture time, Jimmy likes to place the couple in the middle between the parents or takes two group photos, for example mom with stepdad then dad with stepmom.
Broker all deals
In other words, whatever decisions you make that you feel could cause problems or issues for your divorced parents at the wedding, discuss it with each of them beforehand. "Adapt the attitude that you want to make everything as comfortable for them as possible so that they can enjoy the day as much as you do," says Deborah. "They will respect you for your maturity, thoughtfulness and graciousness—and will probably do more to lick their wounds and come together for you—more than you ever imagined possible."