The Cutest Dog Wedding Attire for Your Furry BFF
Your furry friend is adorable already, but some carefully-chosen dog wedding attire will add the right festive touch for your big day's VIP (Very Important Pet!).
We have included third party products to help you navigate and enjoy life's biggest moments. Purchases made through links on this page may earn us a commission.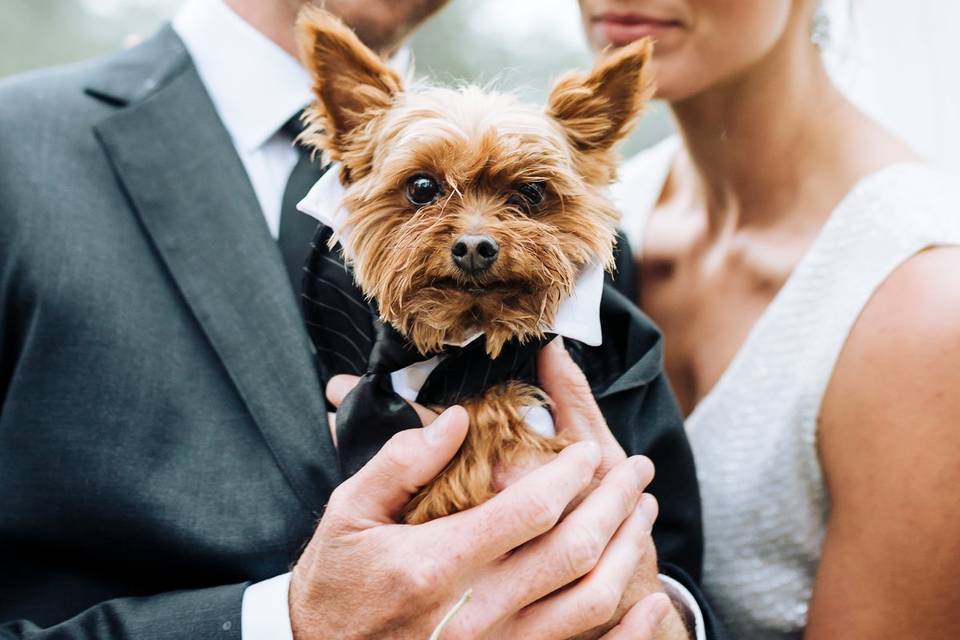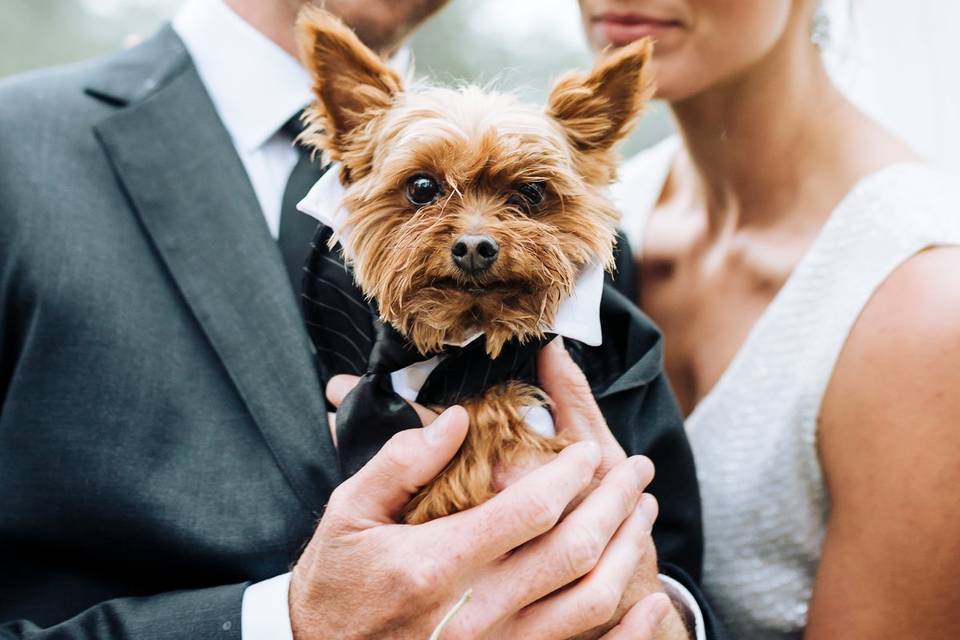 Here comes the pup! If you can't imagine celebrating your special day without your best furry friend, why not include him or her in the festivities? If you're shopping for dog wedding attire, there are lots of gowns, tuxedos and accessories to glam up your pooch—and make for some pretty adorable photos. And don't forget to give your pet a special gift to commemorate your big day—like a subscription to BarkBox, which will deliver a selection of toys, treats, and more right to your door.
So whether you want your bark-buddy to go all out in full dog wedding attire, or you're simply searching for some cute pet wedding accessories, you're sure to find what you're looking for.
Dog Wedding Outfits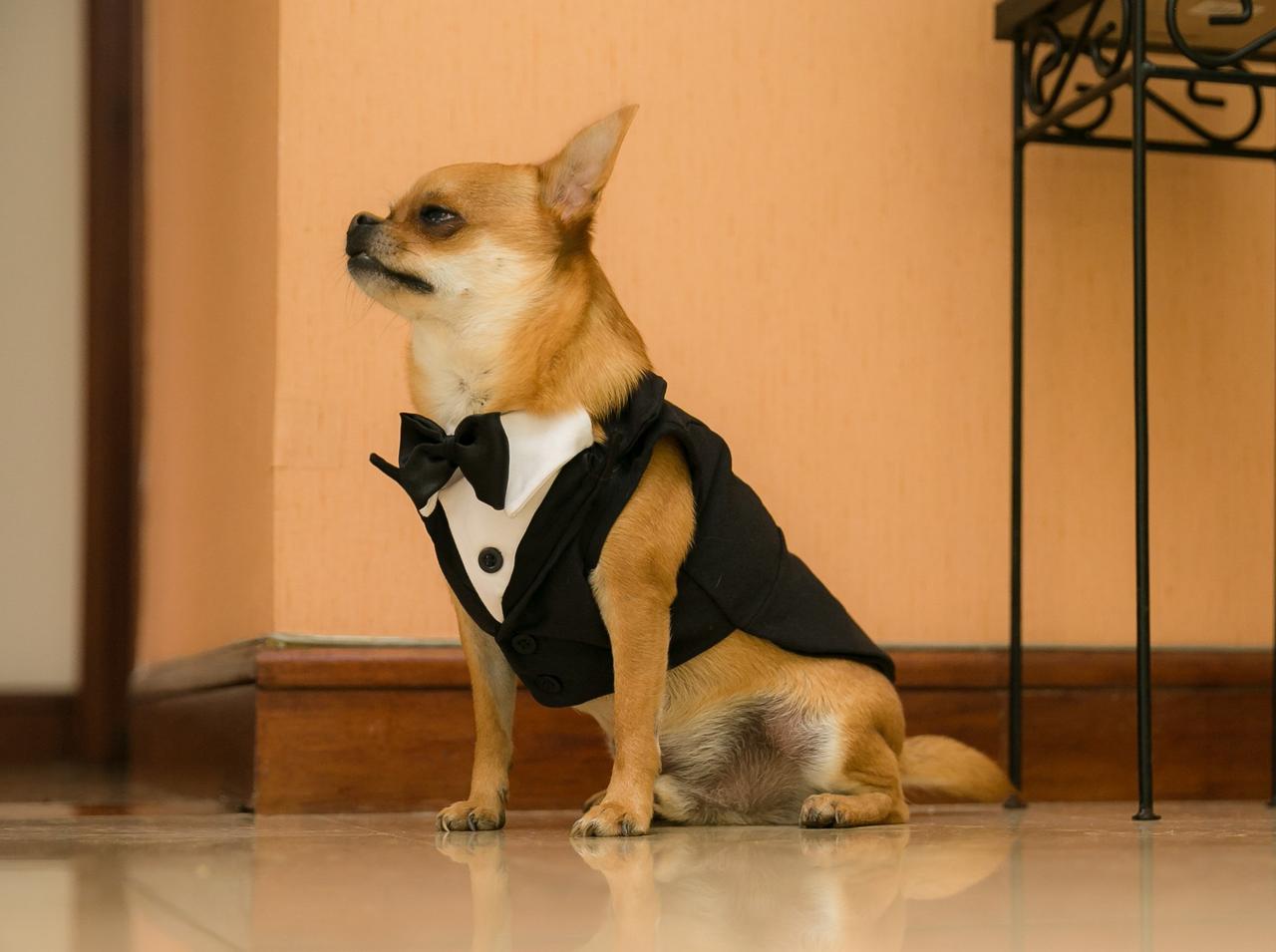 Need a tux for your pup? This silk and spandex number is just right for your fur-buddy on your big day. It's available in sizes ranging from extra small to extra large for a great fit no matter your dog's size. Intricate details like real buttons and reinforced hems make this dog wedding attire a great choice.
Creatture dog tuxedo, $70, Etsy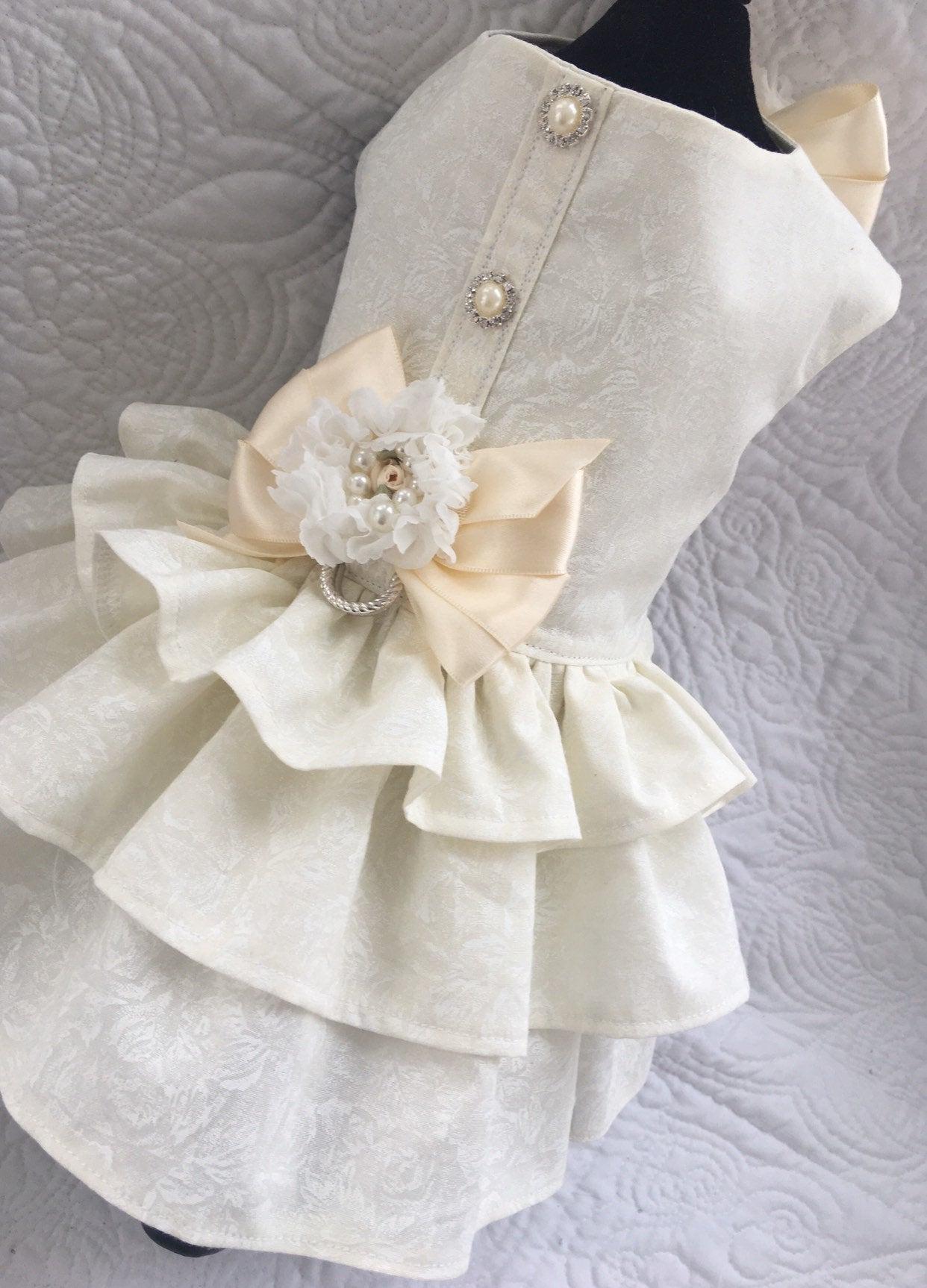 You'll look stunning in your wedding gown, that much is for sure. But if you want your pet to look amazing as well, you'll want to put her in this gorgeous wedding dress for dogs or cats. Made with high-quality fabric and a bow that you can customize to match your wedding color, this dog wedding outfit comes complete with a discreet leash harness that rests just below the flower.
Gracie's Paw Prints dog wedding dress with harness hook, $49, Etsy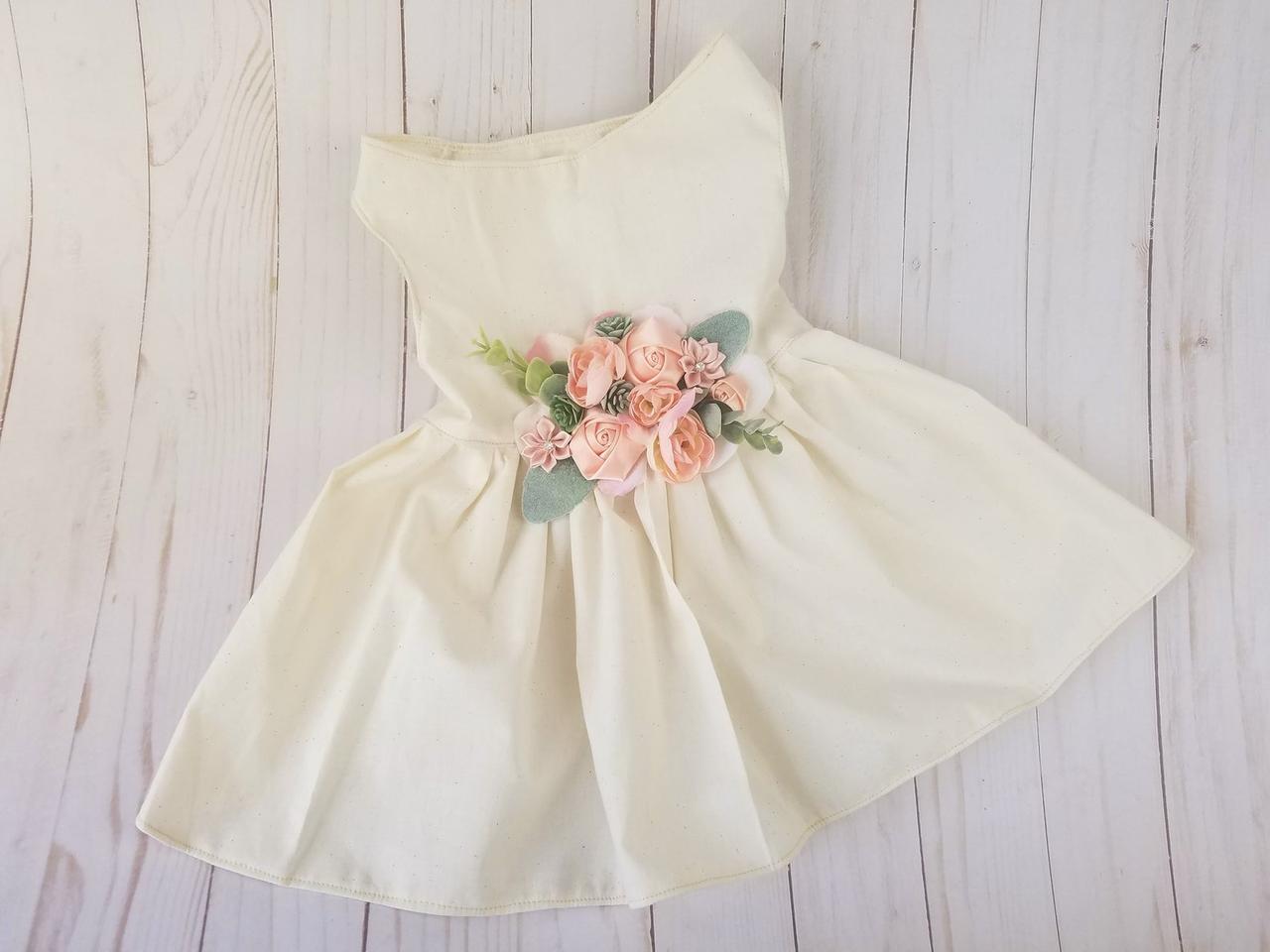 You won't want to walk down the aisle without your pup when she's decked out in this gorgeous wedding dress for dogs. Pastel-hued floral detailing at the waist matches with an optional collar and even a leash! It's the total package when it comes to girl dog wedding outfits.
House of Fur Baby wedding dog dress, from $28, Etsy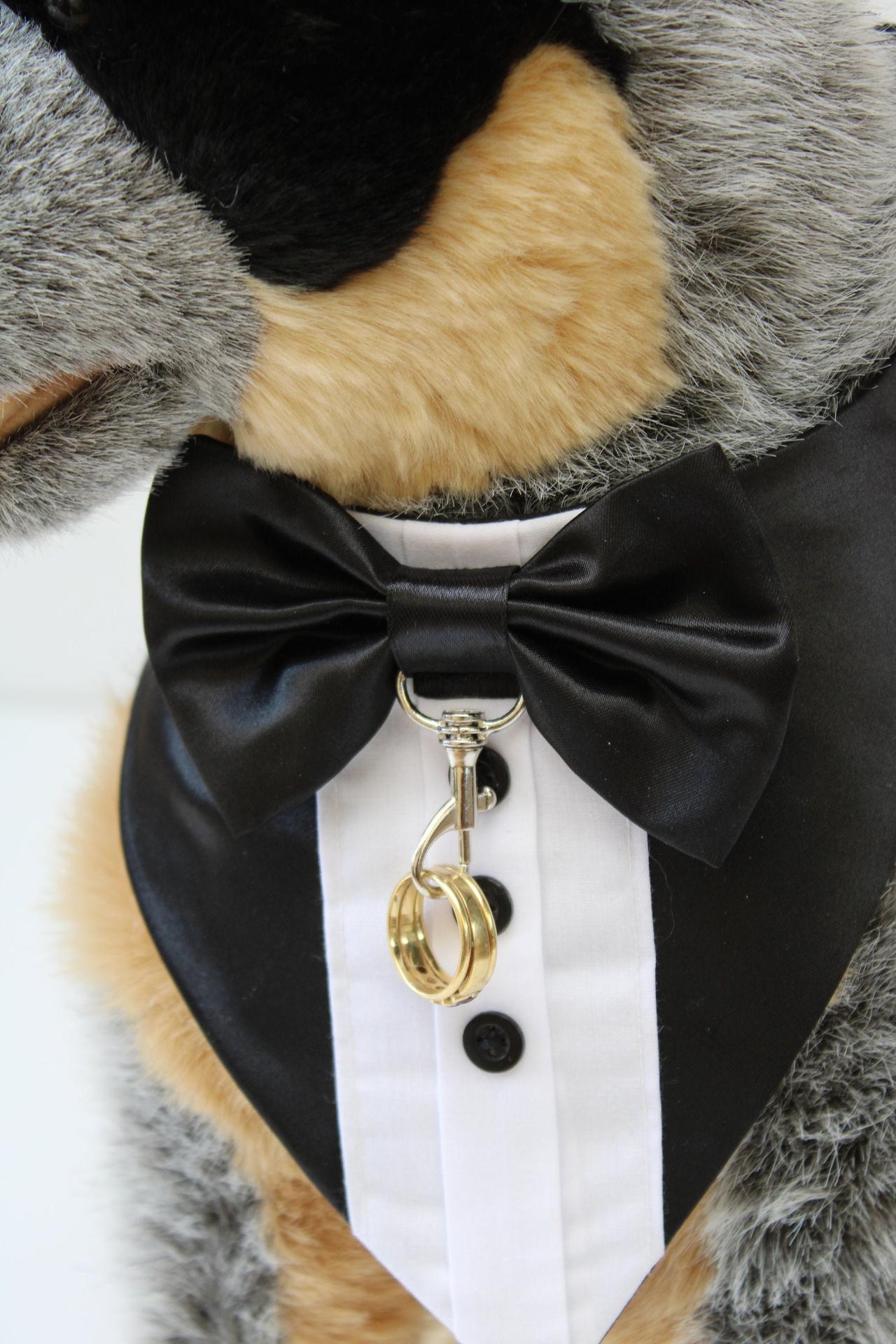 Pup's not the type to wear a tuxedo? Who can blame him—after all, they can get a bit uncomfortable! Let him off easy when you fasten this tuxedo collar around his neck. He'll look like he's decked out in black and white when really, he's wearing something he's pretty comfortable in. It's a win-win for him!
Lucky Pooches tuxedo bandana, $17, Etsy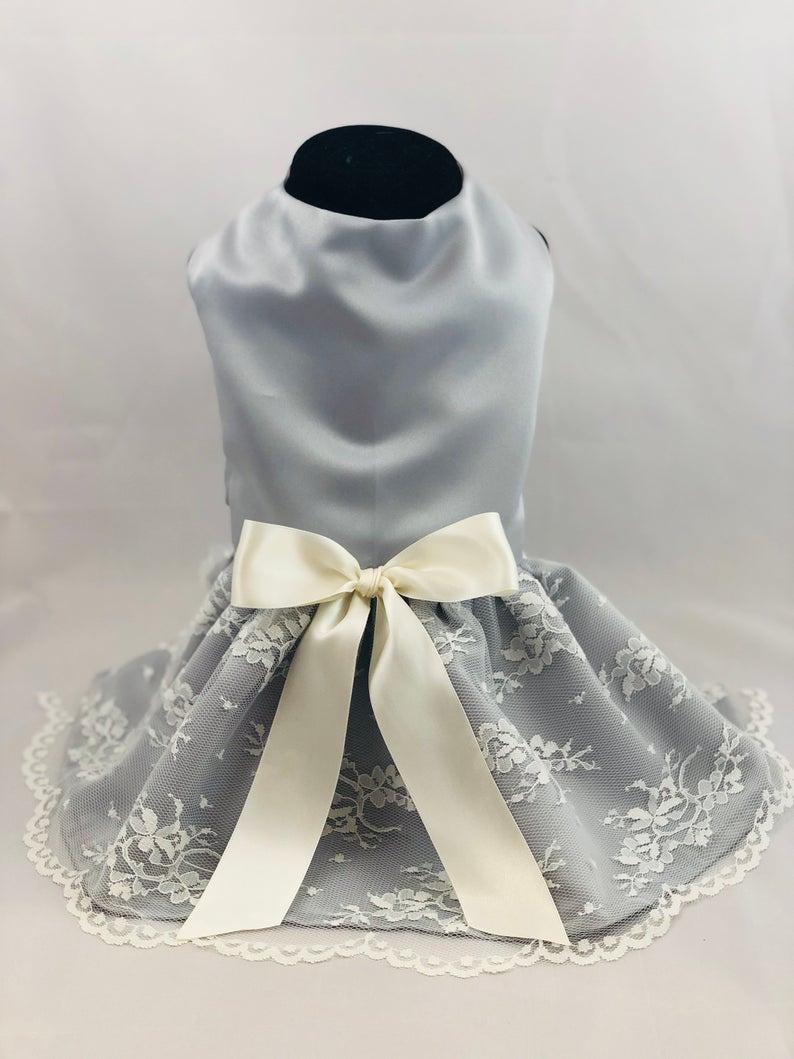 Wrap your pet in beautiful satin and lace on your wedding day when you opt for this dog wedding outfit. Shown in grey and ivory, it's completely customizable to match your wedding colors so your pup can fit right in on your special day.
Ruffle Runway custom dog wedding dress, $57, Etsy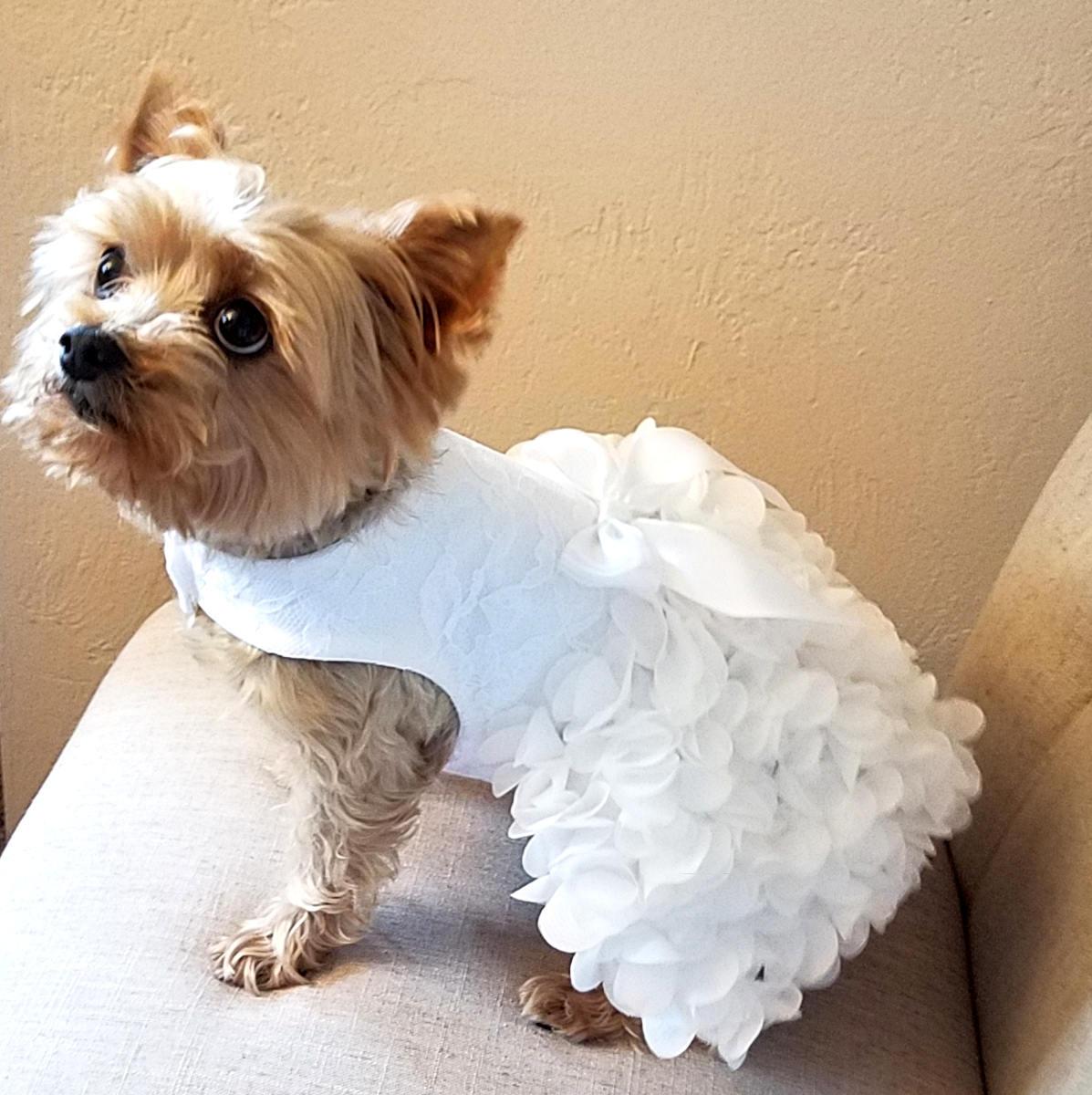 How can you say no to this adorable satin number if you're looking for dog wedding attire? It features a lace bodice with matching ruffled skirt—so cute!
Trixie's Dog Fashion dog wedding dress, $75, Etsy
Dog Ring Bearer Collars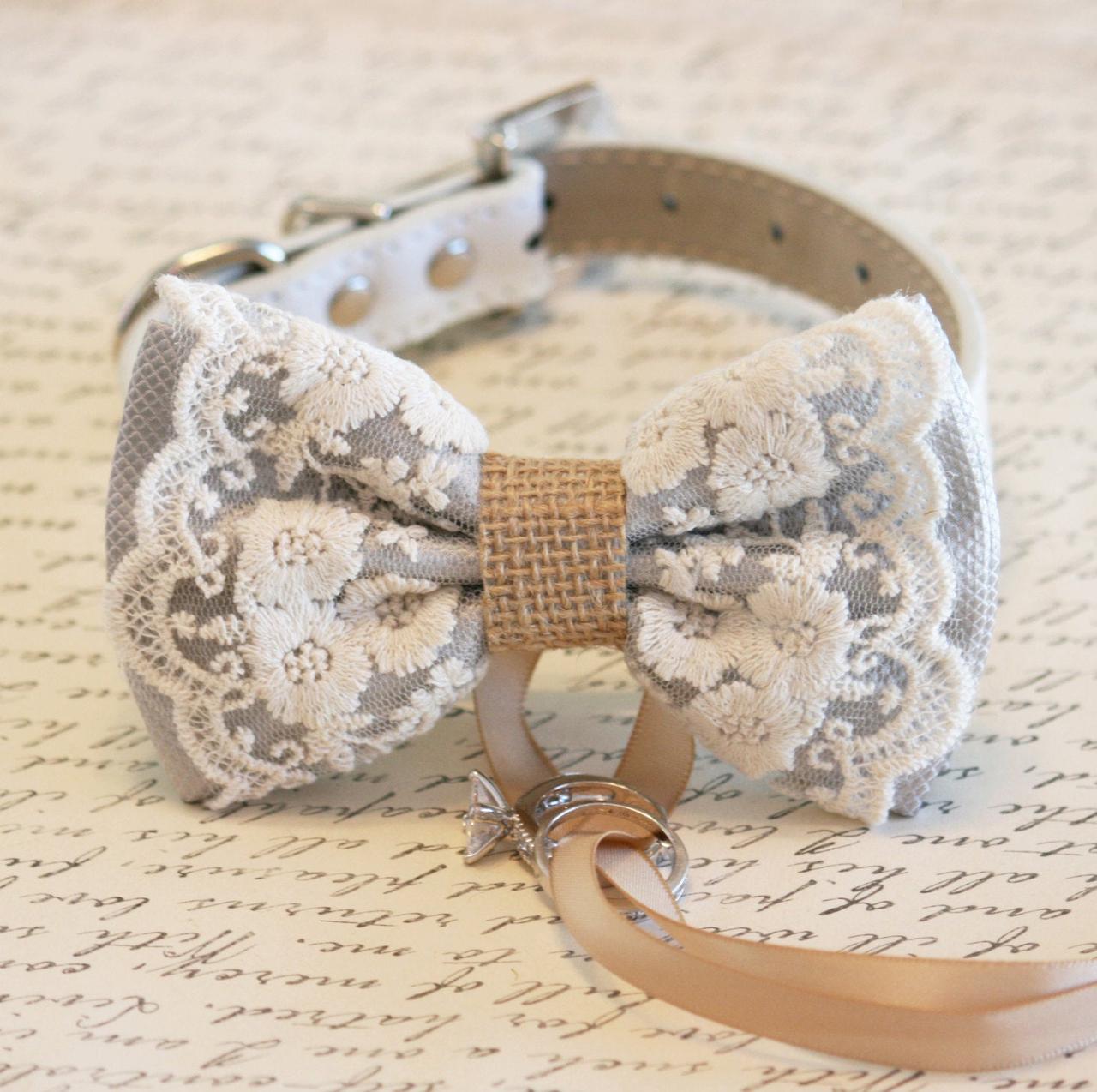 Planning a rustic affair? This dog ring bearer collar will look right at home! It's designed with lace and burlap for a rustic look you—and your pup—will love. Choose from a variety of colors for the collar, which comes in sizes XS through XXL to ensure a proper fit. Two ribbons are used to safely secure the rings as your pup struts down the aisle.
LA Dog Store grey burlap bow tie collar, $39, Etsy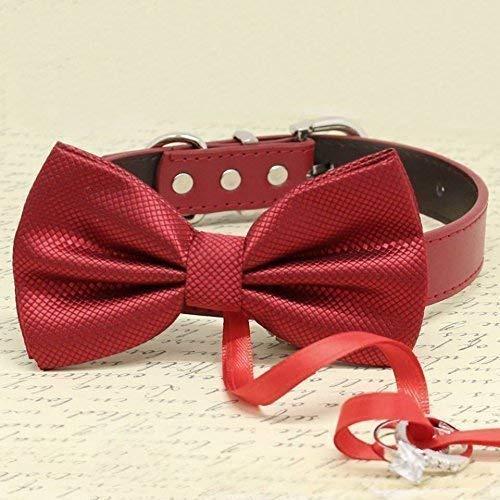 Or maybe this chic red dog ring bearer collar is more your speed. He'll be a fashionable fur-friend for sure when he shows up wearing this dapper red bowtie collar. Ribbons in the same color are used to tie your rings.
LA Dog Store red ring bearer collar with bowtie, $32, Amazon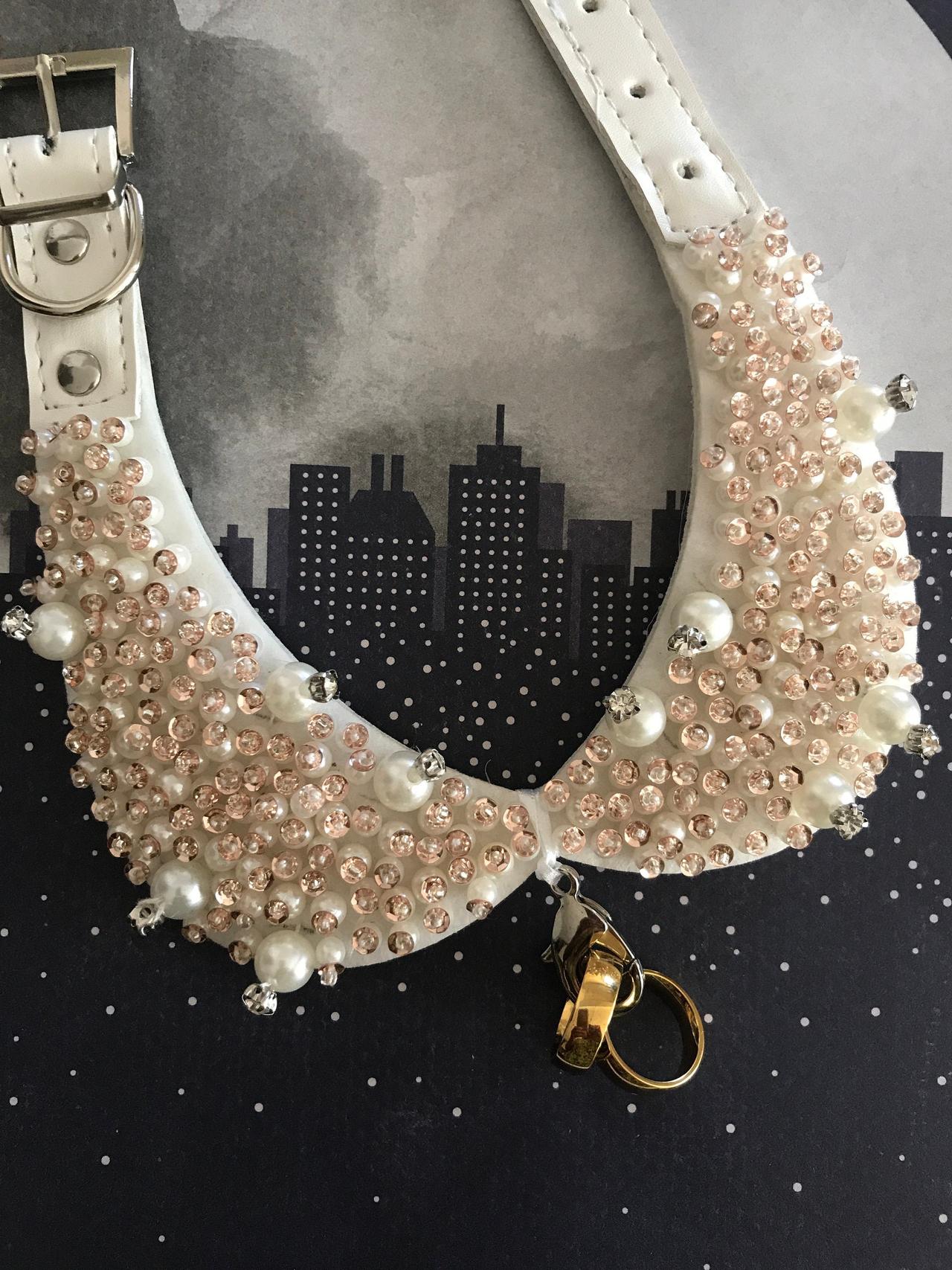 Deck her out with pearls when you choose this gorgeous dog ring bearer collar. It's designed to look like the collar of a pearl-studded evening gown, with a subtle silver carabiner clip to secure your rings on your special day.
Little Lockets London ivory pearl-studded dog collar, $37, Etsy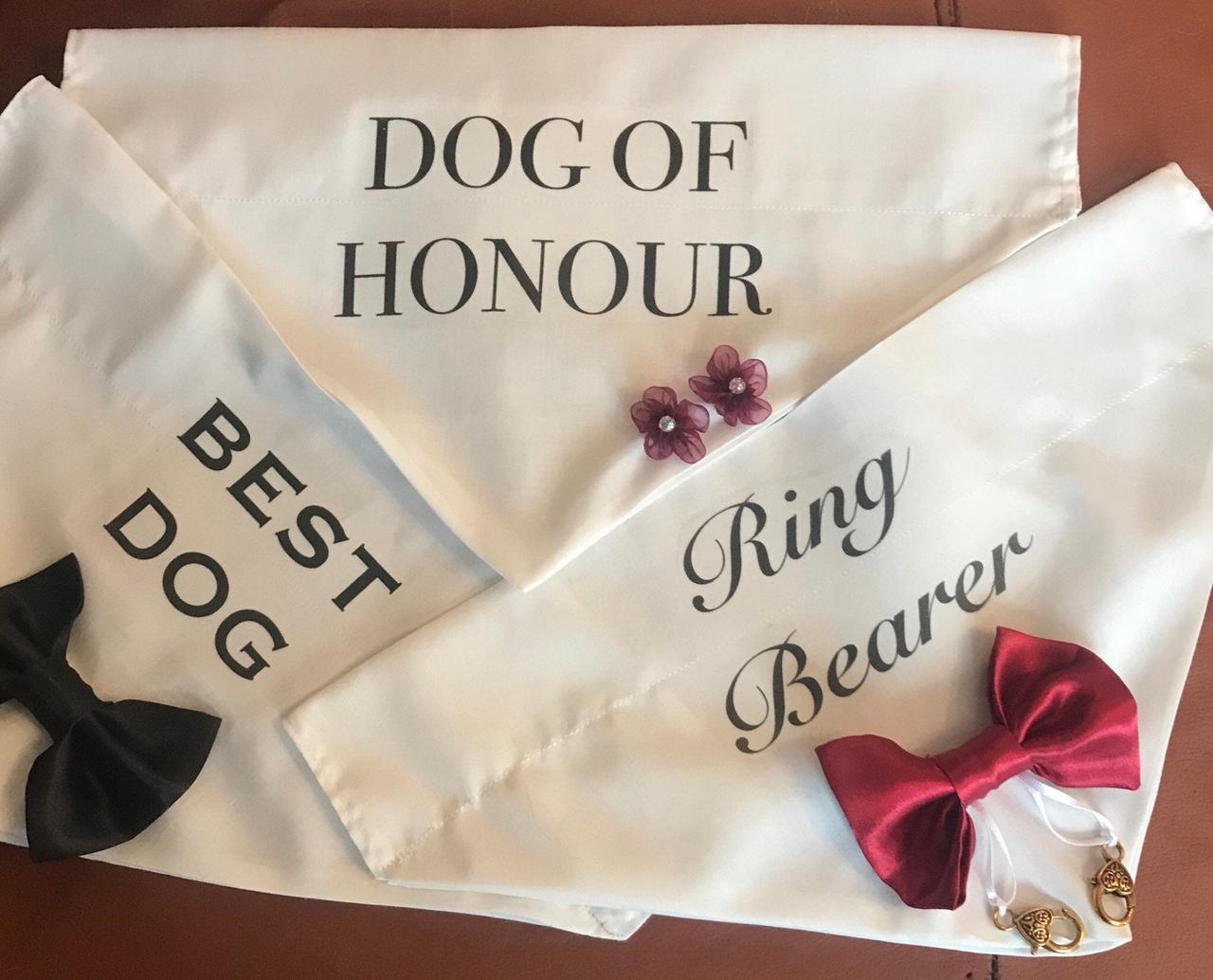 For a look that's a bit different, why not opt for this bandana to use as a dog ring bearer collar? It proudly proclaims your pooch's status in your wedding party, while a bow or floral accent (your choice!) provides a safe space for your rings in the form of two small carabiner clips.
Storms Style wedding dog bandana, $9, Etsy
Dog Ring Bearer Pillows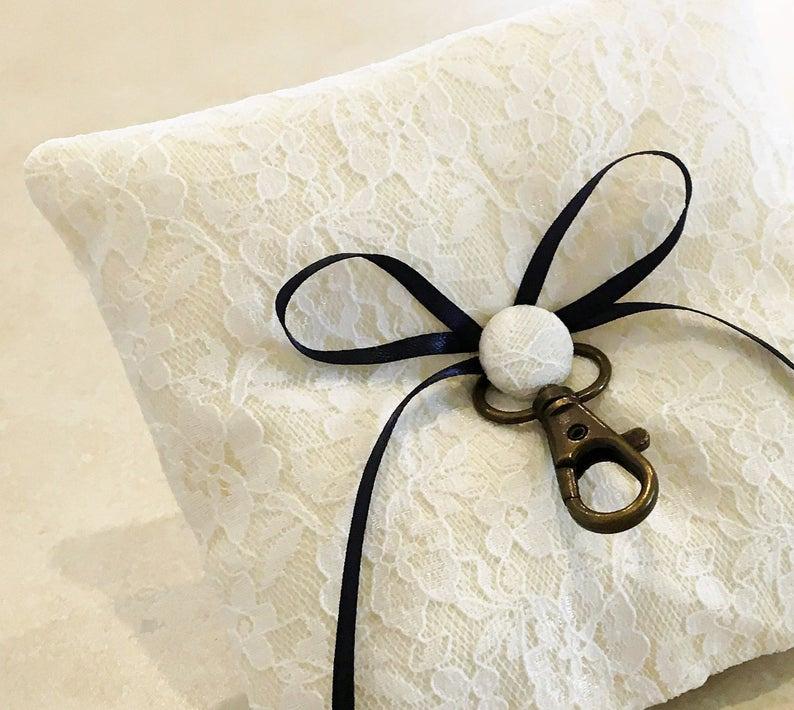 This dog ring bearer pillow from Etsy seller Smile Awhile Pets is so simple, yet so pretty. A ribbon in the color of your choice rests atop an ivory lace ring pillow adorned with a single white flower. A clasp to attach your rings is available in three different finishes; gold, silver or antique brass. These ring pillows are also useful if you're looking to propose with the help of your pup!
Smile Awhile Pets dog ring bearer pillow, $13, Etsy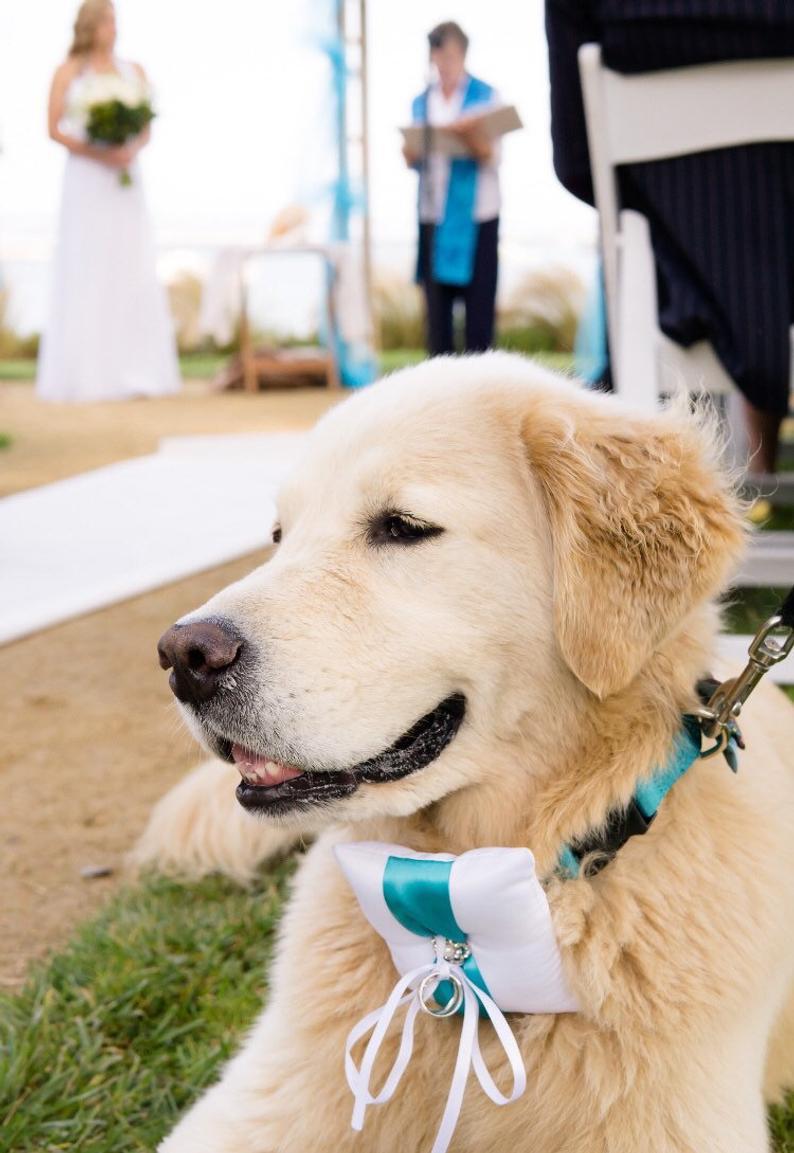 If you want your pooch to "carry" the dog ring bearer pillow on his or her collar, this is the one for you. Choose from white or ivory for the background, and a rainbow of colors for the accent ribbon. Your pup can wear it on his back, on the side of his neck or even under his chin, since the pillow easily slides along the collar for a custom look.
Yvettes Little Shop custom color dog ring bearer pillow, $25, Etsy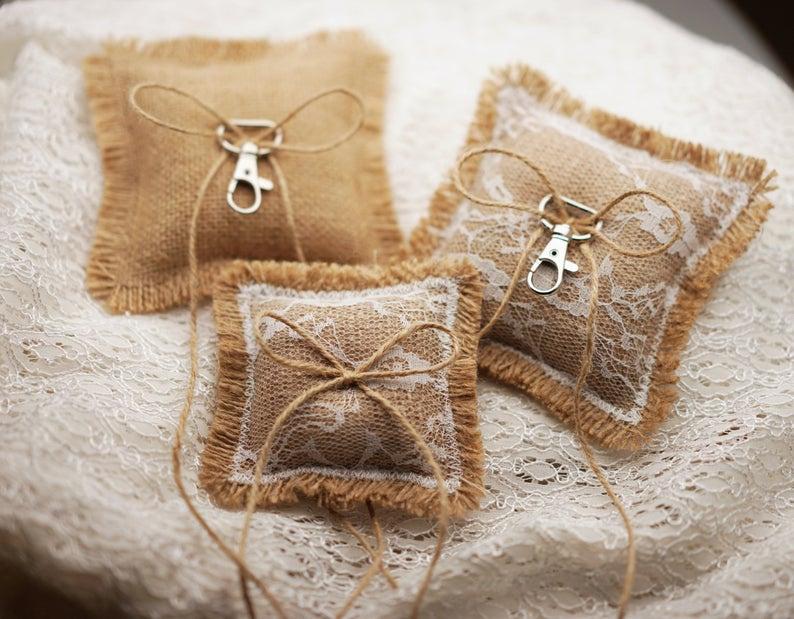 Looking for a dog ring bearer pillow to coordinate with your rustic theme? We've found it right here! This adorably tiny pillow is the perfect dog wedding attire if your furry friend will be your ring bearer. Here, a minimalist burlap bow rests atop the pillow along with a secure clasp for your rings.
Twinkle Mingle burlap dog ring bearer pillow, $10, Etsy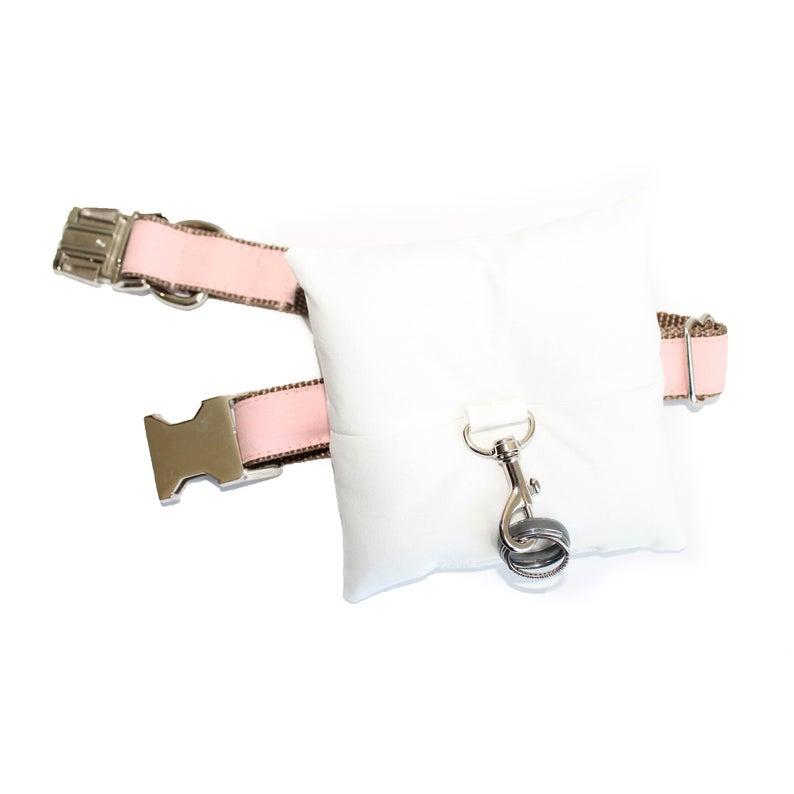 One of many posh products in their line of dog wedding attire, this dog ring bearer pillow from Poppy Parker on Etsy is the perfect way to include your pooch in your wedding day. Available in a host of colors to coordinate with their other accessories (perfect if your day will feature more than one furry friend), this clever ring pillow slips over the included collar for a secure fit. And bonus—the handmade collar is totally cute enough for everyday use as well.
Poppy Parker Market dog ring bearer pillow, $27, Etsy
Dog Wedding Accessories
Maybe you'd like your pup to look festive on your big day without going full-on wedding gown. It makes sense that you'd want to be the only one in a gown, after all. Try this "tutu" cute dog wedding attire! A chiffon tutu is all your pooch needs to stand out without stealing the show.
Tutu Joli Store white pearl bridal pet tutu, $14, Etsy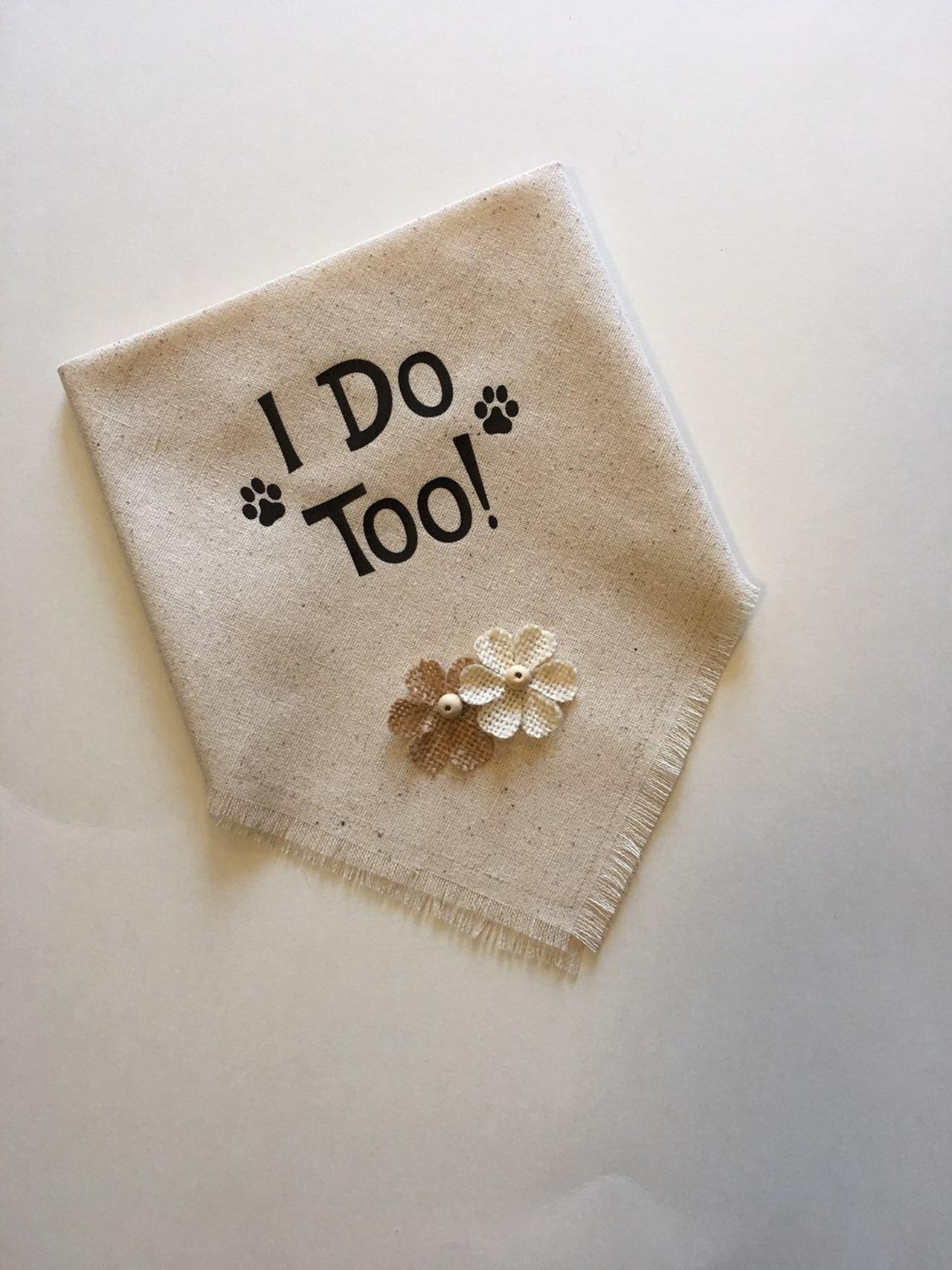 A cute bandana is one of our favorite dog wedding accessories, and this one is no exception! It's a rustic-looking bandana with simple flowers, and adorably says, "I Do, Too." We can't think of a better way for your pup to be included in your big day!
My Doggie Duds Wedding I Do Too bandana, $20, Etsy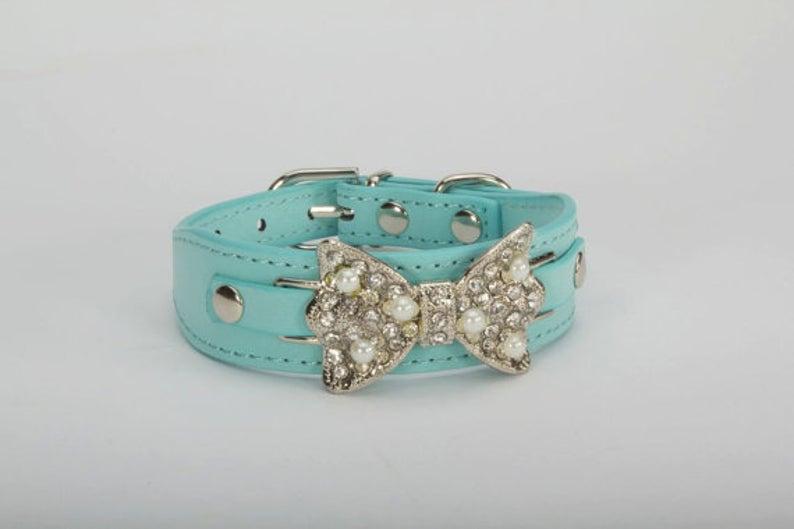 There's no better time to splash out on a Tiffany blue, diamond-studded collar for your dog than your wedding day. If you'd like to add some bling to your pup's life, we've got it for you right here.
Parisxox aqua blue dog collar, $30, Etsy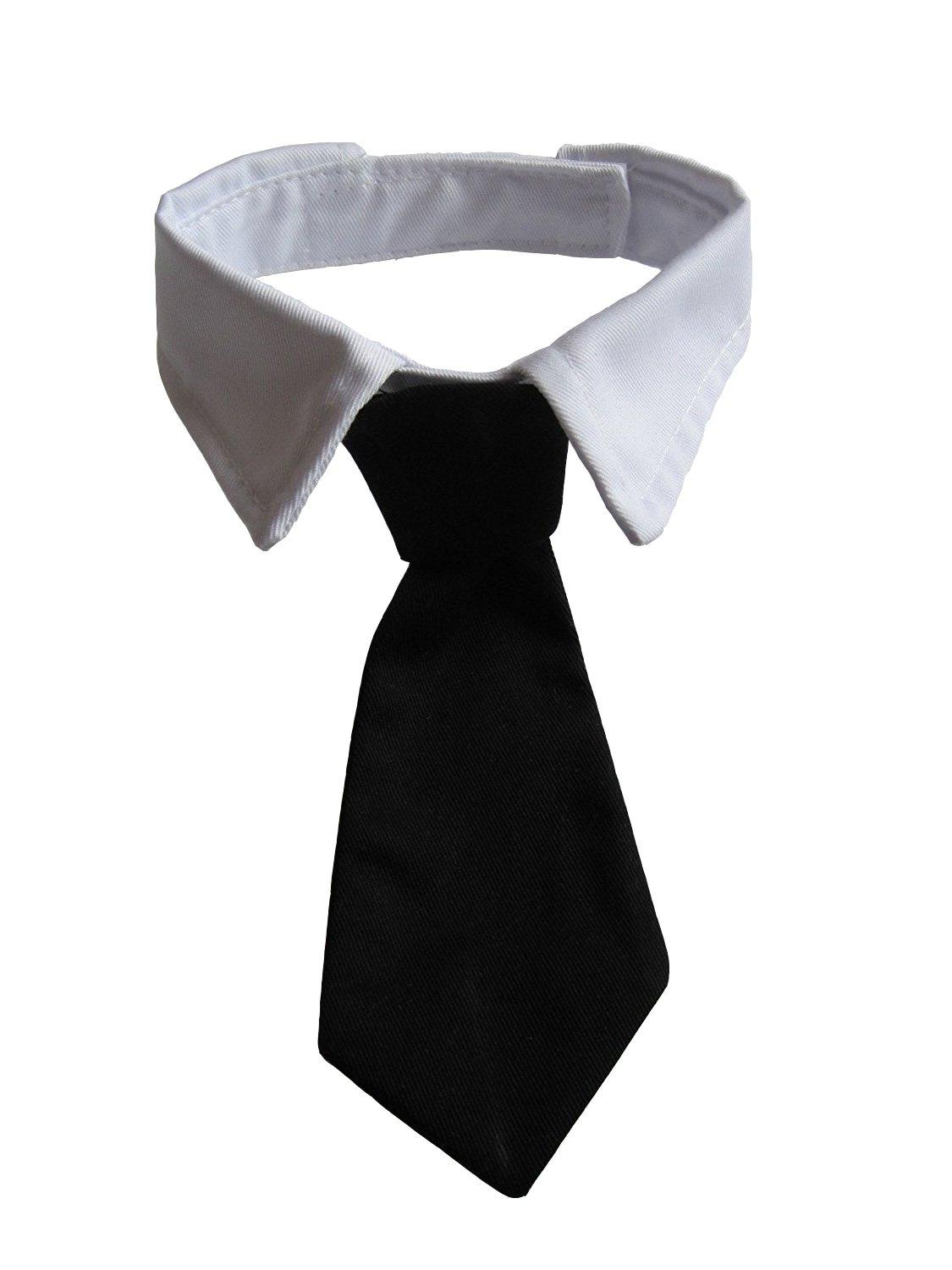 How adorable is this tie collar for dogs? If a full tux simply isn't in the cards for your pup, this is a cute way to give a nod to your special day while keeping him comfortable and in his element. When it comes to dog wedding accessories, this is definitely a favorite!
Vedem tuxedo dog collar, $15, Amazon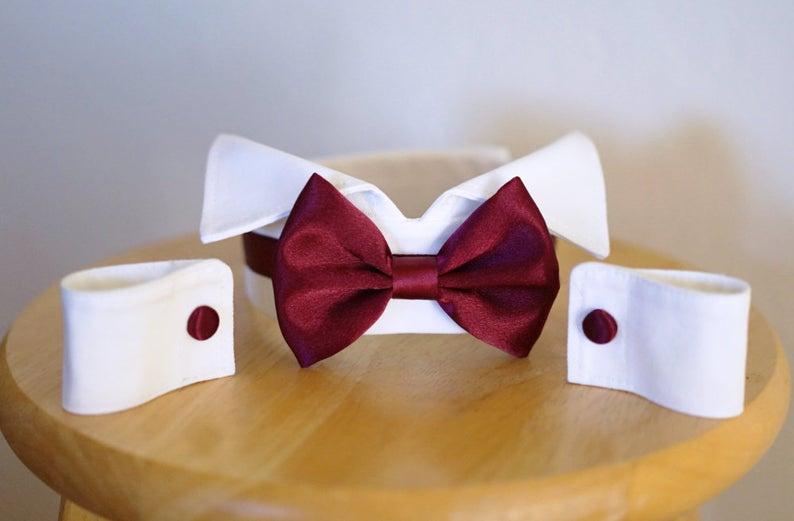 Maybe you never thought you'd be buying tuxedo cuffs for your dog or cat, but if you're hoping to find adorable dog wedding accessories, these definitely fit the bill! Etsy shop Twinkle Mingle offers a few different black-and-white options, and customizes to your pet's ankle circumference for a perfect size that won't slip off.
Twinkle Mingle tuxedo cuffs for dogs, $23, Etsy
Disclosure: This post contains affiliate links, some of which may be sponsored by paying vendors.