Couples searching for unique Detroit wedding venues to set off their wedding aesthetic have many choices in the region. Whether you're creating an industrial chic wedding, a moody vibe or a carefree, whimsical theme, there are plenty of wedding venues in Metro Detroit that will help you achieve your vision. Thanks to Motor City's past as a major hub for American industrialization, many of the best Detroit wedding venues are older buildings experiencing a major revitalization.
Start planning your perfect Detroit nuptials with these unique Detroit wedding venues.

Detroit Zoo
Let the calls of the wild serenade you as you recite your vows surrounded by exotic animals at the Detroit Zoo. Even if you aren't a wildlife buff, the Zoo's six event spaces are among the most unique Detroit wedding venues. Choose between three indoor options — Wildlife Interpretive Gallery with a 150 seated guest capacity; Polk Penguin Conservation Center also with a 150 seated guest capacity and Arctic Ring of Life, a winding 300,000 gallon chilled tank with polar bears and seals that seats up to 50 wedding guests and offers views of what you'd see underwater. For outdoor weddings, there's the 300-seat Events Pavilion, 200-seat Rackham Fountain and 90-seat Cotton Family Wetlands Boardwalk.
Learn more about Detroit Zoo »

The Henry Ford
Head to Dearborn for this stunning museum wedding venue that's dedicated to preserving the history of American innovation. One of Metro Detroit's most stunning historic buildings, The Henry Ford offers four distinct spaces to host your beautiful wedding's important events. Wedding ceremonies with up to 400 guests are ideal in the Pennsylvania Courtyard. The elegant Prechter Promenade is recommended for cocktail hour while Anderson Theater is ideal for a wedding reception with room to seat up to 600 guests. The Museum Plaza is another option for wedding ceremonies and receptions and has a capacity of up to 400 guests.
Learn more about The Henry Ford »
Colony Club
If you're on the hunt for downtown Detroit wedding venues that offer a unique alternative to banquet halls, take a look at Colony Club. This revitalized treasure features two ballrooms (one grand, one petit) modeled after France's King Louis XVI. Expect the opulence and grandeur of European royalty, too, with gold-accented wall and ceiling molding, ornate chandeliers and Chiavari chairs.
Learn more about Colony Club »
Eastern Market
Eastern Market is a collection of rustic sheds just east of downtown Detroit. Sheds 2, 3 and 5 are available to rent for your wedding on any day of the week except Saturdays, so Friday and Sunday weddings are big for this venue. The three sheds are almost identical in size, with capacity for more than 1,000 wedding guests each, but differ in their amenities. Couples looking for a modern experience with central heat will want to go for Shed 5, the smallest and newest shed that also features a kitchen and bathrooms. Shed 2 is the oldest, dating back to 1891 and retaining many of the original structural features, while Shed 3 is the most versatile with four distinct wings.
Learn more about Eastern Market »
Planterra Conservatory
Travel to West Bloomfield for Planterra Conservatory, one of the most unique wedding venues in Metro Detroit. This glass-walled domed building is bursting with potential for elegant, light-filled weddings and receptions. The year's biggest wedding trends are right at home in this classic venue, whether it's floral hoops or edgy new-age inspiration. A super inventive take on the garden wedding, the Conservatory offers an elevated wedding venue thanks to curved European trusses, stone floors and a see-through ceiling to stargaze. It's ideal for guest lists of 75 to 200.
Learn more about Planterra Conservatory »
Granite City Food & Brewery
Host up to 500 guests in a prime downtown Detroit location at Granite City. This brew pub offers more than 16,000 square feet of event space that includes one of the largest outdoor patios downtown. It's an even more appetizing choice for your big day if you know you're inviting beer snobs who won't be satisfied by anything short of seasonal craft beer selections. Not that your wedding ceremony or reception needs to revolve around brews. Just check out Carly and Chris' romantic wedding reception at Granite City for inspiration on how to style this unique Detroit wedding venue.
Learn more about Granite City Food & Brewery »
Ford Piquette Plant
We can't promise your wedding day will go off without a hitch, but hosting it at the birthplace of the Model T, the first mass-produced automobile, has got to be a little lucky. Ford Piquette Plant is more than 100 years old and began its life as Ford Motor Company's first purpose-built factory before being used to create more classic American cars like the Studebaker and Cadillac. Now it's a fashionably rustic event space for up to 250 seated guests. The Plant is a working museum as well, so much of the original architecture and industrial features are preserved inside, as well as a few choice cars from Ford's beginnings.
Learn more about Ford Piquette Plant »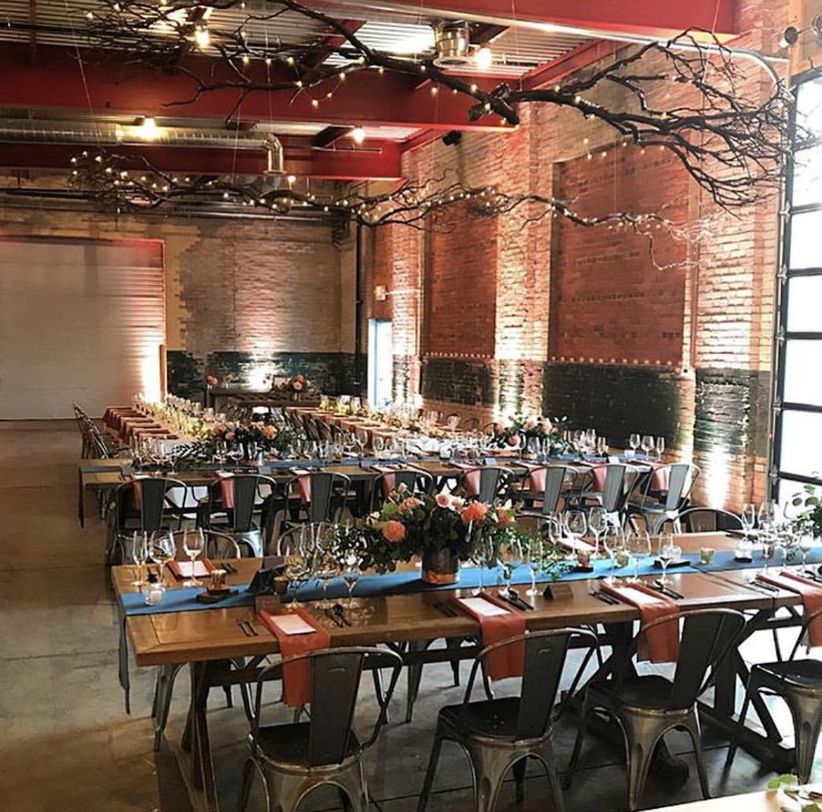 The Eastern
The Eastern (not to be confused with its neighbor, Eastern Market) evolved from a fire station and fire department repair building to become one of the most unique Detroit wedding venues. Couples make use of the 5,000 square foot warehouse and 3,000 square foot patio to create any manner of original wedding themes. There's also a roll-up garage door, which adds add floor-to-ceiling windows when down, but can be lifted for an indoor/outdoor feel. Unlike many industrial wedding venues, The Eastern is also climate-controlled. Seat up to 300 wedding guests at this gorgeous space.
Learn more about The Eastern »
Detroit Historical Museum
This Midtown museum is filled with vignettes from old-time Detroit within six distinct event spaces. Each room evokes a different part of the city's history: America's Motor City seats up 100 seated; Gallery of Culture seats up to 80; Streets of Old Detroit seats up to 125; Wrigley Hall seats up to 96; Grand Trunk Passenger Station seats up to 64; Louise Booth Auditorium seats up to 139; DeRoy Conference Center seats up to 12 and Legends Plaza, which seats up to 100, is the only outdoor option.
Learn more about Detroit Historical Museum »