Everything You Need to Know About Choosing a Bridal Shower Venue
Once you book a bridal shower venue, the rest of planning will fall into place. Here's a step-by-step guide to finding the best shower venue for your event.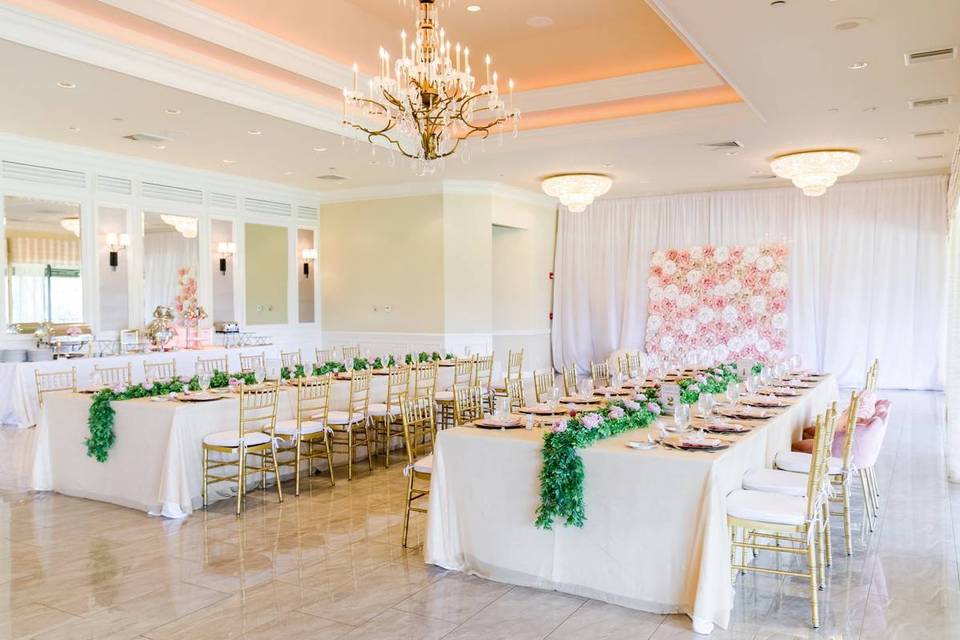 If you've been given the honor of hosting a bridal shower, you may be feeling a mixture of overwhelm and excitement as you set out to plan the perfect event. Of course, you've probably got a million questions around bridal shower etiquette, fresh and fun theme ideas, and overall planning advice, but selecting your bridal shower venue is probably the biggest puzzle piece of all.
While it's quite common to set a bridal shower at the host's own home, there are many reasons you may want or need to look elsewhere. If you've found yourself embarking on the bridal shower venue hunt, we have six key considerations to help you narrow down your search and make the big decision.
Consult the bride.
Before the venue search is officially underway, it's always a good idea to ask the bride-to-be what she envisions for her special event. She might have some strong opinions on an indoor versus outdoor setting, what side of town she prefers, a particular venue style she loves, or logistical information you hadn't yet considered. While some brides are totally on board to let their hosts handle the planning and decision-making, there's no doubt she'll at least appreciate the ask.
Work your network.
When thinking about bridal shower venue options, don't overlook any connections that may be useful within your network. Do you—or anyone in the bridal party or the couple's family—have connections to a local restaurant, cafe, shop, farm, or any space that's able to host a group? Has anyone in your network previously rented a bridal shower venue they absolutely loved? Use your own network for referrals, and you may stumble upon the best venue idea yet.
Talk numbers.
Be sure to start with the end in mind by setting a budget before you even begin venue shopping. Identifying your budget upfront will save you valuable time and effort by easily narrowing your search to only venues that fit your specific criteria. Along those lines, don't forget to ask about all the associated fees that go into renting a site. For example, some restaurants will not charge for the use of their space but do require spending minimums. Additionally, some sites may require you to use their in-house catering while others allow outside food and drinks to be brought in. Always read the fine print before locking in a contract and avoid any unexpected fees.
Identify your style.
There's no question the bridal shower venue plays a big role in determining the overall style or theme of the event. If you're hosting a more formal event, like a high tea bridal shower, look into private gardens or courtyard spaces to fit your aesthetic. Or if a laid back, rustic-chic event better suits your style, check into barns, lofts, or farmhouse venues within your area. Whatever style you have in mind, don't be afraid to look at non-traditional venue spaces and think outside the box.
Think about logistics.
Logistics like guest count, parking and accessibility are all critical to consider as you make your final venue selection. You'll want to make sure the setting is conveniently located for the majority of your guests, and that the space is accessible for any guests who may have mobility limitations or any additional needs.
Visit in person.
While browsing online is a great place to start, endless Google searches will only get you so far. Take a day to schedule site visits for an opportunity to see your potential bridal shower venues up close and in-person. Not only will you get an immediate sense of the overall vibe and atmosphere, but you'll be able to meet the venue staff you'll be working with along the way.