15 Outdoor Wedding Venues in Atlanta for a Gorgeous Celebration
If you've always dreamed of an outdoor wedding in Atlanta, here are some gorgeous venues to consider!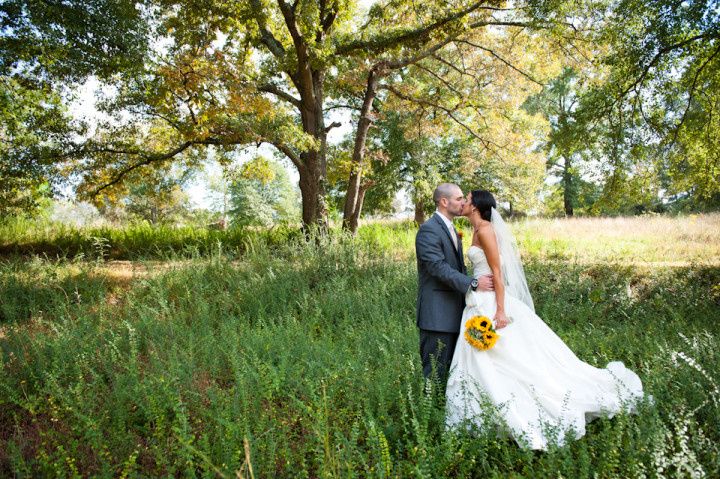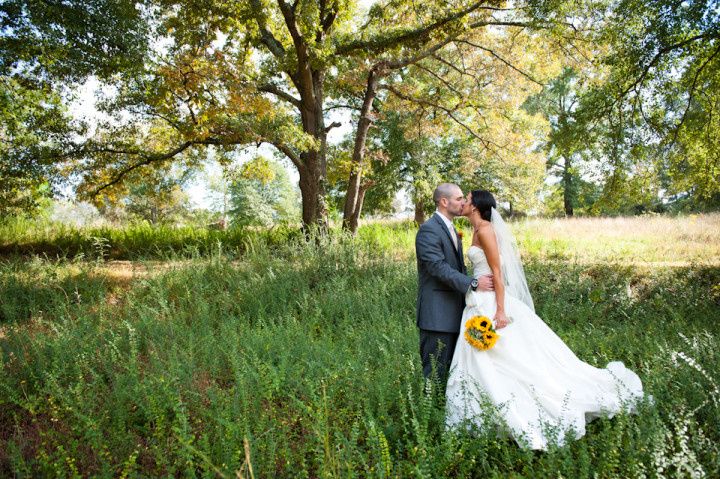 Because of the region's often-warm climate, there are many outdoor wedding venues in Atlanta, Georgia to choose from. Whether you're looking for a rustic farm, a lush garden, a majestic estate, a country club, or even a winery, you'll find Atlanta wedding venues that offer outdoor settings to suit every style. All of these venues offer outdoor spaces for wedding ceremonies, and some for receptions, as well. When choosing an outdoor venue in Atlanta, the most important thing to remember is to check with your venue about an indoor "Plan B" in case of inclement weather—all of the venues listed here have fabulous indoor spaces, as well.
Check out some of our favorite outdoor wedding venues in Atlanta.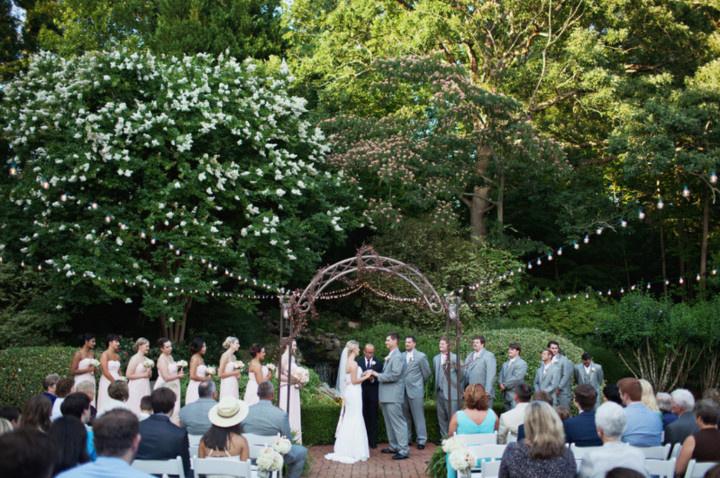 Little Gardens
We love the serenity and romance of this garden venue in Lawrenceville. The outdoor wedding ceremony site features a koi pond, waterfall, and bridge, and the ballroom with its wall of French doors offers space for an indoor-outdoor reception. This colonial-style house has won multiple WeddingWire Couples' Choice Awards and wins raves from couples for its catering from A Divine Event and its accommodating staff. Despite its name, this sweet garden space can host larger events of up to 300 guests.
Learn more about Little Gardens »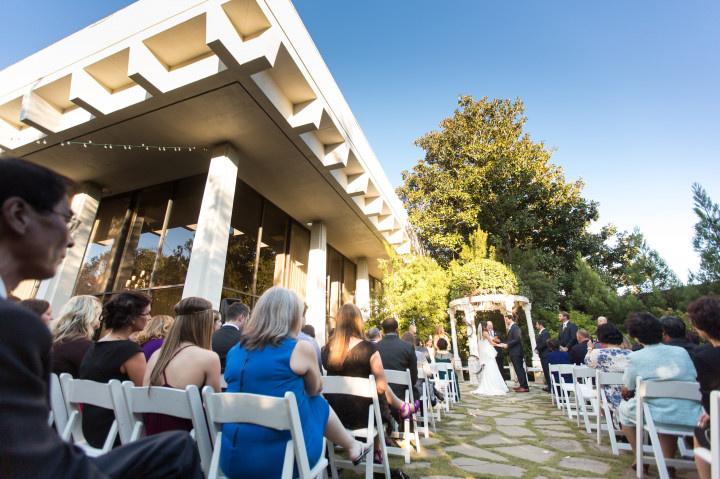 The Atrium
This venue truly feels like a secret garden in the middle of Norcross' historic district. You'll find a wide array of flowers (including azaleas in the spring, and gardenias and roses in the summer), as well as an incredible space for wedding ceremonies and receptions. Ceremonies are held outdoors in one of the stunning courtyards—the stone path helps to create a fairytale-like aisle and we adore the gazebo and romantic rose-covered arbor and bench. The two-story neoclassical glass ballroom offers a unique balcony as well as custom-built bar and views of the garden. This Couples' Choice Award-winning venue is not only one of the best wedding venues in the Atlanta area, it's also one of the more intimate with a capacity of 150 guests.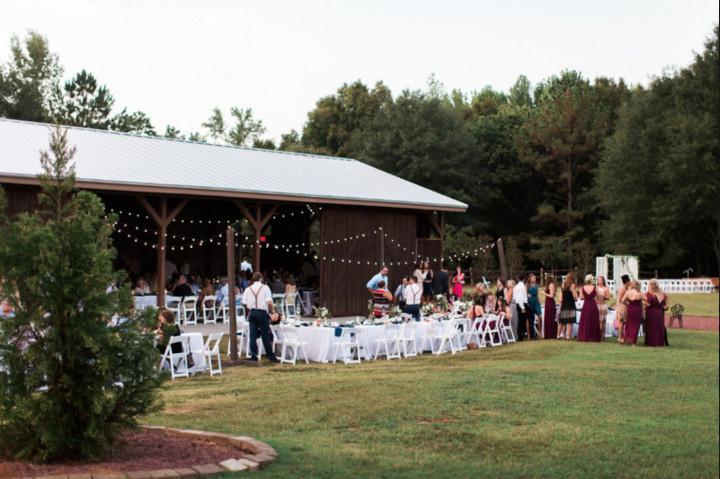 The Barn at Oak Manor
If you're looking for a event venue that combines Southern charm with a rustic feel, look no further than this Newnan space. Get ready inside the historic manor house, which features a two-story porch, an indoor basketball/racquetball court a swimming pool, and suites for you and your crew to prep. Host your ceremony beneath "Mother Oak," a glorious oak tree under which a wooden altar has been built. The tall and majestic tree provides an incredible representation of your relationship's strength and longevity. Receptions are held in the rustic barn which offers ample indoor-outdoor space for your guests to dance the night away (hello, café lights under the stars!). This venue provides many wedding necessities to help make planning a breeze, including ceremony benches, reception tables and chairs, and much more.
Learn more about The Barn at Oak Manor »
St. Ives Country Club
We adore country club venues not only because they offer beautifully-manicured outdoor space, but also because they're usually all-inclusive, which means figuring out catering and rentals will be a breeze. Located in North Fulton County, this country club resembles an 18th-century English manor house and has ample outdoor space for ceremonies and photos. You'll love the outdoor patio and terrace, which are ideal for ceremonies overlooking the golf course. And the 45,000 square-foot clubhouse offers ample indoor space for receptions of up to 250 guests. The ballrooms featured sumptuous décor and glittering chandeliers for a classic and elegant event.
Learn more about St. Ives Country Club »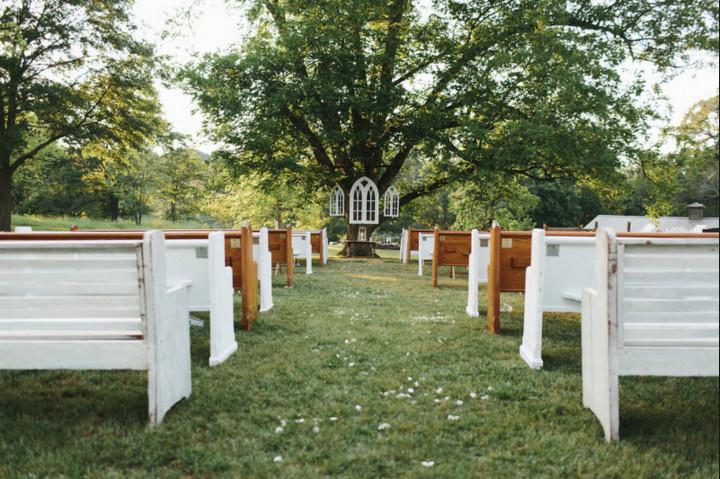 Vinewood Stables
If you're all about rustic style, look no further than this outdoor wedding venue near Atlanta. Vinewood Stables offers a charming and historic house and horse barn for your big day, with a capacity of up to 250 guests. You'll love hosting your ceremony under "The Wedding Tree," a stately pecan tree with a stunning hillside backdrop. Receptions are held in the wooden barn, which was built in the 1830s but renovated to make it wedding-ready. There's a 5,000 square foot main hall, as well as a built-in bar area and chandeliers for a rustic-chic vibe. There's also a fire pit out back for your guests to enjoy as the evening winds down.
Learn more about Vinewood Stables »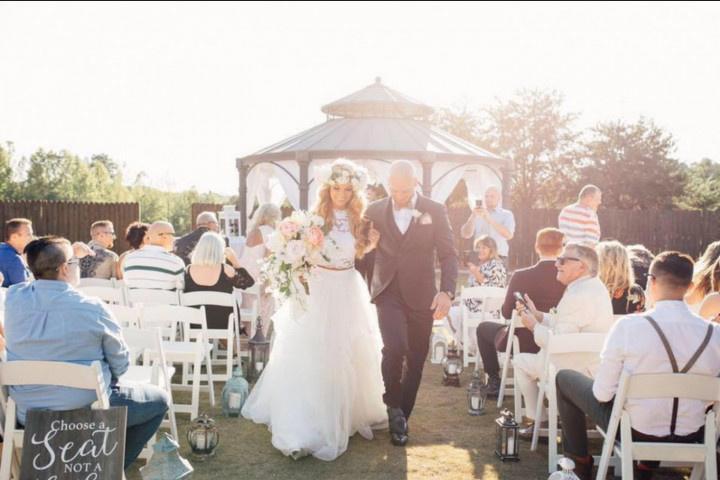 Bullock Springs Manor
Less than an hour from the Atlanta Airport, you'll find one of the best outdoor wedding venues in the Atlanta area. This rustic, nine-acre estate is an all-inclusive wedding venue with ample amenities, including a bride's suite and groom's room. The new outdoor ceremony space features a sweet gazebo, and a well-appointed ballroom for receptions. The onsite barn makes a fabulous rain plan for your outdoor ceremony. There are also lots of unique opportunities for breathtaking wedding photo backdrops on the property. This Couples' Choice Award-winning venue can accommodate up to 250 guests.
Learn more about Bullock Springs Manor »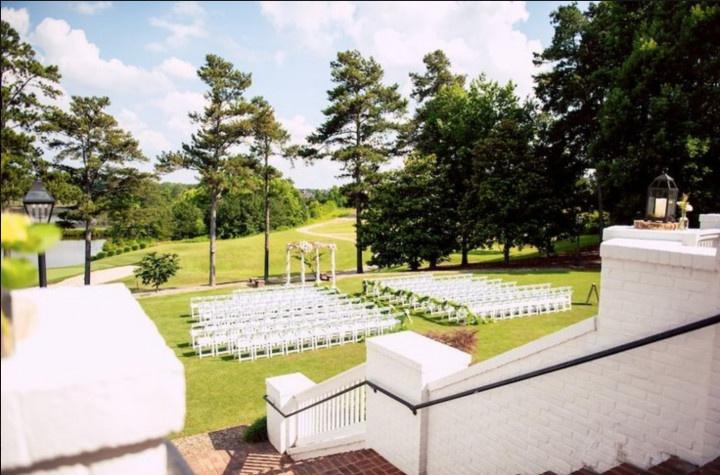 TPC Sugarloaf
This highly-regarded Duluth country club wedding venues offers the best of both worlds—scenic outdoor spaces coupled with the convenience of an all-inclusive venue. You'll love exchanging vows on the ceremony lawn, which overlooks private lakes and the 18th hole. The 60,000 square foot Clubhouse offers a charming space for your reception, with several rooms you can combine to suit your needs, with a capacity of 250 guests. This venue can also host other special events, including bridal showers, rehearsal dinners, and even rounds of golf for your guests.
Learn more about TPC Sugarloaf »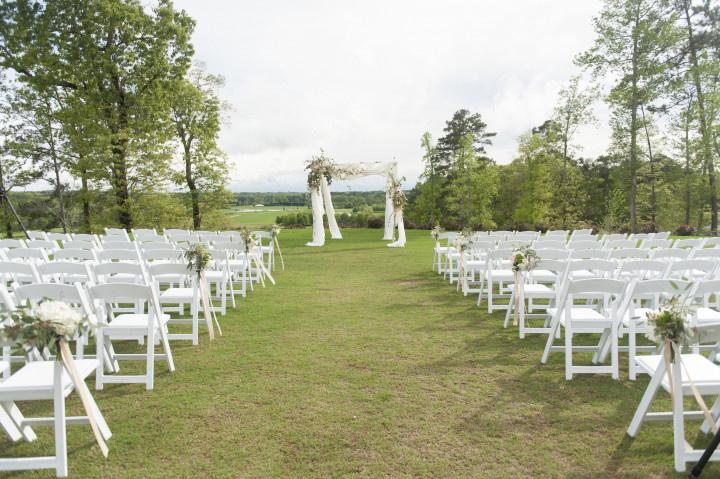 Foxhall Resort
One of the (many!) benefits of hosting your wedding at this resort in Douglasville is the variety of event space options for your big day. There are multiple locations, both outdoor and indoor, for ceremonies, cocktail hours, and receptions. We particularly love the Legacy Lookout space, which offers an outdoor ceremony space with incredible views, as well as a cozy indoor venue as a Plan B. Receptions are held in the well-appointed ballroom. There's also The Stables, which also features outdoor ceremony space and an indoor reception room with a rustic vibe. This venue can accommodate weddings of up to 1,000 guests—and your crew can stay onsite to turn your wedding day into a wedding weekend full of activities and fun.
Learn more about Foxhall Resort »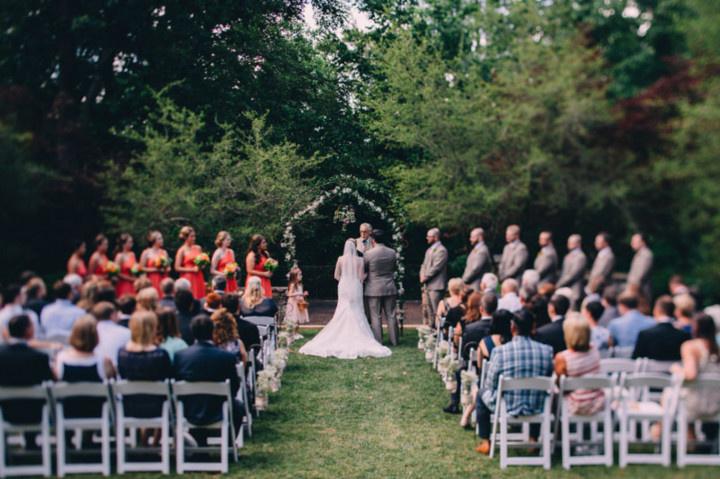 Emory Conference Center Hotel
This hotel is one of the top outdoor wedding venues in Atlanta. Not only is it super-conveniently located near downtown Atlanta, it also features a serene garden that's the perfect place for your special day. There are three outdoor spaces and four indoor locations, including the ceremony garden, complete with gazebo, the cozy Great Hearth Room, and the beautifully appointed Silverbell Pavilion. Your guests will love staying on premises, enjoying bowling at the Wisteria Lanes, the outdoor fire pit, and the indoor swimming pool. This Couples' Choice Award-winning hotel venue has capacity for up to 300 guests for your wedding.
Learn more about Emory Conference Center Hotel »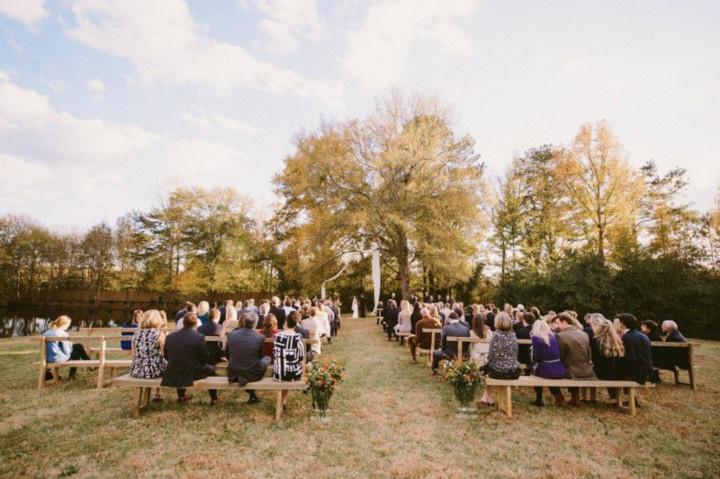 Sweet Meadow Farm and Homestead
Woodland wedding style is so on-trend right now, and this outdoor wedding venue, located about an hour outside of Midtown Atlanta, is one of the top woodland venues in the entire country. With a capacity of up to 300 guests, this Couples' Choice Award-winning venue is set on over 160 acres of gorgeous land, with ample wide open fields and freshwater ponds for unique and breathtaking wedding photo ops. You can host both your ceremony and reception outdoors, if desired, though there's also a barn for indoor receptions.
Learn more about Sweet Meadow Farm and Homestead »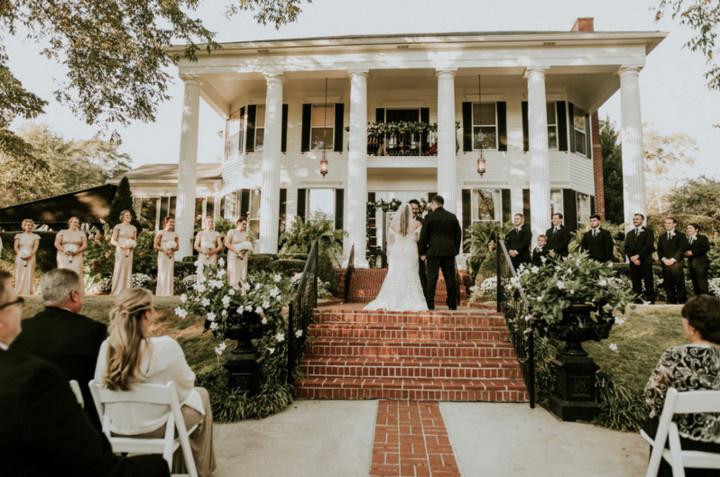 Victoria Belle Mansion & Vintage White Barn
This is the ultimate Southern outdoor wedding venue near Atlanta. Located on three acres, you'll find eight unique outdoor and indoor locations for your wedding events. We particularly love the 1897 mansion as the backdrop to an outdoor ceremony. There's also The Cedars, a lush new outdoor wedding ceremony space with a laid-back vibe. For receptions, the white barn is an ideal indoor venue. A Couples' Choice Award winner, this is certainly one of the best Atlanta wedding venues, and can accommodate up to 300 guests. Victoria Belle Mansion can also host other wedding-related events, including rehearsal dinners, bridesmaid luncheons, vow renewals, and more.
Learn more about Victoria Belle Mansion & Vintage White Barn »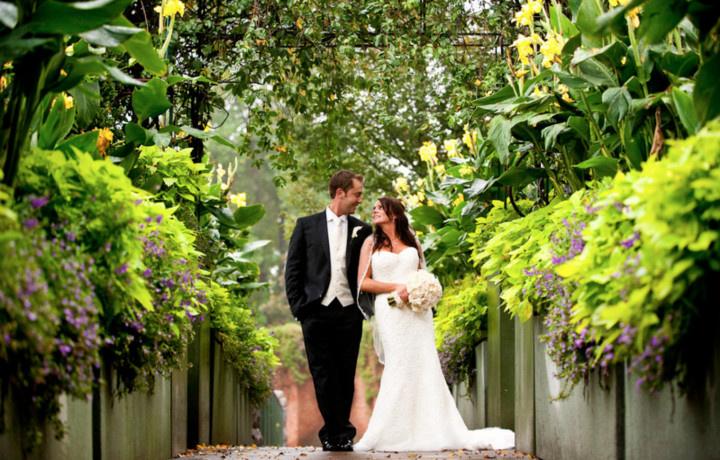 Atlanta Botanical Garden
One of the top outdoor wedding venues in Atlanta, the Atlanta Botanical Garden is truly an oasis in the midst of the big city. The garden, located adjacent to Piedmont Park, offers 16 different venues to choose from—you'll love having so many options for both venues and photo opportunities. The Rose Garden is a particularly sought-after ceremony spot, with its gorgeous arbor featuring 21 varieties of roses. For larger receptions of up to 300 guests, Day Hall has been recently renovated and features floor-to-ceiling windows and ample outdoor space. For smaller events, Cascades Garden features lush tropical plants and can seat 50 guests, while the Alston Overlook features gorgeous Midtown Atlanta skyline views.
Learn more about Atlanta Botanical Garden »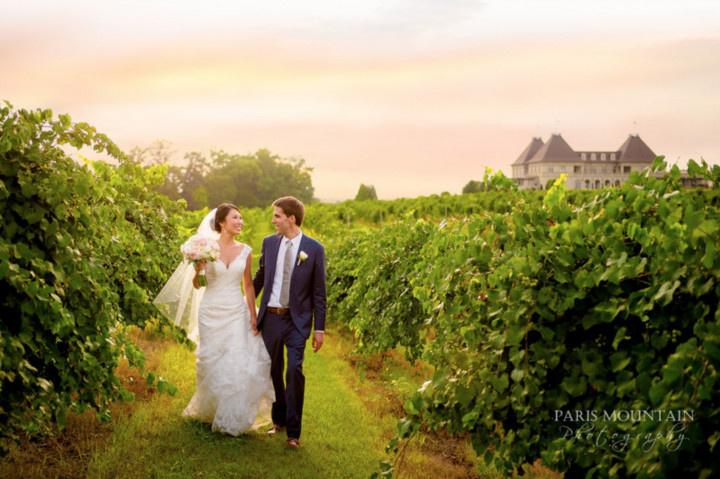 Chateau Elan Winery & Resort
There's nothing quite like a vineyard wedding, and Chateau Elan in Braselton is no exception. What could be more romantic than taking wedding portrait amid the vines or exchanging vows in one of four scenic outdoor locations? The Rose Vineyard is a breathtaking outdoor ceremony spot, as are the Matisse Lawn, Chateau Lawn, and Vineyard Lawn. Indoor ceremonies may be held in the airy Atrium or the intimate Nice or Cannes rooms. Receptions are held indoors, in the grand Paris Ballroom, which can host up to 600 guests, or the smaller Debussy Ballroom, Elan Ballroom or the light-filled Winery Pavilion. This venue is not only visually stunning, it's also all-inclusive so planning will be an absolute snap. And since there are accommodations on premises, you and your crew can stay onsite for the ultimate in convenience.
Learn more about Chateau Elan Winery »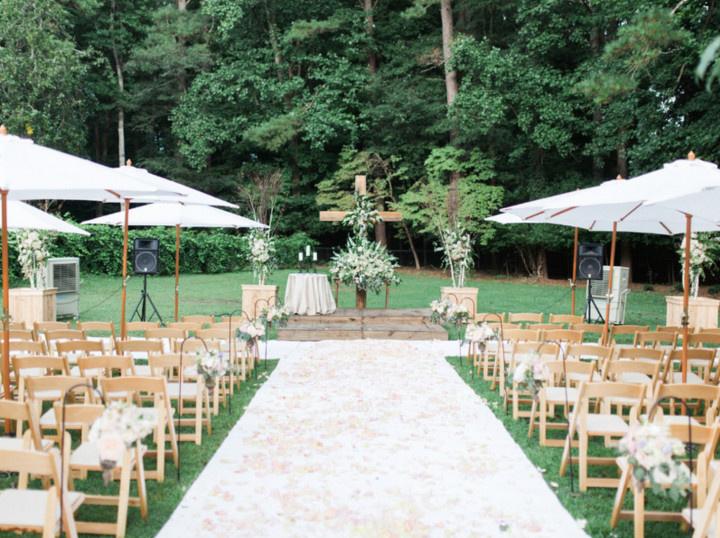 Little River Farms
Even though Little River Farms is just 35 outside of Downtown Atlanta, you'll feel like this events center is worlds away. This serene farm offers three ceremony spaces—an outdoor gazebo, an outdoor orchard, and an indoor pavilion space with a cozy fireplace. The new 5,000 square foot pavilion is also a spacious and inviting reception venue. Little River Farms can host up to 250 guests for a wedding, and also has an in-house florist which wins raves from couples.
Learn more about Little River Farms »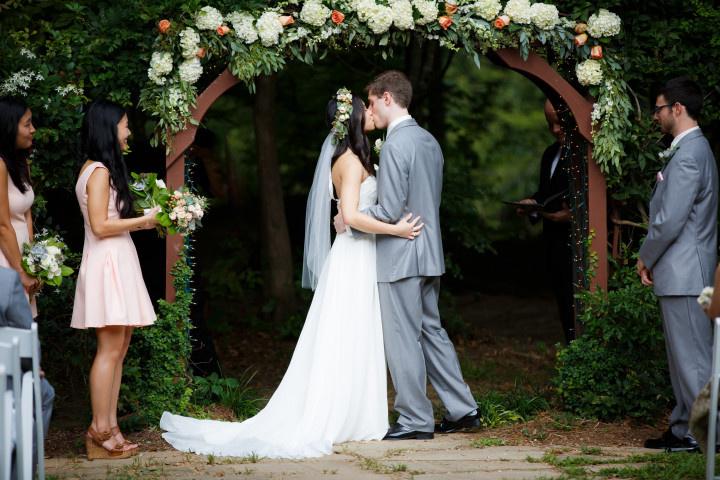 Vecoma at the Yellow River
We love the woodsy feel of this Atlanta-area wedding venue. The ceremony space is surrounded by lush trees, and the reception space featured high ceilings and lots of natural light. Your photographer will be thrilled with all of the outdoor photo backdrops, including riverside spots and much more. And—bonus!—this venue is all-inclusive, and offers a variety of catering options to fit your tastes and budget. There's even an on-site photographer and DJ to make planning even more stress-free!