When you start planning a wedding, there are some typical questions that eager onlookers will ask you. One of which being what kind of flowers you will have. So, even if flowers are not your number one focus, they are always going to be on that checklist of decisions to make. When deciding what flowers you want, you will need to pay attention to what is in season, the symbolism, the color scheme, and price, but what happens when floral is the theme? Then you are going to be paying attention to how to incorporate that floral design in the details of your wedding.
The Bridal Bouquet …. of course.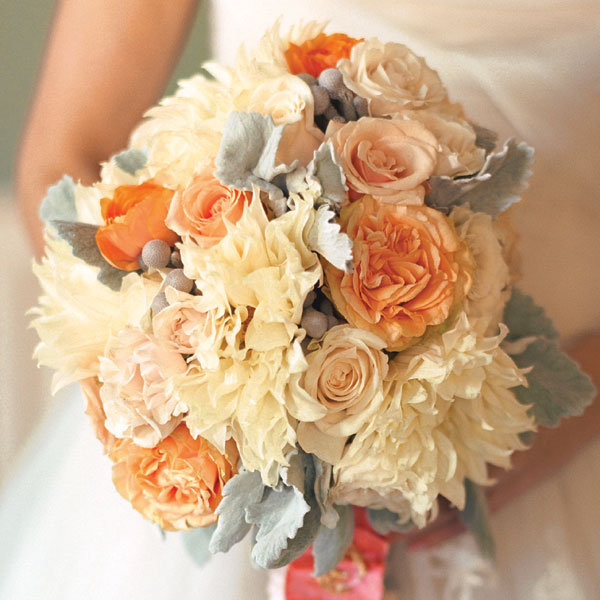 It may seem like a duh to point out that you should feature a floral design in a flower bouquet, but the point I want to emphasize is that the bridal bouquet is a focal point to the wedding and more particularly the floral tone. Thus, the bouquet should feature the main flower (or flowers) that you are using as the center stage or focal flower. Also, this means that you will want to and almost need to make that bouquet a piece of art or beauty. The above bouquet is a great example of someone utilizing a flower's shape and color to create a cohesive floral look that can either enhance any wedding theme, or can act as a base of the light and fresh floral theme.
The Flower Girl and Ring Bearer
The flower girl does seem like another obvious choice to add in that flower detail, but what about the ring bearer? A floral designed pillow is a great way to tie in that floral theme. The lily inspired ringer bearer pillow on the right is great because its design is a little more abstract, making it a less obtuse way of scattering that floral design throughout the wedding ceremony. If you want something a little more literal, a bearer pillow like the one on the right from Wedding Star would be an equally lovely choice.