Not everyone is super comfortable with the idea of a whole party dedicated to giving them stuff. Bridal showers are fun, and they have potential as a great bonding opportunity for a bride and her closest girl friends, but if you're planning on hosting one in the near future for a bride in your life, and you're not sure if she's down for the traditional shower experience, here are a couple of alternatives that still involve bonding and giving. They aren't as traditional as a tea party and a stand mixer: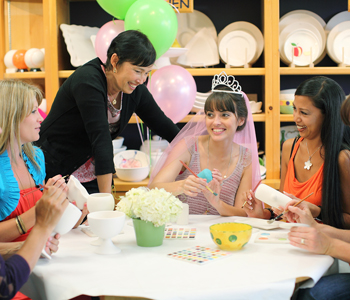 Color me Bridal:
Color me Mine is a business that specializes in a unique hands-on crafting experience, where guests paint ceramic items of their choice (think salt and pepper shakers, mugs, etc.) to be retrieved later as glazed and completely usable home décor. While they might be known more for cute dates and birthday parties, this establishment is a totally viable bridal shower alternative and is a guaranteed load of fun.
Instead of (or perhaps in addition to) giving individual gifts to the bride-to-be, the hostess or guests cover the charge for the bride and a household item(s) of her choice – hopefully something bridal and commemorative (his and her items, like mugs, are a must), and the girls bond over a couple hours of painting together. You're able to make something completely unique, get a nice gift for the bride and leave feeling accomplished. Color me Mine offers party packages where guests can come later to retrieve their glazed item (tagged and bagged with their names!).
At least in Orange County, CA, Color me Mine also offers traveling parties, where the service comes to you! This is a particularly stylish option if you're more interested in a private and intimate party. This allows you to decorate and cater to your heart's content without giving up the ceramic painting experience!
Everyone Loves Chocolate:
Most of us are familiar with retail "parties" where a hostess gives a presentation on the benefits of a product, and the guests are given a later opportunity to purchase from a catalogue (think candles, Tupperware, jewelry, etc.). While that might not seem like a super fun bridal shower option, there are specific services that make for an unforgettable evening (and a great opportunity for unconventional gift giving).
Bridal showers that utilize the services of "Passion Parties," or my favorite: Dove "Chocolate Discoveries" will find that you don't need to spend a lot of money to have a really good time together. While Passion Parties work as a replacement for the more traditional "lingerie shower," a chocolate discoveries party offers opportunities for tasting, trying recipes and eating a positively unreasonable amount of chocolate. If you and your guests are comfortable with a different type of gift giving, consider taking note of the bride's preferences throughout the night and purchasing some of her favorite products at the end of the festivities. The hostess makes a few bucks, the bride has an armload of gifts she actually wants and everyone eats chocolate. You've got nothing to lose.
Be careful if you're thinking of trying some new and unconventional showers, however. Etiquette changes depending on your social circle, and you don't want to offend the bride or any of your guests. Test the waters thoroughly before asking anyone to fork over cash for something they aren't 100% on board with. Otherwise, go nuts!