Etiquettes for Wedding Dress Shopping
So, now you are engaged, and you are oh-so happy and ready to start to create your dream wedding. One of the first things a lot of brides want to do is to find that perfect dress. Out of all the wedding planning tasks this is the one that is the most sentimental and actually requires so delicate handling. As you decide who to have with you, just remember that the more people you invite, the more opinions you will have to hear. There is a reason shows like "Say Yes to the Dress" are so entertaining!
Mom Gets Dibs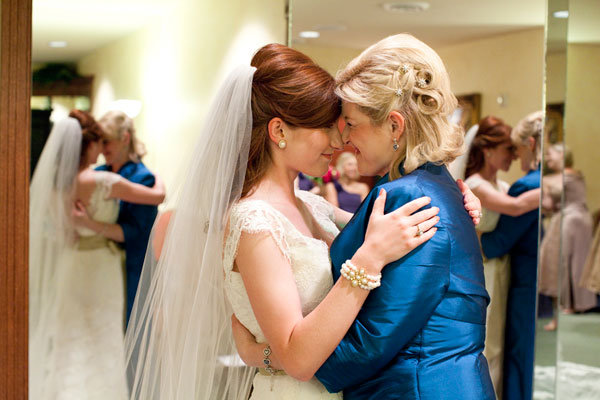 Now, really, this will depend on your relationships, but if you have even a somewhat friendly relationship with your mom it is both traditional and nice to ask your mom to go dress shopping with you. Mother-daughter wedding dress shopping is one of the things that little girls envision when planning their wedding and what moms envision when they first hold their baby girl in their arms. Even if your mom is not your best friend, or if she leaves on the other side of the country, it is proper etiquette that you invite her first.
If you want to go shopping with your mom and a few other special people, talk to your mom about dress shopping first and then include that you would love it "so-in-so" came too. If your mom is more sensitive, then perhaps buffer this with an invitation to do lunch together and then meet up with the rest of the group at the dress shop so that you can have the one on one time together.
A note to moms: Your daughter is stressed and excited, so add to the excitement and not the stress!
Sisters
If you have any sisters over the age of fourteen and are planning on having more than just your mom for wedding dress shopping, then you will probably want to invite her too! The age fourteen is slightly arbitrary, but the recommendation is for you to avoid bringing along younger girls, who will get tired or hungry and cause your shopping trip to come to a unsuccessful and too early close. Be mindful that if you have any unmarried older sisters (particularly those you are competitive with) there may be some jealousy floating around. This does not mean you should undercut anything about your special day, but perhaps you could be sure to let them know how excited you are to have them a part of your life and wedding.
A note to sisters: You can share your opinions, but read your audience. If your bride lights up in a dress that is not your taste, don't tare it a part. If you truly think she will regret it, then tell her she looks great, but recommend trying on a few more before deciding. If she ultimately picks a dress you hate, then just keep in mind that it is hers and not yours. 
Mother-in-law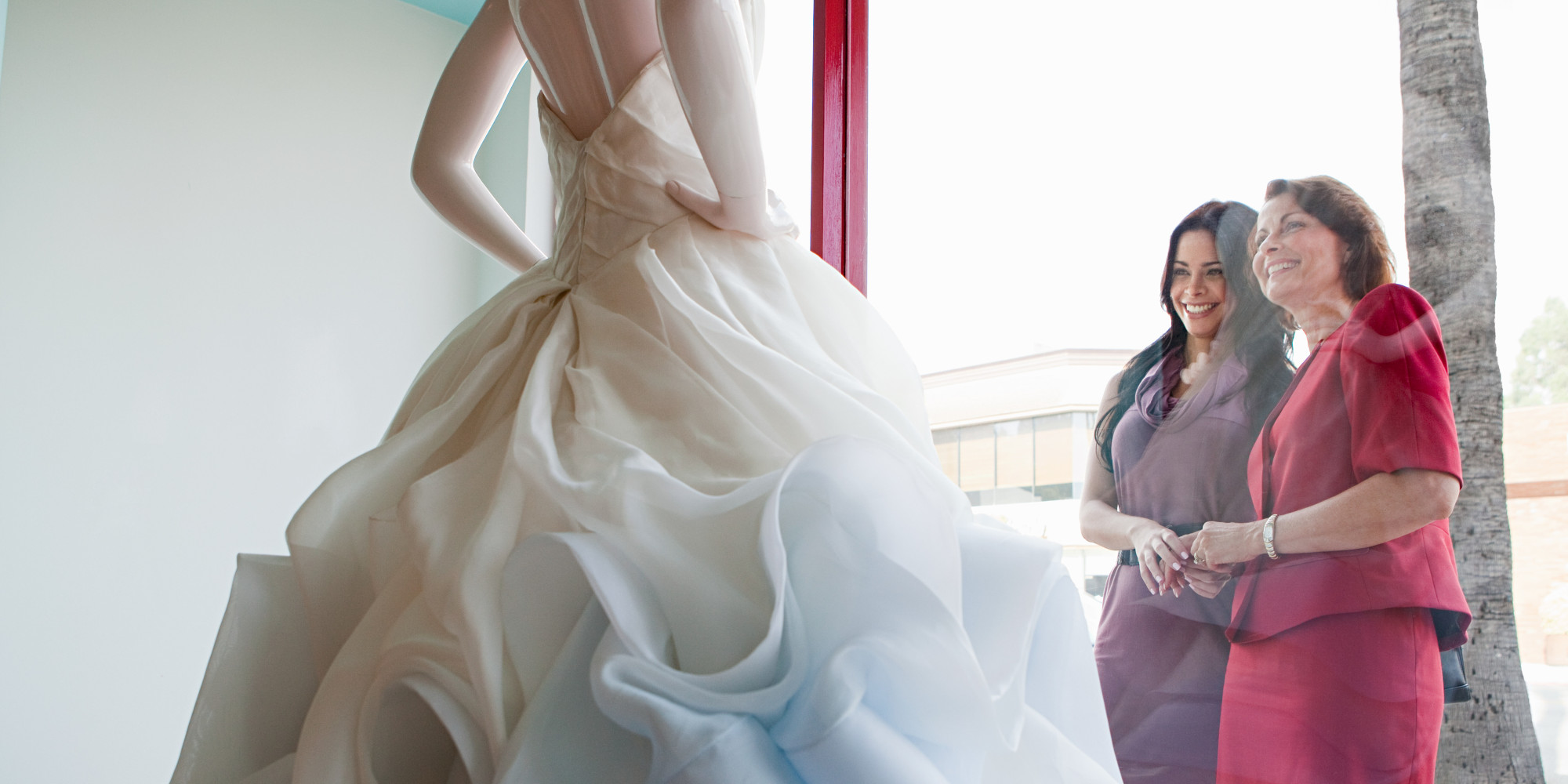 Sometimes it can be a good idea to invite your soon to be mother-in-law. This could be a good idea if you do not know her very well or you want her and your mom to get to know each other. It is not really an expectation for you to invite her either. So if you don't, it is not as likely to cause drama as would if you went dress shopping with your mother-in-law and not your mom. If you are not sure if you should invite her, talk to your fiance and get his opinion on whether or not he thinks his mom would want to go. Some mother-in-laws will see it as a traditionally exclusive experience for a bride and her mom and won't want impose, but ultimately it is up to you.
A note to Mother-in-laws: If your soon to be daughter-in-law invites your to go dress shopping, then go! Well, first make sure her mom is going or if she is not that it isn't because the bride didn't ask her, but otherwise do everything you can to be there. If she is asking, she wants you there. Perhaps don't be overpowering in opinion giving and be mindful of not contradicting whatever the mother says because if you are getting to know the parents through this, then you don't want to create competition. See "A Note to Moms"
Best Friends
Just like with sisters, if you are inviting more than just your mom, you can of course invite your best friend. What can be hard here is trying to figure out where to draw the line and it can become a game of  trying not to step on any toes. Don't do it to yourself. If you have that one best friend, or maybe two, that is your clear best friend and not your "we have been best friends since last week", then yes, ask her to come. However, if you don't, then don't worry about it. If anyone acts like they are expecting an invite, you have the excuse of wanting it to be "just family". Or if you want to include friends somehow, but don't want to have too many people around for picking out your dress, you could have your best girlfriends go with you wedding shopping and to fittings.
A note to best friends: See "A note to Sisters"
Dads (an other male family members)
Here, again, is someone you do not have to invite, but totally can if you want to. It would be a sweet sentiment too to have him there to help you pick the dress you will wear the day he escorts you down the aisle and hands you over to your groom. BUT, it is not expected and you don't have to worry about making sure he isn't upset.
A note to Dads: If your daughter invites you to go dress shopping don't say you have a game to watch, go! She wants you to be there for the most important shopping trip of her life. You may not get it, and you may get tired of watching the purses, but you will never forget the smile on her face when she picks the dress. 
The Groom
Don't even think about it. Having the groom not see you in your wedding dress is one of the sweetest traditions there are. You will not want to miss the look on his face when you walk out radiating with joy in your perfect dress. It is priceless.
A note to the groom: Don't ask. Don't sneak a peek.