The Pros and Cons of Weekday Weddings
True story: Weddings don't have to take place on a weekend. Here are the ups and downs of hosting a weekday wedding.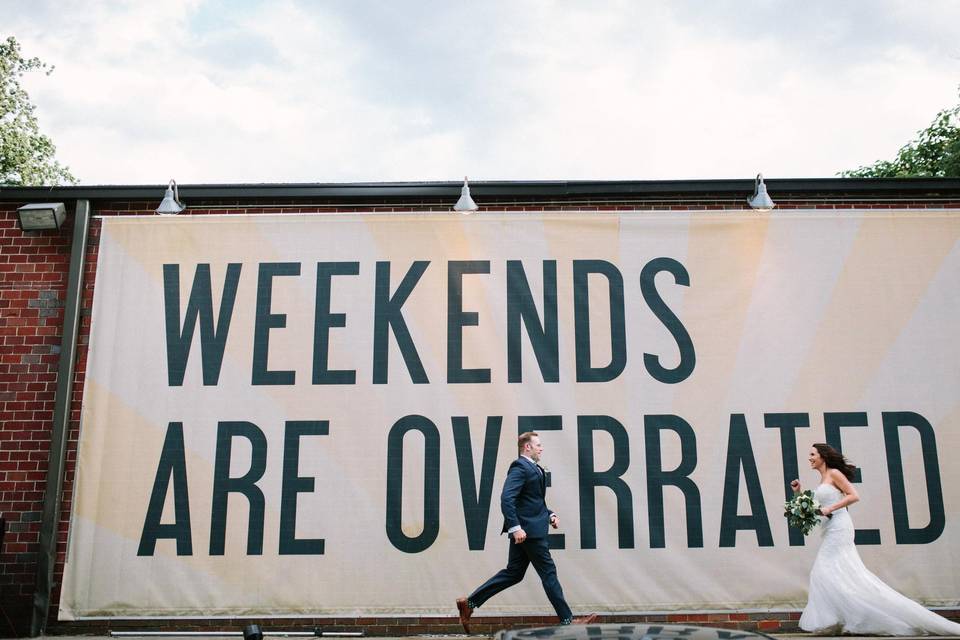 Weekend weddings are popular for a reason, but that doesn't mean you have to rule out a Monday through Friday affair just yet. In fact, weekday weddings have plenty of benefits for couples to consider, including the potential to some save major money in your wedding budget.
If you're stuck wondering whether a weekday wedding could be a feasible option, consider this your guide to all the benefits and drawbacks of tying the knot on an unconventional day.
Pro: Budget-Friendly
Booking your wedding on a weekday means you can expect some pretty sizable savings on everything from venues to catering to transportation and more. Many venues will offer generously discounted rates to encourage booking their facility on an off-date that it might otherwise sit empty. Not only will these savings allow you more wiggle room in your overall budget, but it can be the make or break between marrying your love in the setting of your dreams.
Pro: Vendor Availability
Most engaged couples quickly realize that the very best vendors and venues book out far in advance for those coveted Saturday wedding dates. This is particularly relevant if you're a couple planning around a short engagement timeline. However, a weekend wedding will very likely open up a world of options to work with your favorite floral designer, hair stylist, photographer, or wedding planner without all the booking competition. Similarly, if your ideal venue is booked on Saturdays throughout the year, a weekday might be your only shot to snag a date and save some money in the process.
Pro: Low-Key Atmosphere
For couples who are planning an intimate wedding with only their nearest and dearest in attendance, the particular day of the week may not be as important. A smaller guests lists offers more flexibility in your date selection because you're working around the schedule of fewer people and can easily confirm availability with your VIPs in advance. In addition, if you and your soon-to-be truly want a low-key celebration without the late-night festivities, a weekday wedding might be the perfect way to go.
Pro: Friday Night Fun
On the flip side, Fridays are especially popular for weekday weddings because they allow your guests to celebrate late into the night with the entire weekend to recover. Plus, who doesn't want to ring in the weekend with drinks, dancing, and a whole lot of love?
Con: Inconvenience to Guests
Depending on which day and time your celebration lands, hosting a weekend wedding will likely cause scheduling conflicts with at least some of your guests. While a weekend wedding can be a huge financial advantage to you and your future spouse, it might require your loved one to take time off work, which can be especially difficult for anyone without paid time off or for your guests traveling from out-of-town.
Con: Weeknight Conflicts
Weeknights are often filled with routine obligations that can be hard for guests to work around. Whether it's attending their child's sporting event or an important night class they can't miss, make sure to understand that a weekday wedding simply won't work for everyone on your list. However, the more advanced notice you can give guests with save-the-dates, the better chance they'll be able to make arrangements in their schedule.
Con: Quieter Crowd
If your weekday wedding falls on a Monday through Thursday, expect that the party might not be so hopping. Most guests will have work and school obligations the following morning, so a late night of partying won't be quite as appealing. If your heart was set on an evening of epic proportions, you might be bummed to find some guests not on board to party in the middle of the week.
Remember, no matter which day of the week you choose to host your wedding, make sure to take into account your preferences, your budget, and the loved ones on your guest list for a decision that's just right for you.