5 Wedding Ice Breakers to Help Make Small Talk with Guests
There's nothing worse than awkward small talk. These wedding icebreakers will get the conversations flowing with each and every guest on your big day.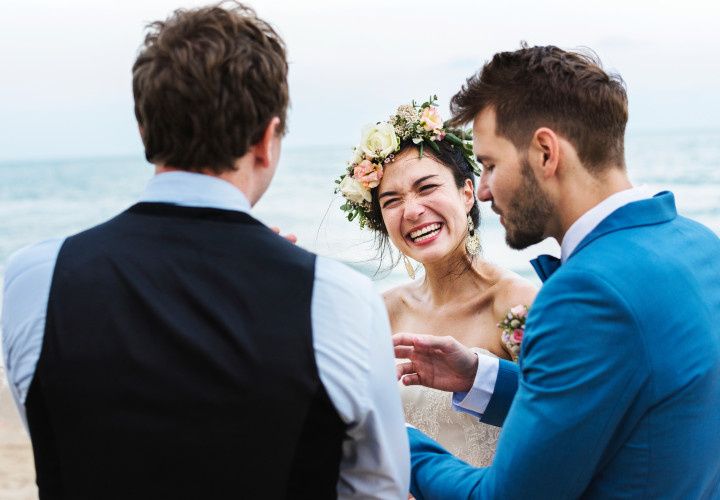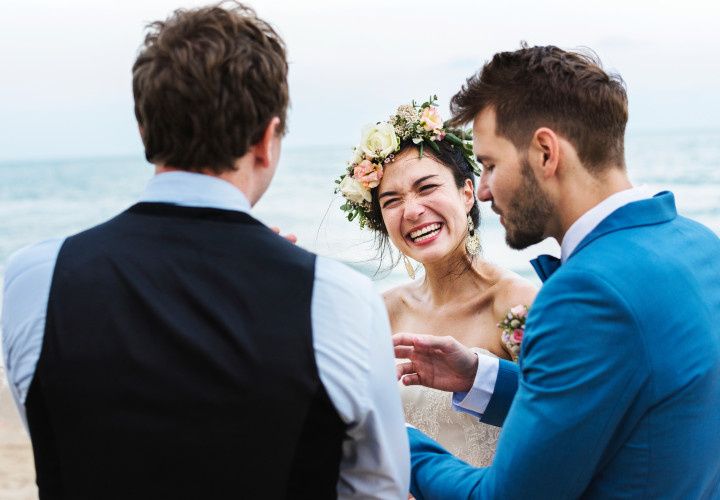 Wedding prep can take so much out of you, it's hard to imagine your brain being anything but mush by the time all the hard stuff is over and you're just mingling at your reception—meaning coming up with wedding icebreakers on the spot can feel nearly impossible. But being a gracious host to your guests is actually something you should plan for, and that means being able to give individual attention to each and every one of them. It's just good manners! Don't worry—most of the conversation will probably revolve around how beautiful and in love you and your partner look.
But if you want, here are a few more genius wedding icebreakers, so you can make every one of your 150 guests feel as loved as your maid of honor.
"How was your trip here?"
Even if your wedding isn't a destination one, chances are, a good portion of your guest list will be traveling to get there—costing them time and money and maybe even some airport frustration. This wedding icebreaker is a subtle way to acknowledge the time your guests took to get to your wedding, and thank them for it, because we all know showing up is one of the best wedding gifts of all. Plus, it'll shift the focus to them for a bit—which is considerate to them, and helpful for you if you need a little break from the spotlight. Extra points if you ask how long they're staying, and what else they plan on doing while in town.
"You look great!"
If you've ever been a wedding guest, you know how much thought you put into your outfit. Maybe not as much as the newly-married couple, but you'll still probably spend more than you usually would to lock down a look you think will blend perfectly with the couple of honor's great taste. As the host, you can return the favor (and the good karma from all the compliments you'll be receiving on your own outfit all day) by acknowledging how well your guests cleaned up for you. It'll make them feel special, and inevitably will turn into an easy wedding icebreaker about how great the entire event looks.
"Have you tried the [food item you're most into]?"
Food is a great equalizer—everyone loves snacking at a wedding, even people you might not relate the easiest to (like one of your random parent's friends or a teenager). Not only will it be super natural to talk about your delicious food (you picked it!) but it'll also give your guest an inside look at your planning process—after all, you spent a long time choosing these menu items, and your guests would love to know all the care you put into making sure they have a delicious evening. Plus, sending them off to the appetizer table to stock up is a tactful way to sneak off to your next conversation!
"Did you see [so and so] is here?"
Going to a wedding full of strangers can be anxiety-inducing for guests. A smart wedding icebreaker is to connect them and get them striking up conversations with each other. Not only is it a good conversation starter to bring up a person you both like, it's also nice to connect people who might not have known each other were there so they can keep the good convo going when you have to move on.
"What song will get you on the dance floor?"
Once the aisle has been walked and the rings have been exchanged, there's only one thing on most guests' minds (besides finding the open bar…): Dancing! People always have their favorite wedding dance song in mind, and it's not only a fun thing to talk about, it's usable information! You can get a feel for what will get people on the dance floor, and pass that on to your DJ to give the people what they want. Your guests will appreciate you taking their feedback, and you'll be glad when the dance floor is bumpin'.