The Evolution of the Bridesmaid Dress
Here's a look at the evolution of the bridesmaid dress, from looks they'll never wear again to dresses that will flatter their figures to gowns they can rent!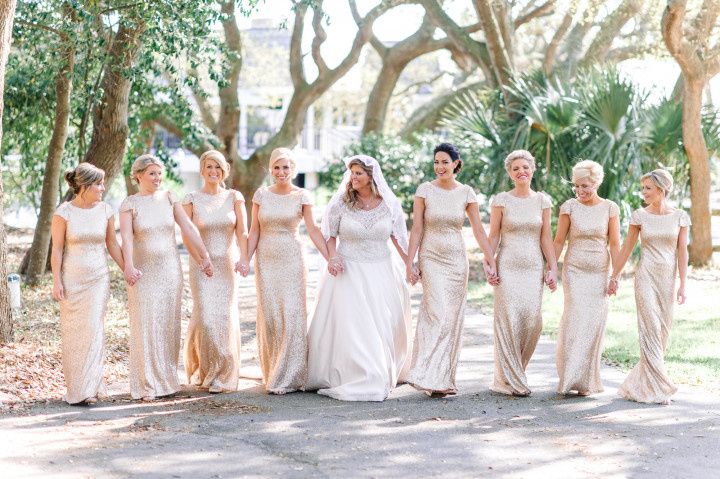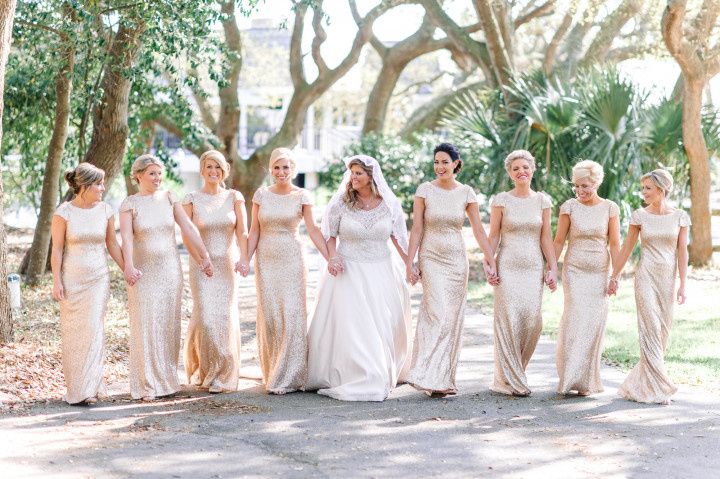 Photo: Pasha Belman Photography
Wearing a dress picked out by someone else, even if she's your BFF, doesn't always work out best for bridesmaids. With different body types and personal style choices it's hard for a bride to choose a bridesmaid dress that will make everyone in the bridal party happy.

Luckily, over the past 10 years the bridesmaid dress has evolved from a Bobbsey-twin look where everyone wears the same dress to a more style-conscious option where the bride picks a fashion-forward look, or each bridesmaid shops for a dress that fits both her personal style and her budget. "The trend in bridesmaids dresses over the past decade has shifted towards more unique and diverse bridal parties," explains Katherine Cangemi, Buyer for Bridesmaids at David's Bridal. "Brides are inviting their 'maids into the dress selection process and having them choose a dress that best suits their style, body type and personality. This could mean anything from mixing necklines within the same fabric and color to mixing textures, patterns and colors within a bridal party."


Here's a look at the evolution of the bridesmaid dress, from looks they'll never wear again to dresses that will flatter their figures to designer bridesmaid dresses they can rent!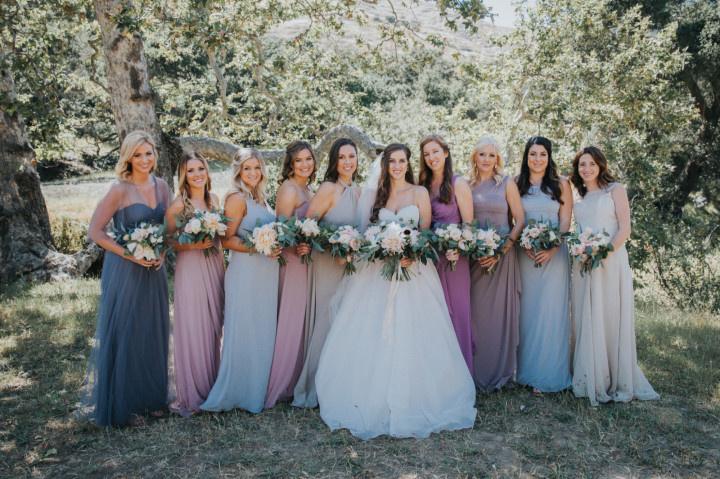 Photo: Michael Stephens Photography
Mix and Match
One of the most lasting fashion changes to the bridal party is mixing and matching dresses by silhouette and color. It takes a lot of thought and work on the bride's part to find a range of color options and style guidelines to ensure that the bridal party, while in different looks, looks cohesive when they stand and pose together on the wedding day.

"The effortless look takes effort," Erin Wolf, co-owner of Bella Bridesmaids, tells WeddingWire. "A little research to narrow designers, colors and fabrics that work well together and where your bridesmaids can try them on is so important. The bride will be happier with the end result, and her bridesmaids will have a more pleasant shopping experience." Working with a stylist at your local bridesmaid salon to help curate the fabric, color and designer choices can make the whole process simpler and less stressful for both the bride and bridesmaids."

"It's helpful to work with someone with infinite product knowledge to make sure you are putting the right mix and match of styles and colors to suit your bridesmaids and your wedding day," adds Kathleen Casey, co-owner of Bella Bridesmaids.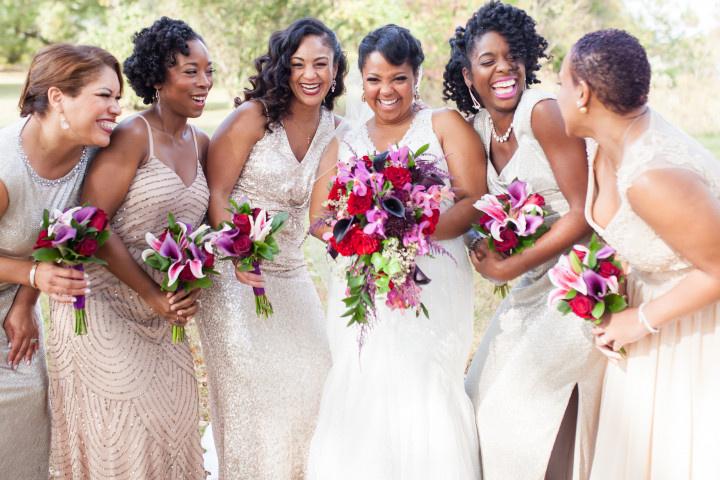 Photo: Angie McPherson Photography
Choosing Their Own Bridesmaid Dress
Brides are more open to letting their bridesmaids choose their own dresses to wear to the wedding, within reason, of course. "Bridesmaids in the end want to make the bride happy, but that can be tricky when the bride gives little direction," shares Erin. "Suggesting designers, fabrics and colors and where to find them gives your bridesmaids confidence and ensures a polished and put together bridal party look the day of." Brides should be clear with their bridesmaids as to what the formality of the wedding is and let them know what the color, hemline and silhouette should be limited to.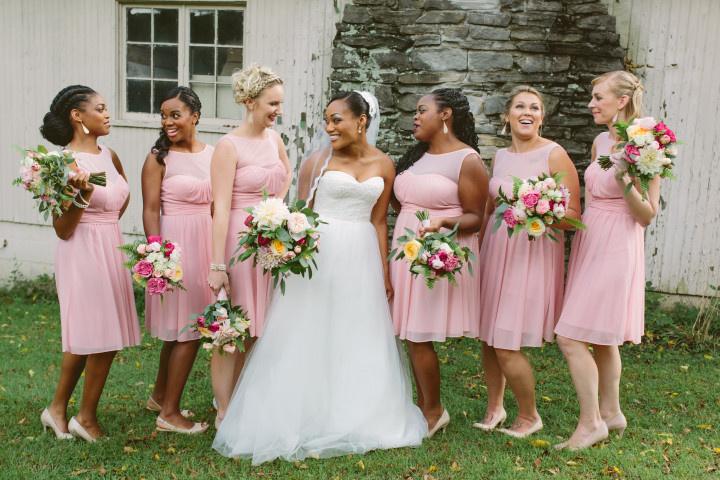 Photo: Greybird Galleries
Softer Fabrics
Satin and even taffeta were once the norm for bridesmaid dresses. These stiff fabrics aren't very breathable for summer weddings, and the structured silhouette could be quite constricting. "There is certainly a move to more fluid fabrics and simpler, cleaner design," says Erin. Bridesmaid dress designers began incorporating light-as-air fabrics into their collections as bridesmaids and brides wanted a more forgiving and less structured look. "The popularity of chiffon and tulle over the last four years is starting to give way to fabrics such as stretch crepe and liquid sateens, which allow for a sophisticated silhouette but in a fabric that feels amazing."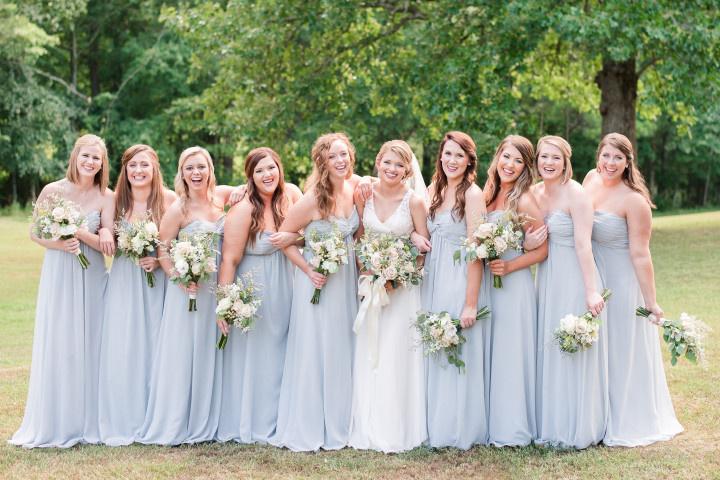 Photo: Eric & Jamie Photography
Longer Hemlines
Cocktail-length bridesmaid dresses in structured fabrics were once the most popular looks for bridesmaids, but as softer fabrics have taken the place of shantung, satin and taffeta, longer hemlines have grown in popularity. "10 years ago most of our orders were for short hemlines, now the vast majority are for floor-length dresses," Erin shares. Longer hemlines can work well with a rustic or formal look and feel, and are more flattering in the softer fabrics that are popular today. "With chiffon and tulle so popular, a short chiffon dress can sometimes read beachy when the same style in floor length can feel more elegant."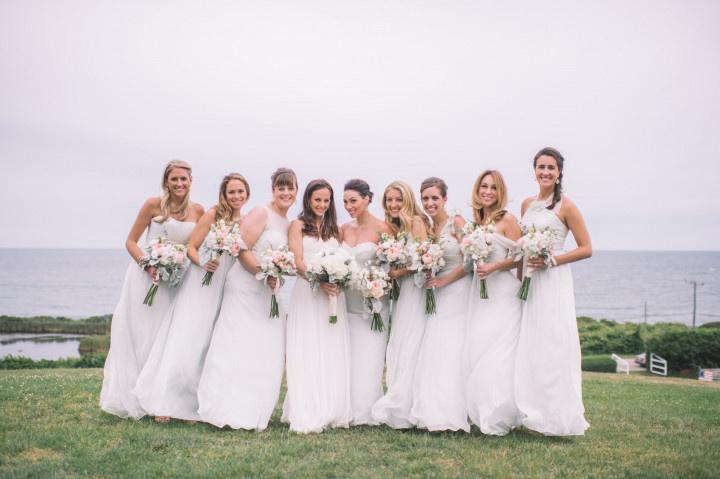 Photo: Katie Slater Photography
White for Bridesmaids
Ever since Pippa Middleton wore a white maid-of-honor dress to her sister's royal wedding, brides around the world decided that it was okay for their bridesmaids to wear white (or ivory) too. "White is very on trend right now," shares Erin, "there will be a lot of white at weddings this fall." But to update the Pippa Middleton look Erin explains that brides are mixing shades of white and ivory, or adding texture to the white-wedding look with sequined dresses. "For those who love the all-white look, but still want to be the only one wearing white, try soft shades of your favorite color," adds Katherine. "Champagnes and blush tones will have a similar feel to an all-white party."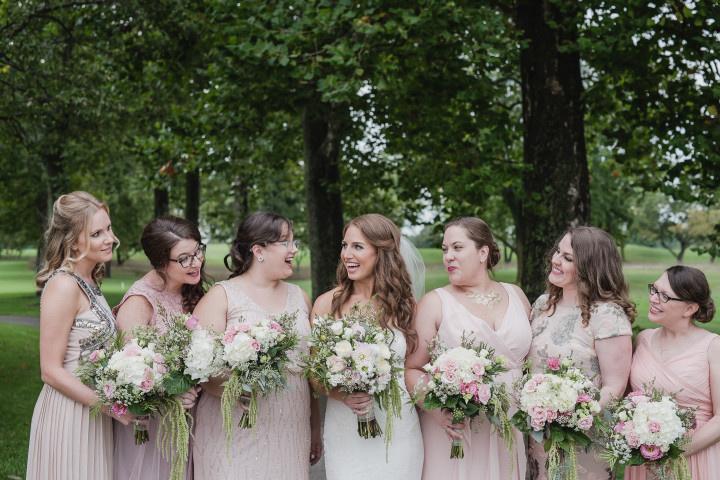 Photo: Kari Dawson Weddings
Renting Bridesmaid Dresses
Men have been able to save a fortune when they're a groomsmen by renting a tuxedo and now the ladies can get in on the action! Thanks to website Vow to Be Chic bridesmaids can rent designer wedding dresses for less than $100! With bridesmaids spending $1,000 or more on each wedding they're in, a few hundred dollars savings on the dress can be a silver lining on an expensive and busy year. For bridesmaids who can pick their own dress to wear to the wedding, Rent the Runway has some chic rent-able looks too.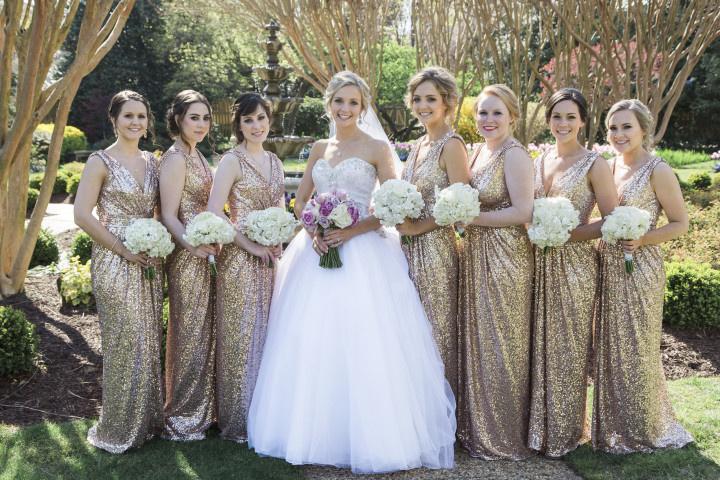 Photo: Echard Wheeler Photography
Sequin Embellishments
The days of the bridezilla are over, and brides are no longer afraid to let their bridesmaids stand out in dazzling dresses. Bridesmaid dresses should complement the structure and formality of the bride's wedding gown, so if her gown twinkles in the light, it's a natural fit for the bridesmaids to twinkle too. "Sending the bridal party down the aisle in sparkles prepares guests for the bride's big moment ahead," explains Erin. "It's not stealing the show, but a complementary look that elevates the entire bridal party." A twist on this shimmering look is dressing each bridesmaid in different colors. "Multiple shades in the same color family creates a pretty ombre effect," notes Katherine. As for the most popular sequined looks, rose gold reigns as the #1 shade, followed by gold, navy and black.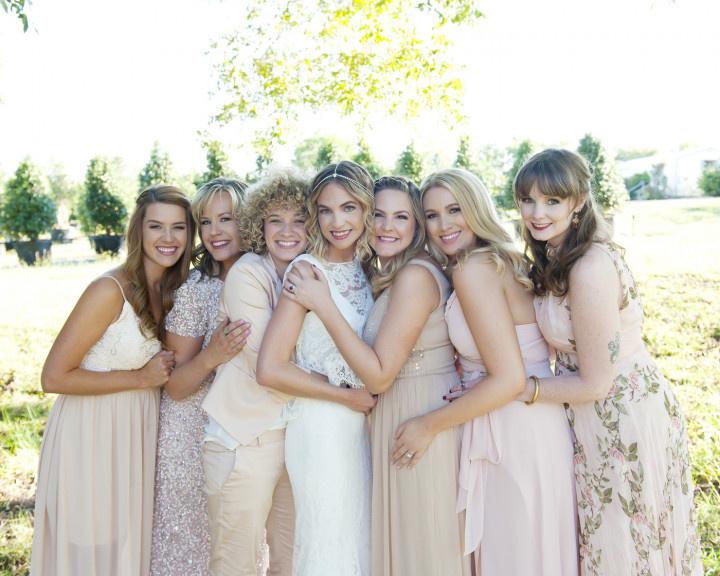 Photo: Tamytha Cameron Photography
Jumpsuits
As brides and grooms plan less formal weddings, the looks for the bridal party have become more relaxed too. When jumpsuits became a staple of a woman's wardrobe a few years ago, bridesmaid dress designers began adding at least one jumpsuit to their collection for that chic, relaxed look that resembles the Coachella/music festival vibe. "Jumpsuits are also popular with brides for their rehearsal dinner look and honeymoons wardrobe," adds Erin.