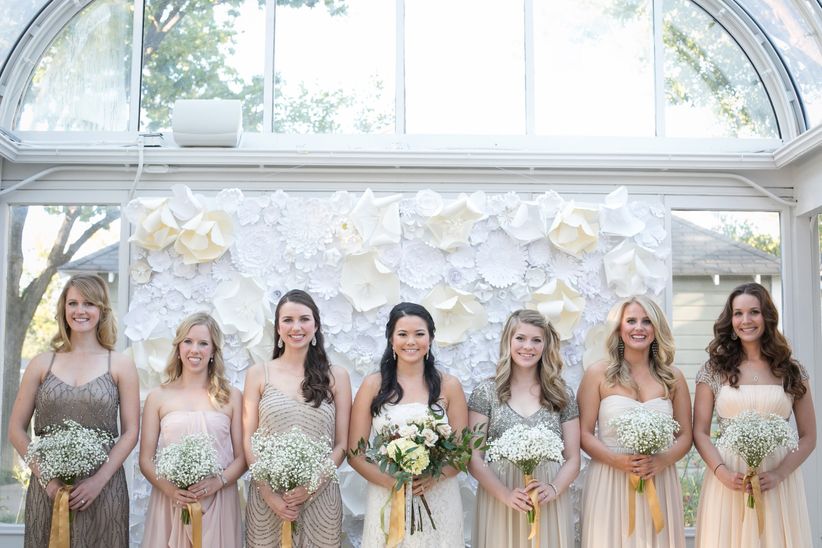 Photo: Joice Ruffing Photography
The greater Houston area is rich in biodiversity and blessed with a nearly year round warm climate, so it's no surprise that many wedding venues in Southeast Texas are the garden variety. For nature-loving couples who want greenery and rustic vintage details to take center stage at their nuptials, these wedding venues in Houston and Beaumont wedding venues are definitely worth some serious consideration. But, couples longing for a bit more elegance, don't click away just yet! While some of these venues in Houston and surrounding areas definitely don't shy away from that quintessential Cowboy culture Texas is known for, other venues bring the sophistication of a ballroom to the outdoors. From wedding venues in Southeast Texas that are a stone's throw from downtown Houston to Beaumont wedding venues that are closer to the Gulf, there's something for every couple.


Check out our favorite wedding venues in Southeast Texas!
Photo: Joice Ruffing Photography
Gardens of River Oaks
Transport your guests to an authentic Victorian garden in the middle of Houston with Gardens of River Oaks. One of the most
unique wedding venues in Southeast Texas
, Gardens of River Oaks provides climate-controlled cover from the elements with a glass-domed English conservatory and a string of smaller cottages, but the natural beauty of the garden is the real show stopper. Accent the Old World nature of this wedding venue with off-white and metallic wedding details like this
real couple's chic wedding
Learn more about Gardens of River Oaks »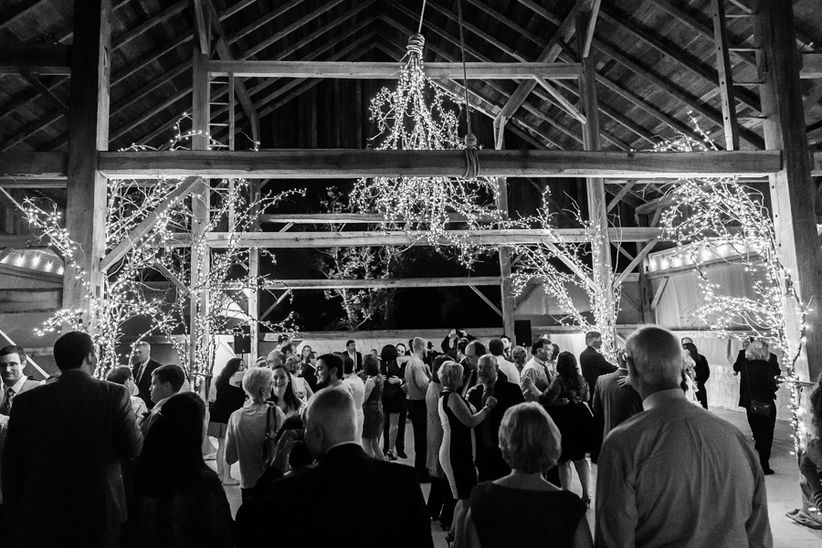 Photo: C. Baron Photography
Chandelier Grove
Tucked away in Tomball, Chandelier Grove lives up to its name as a wedding venue that's equal parts fancy and nature-inspired. Live Oak trees fan couples who choose this gorgeous venue to wed, as the simple outdoor ceremony altar provides the only needed decoration. Inside the white-washed barn, elaborate table settings and elegant vintage details fit right in. Many couples choose to take advantage of the barn's sparse stylings to infuse their own personality, like Haylie and Drew, whose
wedding and reception at Chandelier Grove
included colorful flowers and accents.
Learn more about Chandelier Grove »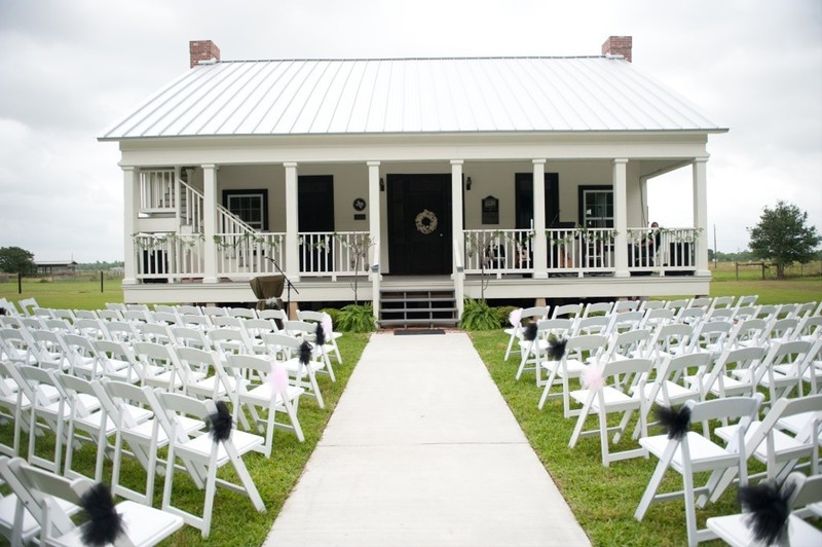 Photo: Broussard Farm/Sevenne Hall
Broussard Farm/Sevenne Hall
While plenty of wedding venues have a family "feel," Broussard Farm is owned and operated by an actual family — the Broussard family, to be precise. Built in 1857 by the owner's great-great grandfather, it's a working ranch and private home that makes for perfect country-inspired weddings. Sevenne Hall (pronounced "say-van") is a newer edition built to look like classic Texas dance halls and offers a great indoor option for when swampy Beaumont humidity is too much to take.
Learn more about Broussard Farm/Sevenne Hall »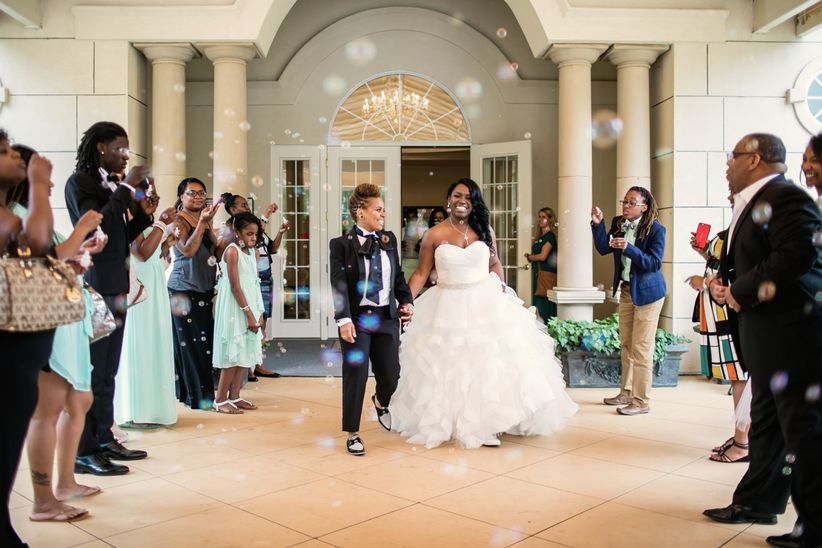 Photo: FAIRY TALE PHOTOGRAPHY
Ashton Gardens
With two locations in North Houston and West Houston, there are too many good things to mention about Ashton Gardens. Bathed in opulent white details that are perfectly set off by the wood paneling and flooring, Ashton Gardens kills it in the rustic-meets-chic department. For ceremonies, there's a gorgeous chapel with exposed wood beams and white wooden pews that gives the feel of being outdoors because of the ample natural light pouring inside. Receptions take place in an equally gorgeous dining room complete with white linens and
plush upholstered wedding chairs
.
Learn more about Ashton Gardens »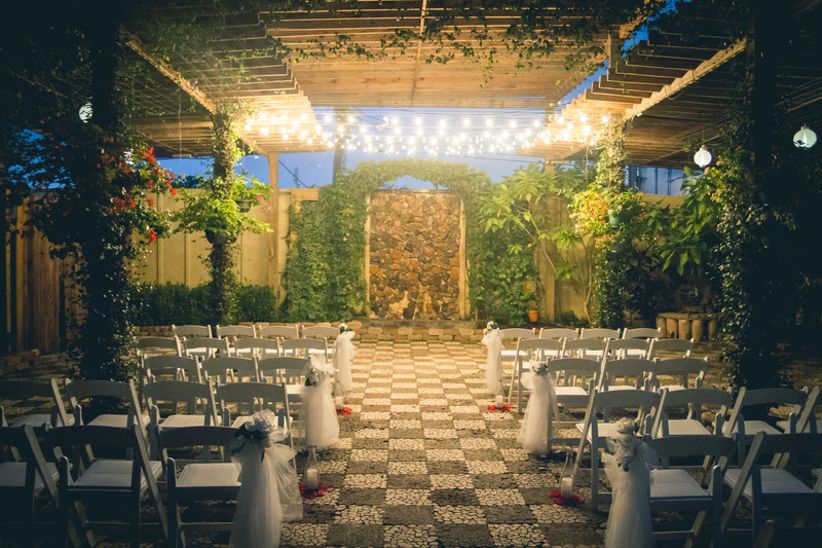 Photo: Shafaii Hall & Garden
Shafaii Hall & Garden
Texas weddings may be known for going big or going home, but Shafaii Hall & Garden in East Houston proves that intimate spaces are a win. A secluded outdoor space that mimics the look and feel of a secret garden with hanging greenery, plant-covered columns and a green altar, Shafaii is ideal for couples looking to harness their inner flower child. With the capacity for up to 130 guests, Shafaii Hall & Garden's indoor wedding spaces are just as impressive as its garden with clean white decor and ornate light pieces.
Learn more about Shafaii Hall & Garden »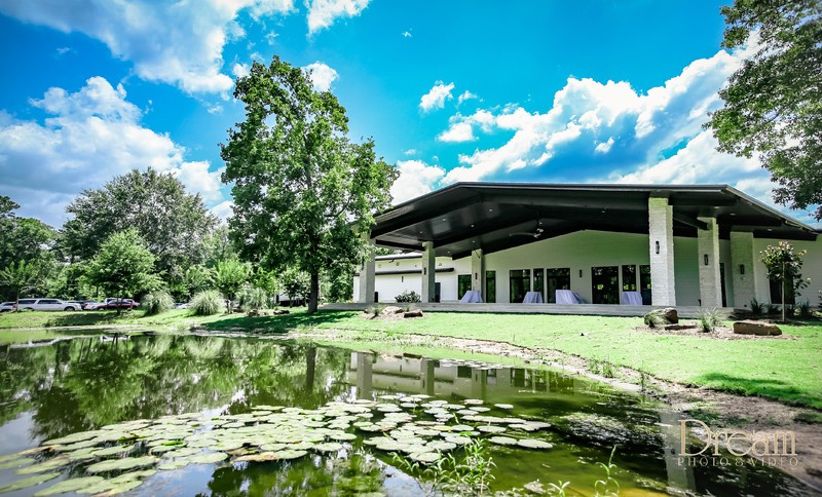 Photo: 15 Acres
15 Acres
Tucked away in Hockley, Texas, 15 Acres is an expansive, modern ranch banquet hall decked out with a covered, outdoor event space and an idyllic outdoor ceremony space overlooking a lily pad-filled pond. This beauty of a Southeast Texas wedding venue is flanked by stylish stone columns and surrounded by acres of lush grass. Weddings of all sizes will enjoy this for their big day, as it accommodates up to 350 guests.
Learn more about 15 Acres »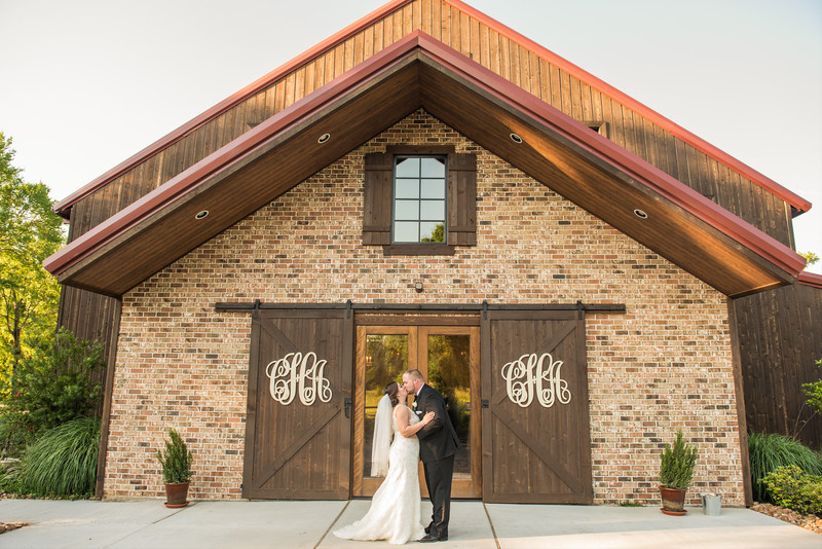 Photo: The Carriage House
The Carriage House
Of all the wedding venues in Southeast Texas, The Carriage House has really nailed the rustic-glam aesthetic. Located north of Houston in Conroe, this wedding venue was formerly a storage space for horse-drawn carriages. Perfectly restored with dramatic wood and brick details, everything from the facade to the exposed wood beams to the wood paneled walls of this indoor and outdoor space befits celebrations for all types of couples. Natasha and Chris played up the rustic nature of this venue with wood signage for their
Spring wedding at The Carriage House
.
Learn more about The Carriage House »
Photo: Madera Estates Weddings & Events
Madera Estates Weddings & Events
Opulent and rustic at the same time, Madera Estates Weddings & Events is ideal for the couple who appreciates an idyllic touch without sacrificing elegance. This outdoor wedding venue in Conroe (a city north of Houston in Southeast Texas) is just far enough away from the city hustle and bustle to offer clear skies, fields of trees and thick, gorgeous bushes of greenery while also offering on-trend wedding details like strung lights, garland embellishment and metallic table settings. While Madera Estates offers a stunning ballroom for indoor receptions, couples can't resist the outdoor ceremony space with its grand Spanish colonial-style fireplace and cascading water features. The fireplace also makes this a popular choice for couples
planning a Hindu wedding
, which requires open fire.
Learn more about Madera Estates Weddings & Events »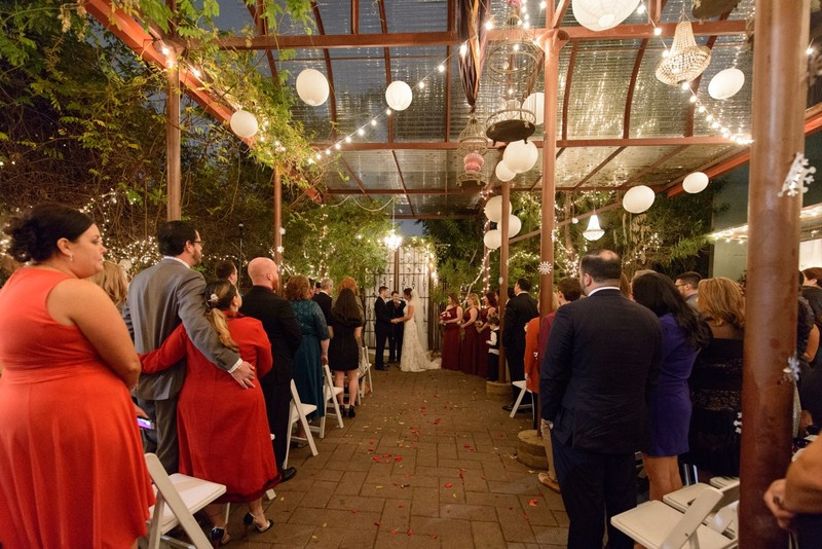 Photo: AvantGarden
AvantGarden
A historic home on Houston's Westheimer Road turned entertainment venue turned wedding venue, AvantGarden's enclosed, urban-country courtyard is one of the most perfect wedding venues in Southeast Texas. AvantGarden was artfully restored multiple times after a century of use — first as a private home that Hollywood producer Howard Hughes may or may not have played in before being turned a halfway house then abandoned. Equidistant from two of Houston's trendiest neighborhoods, Montrose and Midtown, AvantGarden offers four event spaces and has a capacity to hold up to 180 wedding guests.
Learn more about AvantGarden »