If you're a native Houstonian (or from any of the surrounding areas), we forgive you if you haven't previously thought about downtown Houston wedding venues for your modern wedding. While the nation's fourth largest city's urban core was known largely for commerce in decades past, trendy restaurants and close-in neighborhood revitalizations, not to mention convenient bus and rail transit options, have shaken up downtown Houston and made it a go-to dining and entertainment destination for trendy H-Town couples. Just as perfect for local guests as it is well-suited for out-of-towners, hosting your wedding ceremony and reception at one of these downtown wedding venues in Houston not only guarantees bright lights and urban elegance, but also convenience.
Here are some of our favorite downtown Houston wedding venues!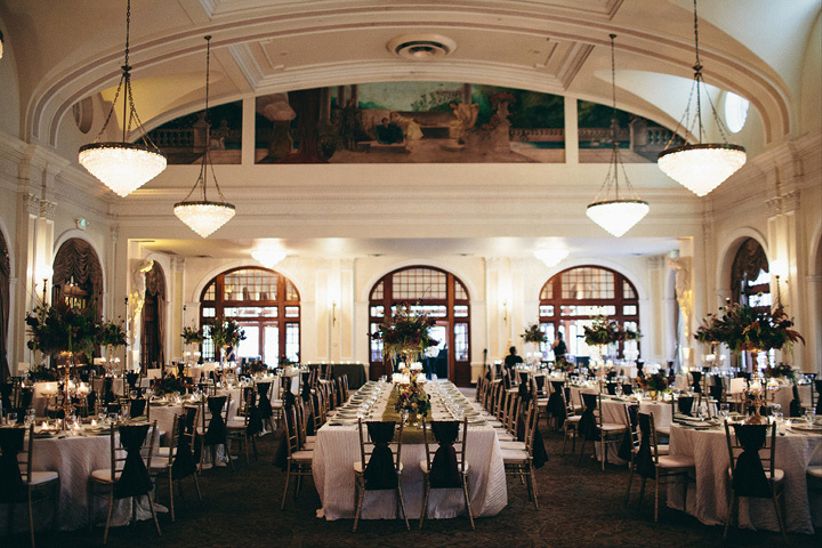 Crystal Ballroom at the Rice
Here's the thing about Crystal Ballroom at the Rice: You just can't go wrong with this wedding venue in Downtown Houston. Set inside Houston's iconic Rice Hotel (Trivia: The former capitol building of the Republic of Texas), the Crystal Ballroom is both classic chic — thanks to crystal chandeliers, 35-foot ceilings and wraparound terrace porches—and completely on-trend for modern couples with hipster touches like lucite chairs and exclusive catering from Southern trendsetter Sambuca. Whether you're planning an ultra-modern event, want to stick to classics or anywhere in between, this 400-seater is one of the best downtown Houston wedding venues to consider.

Learn more about Crystal Ballroom at the Rice »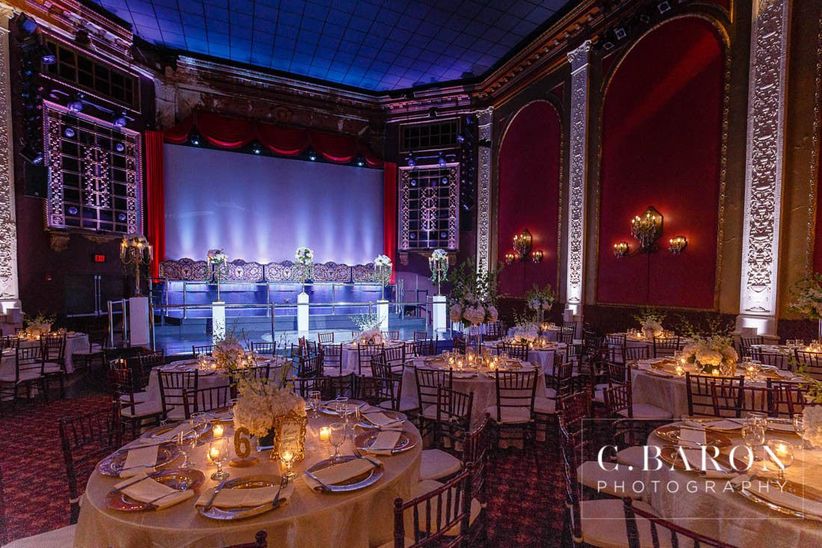 Majestic Metro
The allure of this Downtown Houston wedding venue is pretty much right in the name. It's the place for couples who believe in "go big or go home," who've never met a dance floor they didn't want to bedazzle and who insist that "more is more" when it comes to opulence. Located adjacent to both Houston's Theatre District and Market Square Park, Majestic is a unique Houston wedding venue that's ideal for couples who want to make a splash. The indoor venue that accommodates up to 400 guests is set off by antique crown molding, ornate chandeliers, regal lanterns and a spotlight-lit stage for happy newlyweds to enjoy a Hollywood-style first dance.

Learn more about Majestic Metro »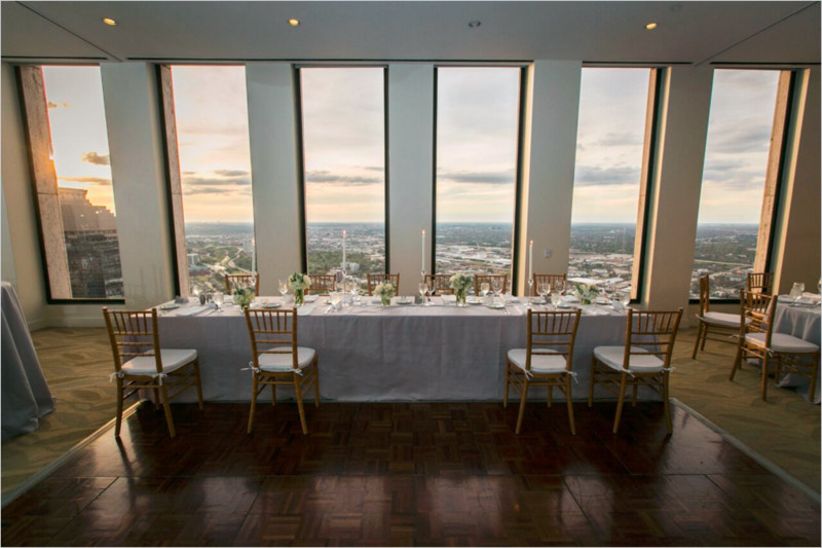 The Houston Club
Couples oozing with a ton of pride for their city will find The Houston Club to be one of the best downtown Houston wedding venues to showcase their love. Beyond the name, The Houston Club is several cuts above other country clubs thanks to its convenient location in the Theatre District and high-rise view of downtown. Perfect for intimate weddings with the capacity to accommodate up to 140 wedding guests, this wedding venue features floor-to-ceiling windows to properly take in the Houston skyline at dusk, sunset or glittering at night. Couples who host their special day at this Houston wedding venue with a view typically don't need much decor as the decadent furnishings and dazzling scenery provide ample visual stimuli for guests.

Learn more about The Houston Club »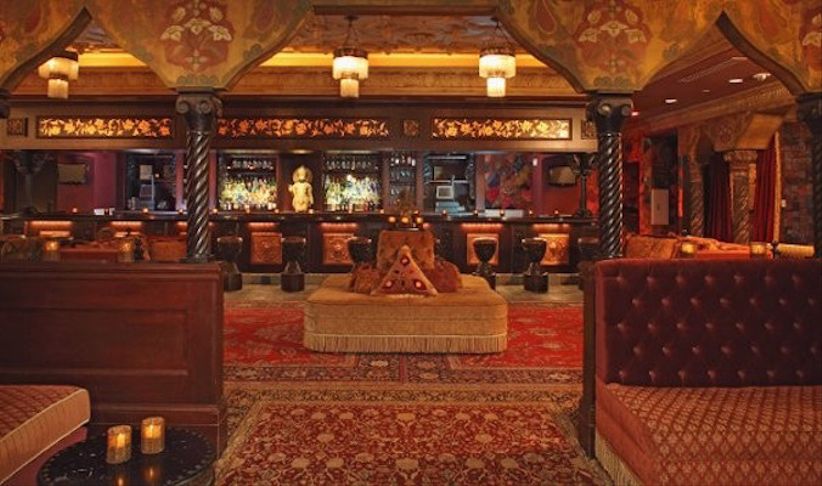 House of Blues
If you thought downtown Houston wedding venues would be limited to a hotel or three with a few banquet halls thrown in, well, you were wrong. House of Blues, an iconic music venue on Caroline Street, is perfect for wedding celebrations and receptions with a bit of edge. With four distinct event spaces, including a more traditional ballroom and a less traditional restaurant set-up, HOB Houston has the massive capacity of up to 2,000 guests. Dripping in rockstar elegance and super-trendy shades of berry, your guests will know your wedding = the best time ever with this unconventional wedding venue.

Learn more about House of Blues Houston »
The Whitehall Houston
Attention Southern belles and beaus: We've found the downtown Houston venue you've been searching to find. With an elegant, spiral staircase straight from a mansion and a ballroom full of mid-century design elements, The Whitehall Houston is boutique hotel with a ton of character. Boasting no less than 12 event spaces, the largest being the Grand Ballroom that seats up to 300, The Whitehall can be a bit of chameleon. Some rooms lean into Southern charm while others take a more modern tack with bright floors, neutral tones and greenery details. Whatever your tastes, this stunner venue will likely fit right in.

Learn more about The Whitehall Houston »
Station 3
Even among the host of amazing wedding venues in Houston, Station 3 is pretty special. A former horse-drawn carriage house turned fire station turned stunning wedding venue, Station 3 is an industrial chic couple's dream with a rustic, shabby chic facade, exposed brick walls, oodles of natural light thanks to huge windows and a still-intact fireman's pole. Utilizing nearly 6,000-square feet of space, couples can entertain up to 250 guests indoors and make use of the 1,500-square foot outdoor courtyard. Located just north of downtown, this historical landmark for the City of Houston is worth the short drive from the downtown core for couples searching for a spacious and adaptable event space.

Learn more about Station 3 »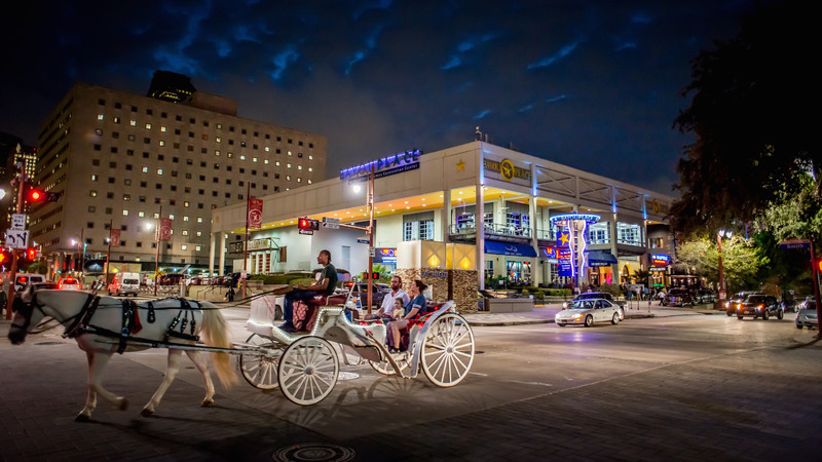 The Ballroom at Bayou Place
For couples getting ready to wed in Houston, there's a party, and then there's a party. The Ballroom at Bayou Place is — no offense! — best-suited for the latter. Ginormous even by Texas standards, it's a 15,000-square foot event space where 1,000 of your closest friends and dearest relatives can easily dance the night away. Steps from Buffalo Bayou (hence, the name), the Ballroom at Bayou Place is ideal for showing off your town to out-of-town friends with easy access to many of downtown's attractions, including Downtown Aquarium, Market Square Park and the Hobby Center. A flexible event space that hosts other things besides weddings, couples will find a blank canvas to bring their wedding vision to life with the Ballroom at Bayou Place.

Learn more about The Ballroom at Bayou Place »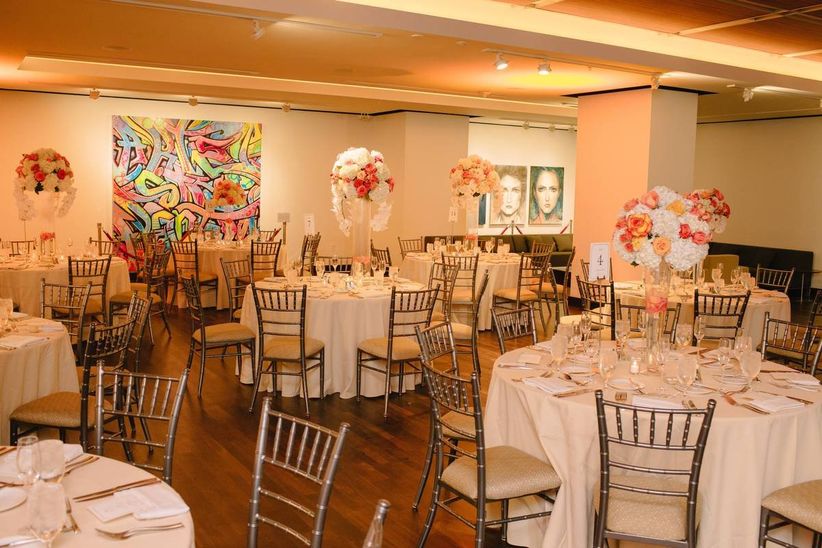 JW Marriott Houston Downtown
Those looking to combine the convenience of a Downtown Houston wedding venue and hotel with an artsy, unique space should definitely check out the JW Marriott on Main Street. This hotel offers nine unique event rooms, with space for up to 350 guests. In particular, art aficionados will love the Picasso Art Gallery and the Monet room, both spaces full of colorful works. You'll also appreciate working with the experienced Special Events team, who will help you create an event all your own. Plus, your guests will be thrilled to stay on premises at this wedding venue in Downtown Houston to experience all that the city has to offer.
Learn more about the JW Marriott Houston Downtown »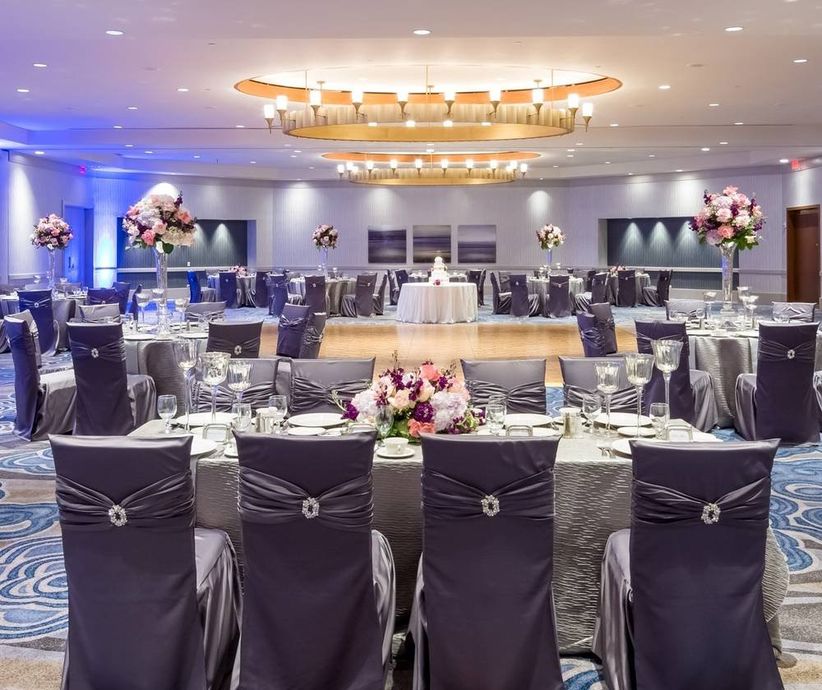 Doubletree by Hilton Houston Downtown
For couples desiring a wedding venue in Downtown Houston that can accommodate a larger event, this hotel venue is worth a look. With a variety of adaptable event spaces and a capacity of 400 guests, you'll love the convenience and style of this venue. The recently-redecorated La Salle Grand Ballroom is the largest event space, while the smaller Granger Ballroom features grand 12-foot ceilings and room for up to 200 guests. Even more intimate events of up to 100 guests can be held in the Travis Room. This is also an ideal hotel to book room blocks for your out-of-town guests given its central location.
Learn more about the Doubletree by Hilton Houston Downtown »
The Magnolia Hotel
This modern wedding venue in Houston is a city-chic event space for weddings of up to 230 guests. The Magnolia Hotel offers three main event spaces, including the Magnolia Ballroom, with its neutral color palette and space for up to 180 guests for a seated event, the Magnolia Lounge, an open concept space with unique artwork, and the Sterling Ballroom with its floor-to-ceiling windows. The hotel also offers luxurious rooms for your guests to enjoy during your wedding weekend.
Learn more about The Magnolia Hotel »
Disclosure: This post contains affiliate links, some of which may be sponsored by paying vendors.