As the nation's fourth-largest city and the South's biggest metropolitan area, Houston has a lot to offer in just about every way. Couples planning a wedding in this cultural and culinary epicenter will have plenty of unique wedding venues in Houston to choose from, but we've singled out some of our absolute favorites. Whether your planning tastes veer more toward the chic and sophisticated, or you've always dreamed of a classic Texas wedding even Bonnie and Clyde would approve, these unique wedding venues in Houston will perfectly suit your tastes, we promise.
Check out these perfectly unique wedding venues in Houston!
Olde Dobbin Station
There's good reason why industrial chic is one of the biggest trends in wedding planning and decor these days. Previously vacant factories, mills and, in the case of Southeast Texas, oil pumping stations are gorgeously repurposed as sparse, airy and light-filled wedding venues just waiting to be properly spruced with unexpected floral touches. Olde Dobbin Station, located in Montgomery just near Lake Conroe, is an industrial wedding venues Houston couples love. Currently enjoying its second act as a wedding venue, Olde Dobbin's five distinct buildings were built in the early 20th century and used by various oil companies. Couples may choose from the indoor chapel or the outdoor courtyard for their wedding celebrations, while the massive McCoy Station building — the banquet hall to best all banquet halls — is perfect for a reception, with the capacity to seat more than 500 people.

Learn more about Olde Dobbin Station »

The Astorian
This Couples' Choice Award-winning venue is ideal for 1920s-style weddings with Art Deco flair—the space is actually inspired by New York City's famed Grand Central Station. It combines an industrial vibe with historic details, and features 360-degree views of Downtown Houston, high ceilings, wood paneling, concrete floors, and more. This impressive space can host weddings of up to 700 guests, and is sure to wow your entire crew.
Learn more about The Astorian »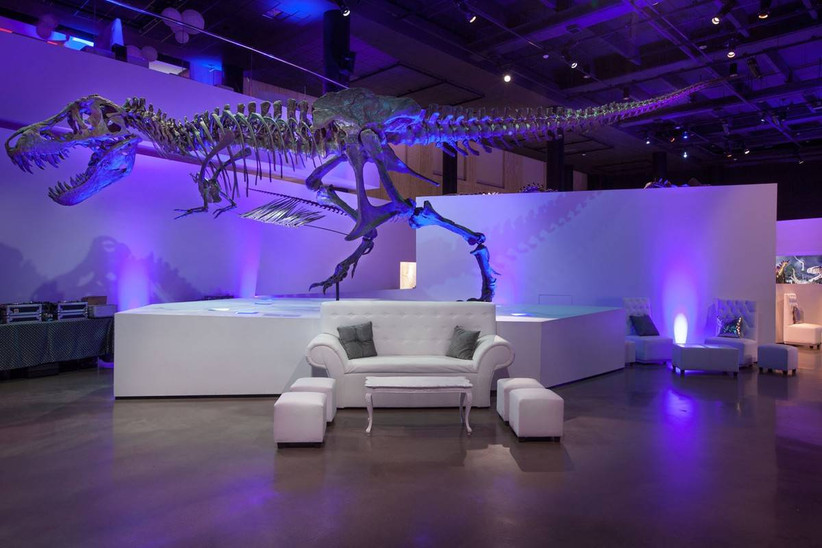 The Houston Museum of Natural Science
For the nature lovers among us, what could be more perfect than exchanging your vows near a massive 2,000-carat emerald before being toasted by your wedding party near the skeleton of a T-Rex? The Houston Museum of Natural Science offers just the opportunity, with more than a dozen galleries, halls and cabinets to rent for your special day, each with their own scientific focus and allure. In terms of wedding venue uniqueness, the museum is pretty high up there with spaces as varied as the Burke Baker Planetarium Theatre (get married under the stars!) to the outdoor and incredibly verdant Cockrell Butterfly Center.

Learn more about The Houston Museum of Natural Science »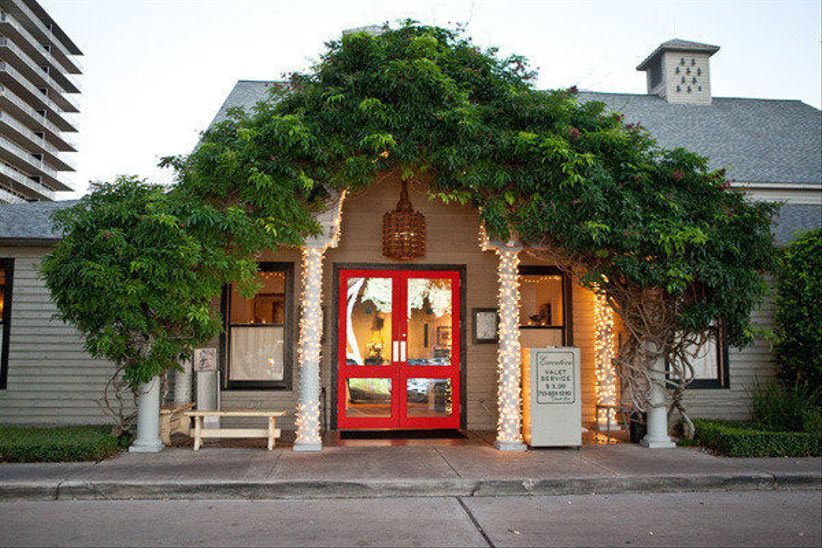 Ouisie's Table
If you're a native Houstonian, particularly one who grew up dining in Uptown, you've certainly heard of Ouisie's (pronounced "wee-zees"), a community staple that's been serving classic Southern cuisine with a bit of Cajun influence since the 1960s. The intimate, cottage-style restaurant in River Oaks moonlights as one of the most unique wedding venues in Houston on the weekends with the rustic meets wine country decor serving as the perfect starting point for creative couples. Beyond the event venue itself, which offers four unique indoor and outdoor spaces for ceremonies and receptions, Ouisie's Table includes the benefit of the restaurant's time-tested catering menu.

Learn more about Ouisie's Table »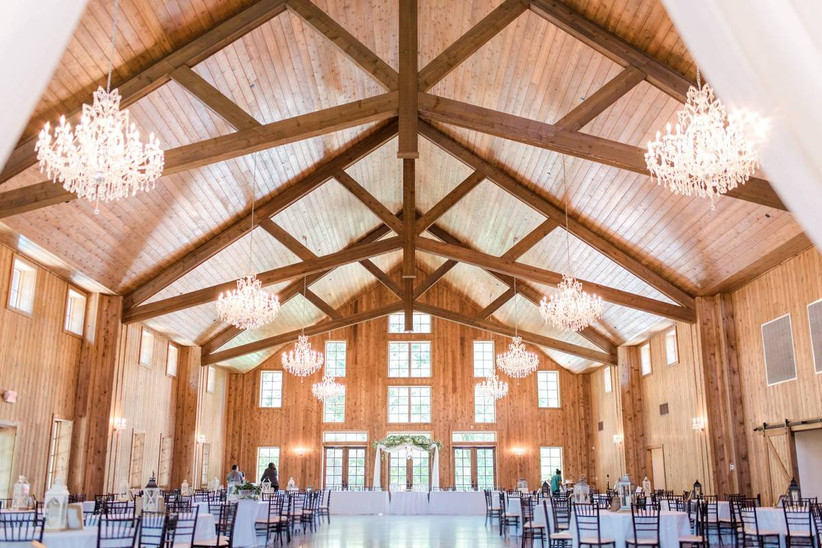 The Carriage House
Veer a little north of Houston and you'll find The Carriage House, previously used for horse-drawn carriage storage and beautifully restored with a combination brick and dark wood facade. Inside, 35-foot exposed timber beams, wood paneling and a sleek dance floor give the space an open and light-filled aesthetic for Houston couples. Outdoors, enjoy the splendor of the Houston woods with a stroll around the property's creek, a walk down the cobblestone aisle and antique pews full of guests. High school sweethearts Natasha and Chris accessorized this venue with eucalyptus accents and rustic signage for their Spring wedding at The Carriage House.

Learn more about The Carriage House »

Ronin Art House
For a more intimate but still totally unique wedding venue in Houston, the Ronin Art House has that totally on-trend industrial feel that's very in demand right now. The bright and modern space in the Downtown Warehouse District actually has two event spaces available, known as Ronin 1 and Ronin 2. Ronin 1 can accommodate up to 60 seated guests or 75 standing and has a minimalist vibe that can be customized with your choice of decor. Ronin 2 can host up to 50 guests for a seated event and 65 standing, and includes a show-stopping arched glass window, abundant natural light, and a patio area.
Learn more about Ronin Art House »
Silver Sycamore
You've definitely heard of couples renting a hotel for their wedding, or a chapel. Maybe even a hotel and a chapel, but a chapel, a saloon, a jail — essentially an entire authentic Old West Town? That's what one of the most unique wedding venues in Houston offers couples looking to try their hand at a six shooter (or, just look like they could) with SycamoreVille. It's a reconstructed town on six acres in Pasadena that offers up lots of space, privacy and Bonnie and Clyde dreams come true. For other couples who may not want such a realistic experience, there's a traditional side to Silver Sycamore as well with a gazebo to wed beneath and a reception hall for after-wedding dancing.

Learn more about Silver Sycamore »
The Bell Tower on 34th
If you've ever dreamed of getting married in a gorgeous Italian villa or Spanish hacienda, you should definitely check out this unique wedding venue in Houston. With its stone archways, high ceilings, and even a waterfall, you'll feel transported to Europe as you exchange your vows. There's space for even the largest of celebrations—1,200 guests—and outdoor spaces for ceremonies. You'll also love the variety of all-inclusive wedding packages to suit your style and budget.
Learn more about The Bell Tower on 34th »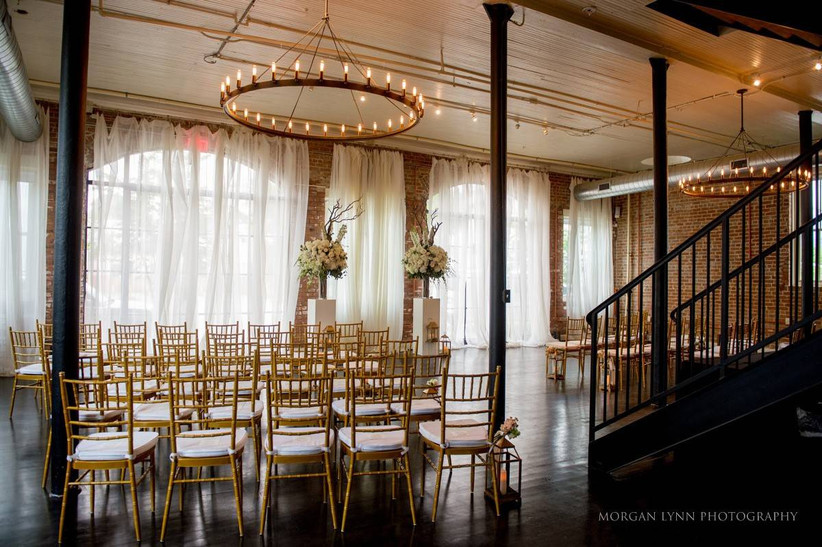 Station 3
If skyline views are a must for your dream wedding venue in Houston, Station 3 on Houston Avenue is definitely worth checking out. The industrial-style space (and former fire station!) features original brick, stunning stonework, high ceilings, as well as an outdoor courtyard. Station 3 can accommodate up to 250 guests, and an ope floor plan that can be customized to fit your style and theme.
Waters Edge Venue
This wedding venue in Seabrook, just south of Houston, is ideal for couples who envision a destination wedding, but want to stay in Texas. With a waterside ceremony space surrounded by palm trees, Waters Edge has an on-trend tropical vibe you'll just adore. We also love the modern feel of the 5,000-square-foot indoor reception space, which can accommodate up to 300 guests, and features floor-to-ceiling windows and chandeliers. This is an all-inclusive wedding venue, ideal for couples looking for a convenient planning experience.
Learn more about Waters Edge Venue »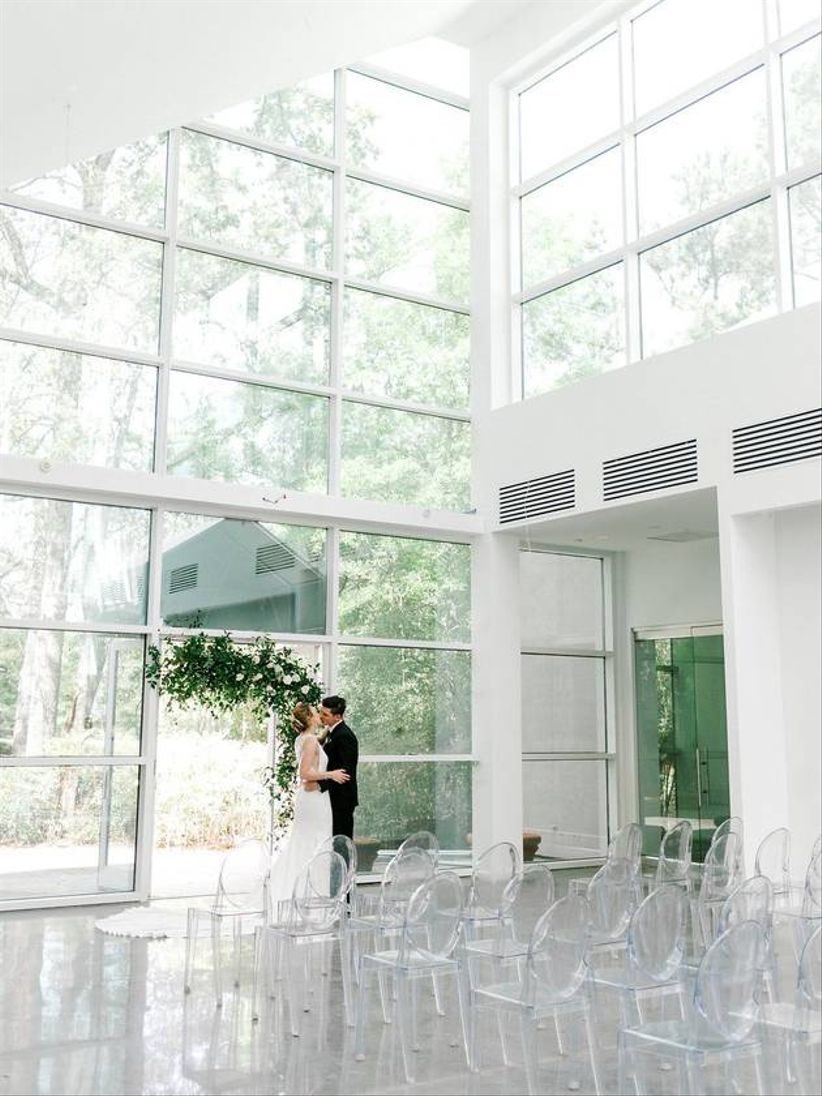 Glade Cultural Center
Located in Spring, this is a contemporary and unique wedding venue that Houston couples just love. This art-filled venue is ideal for the creative couple, and includes scenic outdoor space on a tree-lined lake. We particularly adore the all-glass, light-filled ceremony space, which brings the outdoors in. There's room for up to 450 guests here, and there are several wedding packages to choose from.
Learn more about Glade Cultural Center »

Pinstripes Houston
If your idea of an amazing wedding is a laid-back, totally fun good time, then Pinstripes might be the ideal wedding venue in Houston for your big day. The restaurant and event center in the Kirby Collection offers a spacious patio and a large ballroom, as well as bowling lanes, bocce courts, and fire pits. There's space for up to 250 guests, along with in-house catering, bar services, event planning, and more. This also makes a great spot for rehearsal dinners.
Learn more about Pinstripes Houston »
Gremillion & Co. Fine Art Inc.
Art lovers will absolutely adore this modern wedding venue in Houston, a gallery space that also hosts events of up to 225 guests. The Main Gallery can host weddings and events of up to 115 guests, and the larger Annex is 6,000 square feet and two levels of event space, with a capacity of 225 guests. There's also an outdoor courtyard. Your guests will love perusing the beautiful works of art in the galleries while celebrating your special day.
Learn more about Gremillion & Co. Fine Art Inc. »