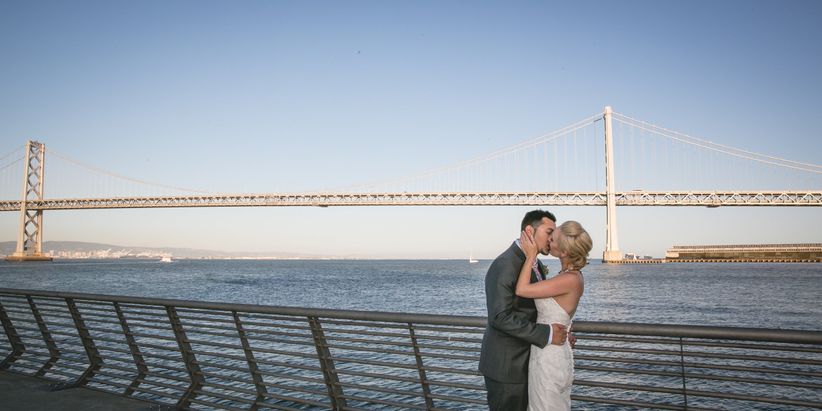 Photo: Hazy Lane Studios
When it comes to your nuptials, a San Francisco wedding is truly unique. The sprawling region is home to renowned monuments, gorgeous outdoor spaces and a Cali cool style all its own for wedding ceremonies of all stripes. This means couples planning a San Fran ceremony (or in the surrounding areas for Oakland weddings, South Bay weddings and North Bay weddings) have a plethora of options at their fingertips. However, with choice comes decision, decisions, oh, and more decisions. Don't worry, we'll help you sort out the nitty from the gritty of getting married in San Francisco.


Let's start planning your San Francisco wedding.
The Basics
A San Francisco wedding isn't simply limited to the city center with a view of the Golden Gate. (Although, it totally can, if that's what you want.) Cross the Bay in any direction and you'll find loads upon loads of stunning wedding locations, from magical woodsy parks for an
outdoor wedding
to
unique historical venues
to ridiculously
affordable gems
.
Beyond the ease of finding the perfect setting, seasonality also won't be too difficult for you. September and October are the most popular months for Bay Area couples to wed, but the entire year is basically up for grabs. Most couples in this area are opting for a slightly longer engagement at 14 months,
hiring about 13 vendors
and inviting around 120 wedding guests.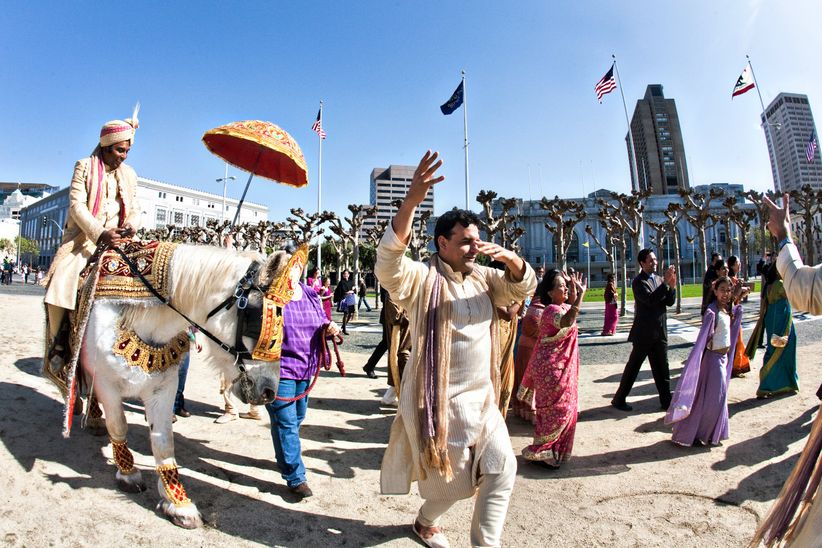 Photo: Joy Marie Photography
The Perfect San Francisco Wedding Venue
Here's the really hard part. In a city bursting with gorgeous wedding venues, how do you choose? Well, first think about your wedding style. Then, decide on
your guest list
. After these tasks you'll be in a much better position to search for venues.
Check out some of our favorite Bay Area venues:
The San Francisco Mint:
Impress the pants off your guests with this California Gold Rush relic, currently enjoying its second act as a hip industrial wedding venue. The granite revivalist-style building also features a 4,000-square foot interior courtyard.
Learn more about The San Francisco Mint »
San Francisco City Hall:
San Francisco City Hall weddings are really the queens of chic for civil ceremonies. Even better if you head up to the fourth floor for Mayor's Balcony, a stunning rotunda with an elaborate metallic railing, for the nuptials. However, being married at City Hall means that you won't be guaranteed a specific wedding location by the county clerk.
Learn more about SF City Hall »
Oakland Museum of California:
If we're talking gorgeous views, this spacious event center can't be beat. From the terraced rooftop, you and your guests enjoy one of the best views of Lake Merritt and the rest of the beautiful, green East Bay. Hang out there for cocktail hour then move into one of the museum's other 15 event spaces for the reception.
Learn more about the Oakland Museum of California »
The Palace of Fine Arts:
This grand Greco-Roman style wedding venue is sure to delight both the locals and out-of-town guests with its close proximity to (and breaktaking views of) the Golden Gate Bridge. Nestled in San Francisco's Marina District, take your pick of unique event spaces within the 120,000-square foot ground floor or 20,000-square foot mezzanine for private ceremonies.
Learn more about The Palace of Fine Arts »
Weather
Lucky for you, the Bay Area enjoys a warm-summer Mediterranean climate with warm days and cooler nights. On average, September is the warmest month and January is the coldest, but temperatures in these months are far from extreme. August to September sees highs in the upper 60s and lows in upper 40s while the winter months bring highs in the upper 50s and lows at freezing level.
Guest Travel & Accommodations
Guys, this region is sprawling with a capital "S," so you want to make sure your out-of-town guests have their travel and accommodations figured out. While SFO is the area's main airport, if you're planning to host your wedding in, say, Napa or Oakland, you might recommend that your guests search flights into Oakland International or Sacramento International. The same goes for accommodations. You'll want to be sure to book a
room block
at a hotel pretty near your wedding venue so guests are able to walk or hop in a quick ride-share before and after the festivities. Public transportation is also available via BART (Bay Area Rapid Transit).
Dates to Avoid
San Francisco Chinese New Year Parade, Feb. 24, 2018:
This centuries-long tradition created by the Bay Area's Chinese-American community continues to grow. Each year, more than 1 million celebrants crowd the city's Chinatown to ring in the new year. Traffic and road closures are pretty contained to this area, but if you're planning to host your San Francisco wedding in a surrounding neighborhood like Nob Hill or the Financial District, beware of extra congestion.
San Francisco Pride, June 23-24, 2018:
Consistently the most highly attended LGBTQ Pride parade in the United States, San Francisco Pride is one of the region's busiest times. About 1.5 million revelers routinely show up to march in the parade while another 100,000 spectators watch them go. If you're big day will be in the city, you'll want to avoid this weekend.
Marriage License
Your San Francisco marriage will need to be accompanied by a
California marriage license
. Luckily, the Golden State makes that pretty easy. There's no required wait time, however the license does expire after 90 days. You don't have to be a resident of California, but both parties do need valid ID and you'll need one witness, although up to two may sign the license.
Bay Area Real Wedding Inspiration
Now that you know how to plan your ultimate San Francisco wedding, see how other couples did it.