Black-Owned Businesses That Are Shaping San Francisco Weddings
From florists to event planners, photographers, and more, these Black-owned wedding businesses are setting the trends in San Francisco.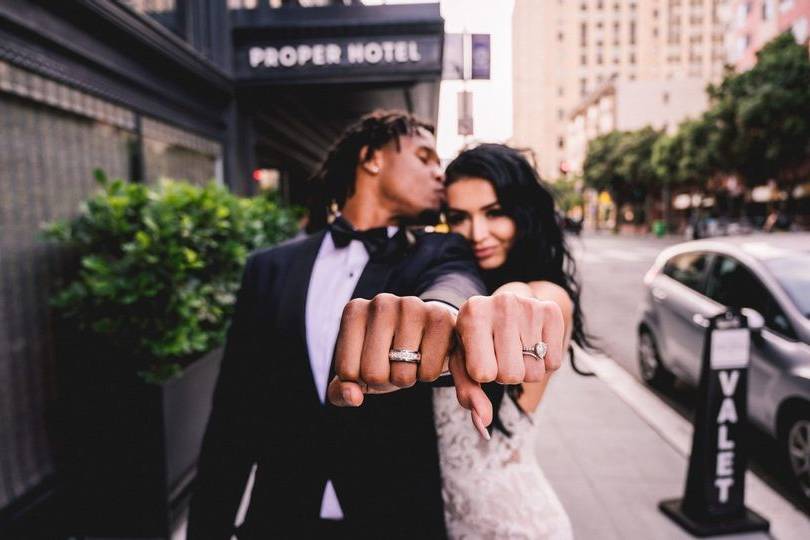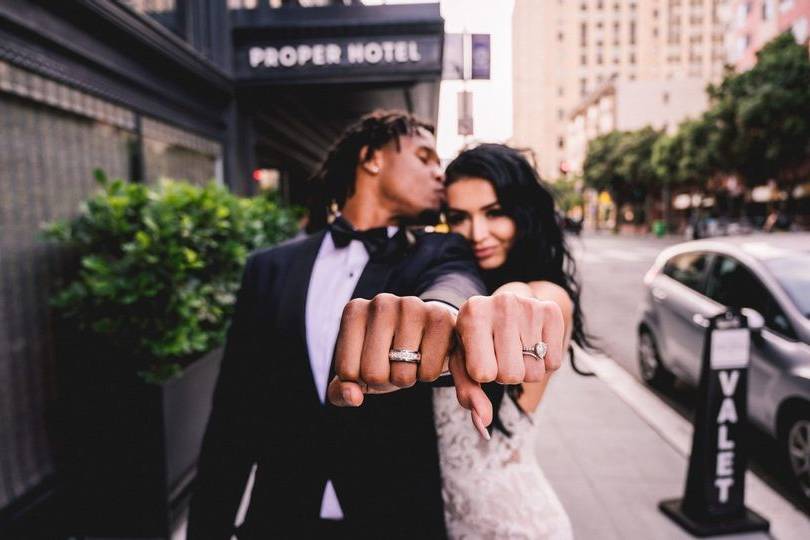 If you're planning a wedding in the Bay area, you're probably looking for qualified vendors who will make your wedding-day dreams a reality. Enter: these Black-owned wedding businesses in and around San Francisco that have received some of the most rave reviews for their professionalism, creativity and unstoppable work ethic. Of course, this is just a small group of the many extremely talented Black-owned wedding businesses in the San Fran area who can turn your dreams into reality—be sure to check out the WeddingWire's Vendor Directory's new Diversity filters to find Black-owned, Asian-owned, Hispanic or Latinx-owned, LGBTQ+-owned, Native American-owned, Veteran-owned and Woman-owned businesses near you.
View this post on Instagram
When it comes to choosing a makeup artist for your big day, you have to not only be a fan of their talents, but also feel confident that they understand what it takes to have you looking and feeling your best. Tamra Marie, of Tamra Marie Artistry (TMA), masters her craft of making brides look as beautiful on the outside as they are on the inside to a tee. Her mobile makeup services appeal to the bride who knows and appreciates quality and talent and who is ready to get fully pampered. "Having worked with hundreds of faces, and a wide range of complexions, I know when to use cosmetics for emphasis or concealing," she says. "Skin maybe skin but brown and black skin comes with certain nuances and I can recognize them, instantly." Needless to say, TMA is a big champion of diversity and diverse backgrounds alike. Bonus: Her trial fees are included in the price along with a luxe mini facial and lashes (for the bride and wedding party!).
View this post on Instagram
This full-service wedding design and event planning company serves the San Francisco Bay Area and surrounding region as well as Oakland, California. With more than 20 years of experience and outstanding reviews dating back decades, you can feel rest assured that founder Chanda Monique Daniels and her team of experts have mastered their craft down to a literal art. Not only do they help you plan your day from engagement to wedding day, but they also provide Wedding Day Directors who can swoop in just for your special day to help facilitate plans and ensure they run as smooth as possible.
"We learn all about the lifetime milestones that brought our couples to the day of their engagement and then make cohesive connections to their love story throughout the design and flow of their event," says Monique. "We've proudly celebrated all love, equally, since the beginning and value diversity and inclusivity."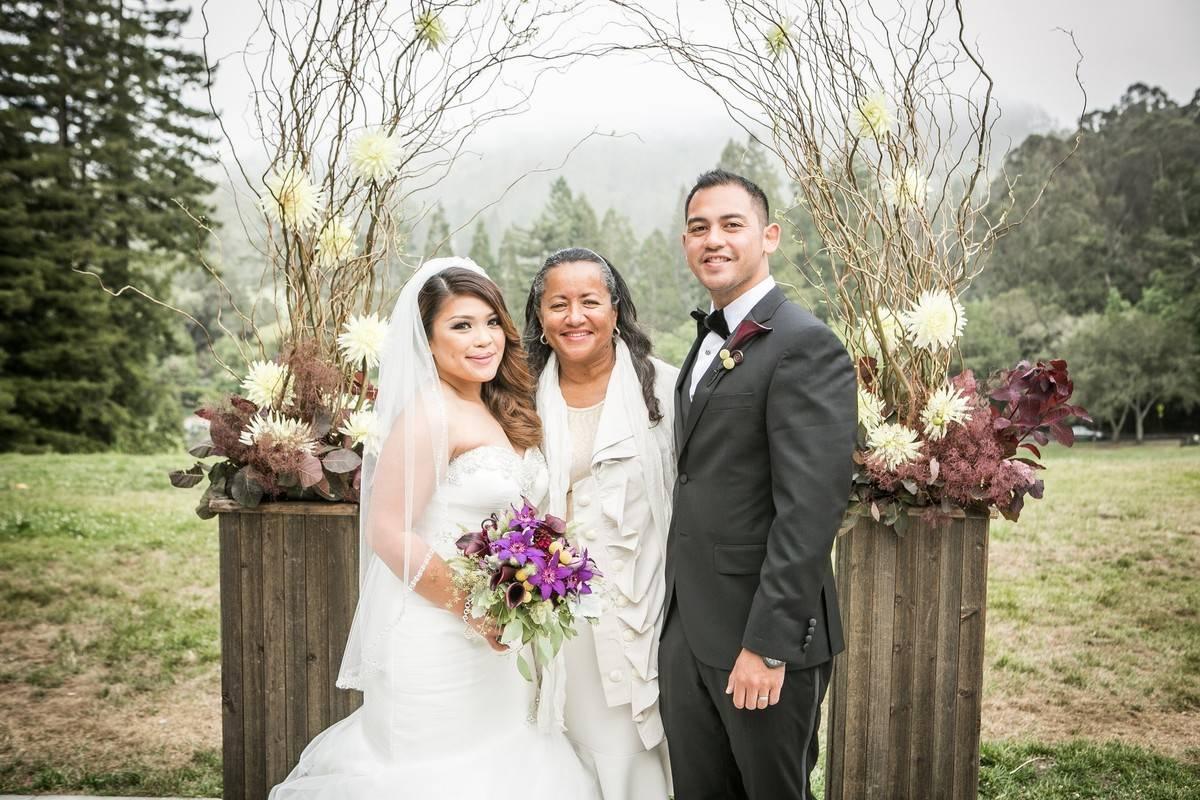 Just one glance at the reviews on officiant Saundra Anderson's WeddingWire page and you know you're looking at one of the best in the Bay area. She officiates nearly 50 ceremonies a year and works tirelessly to ensure that each ceremony is unique and customized to each couple's dreams and desires, as well as that of their family and cultural traditions. Given the Bay Area's diversity, she's had the honor of officiating all kinds of weddings—from agnostic couples to those who are devout followers of their faith to interfaith couples to LGBTQ+ couples. Her only requirement? That you love one another. "My experience sets me apart, the ceremony planning and the fact I was also an Alameda County Deputy Marriage Commissioner so I'm well versed in the paperwork requirements too," she says. "I've officiated many different kinds of ceremonies, from religious ones to beach front, to backyard to wineries and love working with couples to create a ceremony they will cherish forever."
View this post on Instagram
Fueled by an ultimate passion for all things beauty, Vernitta (Ninah) Weddles and her team of Beautymakers love to help brides feel their absolute best on their wedding day. She listens and understands the needs, wants and physical goals of her brides and fuses that together with her own creativity and expertise to yield a totally personalized and impressive outcome. "Our framework includes everything from vintage updos and waves to blowouts and braids," she says. "It's so fulfilling to see our clients fall in love with themselves after their transformation."
View this post on Instagram
Based in Union City, California, U&I Event Design creates stunning floral arrangements that perfectly align with each bride and groom's vision of their big day. Owner and designer Ihino Atulobi and her team handle it all, from personal flowers and reception centerpieces to the floor layout and linens, and focus on bringing a uniqueness to the designs they create for their clients. "Our design philosophy is relaxed elegance—to enjoy every moment of the design process to make our clients feel special on their wedding day sets us apart from other vendors," says Atulobi. "We know how important this day means to our couples and work with them as best possible to ensure their day is special."
View this post on Instagram
Sanford Marshall of The Wedding Coach plays a unique role as a wedding planner because he also doubles as the officiant (hence his business name!). To say he goes above and beyond for his clients is an understatement, which can be seen through the impeccable reviews from past brides and grooms. As one reviewer noted, "He did an outstanding job. Communication was great during the entire planning process. He has great attention to detail and is a great improviser. This is important on your wedding day! He was very personable! You definitely want someone you can relate to on your team. Thank you Sanford and Megan Marshall for being a big part of our perfect day!"