10 Black-Owned Businesses That Are Shaping Philadelphia Weddings
From florists to event planners, photographers, and more, these Black-owned wedding businesses are setting the trends in the City of Brotherly Love.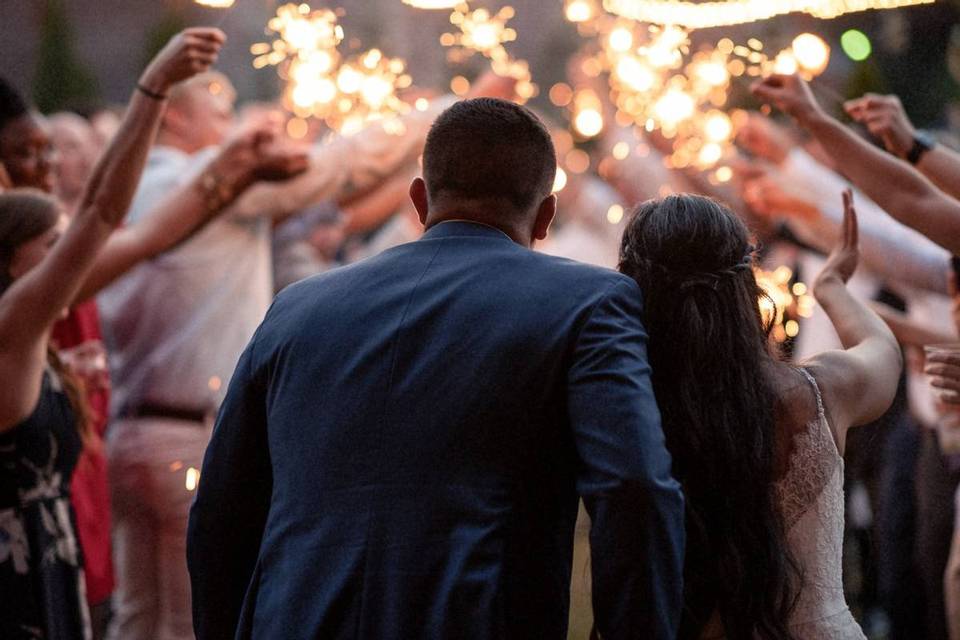 If you're planning a wedding in the Philly area, we're here to help you build your vendor team. These Black-owned wedding businesses in Philly have received glowing reviews on WeddingWire, and many of them have received multiple Couples' Choice Awards over the years. Of course, this is just a small group of the many extremely talented Black-owned wedding businesses in the Philadelphia area who can turn your dreams into reality—be sure to visit the WeddingWire Vendor Directory and use the new Diversity filter to find Black-owned, as well as Asian-owned, Hispanic or Latinx-owned, LGBTQ+-owned, Native American-owned, Veteran-owned and Woman-owned businesses in your area. Learn more about these top Black-owned wedding businesses in the Philly area, and start planning your big day.
View this post on Instagram
Whether you know exactly how you want your magical day to look, from the table centerpieces to the napkin fold, or are looking for a professional to guide your every decision, Event Loft is prepared to wow you with their full-service event styling and design. Currently serving Pennsylvania, Delaware, New Jersey and beyond, Event Loft masterfully designs visual experiences, combining floral, draping, lighting, and more in a manner that is custom designed to each bride and groom's vision. Owner Eilena Mercier-Ehmann stays inspired and educated by continually devising and discovering new ideas and approaches. She is a mentor for other designers and created "The Wedding Tea Podcast" for multicultural couples.
View this post on Instagram
Shining Moments Event Planning offers both full wedding services as well as day-of coordination and pride themselves in creating a seamless and stress-free wedding day that brings their couple's vision to light. Given their extensive experience, they've created an interconnected web of vendors in the New Jersey, Delaware and Philly areas whom they trust and recommend, from photographers and florists to DJs and stationers. "We pay special attention to our couples as they get ready for the day and serve as the point of contact to ensure that the day flows seamlessly," says owner Zupenda Davis-Shine. "We focus on the intimate details (i.e., set up of personal items for the reception) and the wedding timeline/itinerary (from getting ready to the reception) and work with vendors to coordinate the special aspects of the ceremony and reception; and work as a team with venue coordinators to make the day effortless and amazing!
View this post on Instagram
Just one glance at Mia's Instagram page and you know she has mastered her craft to the max. "I absolutely love building a connection with each and every bride, it never gets old!" she says. "I am most inspired by the love story and the dress both really get my creative juices flowing when designing the bridal beauty look for my soon-to-be-weds." Mia offers a laundry list of services, so she is basically a one-stop beauty shop, covering all your getting-ready bases, including formal hairstyling, clip-in extensions, airbrush makeup, false lash applications, brow grooming, skin analysis and more!
View this post on Instagram
When you let BeauMonde Originals capture your wedding day, you will remember each and every special moment for years to come. This artistic and experienced Philly-based team specializes in wedding photography and videography (and even drone photos and video!). While they love shooting all types of weddings, their specialities include small weddings, DIY and pretty outdoor environments. This Black Vet and LGBTQ woman-owned business has been rocking the wedding industry for over 13 years and believes it's their authenticity that wins them their clients on many occasions. "We fight for social justice and equality for ALL and actively take a stand to end systemic racism because Black Lives Matter beyond the hashtag."
View this post on Instagram
This powerhouse event planning service does it all, from the initial brainstorming of your wedding details to the intricacy of each and every design decision to create the most dreamed of day for each of their clients with unique visions and taste. "What we offer is peace of mind, satisfaction and a seamless event," says owner Akua Darko of her humble and friendly team. "We understand how intense and overwhelming planning any event can be so we help you plan the perfect one. From the beginning of the process to the end of your event, our priority is you and yours and curating your perfect day."
View this post on Instagram
If you're in the Philly or Newark, Delaware area and are looking for a one-stop shop for all of your florist and design wedding-day needs, let Royal Weddings By Cathy Johnson dazzle your day. Cathy works side-by-side with couples, collaborating with their vision for their special day, and delivers a truly remarkable artistic outcome that clients are pleased with. She partners with some of the most respected vendors in the wedding industry and customizes each event so no two are alike, including original "one-of-a-kind" floral designs. "We are masters at design coordination and luxury table settings," she says. "Customization of your event from invitations to reception ensures a seamless event your guests will never forget."
View this post on Instagram
This award-winning event planning and design firm is a one-stop shop for soon-to-be brides and grooms. In addition to handling the planning aspect of your wedding in whatever capacity you imagine, whether it's full-service, partial planning or "day of" coordination, they also feature floral design and decor, a complete line of wedding stationery, destination wedding and travel services. While performing almost any wedding to-do imaginable, they tailor their acclaimed services to meet each of their clients' very specific needs. "We guarantee planning your wedding will be stress-free and the day of your wedding will be memorable for you, your family and guests," says owner and lead planner Donielle Warren. "Our couples recognize us as wedding professionals who demonstrate excellence in quality, service, responsiveness and professionalism."
Imagine a wedding day that is not only outstandingly beautiful, but one that feels truly you (and your partner of course!). That's what Prestige Event Design promises to provide for brides and grooms—wedding and event design to perfectly complement you. "Our services center on creating the beautiful, the sophisticated, and the luxurious by giving you the extraordinary service you should expect. Expansive or intimate, your event is always a special occasion," says owner Kady Nignan. "Our wedding design services are geared toward delivering the special occasion you've been dreaming about for many years." What's more: Kady and her team promise to keep budget in mind when planning out your special evening and doesn't surprise clients with any costly add-ons.
View this post on Instagram
From full-throttle wedding planning to day-of coordination, Enchanted Allure Events offers packages to fit every bride and groom at any stage of their engagement. They cater to the Philly, New Jersey and New York City area and are incredibly talented in their ability to perfect a wedding—be it a single day or a week-long affair. They hone in on the client experience and make sure that every aspect of the planning process is tailored to that individual couple. "What makes us stand out among other vendors like us is our creativity and passion for personal touches," says founder Melissa Brooks. "We dive into your interests and love story from the beginning to incorporate your favorite and most personal things all throughout your wedding."
View this post on Instagram
If you're looking for a photographer who is more than just a professional but also a friend, both during the planning stages and on the day of your wedding, consider Tiana UBara of UBara Weddings. She goes above and beyond what you could expect a standard wedding photographer to do, helping to execute your entire vision—even providing make-up and hair professionals on site and on set on all her shoots. "I care about the bride's entire experience—if they do not look their best on the wedding day or portrait session, I take it very personally," she says. "I've become a friend and invaluable listener, producer and go-to person to bounce ideas off of for my brides and I never get tired of listening to a bride planning her wedding."