Whether you live in the East Bay or just want to cross the bridge for a different look at the area, shopping for Oakland wedding venues is a smart move. As the eighth-largest city in California, Oakland (and its neighbors including Berkeley, Alameda, and Richmond) is a hub all its own. With nearly half a million residents, the city is known for its eclectic vibe, queer-friendly outlook, and laid-back atmosphere. East Bay wedding venues are a diverse mix of rustic outdoor spots (think forest backdrops!), non-traditional event spaces and affordable Bay Area wedding venues that are perfect for hosting a fabulous Oakland wedding.
Don't miss these must-see Oakland wedding venues.
Oakland Museum of California
Ok, let's talk about the sick view of the San Francisco Bay Area this wedding venue offers, shall we? Oakland Museum of California's gorgeous terraced rooftop faces east and provides a standout view of Lake Merritt and the leafy canopy of the East Bay. The rooftop is just one of the event spaces couples love at one of our favorite Oakland wedding venues. The building itself is a massive cement, mid-century modernist style accented by colorful, modern art from the Golden State. Beyond the rooftop, the museum's garden and Blue Oak Cafe are popular for couples wanting a unique experience for guests. Oakland Museum of California includes a whopping 15 event spaces, the largest of which can accommodate 300 wedding guests.
Learn more about Oakland Museum of California »
Piedmont Community Hall
We'll forgive you if you've routinely skipped over Piedmont on your way to Berkeley from Oakland, or vice versa. It's a tiny town just between the two more well-known cities, but offers a beauty of a wedding location, particularly for couples looking for outdoor East Bay wedding venues with natural settings. The community hall is actually three spaces available for rent from the city — veteran's memorial building, which is an indoor space; community hall, which is stucco-tiled and built in the Spanish ranch style, offering both indoor and outdoor wedding spaces and Exedra Plaza, which is a wrought, mission-style Spanish arch and outdoor wedding space. Since this Oakland wedding venue borders Piedmont Park and Prospect Mountain Trail, couples and guests score a gorgeous and unfettered view of forest, like Jennifer and Allegra, who made nature the star of their rustic fall wedding.
Learn more about Piedmont Community Hall »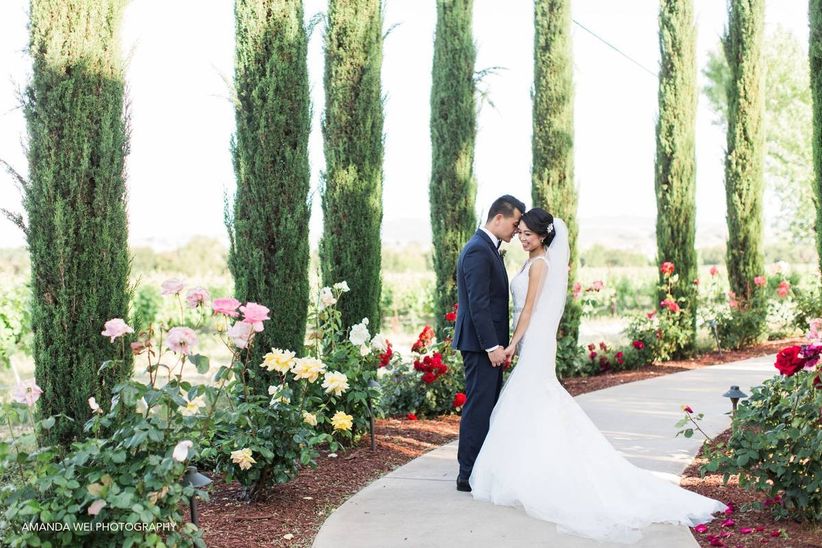 Palm Event Center in the Vineyard
What better view for your most important celebration than acres of rolling hills topped with grape vines? We honestly can't think of one, which is probably why East Bay couples appreciate Palm Event Center in the Vineyard, located in Pleasanton in the heart of the the Livermore Valley wine country. Indoors, wooden wine barrels provide design inspiration for their estate room while ornate chandeliers heighten the aesthetic. Larger weddings will appreciate the expansive ballroom with its floor-to-ceiling windows and tea light chandeliers. For the full vineyard experience, though, it has to be the vineyard terrace, which overlooks 110 acres of scenic wine country and is decked out in verdant shrubs. Between Palm Event Center's three event spaces, up to 350 guests can be accommodated.
Learn more about Palm Event Center in the Vineyard »
Fairview Weddings & Events
If you're deadset on Oakland wedding venues but want to be waving distance from San Francisco, Fairview Weddings & Events is your new bestie. Situated on the western edge of Oakland, the San Francisco Bay and San Francisco skyline can be spotted from this idyllic rustic vintage venue. From the classic white gazebo to the open fields of flowers, this outdoor wedding venue will tug at the heartstrings of couples who have always dreamed of a fanciful outdoor wedding ceremony. For receptions, Fairview Metropolitan offers an elegant ballroom with tons of natural light, white ceiling drapery and Chiavari chairs. Fairview Metropolitan's two event spaces hold up to 240 wedding guests.
Learn more about Fairview Metropolitan»
Chabot Space & Science Center
NASA nerds, Star Trek fanatics, and aspiring astrologists will love the opportunity to exchange nuptials at Chabot Space & Science Center, Oakland's astronomy learning center and planetarium. Surrounded by 13 acres of California redwoods and Anthony Chabot Regional Park, this wedding venue is equal parts architectural gem and complete homage to matter and life beyond Earth. A wedding at Chabot Space & Science Center generally centers around the concept of celestial bodies — stars, mainly. The open-air planetarium offers a blanket of stars and the general night sky to cover you and your guests as you wed while the Observatory Dome beckons couples wanting to take advantage of a gorgeous sunset and views of East Bay wilderness. This venue includes both indoor and outdoor spaces, the largest of which can accommodate up to 1,000 guests.
Learn more about Chabot Space & Science Center »
Grandview Pavilion
Further proving East Bay wedding venues are full of surprises, Alameda's Grandview Pavilion is a stylish and versatile hidden gem, nestled on the Alameda Golf Course. Constructed with the stucco tile that serves as the telltale sign of Spanish colonial architecture, Grandview Pavilion offers a surprise smattering lush green ivy climbing the facade of the building — the perfect pop of color for wedding photos! This venue's ballroom feels more European than American, with French doors that allow in the perfect amount of natural light, ornate chandeliers and elegant Chiavari chairs providing Renaissance accents. Grandview Pavilion ballroom can host up to 468 wedding guests.
Learn more about Grandview Pavilion »