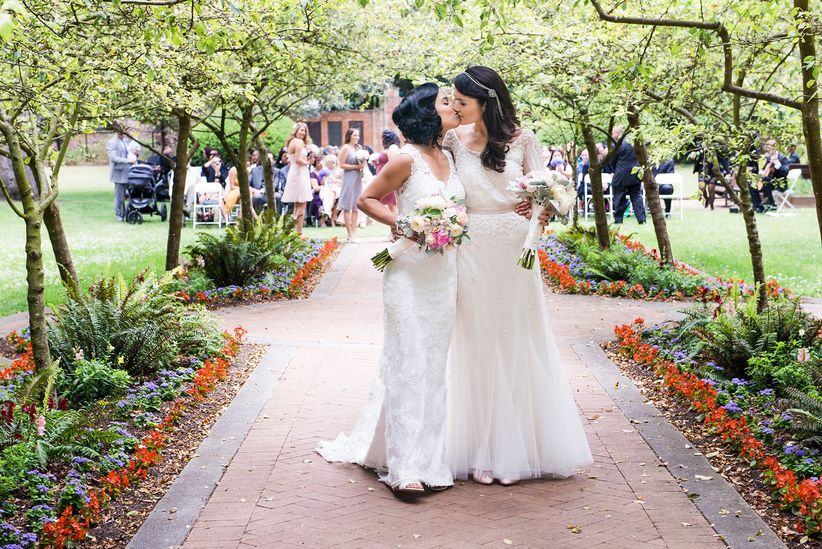 Photo: Megan Moura Photography
Whether gardens, courtyards or parks, San Francisco outdoor wedding venues are incredibly popular choices for California couples in the Bay Area. It's no surprise when the region, which includes cities in the East Bay, South Bay, North Bay and Silicon Valley, in addition to San Francisco, enjoys a perennial mild climate that makes reveling in nature a year round pursuit. As San Francisco wedding venues go, many of the area's outdoor spaces are also among the most affordable wedding venues and some of the most unique places to get married in San Francisco.


Check out our favorite San Francisco outdoor wedding venues!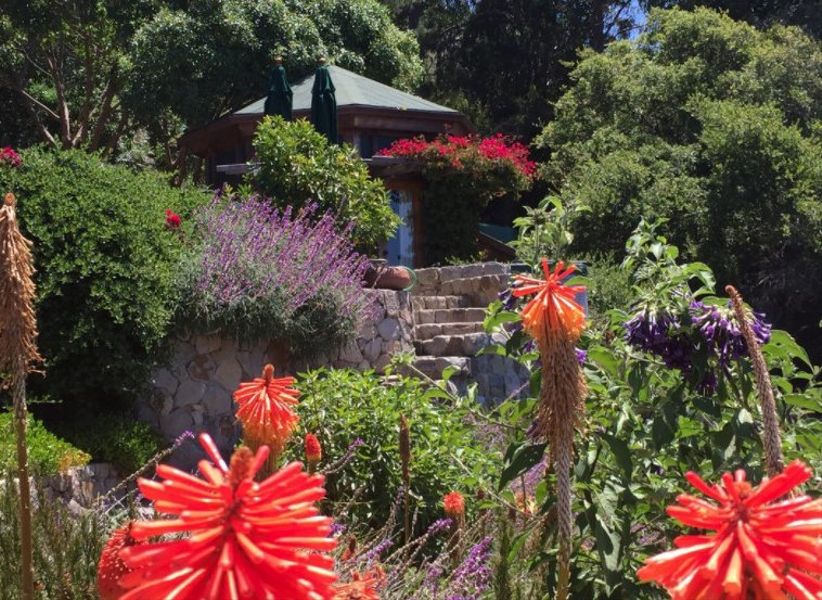 Photo: Dipsea Gardens at Stinson Beach
Dipsea Gardens at Stinson Beach
Some San Francisco outdoor wedding venues are more of a hybrid — gorgeous outdoor spaces with some indoor options as well. Well, Dipsea Gardens at Stinson Beach is all outdoor everything, which is perfect for lovers of nature and lovers of nature-inspired wedding photos alike. Butting up against the Pacific Ocean, Stinson Beach is located just north of the city, near the Golden Gate National Recreation Area. An open, but gated space, couples who wed at Dispea Gardens and their guests have unmarked views of the ocean along with lots of room to create distinct wedding stations at the venue. While the manicured grass and sandy shores will be plenty of decoration for some couples, others will find the relatively blank space of Dipsea Gardens perfect for all of their
garden wedding ideas
.
Learn more about Dipsea Gardens at Stinson Beach »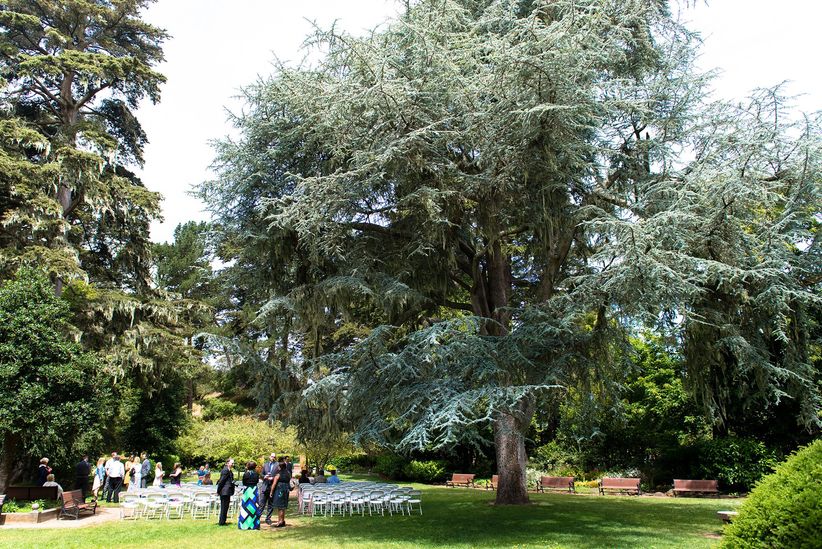 Photo: Megan Moura Photography
Shakespeare's Garden
Talk about San Francisco wedding venues with a view! Shakespeare's Garden is tucked neatly inside of Golden Gate Park on the northwestern edge of the city and, trust us, it's romantic enough for Romeo, Juliet and Othello combined. Welcome your guests through a wrought iron gate; enjoy a walk down 165-foot brick-paved aisle and wed in front of an antique sundial in front of up to 200 guests. While some couples may want to bring in a few personalizing accents, like
romantic wedding signs
, lots of couples let the lush grounds and colorful flowers do the hard work of decking out the space. Like
Alicia and Sarah
, who wed in Shakespeare's Garden and only brought themselves and chairs — the natural beauty of the garden did the rest!
Learn more about Shakespeare's Garden »
Photo: Megan Clouse Photography
Healdsburg Country Gardens Weddings
Chances are, if you're looking into San Francisco outdoor wedding venues, you don't mind going a bit further out to satisfy your craving for fresh air and natural light. Healdsburg, located in Sonoma County, is the Bay Area's answer to rural. Healdsburg Country Gardens Weddings is 15 awe-inspiring acres of California farmland. Choose from the farm's vineyards, gardens, lawn or its 100-year-old redwood barn to stage perfect outdoor wedding ceremonies and
outdoor receptions
. Couples like
Kaylan and Andy
make nature's fruits the theme of their weddings at Healdsburg, with sprigs of mint, pots of cilantro and fresh tomatoes all serving as farm-to-table wedding decor.
Learn more about Healdsburg Country Gardens Weddings »
Photo: Beltane Ranch
Beltane Ranch
A working ranch since 1837 and a vineyard since 1879, Beltane Ranch is elegant, full of history and one of our favorite San Francisco outdoor wedding venues. Couples choose this Sonoma Valley staple because it's a romantic and idyllic outdoor event space with centuries-old oak trees, gorgeous flowering shrubs and even a horse or two to entertain your wedding guests. The 105-acre ranch and Victorian farm-style bed and breakfast work in tandem to accommodate up to 200 guests, and sometimes double as overnight guest accommodations and
rehearsal dinner
spaces. Marina and Gabriel hosted their
intimate wine country wedding
at Beltane Ranch, making use of the beautiful outdoor spaces for both their ceremony and reception.
Learn more about Beltane Ranch »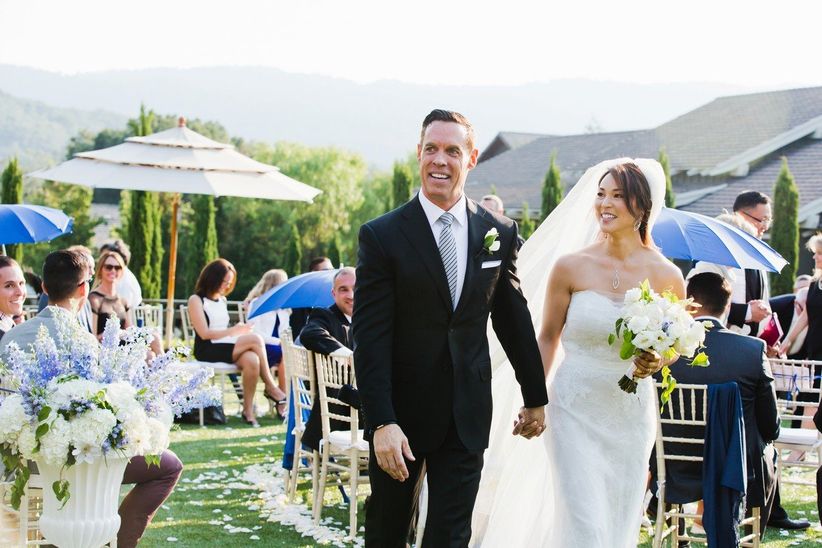 Photo: Jennifer Mihalyi Photography
Rosewood Hotel
While for most the idea of a luxury hotel conjures up images of chandeliers and marble floors, Rosewood Hotel's more than 16 acres of grounds is more outdoor resort than hotel ballroom. Situated in Silicon Valley's Menlo Park, Rosewood Hotel offers two courtyard gardens, each of which make great San Francisco wedding venues. The sprawling Sunset Lawn can accommodate up to 250 wedding guests while the spacious Vista Lawn holds even more. No matter which event space you choose, both offer breathtaking views of the Santa Cruz Mountains, lush, manicured grounds and verdant trees as the perfect wedding backdrop. Real Wedding couple Marieme and John kept their color palette bright and white with roses and daisies for their
late summer wedding
at Menlo Park.
Learn more about Rosewood Hotel »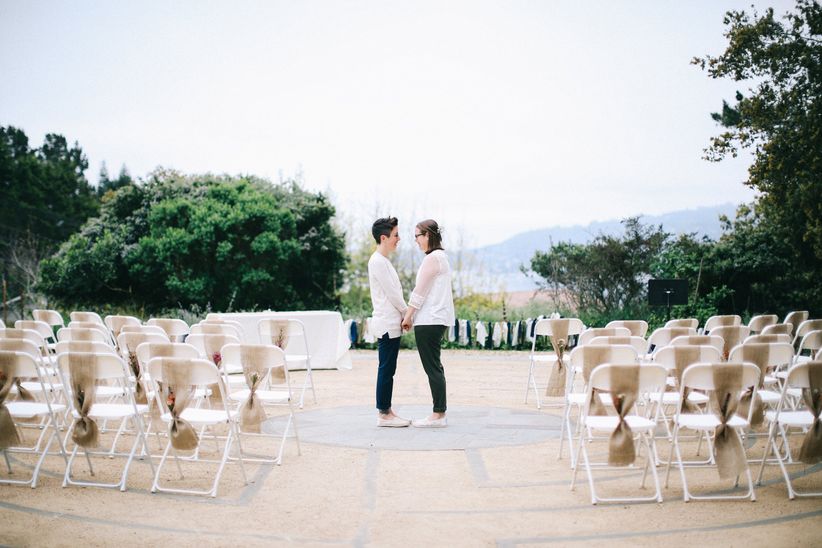 Photo: Kat Ma Photography
Community Congregational Church of Tiburon
Tucked away in Marin County, this North Bay hidden gem offers must-see views of the San Francisco Bay, Mt. Tamalpais and the Golden Gate Bridge. Although Community Congregational Church of Tiburon includes an indoor sanctuary that seats 150 people, couples looking for stunning San Francisco outdoor wedding venues will appreciate the outdoor sanctuary, which also holds 150 people, and is available for both ceremonies and receptions, like
Sasha and Emily's wedding
, which took place in the outdoor sanctuary.
Learn more about Community Congregational Church of Tiburon »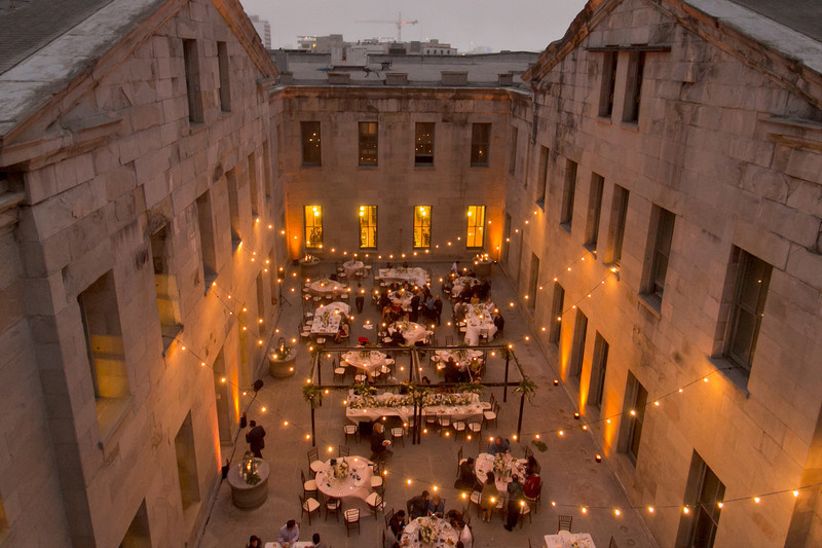 Photo: The San Francisco Mint
The San Francisco Mint
If you're looking for flowering courtyards or fragrant gardens, this isn't the San Francisco wedding venue for you. But, if you're excited about
modern industrial wedding decor
, want a venue in the middle of the city that utilizes its outdoor space in unique ways and is steeped in history, then you've got to consider The San Francisco Mint. This downtown revivalist-style structure was constructed to secure the state's gold reserves at the height of the California Gold Rush, but has found a new purpose as a wedding venue since it's no longer an operating mint. The granite building is a stunner, but it's the 4,000-square foot interior (but, outdoor) courtyard that outdoor wedding enthusiasts will be excited about.
Learn more about The San Francisco Mint »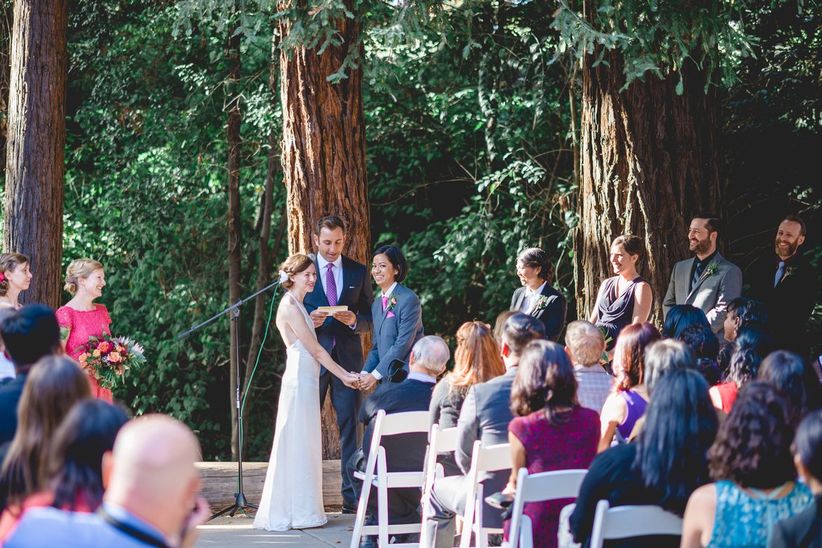 Photo: C Wagner Photography & Design
Piedmont Community Hall
A stone's throw from Oakland and Berkeley, this East Bay municipal building offers a hidden slice of magical garden for nature lovers. Piedmont's Exedra Plaza is a detailed, Spanish mission-style arch that's a favorite for couples wanting a romantic outdoor ceremony, like
Jennifer and Allegra's fall Piedmont wedding
. Just next to Piedmont Park and Prospect Mountain Trail, couples and guests at Piedmont Community Hall step into a beautiful tangle of brush and woods with this wedding venue.
Learn more about Piedmont Community Hall »