How to Propose to Your Boyfriend When You're a Dude
Not sure how to go about proposing to your BF? Be sure to get your "yes" with these proposal tips.
When it comes to planning your gay proposal, there aren't any hard and fast rules. While it certainly helps to have a blueprint, the most important thing is to carve out a little time to tell your love how much you him and that you're ready to be married. But, as with all things in life, your marriage proposal can be as simple or as elaborate as you'd like. So, once you know you're ready to propose to your boyfriend, your He Said Yes moment is totally in your hands.
Learn the ins and outs of your perfect gay proposal!
You don't need a ring.
While the classic proposal image is a man on bended knee, same-sex couples are free to (and very often do!) completely upend this tradition. When it comes to gay proposal ideas for two men, an engagement ring doesn't have to be the centerpiece. If you're thinking about proposing to your boyfriend, think about his personality and what would symbolize your relationship up to this point. If he's the type to go for an elegant band, then it's time to go ring shopping. Otherwise, consider a nice bottle of wine, a luxury watch or even a handmade token of your love to present at the proposal.
But! If you're going to propose with a ring, do your homework.
So, a ring is optional. But, if you're going the ring route, you'll want to be prepared. Most male engagement rings are bands, so there's no need to go deep into the 4C's, but you will want to think about metals.
Platinum: Extremely durable without any additional metals or coating, this is the most expensive metal.
White gold: Gives the look of platinum, but without the expense. Will need to be replated when the rhodium coating wears off.
Yellow gold: Soft and pliable, gold is typically mixed with other metals so that it stands the test of time.
Rose gold: A mix of yellow gold and copper that produces a more durable material than either yellow or white gold.
Palladium: Related to platinum, but slightly less durable.
Titanium: Lightweight but strong, this is a favorite for men's rings. It can't be resized.
Tungsten: A sturdy metal that comes in black, gray or white. It can't be resized.
Beyond a simple metal band design, you're free to customize your love's engagement ring with diamonds, precious stones (birthstones are popular choices) or engravings.

It's not a bad idea to go ring shopping at least once with your boyfriend before you plan your marriage proposal. This way, you can covertly find out his ring size and get a feel for the style he likes. Also, let his best friends or close siblings in on your plan, so they might be able to do a little snooping on your behalf as well.

Before you order the engagement ring, be sure you have the correct ring size!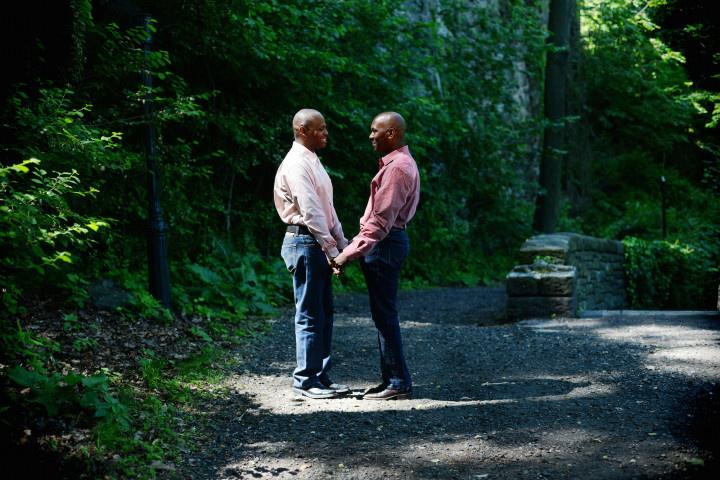 Don't be afraid to talk about the proposal.
While the proposal itself is often a surprise — although it doesn't have to be — you've likely begun to walk about marriage with your boyfriend. Don't be shy in asking him how he envisions being proposed to, or whether he'd prefer a public or private affair. Of course, he'll know you're fishing for gay proposal ideas, but the exact who, when and where is still in your hands.

This might also be the proposal planning stage where you decide a surprise proposal isn't in the cards. For some couples, a less startling approach is better, so don't be afraid to create your own unique proposal scenario.
Keep your boyfriend in mind as you're planning the proposal.
Now that you know you want to plan a surprise proposal, it's time to get planning. Think about your boyfriend. Is he an extroverted, social butterfly who lives to share his life with friends and family? Then a big party in his honor might be right up his alley. Is he more shy, but has a very close-knit group of friends? An intimate dinner proposal with his nearest and dearest might be the way to go. Or, is he the type who would cringe at having to say yes in front of anyone but you? A romantic proposal with just the two of you is in order.

Once you've purchased the ring, the real challenge of keeping a secret begins, so be sure to cover your tracks as you're planning the surprise. Go beyond adding a "Shh!" to the Facebook invite and maybe ask a best friend to keep the ring, so there's no chance he'll find it while snooping or plan a decoy event to throw him off the scent.
Make a plan for stunning photographs.
Now you have the perfect surprise proposal planned for your guy. The last thing you want is a flawless event without any photographic evidence to show off on the 'gram and to your crew. You can totally hire a professional photographer to capture the moment — they're masters at stealth! If that's not in your budget, delegate a close friend with a nice camera or even a great smartphone to be on photo duty. Trust us, you don't want to miss that bended knee moment!
Get ready to start wedding planning!
You got your yes! It's time to share the engagement news and be ready to answer the $1 million question: When's the big day? Just like your proposal, same-sex couples have free reign to take what works from hetero weddings and leave the rest when it comes to writing your vows, ceremony readings, attire, decor and every other aspect of wedding planning.