6 Super-Sweet He Said Yes Moments
Whether you're thinking about popping the question with an engagement ring or some other gesture, grooms-to-be will want to read these super-sweet proposal stories!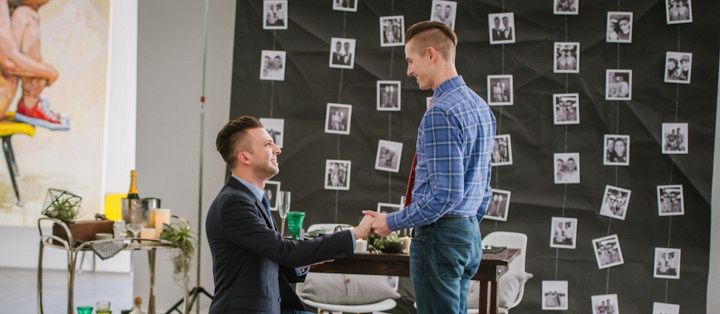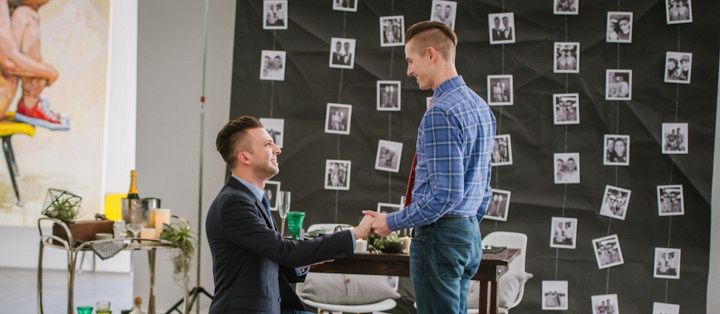 Photo: Ashlee Hamon Photography
There's nothing quite like the excitement of a marriage proposal, especially one that is as romantic and thoughtful as these He Said Yes moments. While some grooms-to-be went the traditional route with a surprise engagement ring and one knee bent, others didn't follow tradition and proposed marriage in unique ways. If you're a groom looking for sweet ideas to propose to your boyfriend, look no further than these six loving stories of real grooms. It's time to get that yes, so you can share the good news!


Check out some of our favorite He Said Yes moments!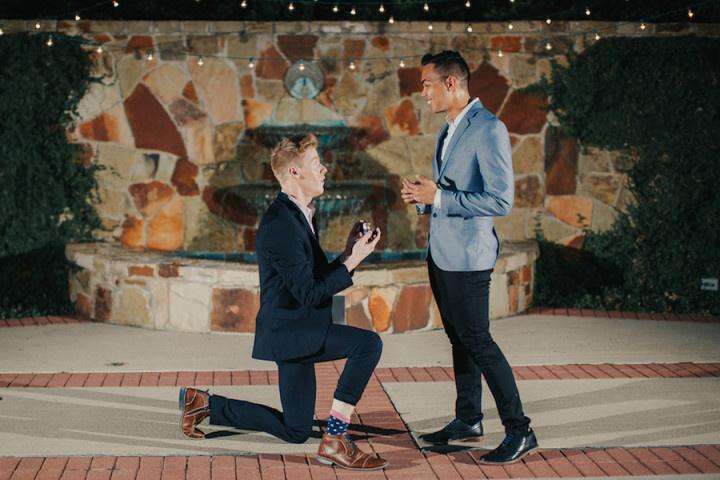 Photo: Taradise Weddings
Troy & Robert's Surprise Dallas Proposal

What better way to surprise and delight your fashion-obsessed BF than with a professional photoshoot through Dallas? That's exactly what Troy planned for Robert when he whisked away for vacation and a multiple-outfit photoshoot. Little did Robert know, Troy was planning to propose with a photographer already there to snap the beautiful moment!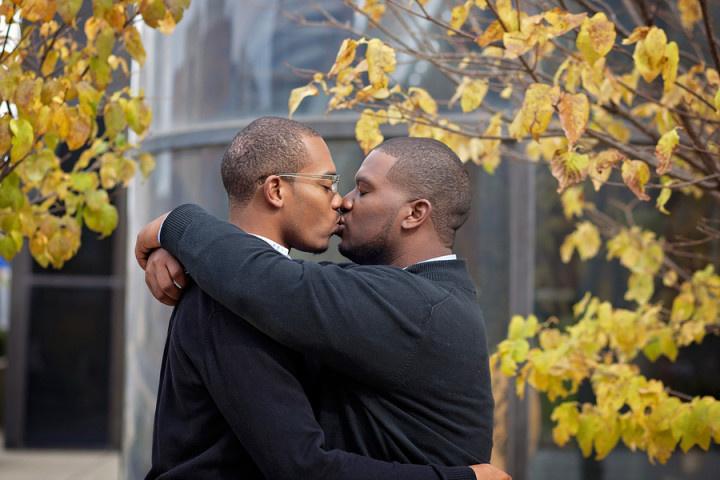 Photo: Bourbon & Brides Ky Wedding Photography
Will & Dee's Nostalgic Kentucky Proposal

Three years after Will met Dee, a fellow member of the University of Kentucky Choirs, he proposed on one knee at the place where the couple had their first date. The proposal, Sept. 8, took place after dinner. Will said he wanted to go for a drive, and Dee was suspicious that he had something up his sleeve, which he did! As students, Dee decided to ask Will out on their first date after hearing Will sang his favorite song in an a cappella group sing-off.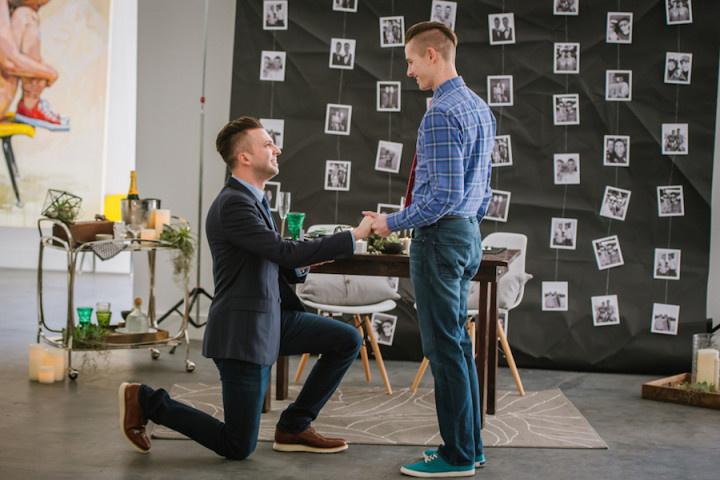 Photo: Ashlee Hamon Photography
Nicholas & Ryan's Private Art Gallery Proposal

After eight years together, Ryan was ready to pop the question to his beau Nicholas. He enlisted the help of a wedding photographer and a local art gallery to create an intimate evening — and surprise! Nicholas thought he was merely modeling for a local photographer's portfolio when he arrived, only to find his boyfriend on one knee proposing marriage. (BTW, he said yes!)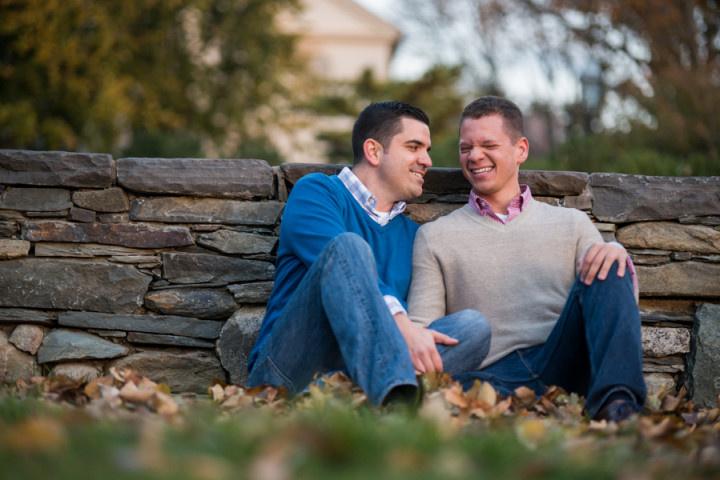 Photo: MrDrew Photography
Mike & Christopher's New England Sunset Proposal

Proving that you don't need a ring to properly propose (and get a "yes!"), Michael woke up one Saturday morning in June, took a look at his boyfriend Christopher sleeping and knew he would propose that day. The couple took a drive to Provincetown, Massachusetts, which had significance for Christopher. After grabbing a bottle of wine — which turned out to be horrible, Michael asked Christopher to meet him on the front porch of their bed and breakfast to watch the sunset. Over the bottle of wine, Michael proposed as the two watched the sunset.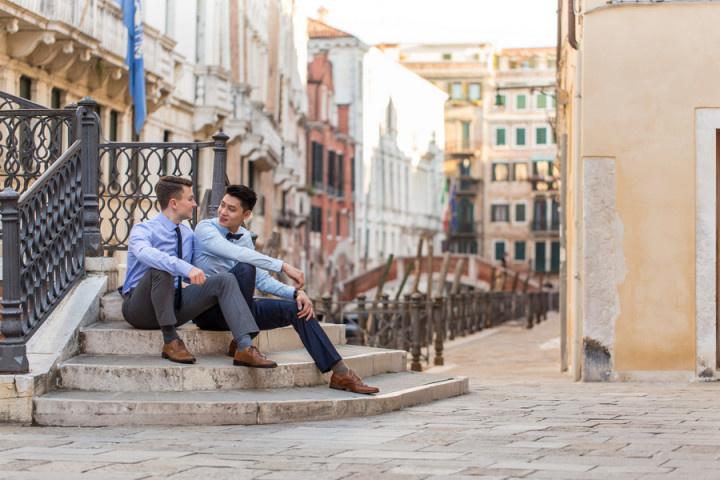 Photo: Photographer in Venice
Christian & Charlie's Romantic Italian Alps Proposal

After meeting in Washington, DC, Christian, a Naval officer, and his boyfriend Charlie trekked to the beautiful Italian Alps for a secluded proposal. Shortly after, the two hired a local photographer to capture the post-proposal glow as the two strolled the streets of Venice. Following the photographer's lead, the couple traveled from their hotel to some of her favorite spots, including St. Mark's Square.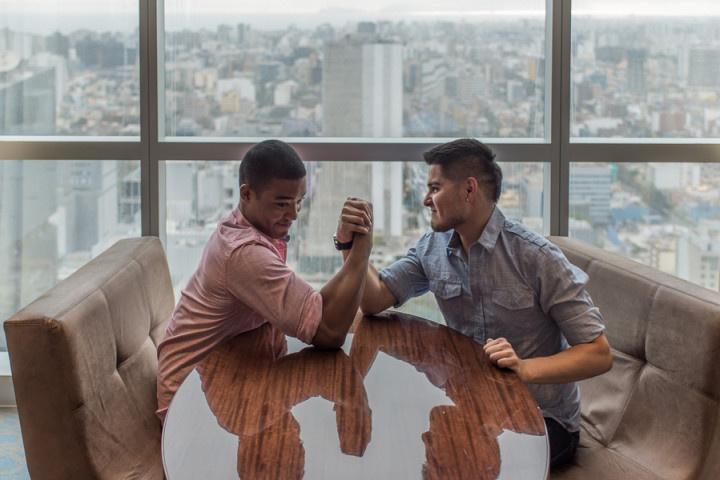 Photo: Maik Dobiey Wedding Photography
Nick & Gio's Intimate Park Proposal

Many years after Nick and Giovani met in Florida while attending college — and still in the closet — the grooms-to-be decided to put down roots together and be married. Both men became organizers for the Human Rights Campaign after graduating, which meant Nick was in San Antonio and Gio was in Miami. The proposal happened during one of their many trips to visit with each other. They'd attended one of HRC's events and decided to walk in the park, with an engagement ring Nick had purchased for Gio in tow. As soon as Gio saw the ring, the answer was yes.