23 Proposal Songs That Will Pretty Much Guarantee a "Yes!"
Adding music to your proposal can make the moment even more memorable. To help you find that perfect "marry me" tune, we've rounded up some of the best proposal songs.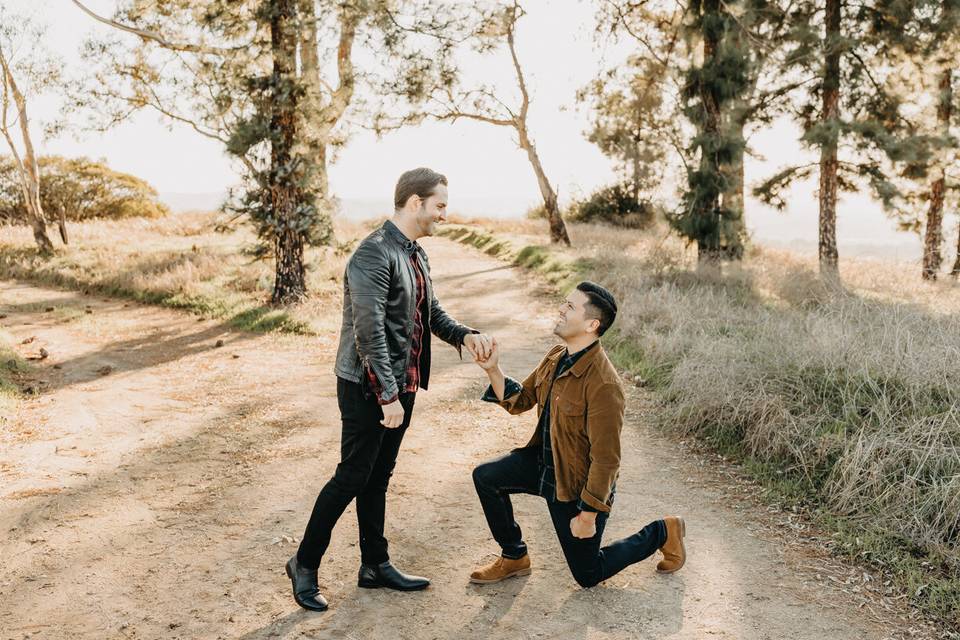 Music can play a big role in setting the mood when asking for your beloved's hand in marriage. When it comes to choosing the right proposal songs for your "marry me" playlist, there are a bunch of ways you could go — something totally lovey-dovey and romantic, upbeat and fun, or maybe even a little silly. Your proposal song all depends on your personality and the ambiance you're trying to create. You'll also have to factor in the location of your proposal. If you're interested in including a marriage proposal song in the big moment, you'll want to choose a location where you and your partner will actually be able to hear the music (meaning a proposal at home or another private location will work far better than a loud restaurant or other public spot).
Here are some of the top proposal songs to play as you pop the question.
"Marry You" by Bruno Mars
Yes, we know—this is probably the most-played engagement song of the moment, but don't hate. This upbeat, happy tune has all of the ingredients for a perfect proposal song—it has a joyful feel, is romantic without being too sappy, and even has the line "Just say I do..." What could be more perfect for the moment when you get down on one knee?
"True Companion" by Marc Cohn
This song skews toward the more overtly romantic of the marriage proposal songs on this list, and with the line "I've got my heart set on our wedding day" it's clear to see why. The lyrics are particularly emotional, so if you're okay with tears flowing, have the Kleenex ready when you hit "play" on this song. It's a bit of an older tune, but if you're never heard it, we recommend you take a listen (and prepare to get the weepies).
"Better Together" by Jack Johnson
A marriage proposal doesn't have to be an over-the-top event to be absolutely incredible. For those quieter, more relaxed proposals, this song is among our favorites. You can also include it in your wedding as a first dance song, if you'd like.
"I Choose You" by Sara Bareilles
We love the sweet and lighthearted feel of this tune by Sara Bareilles, which totally reflects the happiness of this special moment. We also appreciate how this song expresses the ups and downs of a romantic relationship with the lyrics: "We are not perfect/we learn from our mistakes/And as long as it takes/I will prove my love to you." It's one of the most "real" of the marry me songs on this list.
"Entra En Mi Vida" by Sin Bandera
We love how this oh-so romantic Latin ballad captures the feeling of meeting someone for the first time and wanting them in your life forever.
"I Swear" by All-4-One
If your partner is into old-school R&B, this classic '90s tune is totally romantic (if a little cheesy, but in the best possible way). The lyrics are absolutely perfect for a proposal song, including "For better or worse, 'til death do us part/I'll love you with every beat of my heart/And I swear." Awww!
"All of Me" by John Legend
One of the most popular love songs in recent memory, who could be a better embodiment of pure, adorable romance than John Legend and Chrissy Teigen? This marry me song truly sums up how it feels to be in love—the "I'm so dizzy, I don't know what hit me" feeling, the idea of loving someone for exactly who they are—imperfections and all.
"Marry Me" by Train
This song was pretty much written to be one of the most-used engagement songs of the decade (just watch the video). If you're not the type who's comfortable giving a long speech during your marriage proposal, this song will do the work for you.
"Open Arms" by Journey
For many couples, the road to engagement had many twists and turns—and maybe even a break or two. If you and your partner reunited after some time apart, this is a marriage proposal song worth considering. It's super-romantic and has that classic rock feel that won't go out of style.
"El Amor De Mi Vida" by Ricky Martin
This song is a natural fit for a proposal song, as Ricky Martin sings: "Quizás si te propongo/La mágica aventura/De estar juntos para siempre". Translated to English, that means: "Maybe if I propose to you/The magic adventure/To be together forever"
"Make You Feel My Love" by Adele
Couples who have been through tough times together will appreciate the lyrics of this beautiful song, originally written by Bob Dylan but more recently covered by Adele. This song is definitely a tear-jerker, so it's best for more private proposals as things are likely to get a bit emotional.
"Thinking Out Loud" by Ed Sheeran
In essence, a proposal is asking someone to be your partner for the rest of your life—and this song expresses that sentiment beautifully. With lyrics like, "I will be loving you 'til we're 70/And baby, my heart could still fall as hard at 23," it clearly delivers the message that you want to be with this person for many years to come.
"Love Story" by Taylor Swift
This proposal song is an ideal choice whether you're a Swiftie or not. We love the description of young love in the lyrics—ideal if you and your partner met when you were in school, or are just young at heart.
"Just Say Yes" by Snow Patrol
It couldn't be clearer than telling your partner "just say yes!" This song has a great beat, and we particularly like it if you're creating a proposal video—it makes a great background song!
"Grow Old with You" by Adam Sandler
If your relationship is more silly than sappy, this song is one of the funniest proposal songs we've heard. From the movie The Wedding Singer, it includes lines like "I wanna make you smile whenever you're sad/Carry you around when your arthritis is bad/All I wanna do is grow old with you." It's a tune with humor, but also a lot of heart—perfect if you want your beloved to laugh and cry at the same time.
"Who I Am with You" by Chris Young
This is one of the best country proposal songs, as the lyrics truly express the idea of settling down as a married couple after a lifetime of searching. Consider this a more updated version of the classic country love song "Bless the Broken Road" by Rascal Flatts (another nice proposal song).
"God Gave Me You" by Blake Shelton
Okay, so maybe Blake and Miranda didn't work out—but this is still a pretty awesome proposal song, especially for all those country music fans out there.
"Marry Me" Jason DeRulo
Another song that pretty much says everything you need to say. If you're a bit anxious about popping the question, this R&B song has a smooth, confident feel to help you build up the nerve to get down on one knee.
"XO" by John Mayer
Yes, we love the original by Beyonce (and we have to give her full credit for those amazing lyrics), but there's something about John Mayer's cover that makes it a pretty perfect proposal song. It's low-key yet oh-so romantic—ideal for an at-home proposal on a quiet evening. Pro tip: Time your proposal to the instrumental break at the middle of the song.
"When I'm 64" by the Beatles
There's no reason why your proposal has to be serious or emotional—don't be afraid to have a little fun with this milestone moment. This classic song is cheeky, yes, but is still totally romantic. Your partner definitely needs to have a sense of humor if you're planning on playing this song, but if he/she does, it's a winner!
"You Are the Sunshine of My Life" by Stevie Wonder
If you're looking for a more upbeat marriage proposal song, this Stevie Wonder classic is a definite contender. Not only does it have a joyful feel, lyrics like "I feel like this is the beginning/Though I've loved you for a million years" are perfect for the start of your engagement.
"Let's Stay Together" by Al Green
There's nothing like an old-school Motown classic to get you in the mood for love. This Al Green favorite is popular at weddings, but it also makes one of the more upbeat proposal songs, with lyrics like "Cause you make me feel so brand new/And I want to spend my life with you."
"Have I Told You Lately" by Rod Stewart
No matter how much you love your partner, you might not always find the right words to tell them exactly how you feel. This oldie-but-goodie proposal song is ideal for the proposer who would be the first to admit they're not always vocal about their feelings.